Here's a look at how to buy LaLiga tickets during the 2023/24 season. We'll feature all 20 clubs in the Spanish top flight and explain the best way to buy LaLiga tickets and answer questions that visitors looking to experience football in Spain typically have.
In the vast majority of cases, it is not difficult to buy tickets via the official channels which essentially means going to the home team's website and purchasing online. However there are some factors which make planning football trips in Spain more challenging than is the case in other European countries which we'll also go into more detail on.
How to buy tickets for LaLiga matches online – 2023/24 Club by club guide
| | | | | |
| --- | --- | --- | --- | --- |
| Club | Region | Stadium | Capacity | Online Ticketing Page |
| Alaves | Basque Country | Mendizorrotza | 20,000 | Alaves tickets |
| Almeria | Andalusia | Power Horse | 15,000 | Almeria tickets |
| Athletic Club | Basque Country | San Mames | 53,000 | Athletic tickets |
| Atletico Madrid | Madrid | Civitas Metropolitano | 70,000 | Atleti tickets |
| Barcelona | Catalunya | Estadi Olímpic Lluís Companys | 49,000 | Barca tickets |
| Cadiz | Andalusia | Nuevo Mirandilla | 21,000 | Cadiz tickets |
| Celta Vigo | Galicia | Balaidos | 29,000 | Celta tickets |
| Getafe | Madrid | Coliseum | 17,000 | Getafe tickets |
| Girona | Catalunya | Montilivi | 13,000 | Girona tickets |
| Granada | Andalusia | Nuevo Los Carmenes | 19,000 | Granada tickets |
| Las Palmas | Canary Islands | Estadio Gran Canaria | 31,000 | Las Palmas tickets |
| Mallorca | Balearic Islands | Son Moix | 23,000 | Mallorca tickets |
| Osasuna | Navarre | El Sadar | 24,000 | Osasuna tickets |
| Rayo Vallecano | Madrid | Vallecas | 15,000 | Not available online |
| Real Betis | Andalusia | Benito Villamarin | 61,000 | Betis tickets |
| Real Madrid | Madrid | Santiago Bernabeu | 83,000 | Real Madrid tickets |
| Real Sociedad | Basque Country | Reale Arena | 40,000 | Real Sociedad tickets |
| Sevilla | Andalusia | Ramon Sanchez-Pizjuan | 44,000 | Sevilla tickets |
| Valencia | Valencia | Mestalla | 49,000 | Valencia tickets |
| Villarreal | Valencia | Ceramica | 23,000 | Villarreal tickets |
Note that Camp Nou is currently being redeveloped and will not be ready until at some point in the 2024/25 season at the earliest. Until then, Barcelona will play their home games at the city's old Olympic Stadium on Montjuic Hill overlooking the centre of the Catalan capital. The stadium has around 54,000 seats, although attendances will be capped at around 49,000 for FC Barcelona games.
Rayo Vallecano are the only club in LaLiga not to sell tickets online. This baffling stance is made worse by their small ticket office which can lead to long queues for tickets on match days and given the stadium's small capacity, matches do sometimes sell out. If you're already in Madrid, it's advisable to pop down to the Estadio Vallecas (take the metro to Portazgo) a day or two before the game to buy your tickets. Details of ticket office opening times should be announced on their website.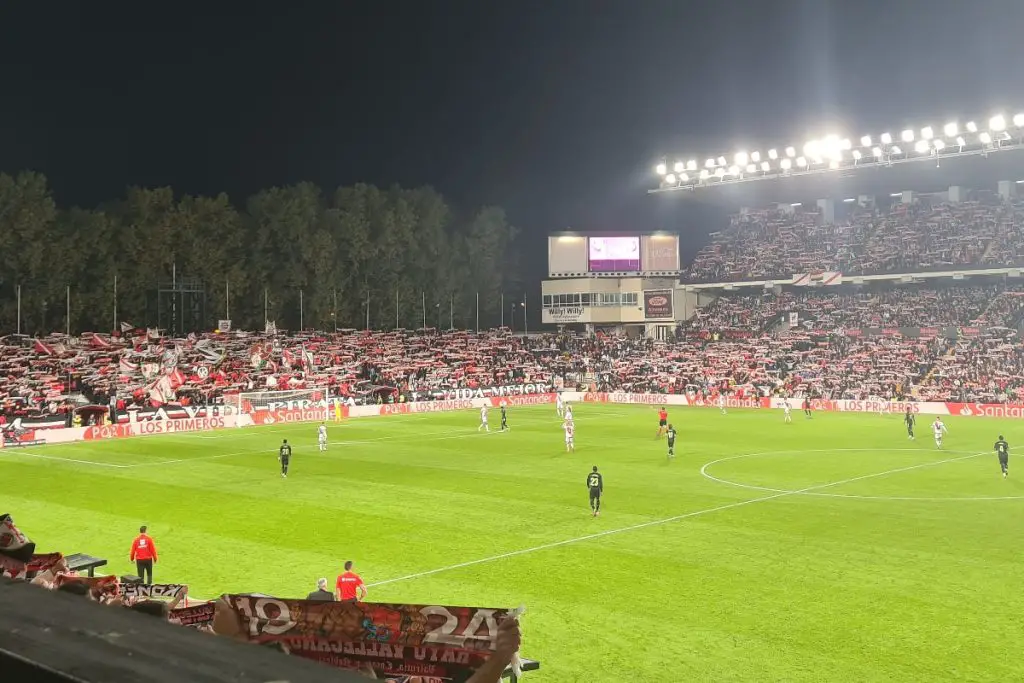 Tickets for the other 19 clubs can be purchased online. In most cases, you can now just download tickets to your phone after purchase and show your mobile ticket on entry to the stadium. However each club has their own policy so check your confirmation email to see if you are required to print it out.
How much does a LaLiga ticket cost?
While season tickets in Spain are quite good value compared to England for example, individual match tickets can be quite expensive, particularly for the bigger games, with smaller clubs raising their prices significantly whenever the likes of Barcelona and Real Madrid visit.
Some clubs (we're talking about you Getafe) stubbornly refuse to offer genuine discounts for even the less glamorous fixtures that won't sell out, with matchday tickets always starting at €40 at the Coliseum which is far from one of Spain's most inspiring places to watch football.
The average LaLiga ticket price is perhaps in the €30-40 range these days for adults who just want to go to the game and aren't fussed about having the best seat in the house.
You can find some tickets for under €30 at clubs such as Rayo Vallecano and Las Palmas, but you can expect to pay in the region of €50 or more for Barcelona or Real Madrid home games. Prices also shoot upwards for big Champions League matches or huge league games like El Clasico or the Seville derby where you may need to pay over €100 to secure a ticket.
Buying in advance – Football ticket & hotel breaks in Spain
One problem for anyone planning football related trips in Spain is that tickets typically don't go on sale until a matter of weeks or sometimes even days before a game. Every club is different, but Real Madrid for example leave it until about a week before the match before they release general match tickets.
While in the vast majority of cases, it's still possible to buy tickets then, you may prefer the peace of mind of booking in advance and not being left scrambling for a bunch of tickets together in the days before your trip.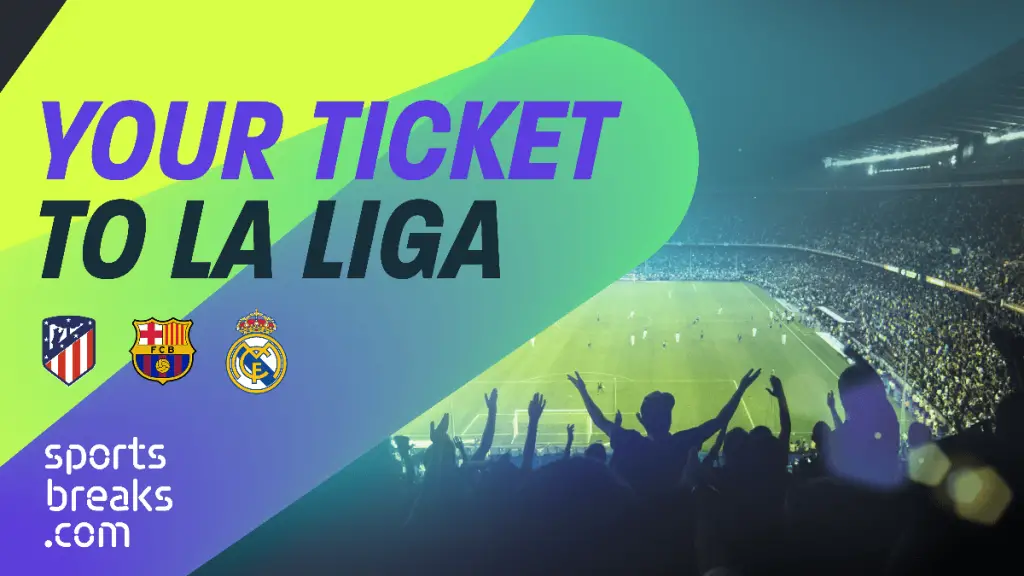 This is possible with sportsbreaks.com who offer LaLiga ticket and hotel packages for Real Madrid, Atletico Madrid and Barcelona. Their rates start at around £200 per person (approx Є230) for football breaks in Madrid and Barcelona. This usually includes a hotel room, match ticket in a good area of the stadium, shuttle service for the match and there are optional extras such as stadium tours that you can add on. 
If you're visiting Barcelona, remember that matches are not currently taking place at Camp Nou and stadium tours are also clearly not running as a result of redevelopment work. The club's museum is still open though.
For visits to the Civitas Metropolitano, check out our guide on how to buy Atletico Madrid tickets which goes into more detail about attending an Atleti home game. We also have a separate piece on how to buy Real Madrid tickets.
How to buy LaLiga tickets – FAQ's
When do LaLiga tickets go on sale?
Regular LaLiga match tickets usually go on sale anywhere between a few days and several weeks before a game. This depends on the club. If tickets for your match of interest are not on sale yet, keep checking the home team's official website.
Note that even after tickets go on general sale, new tickets can often suddenly become available in the days leading up to a match as club members release their seats. This is very common practice in Spain so don't despair if you can't initially find tickets in your desired section or seats together if you're a larger group.
When are LaLiga fixture dates and times confirmed?
Regular LaLiga weekend matchdays usually involve 10 games with staggered kick-off times with one on Friday night, four on Saturday, four on Sunday and one on Monday night. In other words, no two games should overlap with 14:00, 16:15, 18:30 and 21:00 the usual start times for Saturday and Sunday matches.
LaLiga typically confirms the times/dates for a matchday around a month in advance. You can check their calendar to see which matchdays currently have confirmed kick-offs. Those that don't will usually be set to Sunday by default, although it's really important for anyone planning a football trip in Spain to understand that those games could be moved to Friday, Saturday or Monday.
That's obviously not very helpful for anyone planning a weekend trip around a football match and looking to book flights, accommodation and preferably match tickets well in advance. Typically, less glamorous fixtures are often reserved for the Friday and Monday slots and you can often make an educated guess as to the day of the game when clubs have European fixtures scheduled around the matchday. For example, if Real Madrid are playing in the Champions League the following Tuesday, their league fixture can only take place on the Friday or Saturday as all teams are always allowed two free days between matches.
Once games are allocated a kick-off time, they should not be moved. However there are exceptions in the case of extremely hot weather (usually only applies to August, September or May games). There can rarely be some further disruption when the Copa del Rey is on in January and February with cup draws potentially pushing league games back or forwards a day.
On the final two matchdays, much less advanced notice is given with the schedule more irregular as clubs competing with each other at the top or bottom of the table usually play at the same time.
Is it easy to get LaLiga tickets?
Generally speaking, it is almost always possible to buy tickets for LaLiga matches. Relatively few matches are total sell-outs and even for the very biggest matches such as the Madrid derby and El Clasico, tickets almost always still go on general sale for anyone who can afford them.
Exceptions can come in the final weeks of the season if a team is pushing for a title or fighting relegation when clubs sometimes reserve tickets for members only.
What about Segunda Division and lower league matches?
The same generally applies to the Spanish second tier and clubs further down the pyramid. You should be able to buy Segunda Division tickets online or on the day of the game with matches rarely selling out, although there may be exceptions in the cases of big derbies or clubs with very small stadiums.
What's the best website to buy LaLiga tickets?
The relatively easy availability of LaLiga tickets means you have no real need to risk using third party websites that will usually sell tickets at inflated prices. Just visit the home team's website and if tickets for the match of interest aren't on sale yet, be patient and keep checking.
If you're really eager to book tickets several months in advance, use an official partner like sportsbreaks.com to avoid disappointment:
Atletico Madrid tickets in advance | Real Madrid tickets in advance | Barcelona tickets in advance
Can you buy tickets at the stadium on the day of the game?
Yes, you can normally buy tickets at the stadium on the day of the game too. However, you can expect a queue and should not expect club staff to speak English, although exceptions are likely to be found at Barcelona and perhaps Real Madrid. The cheapest tickets are also likely to have sold out by that point so you may end up paying more.
It's generally much simpler to buy tickets online and download tickets to your mobile with most clubs having English language websites. 
There can be cases where certain foreign debit/credit cards are refused when trying to make online purchases. If that happens, try different cards if possible and if all fails, rest assured that in most cases you should still be able to buy tickets from the club's ticket office, although try to get there well before kick-off if possible.
---
If you have more questions about visiting Spain for football, feel free to get in touch.