Get your fantasy football teams ready and plan ahead with our 2023/24 LaLiga Fixture Difficulty Rating. Use the table below to see which sides have easier fixtures coming up and which ones have a tough schedule.
It should primarily be of use to Sorare managers, particularly those playing LaLiga tournaments such as the free-to-play weekly LaLiga Amateur competition. If you're not on Sorare yet, sign up here to pick your LaLiga draft and start competing for prizes each weekend. We have more Sorare content here if you want to know more about it.
Anyone playing the official LaLiga fantasy game may also find this page useful!
LaLiga Fixture Difficulty 2023/24
LaLiga FDR (Fixture Difficulty Rating) Key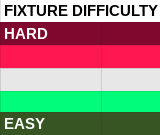 How is the FDR calculated?
We take various factors into consideration including the overall relative strength of each team, as well as more recent home and away form when calculating the LaLiga Fixture Difficulty Rating. We will continue to reevaluate and make tweaks to the rating as the season progresses and teams improve or worsen.