El Clásico is many things. Spanish football's eternal rivalry is a multi-layered and often politically charged clash of two very separate yet closely intertwined sporting identities. It's a fixture that is mulled over to every last minute detail in both Catalunya and Madrid but it is still an occasion that essentially boils down to 22 (pretty talented) blokes kicking a ball about.
On Wednesday evening the sides met for the third time in the 2018/19 season in the 2nd Leg of their Copa del Rey Semi-Final. Having been hammered 5-1 at Camp Nou earlier in the campaign and with league title hopes slipping away, this was Real Madrid's shot at redemption and their best chance of salvaging some silverware from a campaign fraught with difficulties.
Renowned for their tendency to leave it to the very last minute to take their seats on the steep terraces of the Santiago Bernabéu, arriving early does not come naturally to fans of Real Madrid. Arriving ninety minutes early to line the streets just to welcome the team coach is something that is reserved for only the very biggest of occasions.
It was just gone 19:30 with darkness descending on an unseasonably warm February day where temperatures had passed 20°C in the Spanish capital. Flares, chants and thousands of gazing eyes greeted the Real Madrid team as their bus crept down Avenida de Concha Espina before turning on to Calle de Padre Damian and pulling into their famous home. It's a journey that the more experienced players have taken hundreds of times but seldom can so many have awaited to greet them.
With the team welcomed, hordes of Real Madrid supporters began to pile towards the gates of the Bernabéu themselves. Others tried to locate a bar with any remaining pockets of space. Many more settled to join a noisy crowd gathered in an adjacent side-street where plumes of red smoke were being released into the Madrid sky by various flares. Chants and cries of 'Puta Barça" or 'Hala Madrid' were audible in every direction.
There was the odd scattering of Barcelona fans too but they were more likely to be speaking English than Catalan. The lack of a genuine away following felt like the only thing that was preventing a lively pre-game atmosphere turning into something more toxic.
With less than an hour to kick-off – cars, buses and taxis continued to hurtle down the Paseo de la Castellana, Madrid's main thoroughfare which runs right past the Bernabéu, transporting fans to the biggest game in world football. Underneath the ground, metro trains did likewise with regular streams of people emerging from Santiago Bernabéu metro station. You only had to spend a couple of minutes observing those who came out to figure out this was a fixture that meant very different things to different people.
There were tourists, half-half scarves and international fans of which both clubs have millions. However while one group of excited Europeans posed for a photo in front of the stadium, a few metres away a local Real Madrid supporter did likewise whilst shouting 'Viva Franco' and raising one arm in the air to make a Roman salute which has come to symbolise fascism. Elsewhere a lone man, who must have been at least 70, wandered slowly around the streets surrounding the stadium carrying a white sign that read 'Derecho a decidir, todos y libremente' (Right to decide, all and freely), a reference to the struggle for Catalan independence that has been robustly suppressed by the Spanish government.
The political undertones on Clásico day are hard to avoid or ignore and there were certainly far more people arriving with Spanish flags than you might get at a regular Real Madrid home match. Fans who would perhaps normally just come, eat some nuts and try to enjoy the football were clearly pumped and pro-Madrid songs reverberated around the entrance gate and corner tower leading to the higher tiers of the stadium. The additional security was also noticeable with police dogs and even some FC Barcelona staff helping with the operation. There was a very real sense of an edge that you simply don't get at other games at either Camp Nou or the Bernabéu, both of which can be pretty quiet places for non-glamour fixtures.
With chants of 'Viva España' and the obvious fact that this rivalry is pretty unique in that the two clubs are not from the same city or region, there was even the slight sensation at times that this was more like an international fixture, a battle between Spanish and Catalan identities. However it would be far too black and white to paint that as the only picture. Indeed one of the most immediately striking things inside the stadium was the sight of two Spanish flags being waved by people in the small Barcelona contingent high in the corner of the Fondo Norte. Recent Clásicos at Camp Nou have at least presented the impression of a united fanbase in favour of Catalan independence, a conflicting period no doubt for any passionate Barça fans who are not in favour of a breakaway state.
Outside there were suddenly huge queues forming to get in and judging by the security measures in places, people who had mostly paid in excess of 100 Euros for a ticket were set to miss the opening stages of the game.
The Bernabéu was still barely half-full as the teams were announced. There were no selection bombshells on either side, at least in terms of the immediate build-up to the game. However the presence of Sergio Reguilón, Vinícius Júnior and Lucas Vázquez but not Marcelo, Gareth Bale or Marco Asensio was testament to just how badly the season was panning out for some of Real Madrid's more established stars. Isco couldn't even make the 20-man squad such was his fall from grace under Santiago Solari.
Extra boos and whistles were reserved for Leo Messi, fresh from hat-trick number 50 in his career, scored in brilliant fashion at Sevilla in La Liga a few days earlier. This was actually his first Clásico start of the season with injury ruling him out of the league clash while he'd only been fit enough for a cameo role in the 1st Leg three weeks earlier. Barcelona essentially had all their first-team regulars available although Arthur and Samuel Umtiti were only named amongst the substitutes following injury problems of their own.
At the far end of the stadium, Real Madrid's noisiest group of followers were all in white as they are for all home games. They were jumping up and down in unison while the rest of the stadium quickly began to fill up for the emergence of the teams. The pitch was still being watered following another dry day in the Spanish capital as the teams came to line up for the traditional pre-game handshakes.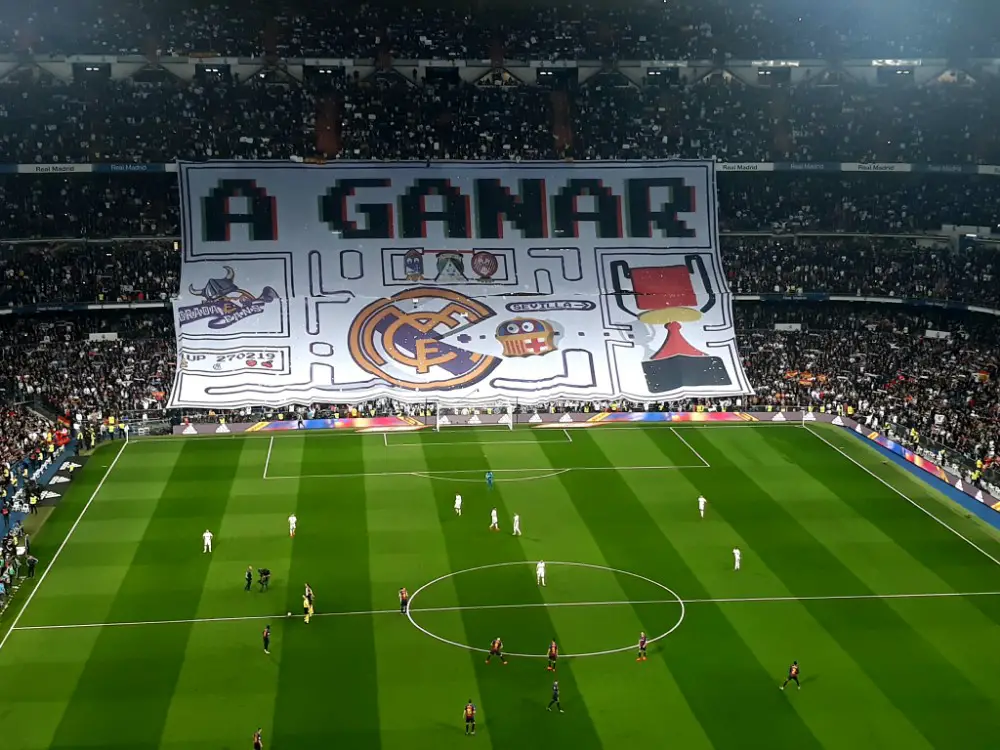 The Fondo Sur had now unveiled a giant Pac-Man inspired Copa del Rey tifo which showed the Barcelona badge being gobbled up by Real Madrid with the pretty simple message of 'A Ganar' (To Win). It also contained an arrow to Seville, the destination of the Final. There was a minor hitch as the thing got stuck on the bottom tier of the stand but it was eventually unfurled to display its slightly mischievous message. Introducing an element of humour into what is often such a serious fixture was perhaps no bad thing but as the Barcelona players stared straight at it as the game finally kicked off, you had to wonder just who it was motivating.
The opening moments of the game were relatively uneventful but difficult to focus on as hundreds of supporters still poured in and struggled to find their seats in a stadium which does admittedly feature an unnecessarily complex numbering system for all the various entrances and sections. It was a chaotic scene as stewards raced around removing some people from the wrong seat and directing others elsewhere in a variety of different languages. On the pitch though, there was a greater sense of calm as Barcelona set out their stall to play quite deep and patiently move the ball around to the immediate annoyance of the Bernabéu.
The home fans would soon have grounds for optimism though. 18 year old Vinícius Júnior, again seemingly completely unfazed by the occasion, scurried past Barça right-back Nélson Semedo in their first real exchange to suggest it was a duel he was more than capable of winning.
Barcelona had their own rapid winger though in the shape of Ousmane Dembélé and he also showcased a sudden burst of pace to create the visitors' first half-opening of the game on nine minutes. However they were denied a clear shooting opportunity by another youngster in the shape of Sergio Reguilón.
The game appeared to be being played at a slower pace than some recent Clásicos and in the very early stages at least, it resembled more of a chess match than the open, all-action affairs we have come to know and love. A few niggly challenges followed though as the sides fought for the early initiative in the rare case of a Clásico game that would have to be settled one way or the other on the night.
Besides the noise of the small Barcelona contingent and the main 'singing' group of Real Madrid fans, there was almost an eerie silence at times as 80,000 people watched on captivated by seeing the two most successful sides in European football over the past five years face off. That temporary calmness was soon broken however whenever the ball went anywhere near Vinícius, with the Brazilian one of those rare breeds who is literally capable of lifting bums from seats whenever he gets a bit of space to run into.
With the teenager their main go-to man, Real Madrid began to really impose themselves on the game with their rivals increasingly finding themselves pinned back. A home penalty appeal was turned down as Vinícius went down under a clumsy challenge from Nélson Semedo and moments later Vinícius fired over from inside the box after some good work from Reguilón and Karim Benzema.
The crowd became further agitated as Gerard Piqué, not the most popular man in Madrid at the best of times, decided to hover on the ball for slightly longer than was really necessary, to further stoke up the boos and barrage of abuse that was heading his way.
Benzema and Vinícius contrived to miss another opening soon afterwards following some increasingly panic-stricken Barcelona defending. For a spell it felt as though the visitors were on the ropes, almost powerless to prevent an onslaught of Real Madrid attacks in a game that had started to gather pace after a cagey opening.
While Real Madrid were clearly in the ascendancy, there was still the odd warning sign for the hosts though. They were doing a reasonable job of negating the considerable threat of Leo Messi but Ousmane Dembélé was getting space whenever Barcelona managed to break and he nearly managed to tee up Luis Suárez for what by his standards would have been a simple finish, only for Sergio Ramos to showcase his knack for being in the right place at the right time to cut it out.
The young wingers were largely outshining the established stars though, a refreshing sight for anyone who worried the fixture might start to lose its significance in the post-Ronaldo and ultimately post-Messi era. With the First Half racing towards its conclusion, Vinícius managed to carve out another great opening for Los Blancos. Having initially appeared to have wasted his own opportunity to break the deadlock, his quick feet managed to regain possession and set up Karim Benzema for a clear strike at goal from 12 yards out. While the ball sat up at a slightly awkward angle, the Frenchman did a poor job of getting a clear connection on the ball and his effort was comfortably kept out by the legs of Marc-André ter Stegen, who not for the first time in the season was having a fine game.
There was barely time to reflect on how Real Madrid may live to regret those missed chances before they spurned another one. This time it was Reguilón who produced the perfect cutback but Vinícius could only fire over the bar with an attempt on the swivel from even closer range than the chance Benzema had just missed.
While they were having plenty of the ball still, Barcelona were struggling to get out of their own half. When they finally managed that on 42 minutes, Messi was almost wrestled to the ground before a cynical foul from Toni Kroos on him finally brought play to a halt. It was a stop by any means necessary approach to dealing with the Argentine but judging by the pain he has inflicted on Real Madrid over the years, you could hardly blame them. Real were doing a pretty good job of hustling Barcelona's talisman, who was having to drop very deep just to get on the ball at times such was the home team's dominance.
It was the last meaningful action of a half that had flown by without a goal being scored, not for the want of trying. Real Madrid would have gone in knowing they should have put their own openings away with Vinícius alone having five attempts on goal, all from inside or on the very edge of the penalty area. He and Dembélé had been the two players most likely to make something happen.
It was a contest that was at times played in a patient fashion, only for one team, and it was invariably Real Madrid, to break a line and generate huge excitement around the stadium. The atmosphere might not have been as hostile as what you find in other derby games with only small sections of the stadium breaking out into song but there was still an electricity to the whole affair, scarcely replicated by any other fixture.
One of the best features of the Santiago Bernabéu is the ability to nose into the surrounding streets and neighbourhoods from the refreshment areas and particularly the huge winding towers on each of the four corners of the stadium. Peering outside the stadium at Half-Time, it was clear that all the bars were also packed with fans watching the game and there were people racing around the streets, perhaps trying to find a better viewing point for the Second Half. This after all is a game that grips the whole of Spain whenever it takes place but particularly Madrid and Barcelona, where virtually the whole city seems to come out to watch the rivalry that has come to define Spanish club football unfold.
Those watching on, not to mention eleven Real Madrid players, were made to wait a little while for the game to get back underway though. Barcelona were a little late to appear for the Second Half and when they did, it was to a barrage of jeers and whistles from the Santiago Bernabéu.
Barcelona had spent most of the first period on the back foot but this was still a team of Piqué and Alba, Rakitić and Busquets, Messi and Suárez – all veterans of the Clásico with predominantly happy memories of their trips to the Bernabéu. Barça had won on their three most recent league visits, scoring three or more goals on each occasion but they'd barely had a shot so far in this one.
With a 0-0 draw enough to see Real Madrid through to the Final at the Benito Villamarin on away goals, that would have to change if Barcelona were going to make their way to a sixth straight Copa del Rey Final.
There was a sense that we were just waiting for someone to do something brilliant that would truly ignite a fixture that didn't need much igniting. With the amount of quality on the pitch, there were no shortage of contenders.
The Second Half commenced with Messi suddenly finding a bit more space, an ominous sign for Real Madrid. However he had no real role as almost out of nowhere, Barcelona produced a move which threatened to totally alter the course of the tie.
It was relatively simple in its creation with Jordi Alba releasing the impressive Dembélé down the left. The Frenchman, having got the wrong side of Dani Carvajal, produced the perfect cutback for Luis Suárez who was rushing into the penalty area. Barça's number nine still had plenty to do but under pressure from Sergio Ramos produced a sublime first-time finish to beat Keylor Navas at his near post. It was Suárez's fourth Clásico goal of the season having netted a hat-trick in the league game in Catalunya.
In one moment of sheer clinicalness, the Uruguayan had made Real Madrid pay for their wastefulness and perhaps highlighted the main difference between the two sides. Even in other games this season, Real Madrid have looked like a side that might need to create four or five chances to score one goal whereas with Messi and Suárez leading the line, Barcelona have frequently only needed one.
The goal also highlighted just how many Barcelona supporters were in home sections of the stadium. They celebrated in a fashion which certainly wouldn't have been appropriate at a big derby match in England or Italy for example, but there was no major reaction from the Madrid fans and it should be said that there isn't such a big policy of segregation in Spain as you get in other countries.
Real Madrid made a reasonable response to going behind with Vinícius continuing to press and probe. He once again got the better of Semedo with a combination of pace and trickery, to cross in for Reguilón but the full-back's header was palmed wide by the unflappable ter Stegen. The Brazilian produced some more magic only moments later to once again see off Semedo before leaving Gerard Piqué on his backside and sliding in the wrong direction as Vinícius cut back to shoot. The only problem though, was that once again the finish eluded him as the teenager prodded wide to the frustration of the hordes of supporters in white behind the goal.
The Real Madrid fans to their credit were very much sticking with their side and even gave Gareth Bale, a recent target for their displeasure, a good reception when he came on in the 68th minute. However things were about to take a huge turn for the worse as far as Madridistas were concerned and almost in the blink of an eye, Barcelona ruthlessly finished off a tie that at least on the balance of play and chances created, they scarcely deserved to win.
Their second goal was again created by Dembélé. This time popping up on the right flank he found space to put in the perfect low cross that fizzed across the penalty area and was helplessly bundled into his own net by Raphaël Varane, under intense pressure from Suárez.
If that didn't kill the tie off, Barcelona's third goal just two minutes later certainly did. A clumsy challenge from Casemiro saw him tread on Luis Suárez's foot for a blatant penalty. The stage seemed set for Messi to put the icing on the cake but instead he passed the ball to his strike-partner. Suárez couldn't resist the cheeky Panenka straight down the middle and with that Barcelona were 3-0 up on the night and 4-1 ahead on aggregate.
It was a harsh, harsh lesson for Vinícius and co, who had played some excellent football at times but had failed to do the most important thing of all – put the ball in the back of the net. It was amazing how quickly things had unravelled for the hosts in the face of some ruthlessly clinical football from their great rivals.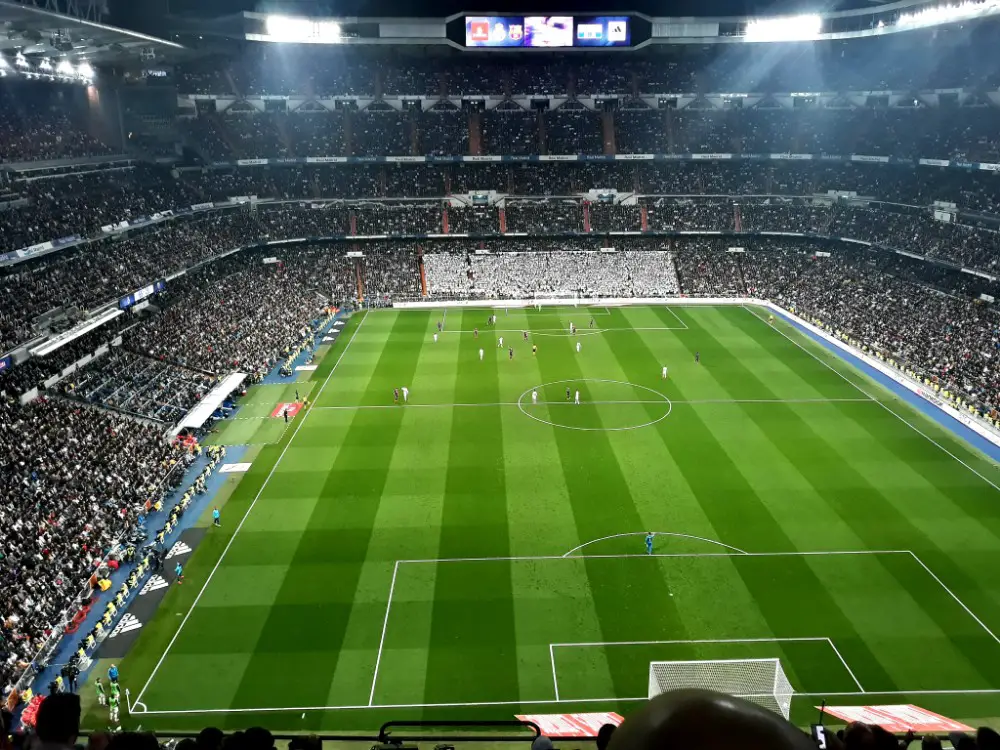 The third goal predictably knocked all the stuffing out of Real Madrid and a series of substitutions and the sight of folks heading for the exits, suggested that minds were already wandering to the next Clásico, in just three days time in the league at the same venue. Real Madrid supporters are often the subject of criticism from the fans of other teams but to give them their credit, there was no dissent towards their team shown here and there was even a small but noticeable minority who offered up some applause for Luis Suárez after he was substituted having sealed his side's passage to the Final.
The Barcelona fans were now singing about 'going to Sevilla', where they would target a record-breaking fifth straight Copa del Rey win. Perhaps with the proximity of the next Clásico in mind though, there was no showboating and in truth not too much celebrating from Barcelona as the Final Whistle blew despite inflicting another heavy defeat on their bitter rivals.
While the scoreline suggested otherwise, they hadn't wiped the floor with Real Madrid here as they had done in previous years. With Vinícius at the heart of everything, they had been by far the more threatening team for large chunks of the game and there were at least positives for Santi Solari to take away despite losing a tie many assumed he would have to win to stand much chance of being Real Madrid boss next season.
For all the intensity of the build-up and vitriol aimed at FC Barcelona and everything the club stands for before the game, it was noticeable how quickly the attention switched to football once the match kicked off. Perhaps it is different when the sides meet at Camp Nou, but the sensation was primarily that of two great football rivals facing off rather than anything much deeper than that.
However those political undertones are never too far from bubbling up to the surface and one way or another, Gerard Piqué tends to bring them out. 'Spanish TV should focus more on the trial of political prisoners rather than VAR' Piqué claimed in the immediate aftermath of the game. 'That is something that is very unjust and is something that people need to know what is going on, maybe Spain would be doing better if we concentrated on the important issues.'
It was a point that could have been made after any game this season and there have been many others that have thrown up greater VAR controversy. However Piqué by now understands the complex dynamics of El Clásico and the Spanish media better than most and certainly picked his moment to make his point.
Real Madrid-Barcelona is not an easy fixture to fully understand. There is certainly an element of truth to the notion that the two clubs are largely dependent on their intense rivalry with each other to maintain global interest levels in Spanish football, not to mention their respective statuses at the very pinnacle of the European game. Aspects of it may be over-hyped but in terms of the sheer quality of the football and its tendency to always produce goals, drama and talking points, there is no other fixture in world football that can truly replicate the unique spectacle that is El Clásico.