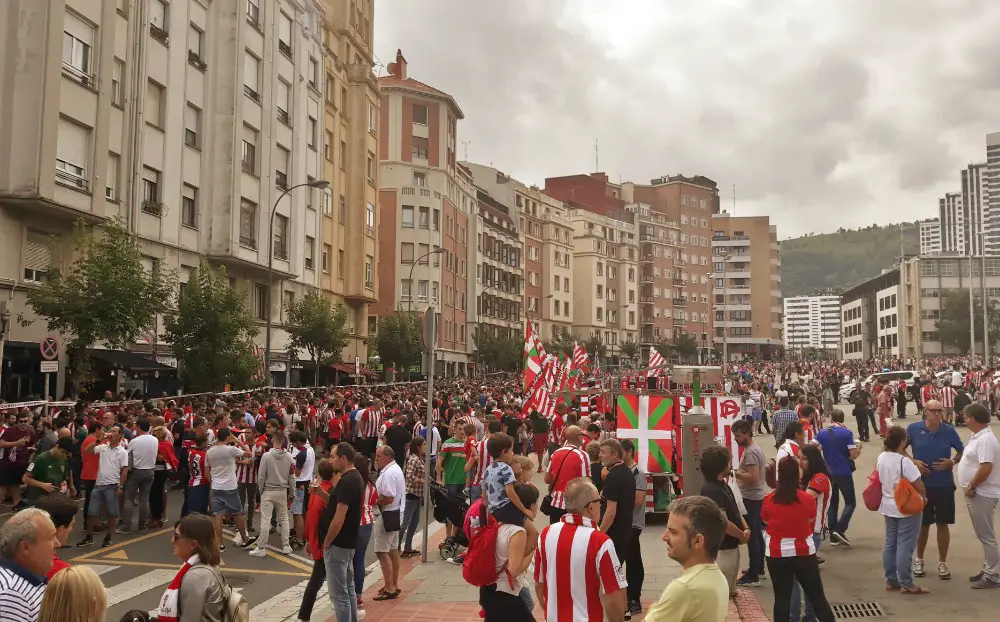 Our Basque football guide heads deep into the heart of a region that was in many respects the birthplace of football in Spain with Basque clubs playing a vital role and enjoying considerable success during those formative years. Despite only accounting for just 1.4% of all Spanish territory, 4 of the 10 founding members of the inaugural Spanish league in 1929 were from the tiny Basque region. Basque clubs and particularly Athletic Bilbao had already been dominant during the early years of the Copa del Rey and a century on, while it may not boast such a stranglehold on the Spanish game these days, the Basque Country continues to punch above its weight on the football field with four top flight clubs as of 2019/20*.
*Note that for the purposes of this article we are referring to the Basque Country in terms of the boundaries that form the Basque Autonomous community of Spain. Pamplona-based Osasuna are another top flight side that largely identifies as Basque and does fall within the wider Basque Country which also extends into France. However seen as we are dividing these Spanish football travel guides up by the 17 different autonomous communities of Spain – Osasuna will be featured in the Navarre guide.
---
Basque Country Football Map
This is a compact and quite densely populated region in the far northwestern corner of Spain. Many towns and cities have separate names in Spanish and Basque – an extremely unique language that is totally unrelated to Spanish or indeed any other European language.
The largest city and biggest metropolitan area is Bilbao (Bilbo in Basque). Athletic Club are located in the centre of the city and are historically the biggest and most successful of the clubs in the region. Also in the metropolitan area of Bilbao – in the area immediately north of the city you will find three Segunda B sides (as of 2019/20) – Barakaldo, Leioa and Arenas.
It's about 100 km by road from Bilbao to San Sebastian (Donostia) – home of Real Sociedad, the Basque Country's second most famous club. On the main highway between the cities, you also pass through Amorebieta-Etxano – home of third tier SD Amorebieta and the small town of Eibar, the surprising location of another top flight side. The latter is slightly closer to Bilbao but is in the province of Gipuzkoa as opposed to Bizkaia. Along with Real Sociedad and Eibar, the other Gipuzkoan team of note is historic Real Union, in the town of Irun. Their stadium is just 500 metres from the Bidasoa river which forms the border between Spain and France.
The other province is Álava, directly to the south of Bizkaia and Gipuzkoa. Its capital is Vitoria (Gasteiz) and it is home to Deportivo Alavés, the other top flight team from this fiercely proud region.
---
Basque Football Guide – The Clubs
The Big Two
Athletic Club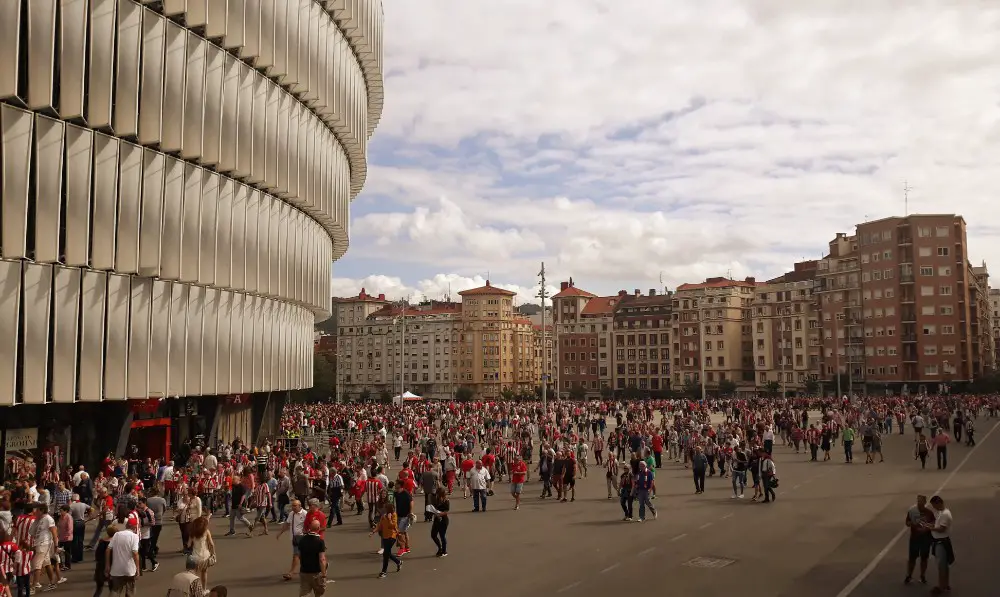 Stadium – San Mamés
Capacity – 53,289
Nearest Station – San Mamés (Bilbao Metro)
With 8 league titles and 23 Copa del Rey triumphs, Athletic are the third most successful club in Spanish football history. They retain a special aura, largely thanks to their almost completely unique policy of only signing Basque players. Unsurprisingly that has made it tough for Athletic to compete for silverware during recent decades when elite foreign players have flooded into the Spanish game to bolster the top clubs but remarkably given the small talent pool they have to choose from, Athletic have never been relegated from the top flight.
How to buy tickets for Athletic matches:
Tickets for Athletic matches are best bought online via the club's website. It shouldn't be that difficult to get a ticket for most games but it can be relatively expensive in comparison to most other clubs in La Liga. Despite the large capacity, a big cup tie or matches against Barcelona, Real Madrid or Real Sociedad may get close to or even completely sell out with the exception of a few expensive hospitality tickets so it's best to keep checking the website for these games as tickets may be released at separate intervals.
San Mamés is very centrally located in the heart of Bilbao close to the port area. It is on the same site as the old San Mamés which was Athletic's home for exactly 100 years until the new stadium opened its doors in 2013. It is easily accessible by metro, however walking to the game down the iconic Calle Poza is highly recommended with the street flooded with Athletic fans eating pintxos and drinking in the many bars prior to and after the game.
You can also learn about the club's incredible history as the early trail-blazers for football in Spain in the club's excellent museum. A stadium tour + museum ticket is a reasonably priced €14 for adults and €5 for children.
Read more – LLE on the Road in Bilbao
Real Sociedad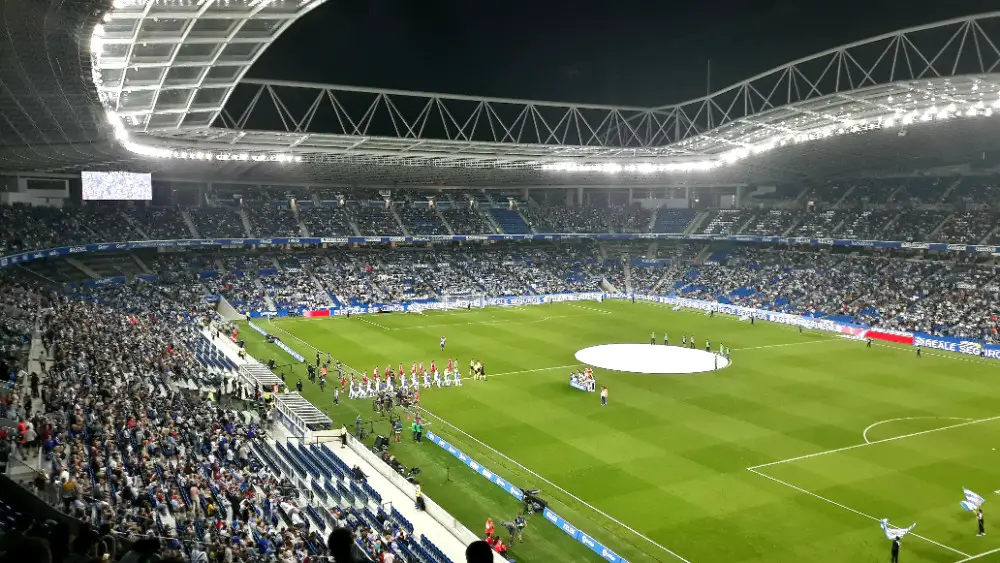 Stadium – Anoeta
Capacity – 39,500
Nearest Station – Anoeta-Donostia (Metro Donostialdea)
Real Sociedad are the other big name of Basque football. They don't boast a trophy cabinet that can compete with that of their rivals in Bilbao but they have had some really talented sides over the years. Their best came during the early 1980's when they won back-to-back league titles under the management of Alberto Ormaetxea. They too had a Basque-only policy during that period but it has since been relaxed with John Aldridge controversially becoming their first foreign player in many decades in 1989. Their most recent brush with league glory came in 2002/03 when they were narrowly pipped to the title by Real Madrid.
How to buy tickets for Real Sociedad matches:
Anoeta has been revamped and much improved over the past couple of years and has turned from a soulless bowl into a modern arena with fans much closer to the pitch than they were previously. The capacity has also increased to just shy of 40,000 meaning it shouldn't be a problem getting tickets. La Real have an online ticketing system enabling you to buy match tickets in advance.
The stadium is located away from the historic centre and stunning bay which the city of San Sebastian is most famous for. It would take around 30 minutes to walk to Anoeta from either but you can take the metro with Anoeta-Donostia station located immediately adjacent to the stadium.
Read more – LLE on the Road in Donostia
The Other Basque Clubs
Alavés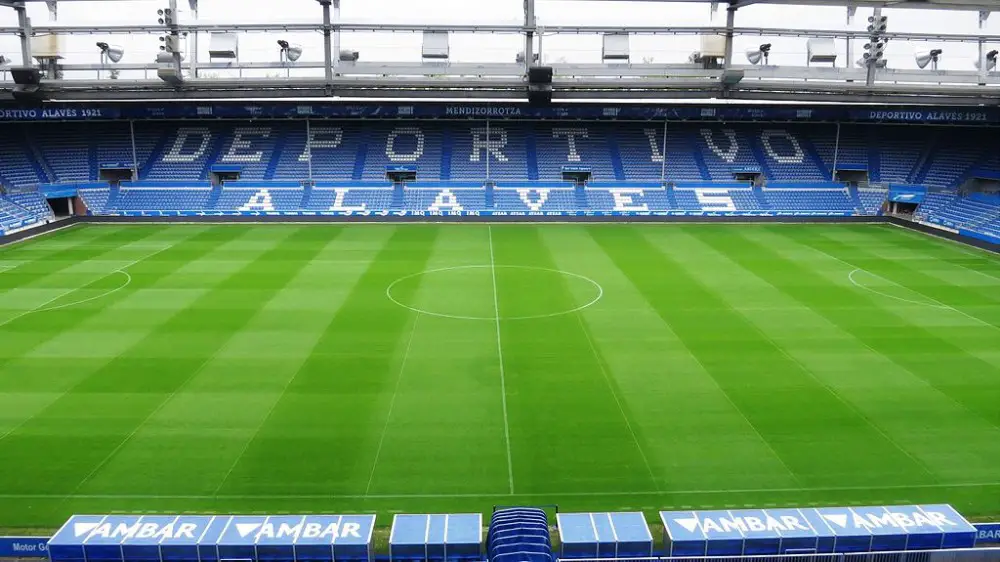 Mendizorrotza by Aitorval, CC BY-SA 4.0
Stadium – Mendizorrotza
Capacity – 19,840
Nearest Station – Vitoria-Gasteiz Train Station
Vitoria is home to one of Spain's best basketball teams. Their owner José Antonio Querejeta, a former basketball player, bought a controlling stake in Alavés in 2013 to help the club survive an incredibly difficult period of economic turmoil and four straight seasons in the Segunda B. There were many times when it looked as though Alavés may go out of business altogether but they've since steadily rebuilt, achieving promotion to LaLiga in 2016 before reestablishing themselves in the top flight. Their finest hour though still remains that remarkable run to the 2001 UEFA Cup Final – one of the most extraordinary finals in European football history as Alavés suffered a 5-4 defeat to Liverpool in Dortmund.
How to buy tickets for Alavés matches:
At the time of writing, Alavés average just over 13,000 for the 2019/20 season meaning you shouldn't have too much trouble getting a ticket, even though their ground only holds less than 20,000. Tickets for upcoming Alavés matches can be bought online in advance.
It takes only around twenty minutes to walk to Mendizorrotza from the city's main train station which has connections to Madrid and the other major Basque cities.
Eibar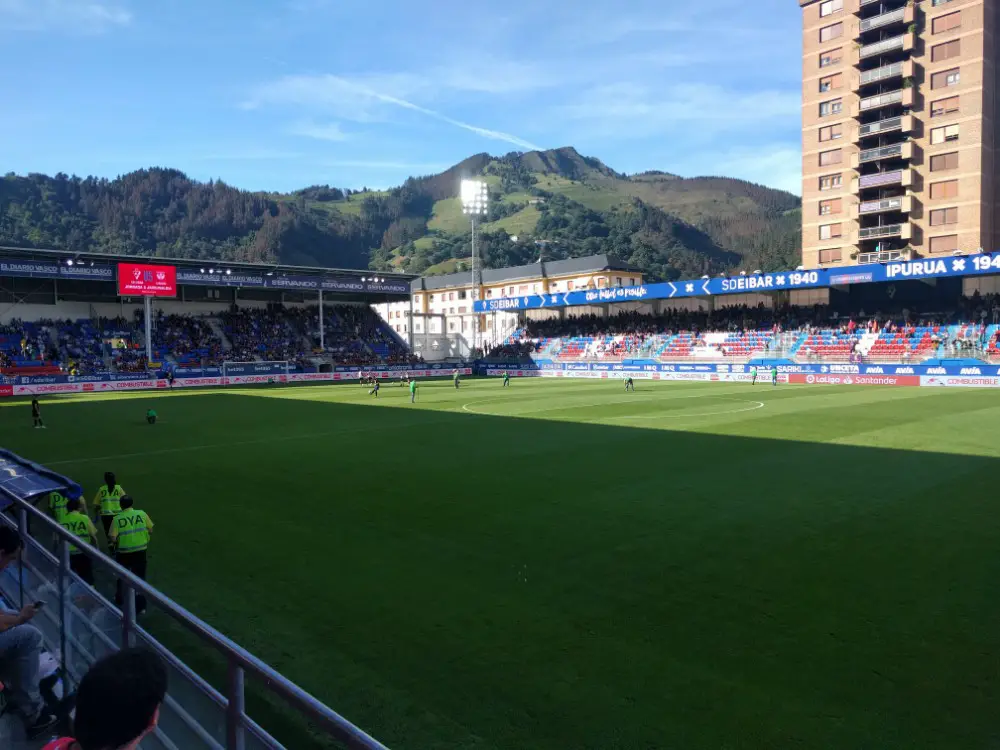 Ipurua by Miguelazo84, CC BY-SA 4.0
Stadium – Ipurua
Capacity – 8,164
Nearest Station – Ardantza-Eibar or Amaña-Eibar
With a population of a little over 27,000, Eibar isn't really somewhere you expect to find a top flight football team. Led by Gaizka Garitano they achieved back-to-back promotions in 2013 and 2014 to reach LaLiga for the first time and against all odds they have managed to establish themselves in the top flight. Fan-owned and predominantly run by women, Eibar are a very unique club that has broken just about all the accepted modern football norms to enjoy the best period in their history and give the Basque Country additional representation in Spain's top tier.
How to buy tickets for Eibar matches:
Eibar has a good online ticketing system with season ticket holders able to release their seats for sale. Although they have the smallest ground in LaLiga, sell-outs are still relatively rare particularly after the renovations which have slightly expanded their capacity. Fixtures against Real Madrid, Barcelona, Athletic Club and Real Sociedad will see the most demand so it's advisable to keep checking the ticket section of their website for updates and release dates.
The Historic Clubs
Real Unión stadium by Giovanni Batista Rodriguez, CC BY-SA 2.0
The Basque Country is also the location of two historic clubs who played big roles in the early days of football in Spain at the beginning of the 20th Century. Both Real Unión and Arenas were founder members of the first Spanish league season in 1929 and both sides also got their hands on the Copa del Rey during those formative years.
Real Unión were the more successful, winning the Copa 4 times during that period. They are based in the border town of Irún which divides the Spanish and French parts of the Basque Country. To date they've spent the entire 21st Century in the Segunda B with the exception of one season in the Segunda (2009/10).
Arenas were in the top flight from the league's inception in 1929 until 1935 but they have not got back there since that first relegation and have spent most of their recent history in the Tercera División. Based in the pretty coastal town of Getxo, in the Greater Bilbao region, their Gobela ground was rebuilt in 2004 and currently holds just 2,000.
The Best of the Rest
Finally there are three more Basque clubs currently plying their trade in the Segunda B. Also in the Bilbao area, you will find Barakaldo, another historic club with over 100 years of history. They've spent 30 seasons in Spain's Segunda División without ever winning promotion to the top flight. Their Estadio de Lasesarre is roughly the same size as that of Eibar's ground with a capacity of around 8,000.
Near neighbours in the Greater Bilbao region are SD Leioa, a smaller club but a well run one. They were playing in the seventh tier as recently as 1988 but have steadily grown with four promotions achieved and not one single relegation suffered since to establish themselves in the Segunda B.
Finally we have SD Amorebieta. Based in the town of Amorebieta-Etxano, 25 km east of Bilbao, they are another small but relatively established Segunda B side playing at the 3,000 capacity Urritxe stadium.
That should leave you with plenty of options for a groundhopping trip in the Basque Country. However if that's not enough, you may also want to check in on Athletic or Real Sociedad's B teams. Both sides are regularly very competitive in the Segunda B and few teams in Europe are as effective at producing fresh young talent as the two big Basque clubs who place such strong emphasis on developing players through their academies. Group 4 of the Tercera División is also entirely made up by Basque teams if you want to go even further down the ladder.
As mentioned above, top flight Osasuna based in the city of Pamplona in Navarre, are also largely viewed as a Basque club while Racing Santander are the other historic club in the region in nearby Cantabria. You could even hop over into southwestern France with Pau Football Club the highest ranked of the teams in the region in the immediate vicinity to the border at the time of writing.
---
Groundhopping in the Basque Country – Getting Around
While there are a lot of clubs, the Basque Country is only a really small place and the vast majority of these clubs can be reached in an hour or less from Bilbao or San Sebastian with plenty of road and rail connections. Getting between Bilbao and San Sebastian is best done by bus with the fastest connections taking just over an hour with Alsa. You should be fine buying a ticket on the day of travel although some buses do sell out during peak periods.
Bilbao's main bus station is right next to San Mamés and has good connections to towns and cities across the region. The other clubs in the Bilbao area and most simply reached by the city's metro network which is formed of two lines. These are the stations you need to look out for:
Barakaldo – Desertu-Barakaldo Station (Line 2)
Arenas – Gobela (Line 1)
SD Leioa – Lamiako (Line 1) – connect to A2161 bus to reach the stadium
San Sebastian's metro network can be used to not only reach Anoeta but Real Unión's Stadium Gal. Ficoba Irun is the nearest station to the ground, only a five minute walk away.
Eibar does have a train station but it is normally best reached by bus from either Bilbao or San Sebastian. Connections are pretty regular and relatively quick with the journey being less than an hour in either case. If it's an evening game, it is worth checking to make sure you have a bus back after the match as there is virtually no hotel accommodation in Eibar itself.
Vitoria is only around 65 km south of Bilbao but the two cities are separated by mountainous terrain which makes travel between them slightly more challenging. There are bus and rail connections with the fastest buses taking around an hour. The train station is better located for the Alavés stadium though which makes the train a good option. If you're coming from virtually any other part of Spain, Vitoria is the easiest of the Basque cities to reach with fast rail and road connections meaning the journey from Madrid is possible in just under 4 hours in either case.
---
Away from the Football
The Basque Country has loads to offer visitors with amazing food served up in the form of tasty pintxos, vibrant cities and scenic countryside. The only thing it lacks is great weather which is often wet and blustery with even the summer months a bit unpredictable. Throw in the unique language and fierce local pride which at times boils over into nationalism and you will quickly learn that the Basque Country is a bit different to every other part of Spain.
The region's most popular destination is San Sebastian. With two gorgeous bays and a cobblestoned old town full of pintxo bars and restaurants, it draws in tourists from around Europe and beyond. Bilbao, the other major football city, is a much more industrious kind of place with a major port and altogether less glamorous past. However in recent years it has been completely revitalised by the opening of the world famous Guggenheim Museum and extensive redevelopment in the riverside area.
Both Bilbao and San Sebastian are surrounded by green hills and there is an array of great walking routes in a region which offers some of Iberia's most dramatic scenery. The third provincial capital and only other major city is Vitoria-Gasteiz, an underrated city with a charming medieval quarter set around the city's Plaza Virgen Blanca.
In terms of the three provinces, Bizkaia probably has the most in terms of other places to visit. The tiny islet of Gaztelugatxe and Gernika, a curious town that has become a symbol of peace, are both nice afternoon or day trips. While the city of Bilbao is not directly on the coast, there are beaches within its metropolitan area with plenty of nice ones located in and between the scenic coastal towns of Getxo and Plentzia.
In Gipuzkoa, the best idea for a day trip from San Sebastian is to head east and visit historic Hondarribia, a walled fishing town and the location of the Gothic and Renaissance Castle of Emperor Carlos V. You can even hop over the border into the French Basque Country.
---
This Basque football guide was published in April 2020.
If you have any questions about visiting the Basque Country for football reasons, feel free to get in touch.