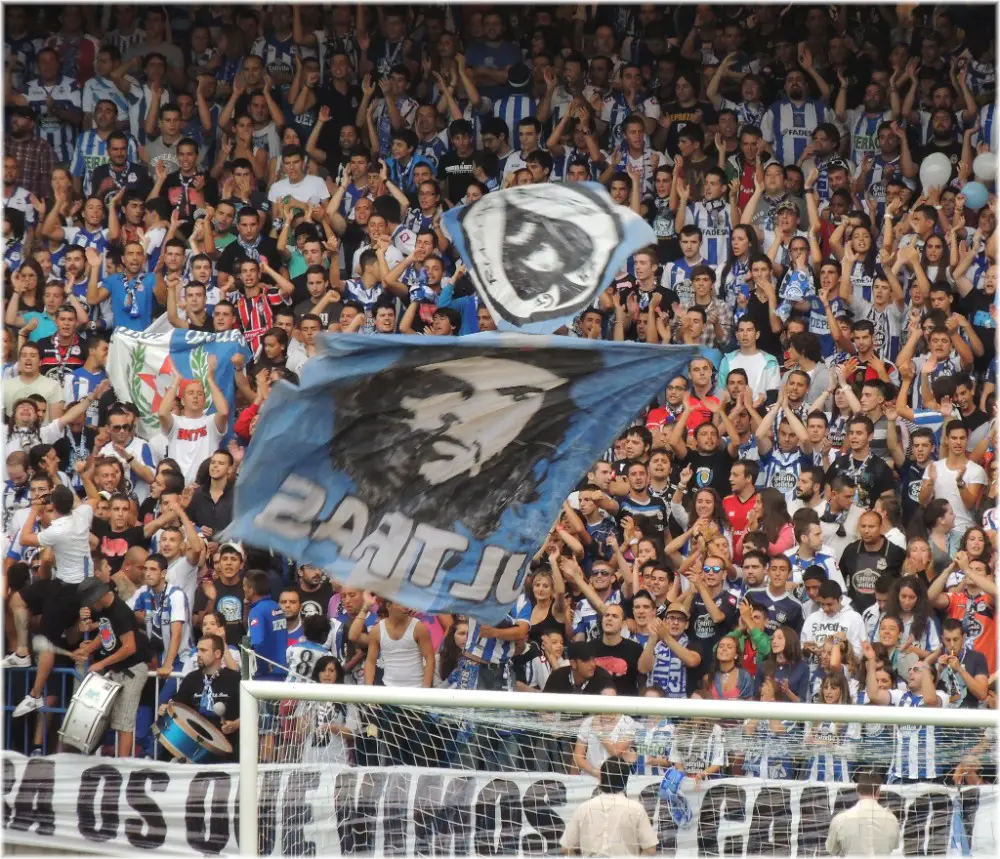 Tucked away, in the northwestern corner of Spain, Galicia is one of the most intriguing regions to visit with strong Celtic traditions and a unique relationship with the sea. Our Galicia football guide delves into that strong local identity with a look at the main clubs in this isolated region which is closer to Northern Portugal than any of Spain's other major cities.
---
Galicia Football Map
Galicia is relatively unique in that as of 2019/20, its capital Santiago de Compostela is not home to a football team in the top three tiers of the Spanish football pyramid. The two biggest cities are Vigo and A Coruña and while they are relatively similar in size, they are very different places and their two main clubs enjoy a fierce local rivalry and battle it out to be the pride of Galicia.
Vigo is an industrial port city and is currently home to the only top flight Galician club – Celta Vigo. There is another Vigo club in the Segunda B though. Coruxo FC are located just south of the city and boast one of the most spectacularly located stadiums in Spain with their ground a stone's throw from one of the region's best beaches.
100 miles north, Deportivo La Coruña are another beach-side football club. They are the only Galician club to have ever won a major trophy following the successful 'Super Depor' era of the 1990's and early 2000's but they currently find themselves languishing in the Segunda División. Depor's closest geographical rivals are Racing Ferrol who were for much of the mid 20th Century an established Segunda División outfit but currently ply their trade in the Segunda B.
In recent years it has been CD Lugo who have largely established themselves as the third team in Galicia. They are located to the southeast of A Coruña in the world's only remaining city to be completely surrounded by intact Roman walls. The only other Galician team to currently feature in one of the top three leagues is Pontevedra, located in a university town just north of Vigo.
---
Galicia Football Travel – The Clubs
The Big Two
Celta Vigo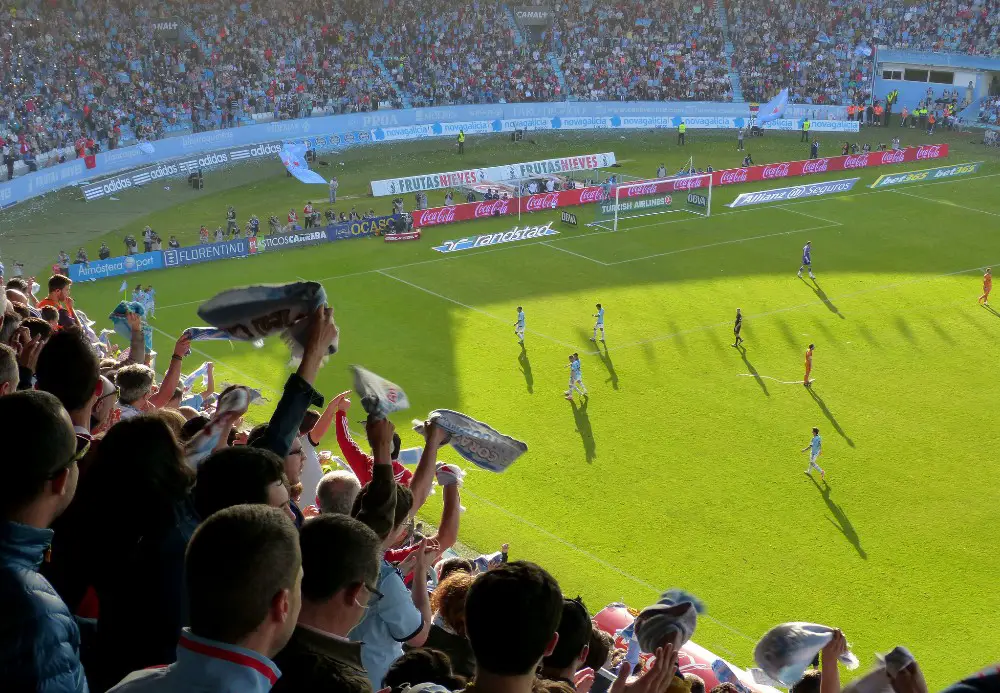 Stadium – Balaídos
Capacity – 29,000
Nearest Station – Vigo Guixar or Vigo-Urzáiz
Celta consider themselves to be the biggest Galician club and the team that best embodies the spirit of the region with even their name being a nod to the area's Celtic heritage. With 54 LaLiga seasons under their belt, they are the Galician side to have spent the most time in Spain's top tier but they've never finished higher than 4th. They've had some strong teams throughout much of the 21st Century but recent Semi-Final exits in the Copa del Rey and Europa League means their wait for that elusive first major trophy goes on.
Balaídos is located around 4 km away from the city centre and port area so you'll need to take a bus or taxi from the heart of the city to reach it unless you fancy close to an hour long walk. It's not one of Spain's great football stadiums in truth with fans a little bit too far from the pitch but Celta fans can and do turn it into a fortress when they feel they've got a cause to get behind, be that a relegation battle or a push for Europe.
How to buy tickets for Celta Vigo matches:
Tickets for upcoming Celta matches can be bought online via the club's website. At the time of writing Celta average just shy of 18,000 for the present season (62% of their capacity) so you shouldn't have a problem if you just turn up on match-day without a ticket although it's advisable to buy one in advance for the bigger games.
Deportivo La Coruña
Stadium – Riazor
Capacity – 32,660
Nearest Station – Estación da Coruña
Located immediately adjacent to A Coruña's main central beach, Depor are one of the best located clubs in Spain and celebrations following their great successes during those glory years around the turn of the century, frequently spilled over onto the beach and the many city centre bars near to the Riazor. While it is slightly smaller, A Coruña is a more upscale and wealthier city than the more workmanlike Vigo and those differences have contributed to the rivalry that has built up between the clubs.
In recent years though, Depor's stock has fallen considerably and they currently play in the Segunda División and briefly looked in danger of dropping down into the Segunda B during an awful run at the start of the 2019/20 season. Not since 1980/81 have Depor stooped as low as Spain's third tier.
How to buy tickets for Depor matches:
The Riazor is the largest stadium in Galicia and you shouldn't really have a problem getting tickets for Depor games with sell-outs very rare. That being said, they have posted some seriously impressive crowds in recent Segunda División games with over 27,000 attending their clash with Las Palmas in February 2020. Ticketing details (in Spanish) can be found on their website but you shouldn't have a problem getting a ticket on the day of the game.
The Other Galician Clubs
Lugo

Stadium – Anxo Carro
Capacity – 7,070
Nearest Station – Lugo Train Station
The most successful of the other Galician teams over the past decade or so has been CD Lugo. Under the guidance of Quique Setién they achieved promotion to the Segunda División for only the second time in their history in 2011/12 and have against the odds managed to establish themselves there, even after Setién's eventual departure in 2015.
Their stadium has been modernised in recent years but only holds just over 7,000 making it one of the smallest grounds in the Segunda. It is located on the outskirts of town on the banks of the River Minho, around a 30 minute walk from the historic centre and bus station and roughly 40 minutes by foot from the train station.
How to buy tickets for Lugo matches:
Lugo are only a small club so there is no English version of their website or anything like that. You can keep tabs on ticketing info via their website but with average crowds hovering between 3,000 and 4,000, you shouldn't have any problem buying a ticket on match-day unless they are playing one of the big Galician teams in which case there may be greater demand with a larger away following likely.
The Best of the Rest
If you fancy going further down the ladder and taking in some Segunda B action then there are some good options too. If you're in Vigo, it's very easy to get to either Coruxo or Pontevedra. Coruxo FC's tiny beachside stadium holds just 1,500 and is barely fit for even third tier football but they are a historic club boasting 90 years of existence, most of it spent in the smaller regional leagues.
Aside from Celta and Depor, there are two other Galician clubs that have featured in the top flight. One of those is Pontevedra who play at the considerably larger Estadio Municipal de Pasarón, a tidy 12,000 all-seater. They spent six seasons in the Primera in the 1960's but haven't got back there since their relegation in 1970.
Compostela are the other Galician side to have featured in the top flight. Based in the historic regional capital of Santiago de Compostela, the club achieved back-to-back top half finishes in LaLiga in 95/96 and 96/97. However their recent history has been littered with off-field problems and following bankruptcy the club reformed in the 2ooo's but has struggled to rise back to their former status. They currently play in the Tercera División at what is now known as the Estadio Vero Boquete de San Lázaro.
Aside from Celta Vigo's B team, the only other Galician side in the Segunda B is Racing Ferrol, a club which recently celebrated their centenary year but has never made the top flight. They play at the 12,000 capacity Estadio Municipal da Malata – another waterside Galician football ground.
---
Groundhopping in Galicia – Getting Around
Train on the Porto-Vigo Line by Iago_ gv, CC BY-NC-ND 2.0
Galicia is a relatively small region and getting between the main towns and cities is simple enough with plenty of bus and train connections. With the exception of Coruxo (take a bus or taxi from Vigo), all the Galician clubs currently in the top three tiers are based in towns with train stations and getting around by rail is probably the simplest way to go about a groundhopping trip to Galicia. Check Renfe.com for times and tickets. There is also a map of the full Galician rail network on this page.
The main rail line runs from Vigo to A Coruña via Pontevedra and Santiago de Compostela. The fastest trains take just 1 hour 20 minutes to get from Vigo-Urzáiz Station to A Coruña Station which is about a 30 minute walk from the Riazor. Tickets cost just shy of €20.
Pontevedra is just 13 minutes from Vigo by the fastest rail line or 30 minutes by the more regular regional trains with tickets costing less than €4. If you just want to go to the football club and not the city, then it's best to take the regional train from Vigo to Pontevedra-Universidade as opposed to the main train station. Pontevedra-Universidade is only a ten to fifteen minute walk from the stadium.
Santiago de Compostela is roughly halfway between Vigo and A Coruña so it's easy to get to from either. The football stadium is located around 5 km from the train station though so you will need to take a taxi or connect to a local bus.
Racing Ferrol are a bit trickier to get to. While it's not far at all from A Coruña, the rail-line between the two towns is slow and not particularly direct so it takes one hour and 20 minutes by train to get to Ferrol from A Coruña and it's a further twenty minute walk from the train station to the football ground.
Lugo is best accessed from A Coruña (2 hours by rail). From the other main cities you may find it quicker to take a bus. Check Alsa for schedules.
It's also worth pointing out that it's only around two and a half hours by rail from Vigo to Porto, so you could potentially catch both Spanish and Portuguese top flight action on the same weekend.
---
Away from the Football
Galicia's Celtic heritage extends to the green, hilly landscape and even the weather. It is pretty far removed from the rest of Spain, both in geographical and cultural terms and that really does help to give it a special quality. Almost all the main cities and towns are interesting places to visit in their own right with a huge amount of Roman history in the area so it's very easy to combine a football game with some sightseeing.
Vigo is perhaps unfairly dubbed the one with the least tourist appeal with its industrial reputation tough to shift. There are some stunning beaches in the surrounding coastline and small offshore islands though so there's still plenty to see and do in the immediate vicinity of the city.
Santiago de Compostela, Lugo and A Coruña are all home to World Heritage Sites. Santiago's old town is the famous end point of the Camino de Santiago pilgrimage route through Northern Spain which thousands of hikers still attempt each year. The city is also home to one of Spain's largest and most important cathedrals.
A Coruña also has some gorgeous coastlines and its most famous site is the Torre de Hércules, a Roman-era lighthouse that is still being used to this very day to guide ships through the choppy and often dangerous waters off the rugged Galician coast. Navigating Lugo's Roman Walls is also a popular stop on the Galician tourist trail but the town has few other obvious attractions.
Away from the major urban areas and football teams, there are plenty more amazing beaches and coastal areas with Sanxenxo and O Grove popular summer destinations. The latter is also famous for its seafood and hot springs. Nature lovers may want to head to the Corrubedo National Park, home of some giant sand dunes. Meanwhile there is much more history and Galician culture to be found in the small towns of Tui and Ribadavia.
---
This post on the Galicia football travel was published in March 2020.
If you have any questions about visiting Galicia for football reasons, feel free to get in touch.
---