With a mild year-round climate, there aren't many better places to escape the European winter and catch some football than the Canary Islands. The two largest islands – Tenerife and Gran Canaria, have both regularly hosted top flight action in the past and while the necessary travel commitments (it can take as much as 3 hours to fly to mainland Spain) makes it tough for the smaller clubs to thrive, there is one section of the Tercera División, which is entirely made up of clubs from the Canaries. The islands have also been big contributors to the success of the Spanish national team in recent years with the likes of David Silva, Pedro and Juan Carlos Valerón having all been born and raised here. Read on for our guide to Canary Islands football.
---
Canaries Football Map
The Canary Islands (Islas Canarias in Spanish), are located in the Atlantic Ocean, just west of Morocco but over 1000 miles south of mainland Spain. To put that in some perspective, consider that Madrid is closer to London than any of the seven main islands that make up the Canaries.
Despite their isolated location, the Canary Islands are a formal part of Spain and are one of the country's 17 autonomous communities. The two most populated islands are Tenerife and Gran Canaria with just shy of a million people permanently living on each in addition to the many holidaymakers. Both islands are home of Segunda División clubs (as of 2019/20) with CD Tenerife located in the city of Santa Cruz while UD Las Palmas are based in the city of Las Palmas in Gran Canaria. Those are also the two largest cities in the Canaries with Las Palmas de Gran Canaria actually ranking as the 9th largest city in all of Spain.
The only Segunda B Canaries team at present is Las Palmas Atlético (Las Palmas' B team). There are a host of other clubs on the islands however the logistical challenges and costs of getting to/from mainland Spain to play matches makes it hard for most of them to progress beyond the Tercera División which is the highest tier to feature a league solely consisting of Canaries clubs. Most of those clubs are also located on either Gran Canaria or Tenerife, the two central islands.
The easternmost islands of Fuerteventura and Lanzarote are the next biggest and both have Tercera football clubs. The other island of note is La Palma (not to be confused with Las Palmas the city on Gran Canaria). This is the island to the northwest of Tenerife as you look at the map. It has quite a lively football scene with two Tercera clubs in the largest town – Santa Cruz de La Palma (not to be confused with Santa Cruz de Tenerife!). The two smaller islands visible on the map west of Tenerife are La Gomera and El Hierro but both have tiny populations and not much of a football presence.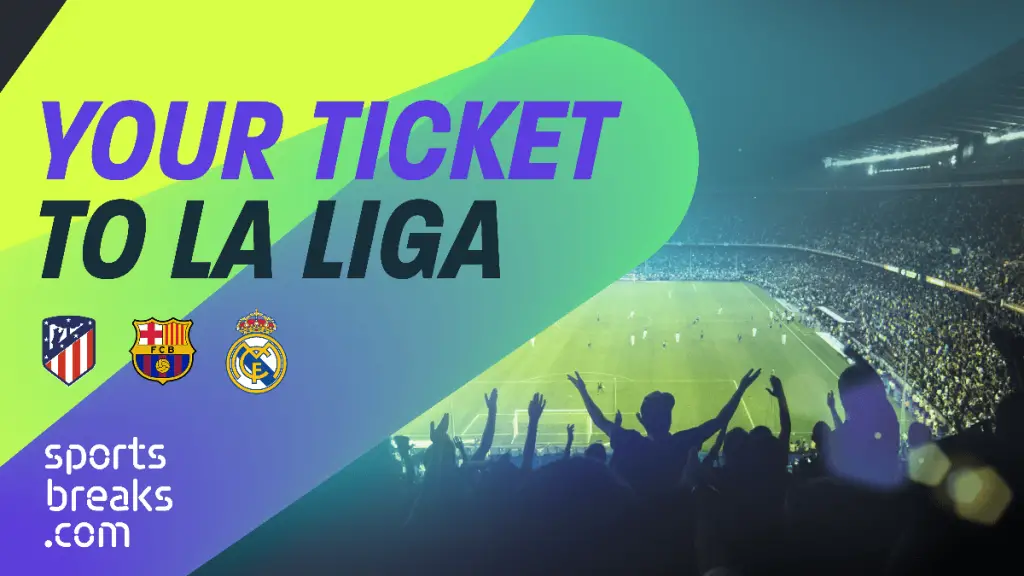 ---
Canary Islands Football Guide – The Clubs
The Big Two
Las Palmas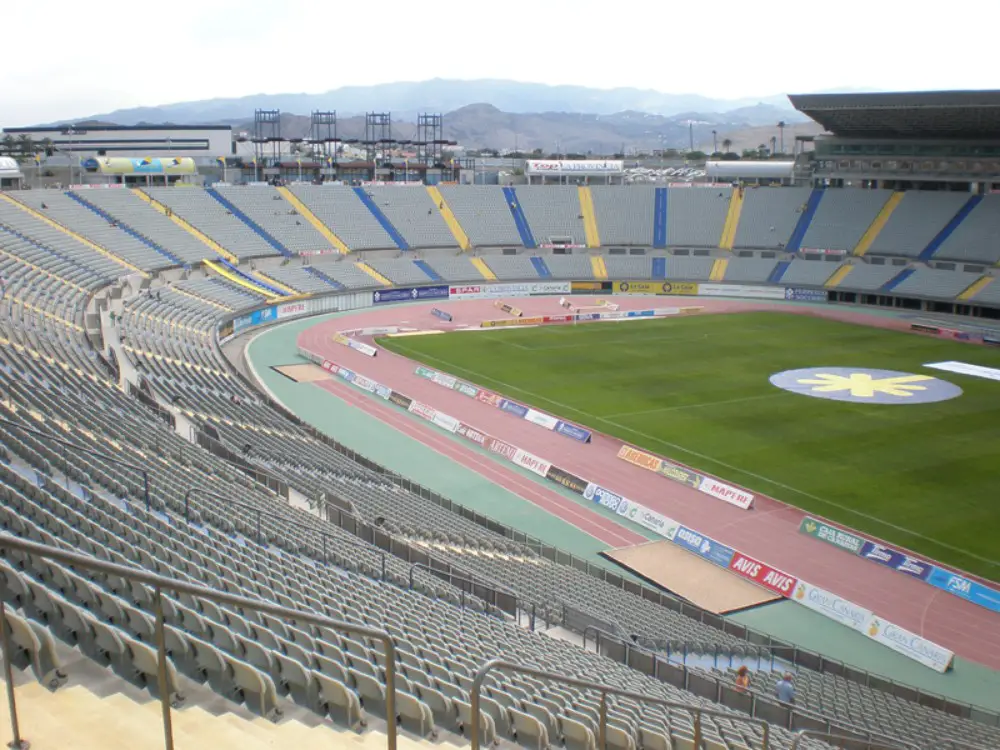 Stadium – Estadio Gran Canaria
Capacity – 32,400
Nearest Station – None
Las Palmas are the biggest club in the Canaries and given the size of the city, there is no reason why they can't support a top flight side despite recent struggles. Indeed they spent 19 consecutive seasons in La Liga between 1964 and 1983, and even managed to finish 2nd in 1968/69 with Real Madrid pipping them to the title. A few European campaigns followed but things have declined in recent years with the club having only spent five seasons in the top flight since 1988.
They were most recently relegated at the end of the 2017/18 season having previously enjoyed a couple of strong years under the guidance of Quique Setién when the Gran Canaria outfit played some of the most attractive football in La Liga.
How to buy tickets for Las Palmas matches:
The Estadio Gran Canaria is the largest stadium in the Canaries and has often hosted the Spanish national team. With a capacity of over 30,000, getting tickets for Las Palmas should be very simple, certainly while they remain in the Segunda División. Advanced purchases may only really be necessary in the event of a big play-off game or a match against one of the giants of Spanish football should they return to the top flight or secure a big cup tie. Given this is a holiday island, they do make an effort to cater to visitors hoping to catch a game and you can find info on their English language ticketing page.
The stadium is unfortunately located quite a way south from the central areas of the city of Las Palmas. It's roughly 5 km from the Las Canteras beach area where most of the hotels and tourist facilities are located with bus routes 26, 44 and 45 providing links although groups may find it simpler to just take a taxi. There are no trains, trams or metro services on the island of Gran Canaria with plans for the first line on hold since 2004 due to funding difficulties.
Tenerife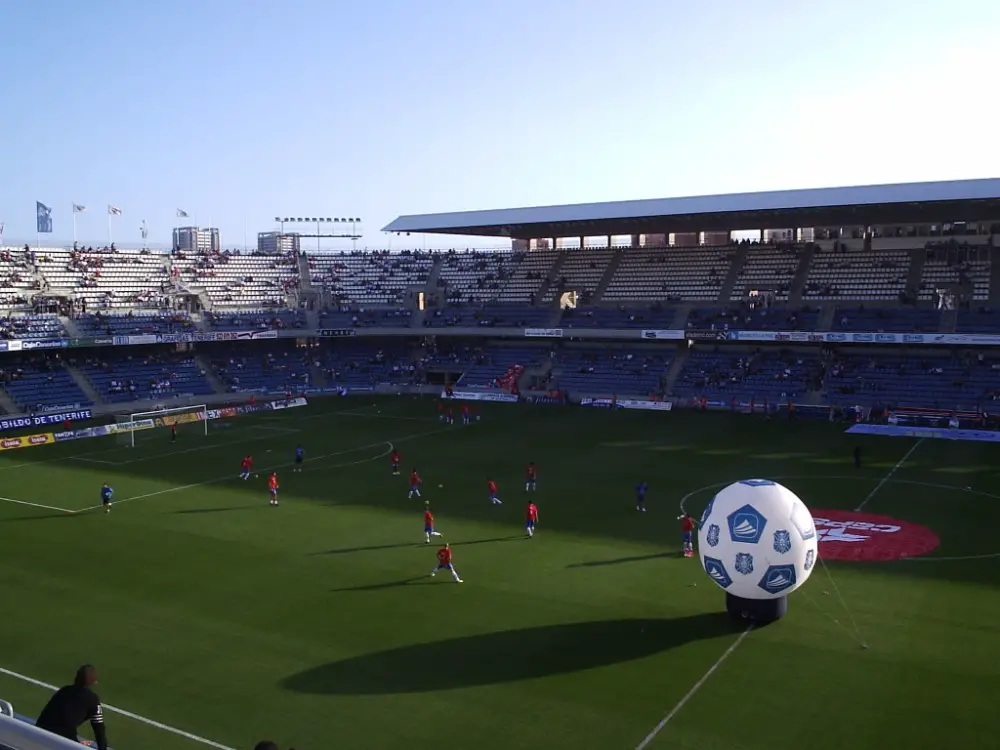 Tenerife ground via edube, CC BY-SA 2.0
Stadium – Estadio Heliodoro Rodríguez López
Capacity – 22,824
Nearest Station – La Paz (Tenerife Tram)
The other main Canaries team is CD Tenerife who regularly take on Las Palmas in the hotly contested Canary Islands derby. Founded in 1912, they are considerably older than their rivals but have largely lived in their shadows for much of their history. However things dramatically changed in the 1990's when Las Palmas sunk as low as the Segunda B, while Tenerife enjoyed a real golden era, spending ten straight seasons in the top flight between 1989 and 1999 having only previously featured in it once.
During that period, they famously twice denied Real Madrid the title on the final weekend and secured two 5th place finishes which secured European football. They made it all the way to the UEFA Cup Semi-Finals in 1996/97, beating the likes of Lazio and Feyenoord before eventually losing to Schalke. However since then standards have slipped and they've spent most of the 21st Century in the Segunda División, where they currently reside.
How to buy tickets for Tenerife matches:
Tenerife do have a loyal following but they very rarely sell out the Estadio Heliodoro Rodríguez López which is usually around half-full for Segunda matches. They have some really good value tickets with prices starting at just 13 Euros for adults and 3 Euros for children (2019/20 prices). More info can be found on their ticketing page.
The stadium is located conveniently – just a ten minute from La Paz tram station while it's only a twenty minute walk from central parts of Santa Cruz de Tenerife to the ground.
The Best of the Rest – Island by Island
CD Mensajero stadium (La Palma island) via Javier1989canario, CC BY-SA 3.0
While there are no Canaries clubs in the Segunda B as of 2019/20 (aside from Las Palmas B), Group 12 of the Tercera División is entirely made up of Canary Islands clubs. The islands of La Gomera, and El Hierro are not represented but the 20 teams are spread out across the five largest islands:
Tenerife
Aside from CD Tenerife (and their B team who also play in the Tercera), there are a host of smaller clubs dotted around the island and many of them are more accessible to tourists and holidaymakers. The popular holiday resort of Playa de las Américas in the south of Tenerife is home to Club Deportivo Marino who play at the 7,500 capacity Estadio Antonio Domínguez. Even if they are away at the time of your visit, CD Buzanada and UD Ibarra are other Tercera sides in the Playa de las Américas area. On the north coast, you can find Santa Úrsula, Vera and Atlético Tacoronte while finally Atlético Unión de Güímar are located to the south of Santa Cruz in the east of the island.
Gran Canaria
The city of Las Palmas de Gran Canaria is home to two Tercera clubs in the shape of Tamaraceite and Unión Viera, while Las Palmas' C team also play at that level. A bit further south you will find local rivals Panadería Pulido and UD Villa de Santa Brígida while in the centre of the island, San Fernando (where David Silva played as a youngster) are based in the village of San Bartolomé de Tirajana.
Lanzarote
Unión Deportiva Lanzarote are the biggest club on the volcanic island of Lanzarote and are probably the third largest team in the Canaries after Las Palmas and Tenerife. They were an established Segunda B outfit between 2001 and 2010 but have been in the Tercera ever since and are usually one of the strongest sides in the Canaries section of it. They play their games at the 7,000 capacity Ciudad Deportiva ground in the capital Arrecife.
Fuerteventura
UD Fuerteventura were the club that formerly carried the name of the island but they were dissolved in 2010 due to financial problems. As of 2019/20, there are two small Tercera sides on the island of Fuerteventura – Gran Tarajal in the town of Tuineje and La Cuadra-Unión Puerto, located slightly further north in Puerto del Rosario.
La Palma
The tiny island of La Palma punches above its weight on the football field to some extent with three Tercera clubs as of 2019/20, the same number as the much larger Lanzarote and Fuerteventura have combined. There are two in the city of Santa Cruz de La Palma on the east coast – SD Tenisca and CD Mensajero. The latter are one of the biggest of the smaller Canaries clubs with a history dating back to 1924. A trip to their stunning cliff-side Estadio Nuevo Silvestre Carrillo is highly recommended. There is also a Tercera club on the west of La Palma – Atlético Paso, based in El Paso.
---
Groundhopping in the Canary Islands – Getting Around
Ferry from Tenerife to La Gomera via Tony Hisgett, CC BY 2.0
The big two Canarian teams are often at home on separate weekends so if you are visiting Gran Canaria or Tenerife for a week or more during the football season, it should be possible to take in a game at both the Estadio Heliodoro Rodríguez López and Estadio Gran Canaria.
The fastest ferry links between Tenerife and Gran Canaria are with Naviera Armas and take just one hour 40 minutes. There are many sailings throughout the day between the two capital cities (Santa Cruz & Las Palmas) with fares starting at as little as €10 if booked in advance.
There are relatively good transport links between all of the five main Canary Islands by ferry. Therefore while most visitors to the region fly in and out of one island and don't leave it, arranging a larger trip taking in several islands should be no problem at all.
Lanzarote and Fuerteventura are less than ten miles apart at the closest point with the many Corralejo-Playa Blanca ferries connecting the two islands in less than half an hour each day. Fred Olsen are perhaps the best company to use and they even offer free bus connections between Puerto del Carmen, Arrecife, Lanzarote Airport and the ferry terminal for anyone with a ferry ticket.
Getting between Lanzarote/Fuerteventura and the other islands takes a bit longer but there are still regular connections. From Lanzarote, it takes around 3 hours 30 minutes by ferry to reach Gran Canaria and closer to five hours to reach Tenerife (you may need to connect to a separate ferry in Gran Canaria). Do check journey times when you book as there are some considerably slower ferries which also offer some passenger services across the Canaries.
The small island of La Palma is best reached from the port of Los Cristianos in Southern Tenerife. Both Fred Olsen and Naviera offer services taking around three hours, although they are less regular than the other routes.
You may wish to consider renting a car to help your travels though as public transport connections on the islands are less plentiful than in mainland Spain. While there are public buses on all the islands and many tourist offerings, these may be a bit less regular during quieter periods of the year. Of the islands, only Tenerife has some form of rail network, with the Tranvia de Tenerife operating in the northern region around Santa Cruz.
---
Away from the Football
The Canary Islands have been a popular winter sun destination for Europeans for many decades now. Their southerly location ensures they are basically the only place in Europe where you can be confident that it will be warm enough to go to the beach from November to February with average daily highs of 20°C or more throughout the year in all of the Canary Islands, at least on the coast.
You are pretty much spoiled for choice in terms of beaches. If you're looking for a resort holiday, some of the liveliest include Las Américas (Tenerife), Playa del Inglés (Gran Canaria) and Puerto del Carmen (Lanzarote).
If you're looking for something much quieter, there are loads more options for beautiful beaches, coves and bays away from the crowds. The island of La Palma would be a great starting point as it is the only one of the biggest five islands that hasn't really become a major tourist destination, largely due to its size and the extremely limited capacity of its airport. The islet of La Graciosa just off the tip of Lanzarote is another great option for escaping the crowds with Playa Francesa one of the best and quietest beaches in all the Canaries. You can find some more ideas for quieter Canaries beaches here. Having your own vehicle will make it much easier to reach them.
Inland, most of the islands have their own unique points of interest too so you shouldn't be struggling for things to see and do. Lanzarote's dramatic volcanic landscape is best explored in the Timanfaya National Park with a visit to the Montañas del Fuego, an essential stop to get a real understanding for just how much fire lies beneath the surface. Fuerteventura is perhaps best known for its giant sand dunes in Corralejo which give it almost a Saharan feel. In Tenerife, Los Gigantes Cliffs are one highlight and a launching pad for whale and dolphin excursions while the island is also home to Spain's highest peak – El Teide. This can be reached by cable car although the rapid ascent to the 3,500 metre mountain does cause altitude sickness in some.
While the major cities in the Canaries are a bit underwhelming in truth, there are dozens of nice fishing villages dotted around the islands and there are a few pleasant towns with plenty of character including San Cristobal de la Laguna (Tenerife) and Santa Cruz (La Palma).
---
This post on Canaries football travel was published in May 2020.
If you have any questions about visiting the Canary Islands for football reasons, feel free to get in touch.
---