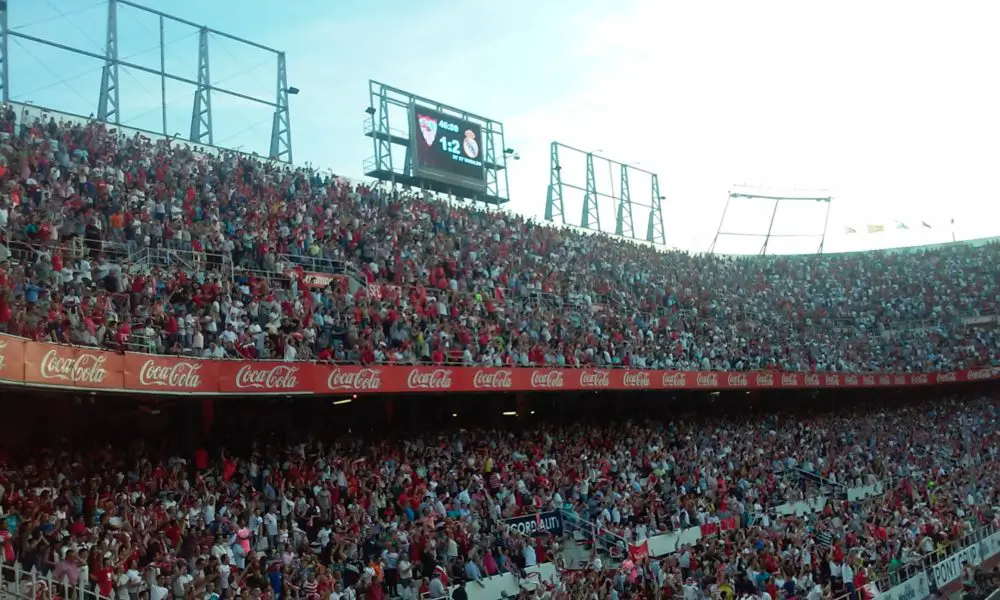 Our Andalusia football guide heads all over Spain's second largest region to give you the lowdown on the clubs, getting around, buying tickets and much more. Over eight million people live in this large area that covers most of sunny southern Spain, making it the most populated of the country's 17 autonomous communities with a larger population than Catalonia or Madrid. Unsurprisingly it is home to a lot of football clubs with no fewer than 13 Andalusian sides featuring in Spain's top three tiers as of 2019/20 plus a few B teams.
---
Andalusia Football Map
The first thing that anyone visiting Andalusia for football or other reasons needs to get their head around is its sheer size. This is not like other regions of Spain where you can hop between towns in an hour or less. As a reference point, consider that Andalusia is larger than Ireland (the whole island) and only a fraction smaller than neighbouring Portugal.
While games between any of the clubs featured in the map above are loosely referred to as Andalusian 'derbies', that's quite a stretch in some cases. For example it is a 1000 km return journey from Huelva to Almeria, a trip which may take in the region of 7 to 8 hours each way by public transport.
The above map shows the location of all the Andalusian sides in the top three tiers as of 2019/20. The capital and largest city in Andalusia is Seville – home to Spain's fiercest football derby with two big clubs in the shape of Sevilla FC and Real Betis. In truth, they are also the two biggest clubs in the region as a whole.
Around 250 km to the east of Seville, you will find Granada, the only other Andalusian side currently plying their trade in the top flight. The only other club in a non-coastal city is Cordoba (the northernmost blob on the map above) who have fallen on hard times since their last top flight campaign in 2014/15.
The other clubs, we will run through from west to east along Andalusia's long sun-drenched coastline. First off you have Recreativo de Huelva, Spain's oldest football club. Heading east through the Doñana National Park, you eventually come to the province of Cadiz which is home to a number of clubs.
First up you have minnows Atlético Sanluqueño in the town of Sanlúcar de Barrameda. Keep going and you reach the city of Cadiz, home to Cadiz CF – the biggest club in the province. Just outside the city, San Fernando play at the Estadio Iberoamericano. Continuing round the coast and just the other side of the narrowest stretch of the Strait of Gibraltar which separates Spain from Morocco, Algeciras and Linense are near neighbours. The latter are located in La Línea de la Concepción, the small Spanish city which borders British-controlled Gibraltar.
Continuing eastwards along the coast, you enter the province of Malaga and the famous Costa del Sol. Amongst the many holiday resorts in this area, the most well-known is probably Marbella, home of Segunda B outfit Marbella FC. 60 km further along you reach the city of Malaga, home to Malaga CF, who are largely viewed as the main Andalusian competitor for the two Seville clubs.
From Malaga, it's another 200 km along the coast before you reach the isolated city of Almeria in the province of the same name, home to UD Almeria (the easternmost blob on the map above).
---
Andalusia Football Guide – The Clubs
The Seville Clubs
Sevilla FC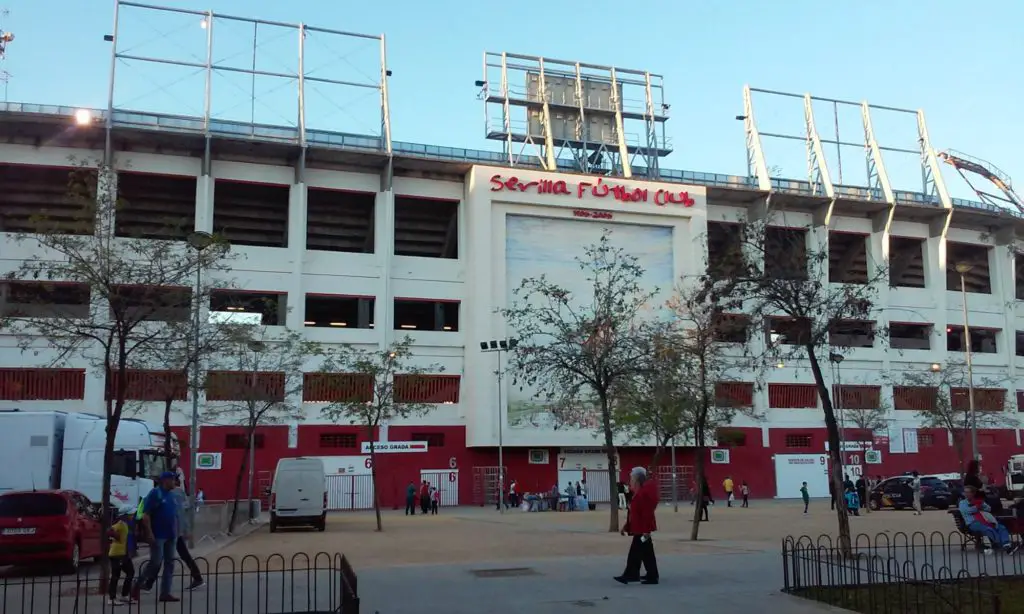 Stadium – Ramón Sánchez Pizjuán
Capacity – 42,714
Nearest Station – Sevilla Santa Justa (Train Station), Nervion (Seville Metro)
In the 21st Century at least, Sevilla have established themselves as the kings of Andalusian football. Under the brilliant guidance of sporting director Monchi, Sevilla have become known for their outstanding recruitment and they've also taken a relatively unique stance of really prioritising the cup competitions, almost accepting their inability to compete with mega rich Real Madrid and Barcelona over a 38-game season.
Their approach has really paid off with Sevilla claiming an incredible five UEFA Cup/Europa League triumphs between 2006 and 2016. They've also been Copa del Rey and Supercopa winners since the turn of the century and with Monchi back at the helm following a brief stint in Rome, they are aiming to upset the big boys at home and abroad again.
How to buy tickets for Sevilla matches:
The cauldron of noise that is the Ramón Sánchez Pizjuán has also played a big part in Sevilla's success over the past two decades. Sevilla fans serve up what is unquestionably one of the best atmospheres in Spanish and perhaps even European football and it's relatively easy to get tickets to experience it for yourself. Match tickets are best bought online via the club's ticketing page but you will need to get in quick for the bigger games where the cheaper sections sell out quickly. Sevilla's average attendance for the 2019/20 season at the time of writing was just over 36,000 which in terms of a percentage of their capacity is a lot higher than most La Liga clubs.
The Ramón Sánchez Pizjuán is conveniently located within walking distance of the city's main train station while it is also served by the city's metro line. To get to the RSP from the centre of Seville, it would take roughly 20-40 minutes to walk depending on where you are coming from.
Real Betis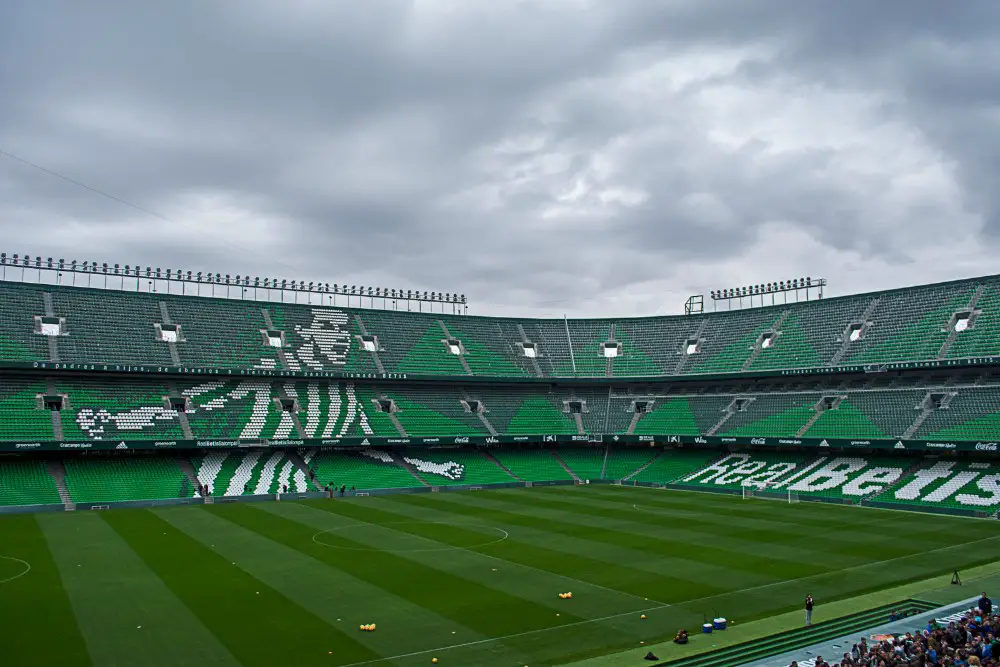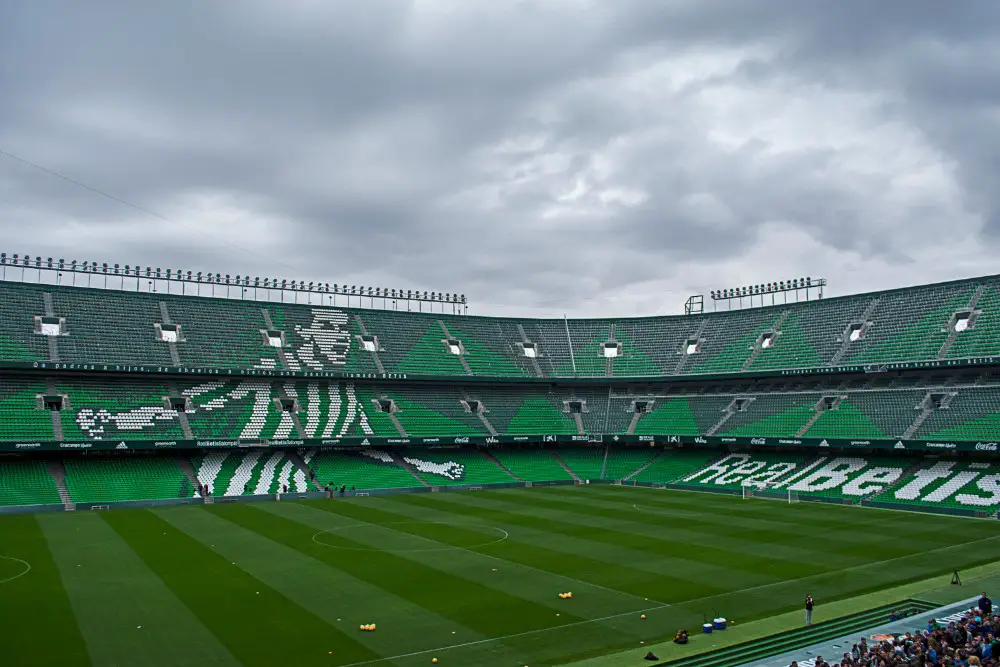 betis stadium – By Anual – Own work, CC BY-SA 4.0
Stadium – Benito Villamarín
Capacity – 60,720
Nearest Station – Sevilla Virgen del Rocio (Train Station)
While Sevilla have been the more successful club in recent years, Betis fans will tell you that they are the biggest and best supported team in the city of Seville. On the latter, they certainly have a strong case with average league crowds just shy of 49,000 (2019/20) at the Benito Villamarin, the largest stadium in Andalusia. They also have a large following around Spain and are one of the few teams that boasts sizable support when they play away. This is largely the result of large-scale migration out of Andalusia, one of the poorest regions in Spain, during the 20th Century.
Betis see themselves as the working man's club and they also can lay claim to having one of the best atmospheres in Spain, something which peaks whenever the Seville derby (easily Spain's biggest local rivalry) is played.
How to buy tickets for Betis matches:
Betis tickets can also be bought online and with the exception of games against Barcelona and Real Madrid or the derby against Sevilla, you shouldn't have a problem getting a ticket. Even in those three cases it should be possible but you can expect to pay significantly more than usual and you may need to keep checking the website and buy when tickets go on sale.
The Benito Villamarin is located close to Sevilla Virgen del Rocio station but if you're staying in the city for a few days, it's simpler to just take a bus from the city centre. Alternatively, it is a nice but long walk to the Benito Villamarin in the district of Heliopolis, taking around 30 minutes from the famous Plaza de España or 45 minutes from the cathedral.
The Eastern Andalusian Clubs
Malaga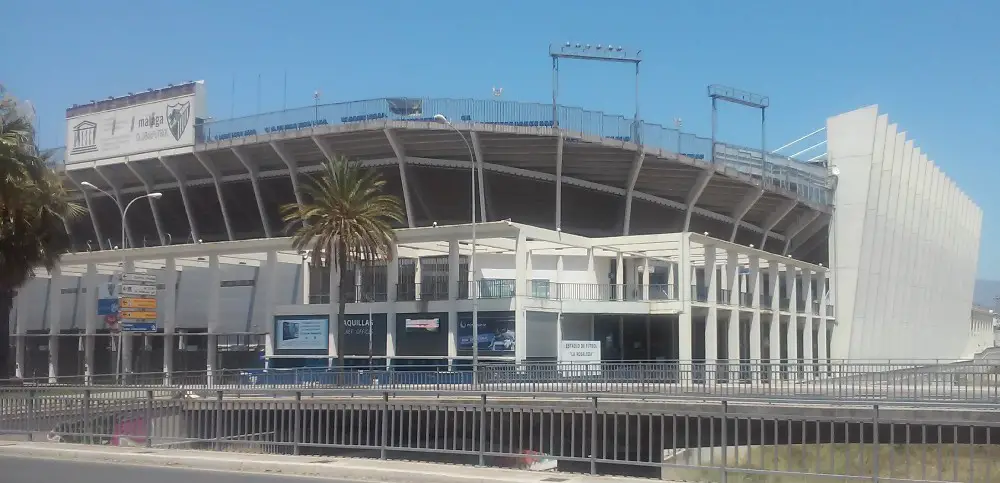 Stadium – 30,044
Capacity – La Rosaleda
Nearest Station – Malaga Maria Zambrano or Málaga Centro-Alameda

Malaga's history is one defined by off-field problems and since the first Spanish league season in 1929, they've had no fewer than five different names due to various financial struggles and re-brands, the most recent of which came in 1994 when they became Málaga Club de Fútbol as they are known today. They were in the fourth tier at that point but quickly rose through the divisions and have spent most of the 21st Century in the top flight. Their biggest achievement was making it through to the Champions League Quarter-Finals during the 2012/13 season when they suffered an agonising late defeat to a Borussia Dortmund side that scored twice in Stoppage Time in the 2nd Leg to progress.
Since then though, those off-field struggles have returned and Malaga were relegated from La Liga in 2018 and have since experienced severe financial troubles leading to fears for their future once again.
How to buy tickets for Malaga matches:
You shouldn't have any trouble getting a ticket for Malaga matches whilst they are outside the top flight with their 30,000 capacity stadium more than sufficient to sustain second tier football. With a large expat community on the Costa del Sol, they are a club that does have a reasonably big English speaking following which the club caters to reasonably well. Getting information about tickets is easy via the English ticketing page on the website, while you can also buy tickets from the ticket office on match-day. In the Segunda, they regularly start at just €15.
La Rosaleda is roughly a 20 minute walk from the centre of Malaga or 40 minutes from Playa de la Malagueta. It's easily founded by following the dried out riverbed inland while it is also served by several buses. If you're coming from one of the resorts on the Costa del Sol, take the train to Málaga Centro-Alameda which is a 30 minute walk or short bus ride from the stadium. Coming from another city in Andalusia or Spain, you'll most likely arrive at either Maria Zambrano Train Station or the adjacent Bus Station. It's roughly 40 minutes from either by foot to the stadium but buses and taxis are plentiful.
Granada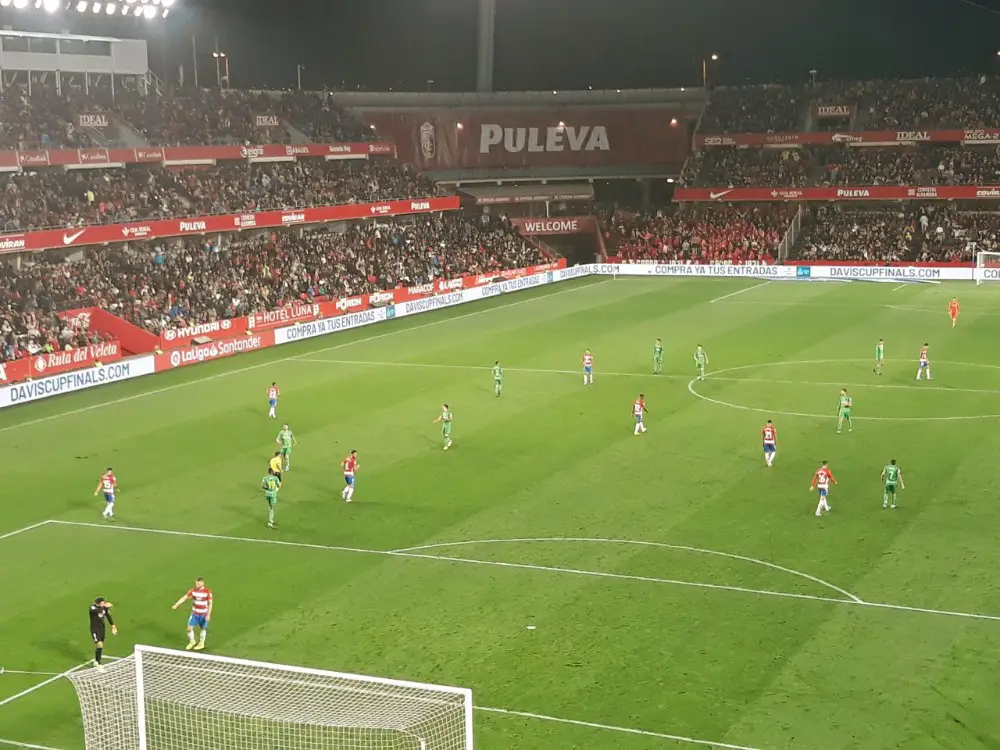 Stadium – Nuevo Estadio de Los Cármenes
Capacity – 19,336
Nearest Station – Nuevo Los Cármenes or Palacio Deportes (Granada Tram)

Although by no means as fierce as the Seville derby, the other major rivalry in this part of the world is between Malaga and Granada, a fixture known as the Eastern Andalusian derby. Historically Granada have been the less successful of the two clubs but as of 2019/20, they are a division above their rivals having been promoted to La Liga in 2019 with Diego Martinez doing a fine job in charge. Prior to this current period, Granada's best era was the early 1970's when they twice finished 6th in La Liga.
How to buy tickets for Granada matches:
You can find information about upcoming matches and buy tickets via the ticketing section on their official website. Granada do have one of the smallest grounds in the top flight and getting anything like a reasonably priced ticket for the big games may be a struggle with tickets for their famous victory against Barcelona in September 2019, starting at €60.
The Nuevo Los Cármenes is located on the southern fringes of the city, well away from the centre. However the recently opened tram-line makes getting to the ground relatively easy with both Nuevo Los Cármenes and Palacio Deportes stations located on Line 1 immediately adjacent to the stadium.
Read more: LLE on the Road in Granada
Almeria

Almeria stadium by Almju, CC BY-SA 4.0
Stadium – Estadio de los Juegos Mediterráneos
Capacity – 21,350
Nearest Station – Almeria
UD Almeria are the other notable club in Eastern Andalusia. The club was formed as recently as 1989, although arguably as the successor to AD Almeria, a club which featured in La Liga from 1979 to 1981 but went bust the following year. In its current form, Almeria rose to reach the top flight for the first time in 2007 and spent 6 of the following 8 years there before falling back down into the Segunda.
They were taken over by wealthy Saudi Turki Al-Sheikh in August 2019 and immediately went on one of the biggest spending sprees in the history of the Spanish second tier, raising hopes of an imminent return to the top flight. His controversial reign has brought many sudden changes to the club and at the time of writing their coach is former Real Madrid midfielder Guti.
How to buy tickets for Almeria matches:
As of the 2019/20 season, tickets for Almeria games range from 10 to 30 Euros for adults and 5 to 15 Euros for children. You can find more info on their ticketing page. While the stadium holds over 20,000, the club have permanently closed a section of it which may reopen should they return to the top flight. Therefore the actual current capacity is 15,000 and getting a ticket on match-day itself should be no problem with average crowds at the time of writing still just shy of 10,000, even in a season when they are pushing for promotion.
The stadium was originally built for the 2005 Mediterranean Games and as such has an athletics track which isn't ideal for watching football. It's roughly a thirty minute walk or short bus/taxi from the bus or train station to the ground.
The Other Andalusian Clubs
Cadiz
Cadiz stadium by Joselulobato13, CC BY-SA 4.0
Stadium – Estadio Ramón de Carranza
Capacity – 20,724
Nearest Station – Estadio
Cadiz are another well established Andalusian club with over 110 years of history. Based in the popular seaside city which prides itself on its sense of humour, not to mention one of Spain's best beaches, a trip to Cadiz is well worth considering for groundhoppers in Andalusia.
They've not been in the top flight since a solitary campaign in 2005/06 but they have been pushing hard for promotion from the Segunda in recent years. Cadiz's best era was an eight year stint in La Liga between 1985 and 1993 but they've never finished higher than 12th in the top flight.
How to buy tickets for Cadiz matches:
Cadiz tickets can be bought from their ticket office in advance or on the day of the game. With most of the ground filled by season ticket holders, individual match tickets are on the expensive side though with prices for recent Segunda matches in 2019/20 starting at €35. The stadium is located only a couple of blocks back from the city's famous Playa de la Victoria, however it is 4 km away from the historic centre. There is a train station right next to the Ramón de Carranza but the number 1 bus line also serves the stadium and provides more regular connections with the centre.
Recreativo Huelva
Stadium – Nuevo Colombino
Capacity – 21,670
Nearest Station – Huelva
Founded in 1889 by two Scottish miners, Recreativo de Huelva pride themselves on being the oldest football club in Spain. Despite that, it wasn't until nearly a century later that they reached the top flight for the first time in 1978 and that particular adventure lasted only one season before they were relegated.
Recre enjoyed a successful first decade of the 21st Century though, finishing 8th in La Liga in 2006/07 in one of the best showings by a newly promoted side in the history of the Spanish top flight. However they've since fallen down the Spanish football ladder again and the 2019/20 season is their fifth consecutive Segunda B campaign.
How to buy tickets for Recre matches:
With a stadium that is far too big for the third tier, you won't have any problem getting a ticket to see Recre play on the day of the game at the club's ticket office. The Nuevo Colombino is conveniently located, just a fifteen minute walk from Huelva train station and the city centre.
Cordoba
Stadium – Nuevo Arcángel
Capacity – 21,822
Nearest Station – Cordoba
Cordoba is the third largest city in Andalusia after Seville and Malaga and given that, Cordoba CF could probably be seen to have underachieved, certainly in recent decades. They were an established top flight outfit in the 1960's but have only spent one year in La Liga since 1972 – the ill-fated 2014/15 season when they were relegated with just 20 points having only won 3 of their 38 matches. Since then things have taken a considerable turn for the worse with financial struggles contributing to their relegation to the Segunda B in 2019.
How to buy tickets for Cordoba matches:
As is the case in Huelva, Cordoba have a large stadium that is too big for their current third tier needs. Tickets can be bought on match day with some games having seats available for as little as €5. The stadium is on the edge of the city and would take around 45 minutes to walk from the adjacent bus and train stations so taking a local bus or taxi to the ground is advisable.
The Best of the Rest
Besides the clubs featured above, there are five more Andalusian teams in the Segunda B as of 2019/20 although they are all considerably smaller in terms of their size and stature. The biggest of the bunch are perhaps near neighbours Real Balompédica Linense and Algeciras CF. Both clubs were established way back in 1912 with the game already gaining popularity in the region thanks to the British presence in nearby Gibraltar.
Algeciras have spent nine seasons in the Segunda Division but they spent most of the 2010's in the Tercera. Linense meanwhile have six second tier campaigns under their belt but have been in the Segunda B since 2011. Their stadium is located immediately adjacent to Gibraltar Airport with flights coming in to land in front of the giant rock, the regular backdrop for their matches. If you want to give your football trip an international flavour, you could even hop over the border and take in a match in Gibraltar Premier Division while the Moroccan city of Tangier can be reached in less than an hour by ferry from Algeciras.
Staying in Andalusia, there are three more Segunda B clubs to get through. Close to Cadiz, San Fernando CD were born out of the ashes of CD San Fernando in 2009. The old club went bust with debts of €2 million but the new outfit has risen to establish themselves in the Segunda B during a relatively successful first decade. Their local rivals are minnows Atlético Sanluqueño, also in the province of Cadiz. They've spent most of their history in the Tercera División but are currently enjoying a decent run in the Segunda B.
Finally we have Marbella, another Andalusian club with a colourful off-field history. They were founded after the 1997 collapse of Atlético Marbella, who were briefly owned by the controversial Jesús Gil, the former president of Atletico Madrid. Gil was also the mayor of Marbella, the wealthy centrepiece of the so-called Costa del Crime but today the club has new money in the form of Chinese investment.
As of 2019/20, the B teams of Sevilla, Cadiz and Granada also play in the Segunda B. Going further down the ladder, the only Andalusian province that isn't currently represented in the top three tiers is Jaen, home of Real Jaen who in truth are a bigger club than any of the five mentioned above and they even made the top flight in the 1950's. They play in Group 9 of the Tercera División which is made up of Western Andalusian teams.
Group 10 features Eastern Andalusian sides including Xerez CD who were in the top flight as recently as 2009/10 but have endured a miserable time of it since then and were demoted to the fourth tier in 2013 due to serious financial problems. The situation was so bad that some fans formed a new club – Xerez Deportivo FC – which also competes in the Tercera Group 10. Both are based in Jerez de la Frontera which is actually the fifth largest city in Andalusia and is located just north of Cadiz.
---
Groundhopping in Andalusia – Getting Around
The size of Andalusia means getting around can be quite time-consuming. There are two high-speed train lines which can speed some journeys up. One runs from Madrid to Cadiz via Cordoba and Seville. The other runs from Madrid to Malaga via Cordoba. Therefore Cordoba is pretty well linked to the major cities in Andalusia but getting between the others can be a problem.
There is also a reasonably quick although not high-speed train line between Seville and Malaga with the fastest trains taking around 2 hours. Seville, Jerez and Cadiz also have good rail connections but most other journeys are best attempted by bus.
These are approximate journey times for the most direct buses between Andalusian cities:
Malaga to Seville: 2 hours 45 minutes
Malaga to Granada: 1 hour 45 minutes
Malaga to Almeria: 2 hours 30 minutes
Malaga to Cadiz: 4 hours
Seville to Granada: 2 hours 45 minutes
Seville to Huelva: 1 hour 15 minutes
Seville to Almeria: 5 hours 30 minutes
Granada to Almeria: 2 hours
Inter-city bus travel is typically very reasonably priced in Spain and almost always cheaper than the train. Check Alsa and Avanzabus for timetables and fares. Most cities have one principal bus station (for example Plaza de Armas in Seville) and this is often but not always located right next to the train station. Check Renfe for train times and to book tickets – note that some regional and local services will not show up on their website and will have to be purchased at the station.
For the smaller clubs, you will most likely have to connect to a bus in Jerez (lies on the train line between Seville and Cadiz) to get to Atlético Sanluqueño. San Fernando CD are more conveniently located on the main train line from Seville to Cadiz with San Fernando-Bahia Sur Station just a five minute walk from the stadium.
As a major port city and the gateway to Morocco, Algeciras has reasonable bus and rail links with cities across Andalusia and some other parts of Spain. However the football ground is located out of town (5 km from the bus and train stations) closer to Los Barrios train station than the main Algeciras station. La Línea de la Concepción (the hometown of Linense) doesn't have a train station but is relatively easily reached from nearby Algeciras while it is 3 hours by bus from Malaga. Remember your passport if you're planning to cross over into Gibraltar!
Getting to Marbella is best done by taking a bus from Malaga (45 minutes to an hour). It's also worth noting that while Seville is the biggest city in Andalusia, Malaga has a much bigger airport with considerably more flights to other European cities so if you're coming from abroad and even if you're heading to Seville, it can often be quicker, cheaper and easier to fly in and out of Malaga.
---
Away from the Football
You won't be struggling for things to do and places to go in Andalusia. Many of Spain's most popular destinations are situated in the region and they include a host of the football cities mentioned above.
Seville, the Andalusian capital, should be top of your priority list for both football and sightseeing. The riverside city boasts many stunning locations including the iconic Plaza de España, a giant cathedral and the Royal Alcázar. It is also home to some of Spain's biggest festivals and celebrations. Easter week (Semana Santa) is taken very seriously here with multiple large parades that are quite a spectacle. Shortly after Easter, the city comes out to party and dance Sevillanos at the April Feria.
Granada should probably be your next biggest priority in terms of cities. Nowhere else in Andalusia, is the region's Moorish past quite so evident and in parts it still feels like a little slice of Arabia on the Iberian peninsula. Its centrepiece is the stunning Alhambra palace and fortress – one of Spain's biggest tourist destinations. You may need to book tickets several weeks in advance though if you want to go inside as it is very popular.
History lovers will also want to check out Cordoba but if you're pushed for time, Malaga and Cadiz have greater overall appeal. Malaga is the gateway to the Costa del Sol and its many resorts but the city itself has plenty of colourful beach districts as well as a Moorish fortress which offers stunning views across the bay area. Cadiz meanwhile claims to be the oldest city in western Europe and its ancient centre is compact and easily explored on foot while the glorious Victoria Beach is widely regarded as one of the best in Spain. Cadiz is also famous for its wild Carnival celebrations.
The mountain-top town of Ronda (in between Malaga and Seville) is another great option for a day trip with its 120 metre high bridge towering over the surrounding canyon. Nature lovers meanwhile will want to head to the Sierra Nevada (in between Granada and Almeria) which is home to Iberia's tallest mountains and a host of skiing and hiking options.
From Andalusia, you also have three easy options for getting out of Spain altogether. Gibraltar is a long but possible day-trip from Malaga or Seville while Morocco can be reached in less than an hour by ferry from the port of Algeciras. The popular Portuguese Algarve region also borders Andalusia and it takes around 3 hours by bus to get from Faro to Seville. Note that flying into Faro may also be a good option for visitors to western Andalusia.
---
This Andalusia football guide was published in April 2020.
If you have any questions about visiting Andalusia for football reasons, feel free to get in touch.