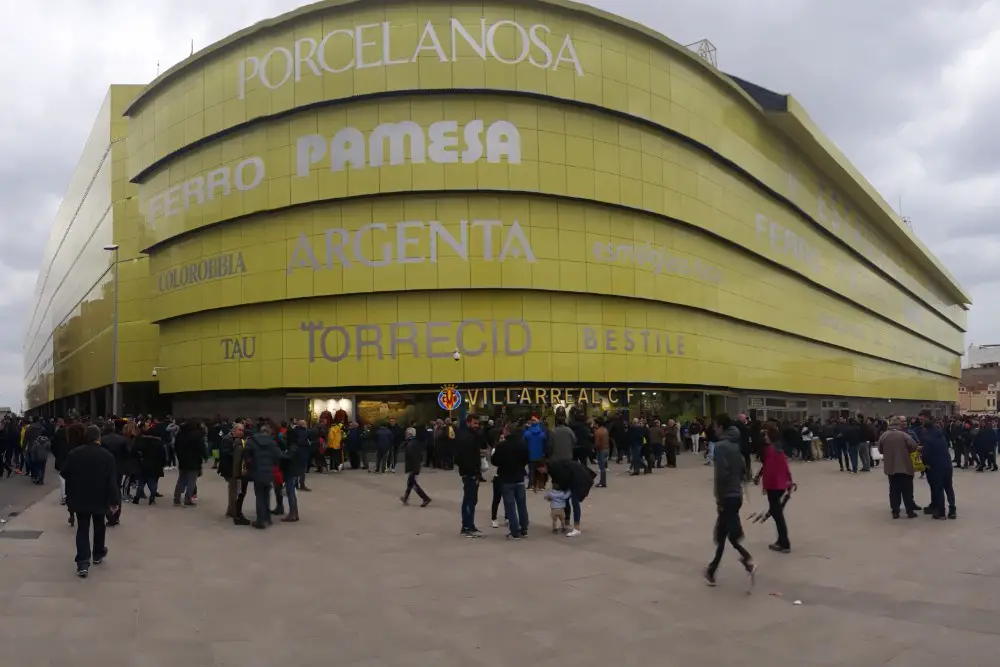 The Valencian Community is Spain's fourth most populated region after Andalusia, Catalonia and the Community of Madrid. It boasts a lively football scene which historically has been bossed by Valencia Club de Fútbol. They remain unquestionably the biggest club but Villarreal have been serious challengers on the pitch in recent years and have on many occasions outperformed their larger neighbours and finished above them in La Liga. There are three other sizeable clubs of note too and we will give you the lowdown on football in the Comunidad Valenciana below plus some tips for getting around and doing things away from football in one of Spain's most popular regions for travel.
---
The Valencian Community Football Map
The Valencian Community is predominantly a coastal region and all the clubs are in towns either on or very close to the shores of the Mediterranean Sea. The locations of the eight Valencian clubs that are in the top three tiers as of 2019/20 are featured in the map above (excluding B teams).
The northernmost sides are near neighbours Villarreal and Castellón. Villarreal are much the more successful club these days but Castellón de la Plana is actually more than three times larger than the small city of Vila-real and is the capital of the province of Castellón. Heading south, the second province is Valencia home to the city of Valencia which is the location of two top flight clubs – Valencia CF and Levante.
Finally, the southernmost province in the Valencian Community is that of Alicante. While it isn't currently home to a team in LaLiga, there are more clubs than in the other two provinces. Hércules from the city of Alicante and neighbouring Elche are the big two. The other current Segunda B teams are La Nucía, which is very close to the resort town of Benidorm and Orihuela, which is on the southern fringe of the Valencian Community – closer to Murcia than any of the other cities in this region.
---
Valencian Community Football Travel – The Clubs
The City of Valencia
Valencia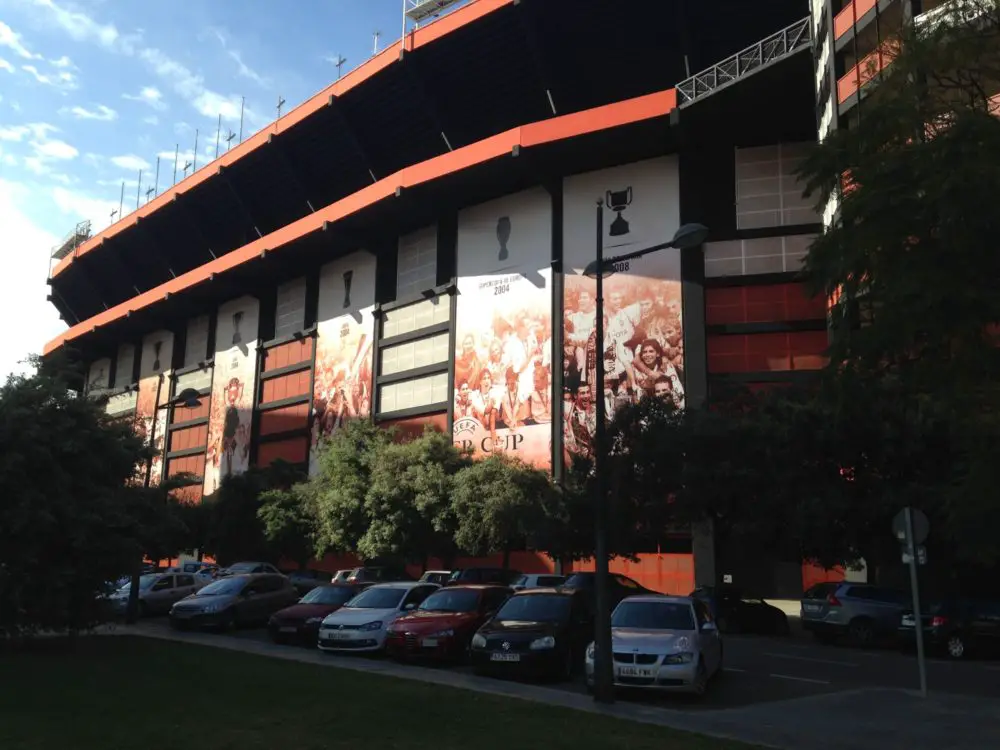 Stadium – Mestalla
Capacity – 55,000
Nearest Station – Aragó (Valencia Metro)
Valencia are the region's biggest club and having been crowned Spanish champions six times, they are the 5th most successful side in the country. The centrally located Mestalla is one of Spain's most iconic football stadiums and has been home to Valencia for almost a century now. With some incredibly steep stands, there is a real sensation that you are on top of the pitch and it boasts one of the best atmospheres in Spain, particularly on a big European night.
Los Che should in fact have left the stadium over ten years ago but construction of the Nou Mestalla remains on hold. The club do still plan to eventually move to what remains a partially built stadium, which is located around 5 km northwest of their current home, near to Beniferri Metro Station.
How to buy tickets for Valencia matches:
Valencia are a well supported club but obtaining tickets for the majority of their matches shouldn't be a big problem with the Mestalla capable of holding 55,000 spectators. Tickets can be purchased online from the Valencia website. They also have some of the most reasonably priced stadium tours amongst the big clubs in Spain with adult tour tickets costing just €11.50.
Levante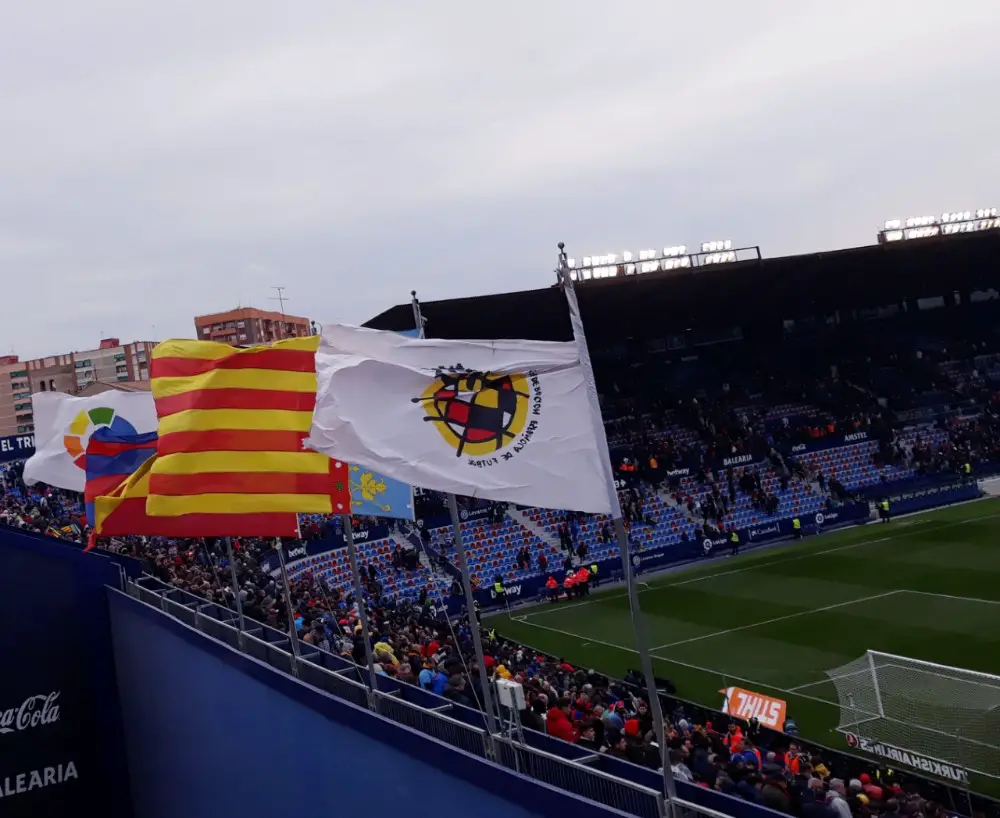 Stadium – Estadi Ciutat de València
Capacity – 26,354
Nearest Station – Machado (Valencia Metro)
The two Valencia clubs are the closest LaLiga neighbours and it would only take a little over half an hour to walk from the Mestalla to the Estadi Ciutat de València. Levante are actually the older of the two clubs in the city having initially been formed ten years prior to their neighbours, although they did merge with Gimnástico FC after their stadium was destroyed during the Spanish Civil War.
Despite the proximity, the Valencia derby has been a relatively rarely played fixture with Levante spending just two seasons in the top flight in all of the 20th Century. In recent years, they've enjoyed one of the best periods in their history to more or less establish themselves as LaLiga regulars and they've often defeated Valencia in derby clashes at home, although they are still waiting for their first ever league win at the Mestalla.
How to buy tickets for Levante matches:
Visiting the Estadi Ciutat de València is overall quite a pleasant matchday experience although it is a ground that is very exposed to all the elements. Ocean winds can make it chilly and potentially very wet during the winter while the Valencian sun can make early or late season games scorching hot for spectators. Levante are a family club and they've built up quite a large number of season ticket holders in recent years although they remain very much Valencia's little brother. Match-day tickets are affordable and can be purchased via their website or at the stadium on match-days.
Be warned that while season ticket holders are allowed to leave the stadium at Half-Time to grab refreshments or smoke outside, individual match ticket holders will not be allowed to re-enter.
Elsewhere in the Valencian Community
Villarreal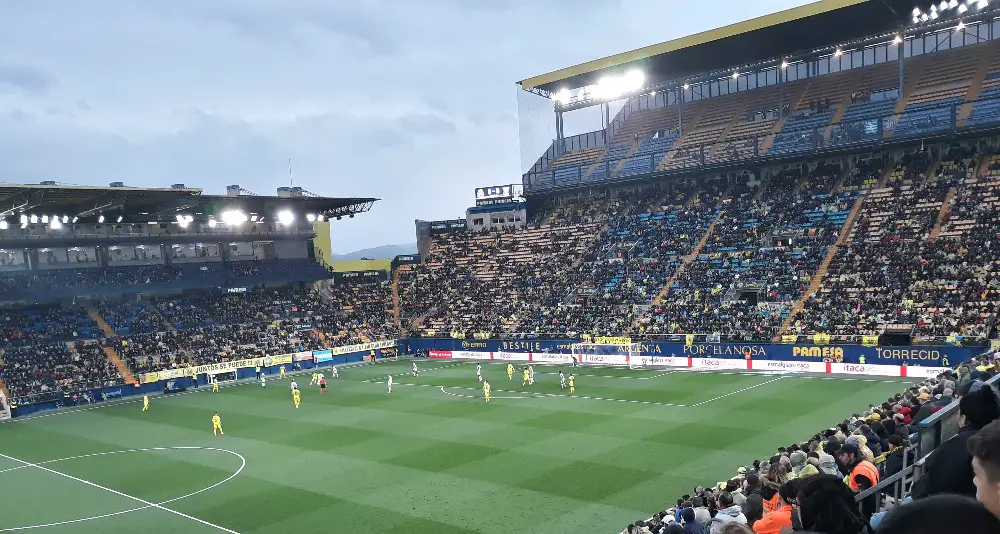 Stadium – Estadio de la Cerámica
Capacity – 24,890
Nearest Station – Vila-real Train Station
Villarreal is a small and in truth quite a strange town with very little going on besides a football club that was transformed by the takeover of Spanish billionaire Fernando Roig in 1997. They'd never even played in the top tier at that point but have since grown to become a genuine force in Spanish and even European football with one of the best youth academies around key to their growth. The Yellow Submarine have reached the semi-finals of European competitions on four separate occasions including in the 2005/06 Champions League when they were narrowly defeated by Arsenal.
The club play at the Estadio de la Cerámica, formerly known as El Madrigal, which has a capacity to hold 50% of Villarreal's population. It's located on the other side of town to the train station but it will still only take you around twenty minutes to get there by foot. If you come for an evening game, be sure to check when the last train or bus out leaves as there's very little in the way of accommodation in Villarreal itself and it's advisable to base yourself elsewhere with Valencia or the nearby beach resort of Benicassim both good options.
How to buy tickets for Villarreal matches:
Given this isn't exactly a town to hang around in and given it will take some travel to reach, your best bet is to buy tickets in advance online via the Villarreal website to avoid any disappointment or wasted journeys. Mostly they are really affordable with prices typically starting at about 25 Euros but you may need to get in quick for the bigger games when prices rise and tickets are more likely to get close to selling out. Keep checking the website if tickets aren't currently available for the match you wish to attend.
Elche

Stadium – Estadio Manuel Martínez Valero
Capacity – 33,372
Nearest Station – Elx Parc Train Station
Elche's Estadio Manuel Martínez Valero is the second largest in the Valencian region and it has previously hosted everything from Copa del Rey Finals to Spanish national team games. Elche is a reasonably large city that could easily support a top flight team but their most recent stint in LaLiga was ended prematurely when the club were found to have fallen foul of new league regulations on managing debt in 2015. They were punished with relegation to the Segunda and subsequently dropped down into the Segunda B before regaining their second tier status in 2018.
How to buy tickets for Elche matches:
Elche tickets can be bought online although there is no real need given their stadium holds over 30,000. In truth it's a classic case of a team with a ground that is too big for them with average Segunda División attendances at the Manuel Martínez Valero hovering around 10,000. Just show up on match days and you should be able to buy a ticket no problem.
Note that the stadium is located around 3 km from the historic centre and you will most likely need to take a bus or taxi from the train or bus station unless you fancy the 40 minute walk.
Hércules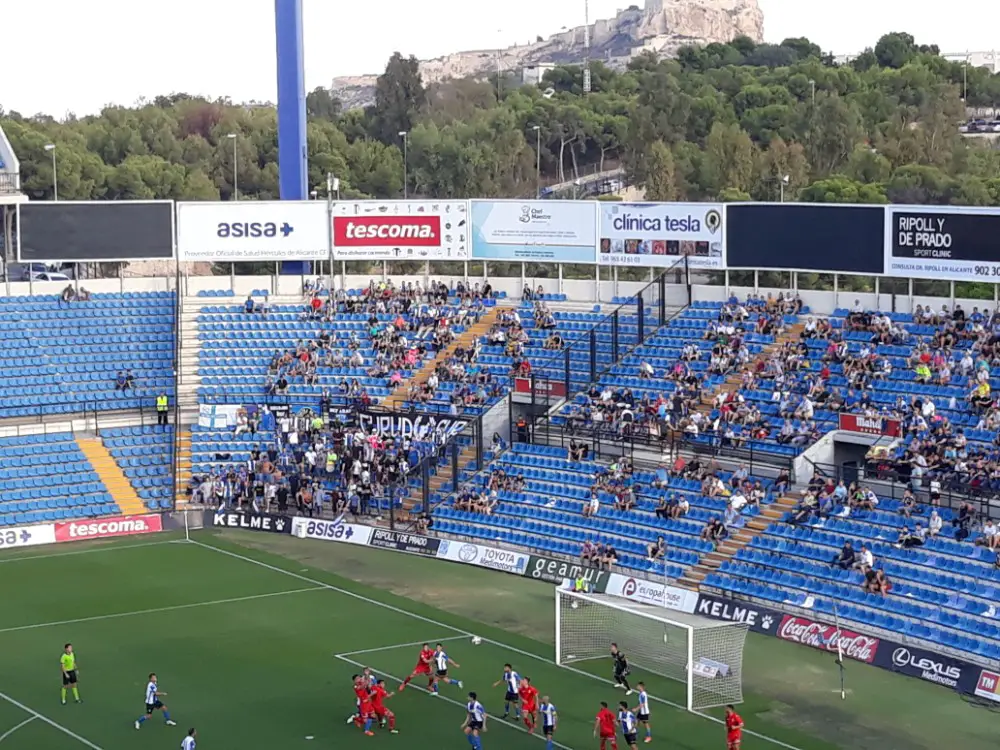 Stadium – Estadio José Rico Pérez
Capacity – 29,500
Nearest Station – Alacant Terminal (Train) or Hospital (Alicante Tram)
Hércules are currently one of the biggest clubs plying their trade in Spain's Segunda B. As of 2019/20, they've been there for six seasons now which really is not very good given they are the only club in the city of Alicante. While many think of it as just a holiday resort, Alicante is actually Spain's 11th largest city with a permanent population similar to that of Bilbao.
They have previously spent 20 seasons playing in the top flight, most recently in 2010/11 but with Spain's third tier notoriously difficult to get out of, these aren't great times for the club. A bit like nearby Elche, who they share a fierce local rivalry with, their stadium is too big for its current purpose and while the Estadio José Rico Pérez does still sometimes host La Roja, it really has seen better days with its exterior crumbling in parts. Views of the castle in the distance do at least provide a nice backdrop.
How to buy tickets for Hercules matches:
Again your best bet is to just show up on match day and buy a ticket with demand to watch Segunda B football low. The stadium is located around a 25 minute uphill walk from Alicante's main train station. The city does also have a tram network and if you are based in one of the beaches to the north of the city centre or further along the coast, you may be better off taking the L2 tram to Hospital and walking to the stadium from there.
The Best of the Rest
The only other Valencian club of any real size is Castellón. They are based in a town of the same name, adjacent to Villarreal and they have previously appeared in the top flight on 11 occasions. However you have to go back to 1990/91 for their last LaLiga campaign and the emergence of a new Spanish football power in the shape of Villarreal right on their doorstep has taken its toll over the past few decades. The club does retain a loyal local fanbase though and in 2018 set a new record for season ticket sales by a fourth tier club with nearly 13,000 season ticket holders. They've since been promoted back to the Segunda B and they play at the Estadio Municipal de Castalia, 9 km north of the Cerámica.
The only other teams from the Valencian Community that currently play in one of Spain's top three divisions are Segunda B outfits La Nucía and Orihuela. La Nucía are located in a small town 50 km north of Alicante, just outside Benidorm and play their football at the 3,000 capacity Estadio Camilo Cano. Formed in 1995, the 2019/20 season is the first time they've ever made it as high as the third tier.
Orihuela were also formed in the 1990's but are a slightly more established club with a 7,000 capacity stadium. They twice reached the play-offs in the early 2010's but narrowly missed out on promotion to the Segunda and would go on to spend six straight seasons back in the Tercera División before returning to the Segunda B in 2019.
---
Groundhopping in the Valencian Region – Getting Around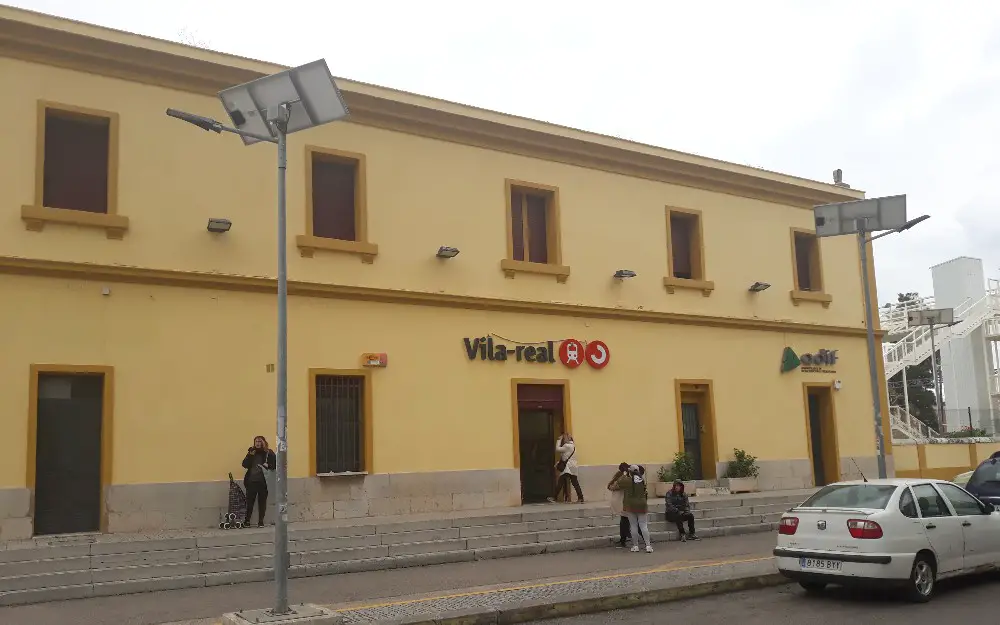 Using the Spanish rail network will be the best bet for most people with almost all of these clubs lying on or close to the coastal line which runs from Barcelona all the way down to Alicante. Head to Renfe.com to find timetables and book tickets which you can download to your mobile. It's advisable to do this in advance as fares rise closer to the day of travel on the longer routes and some trains may sell out.
Train tickets within the Valencian Community are mostly affordable. From Valencia to Villarreal, it takes roughly 1 hour 10 minutes by rail. Castellón is slightly further but it is served by trains on the faster line to Barcelona, which means it only takes 38 minutes to get there from Valencia by rail. The football clubs in both Villarreal and Castellón are only around a twenty minute walk from the respective train stations. There is fractionally more accommodation in Castellón but there are much nicer places in the Valencian Community to stay than these two towns so it's advisable to just travel in and out for the football – make sure there are train/bus connections that you can use to get back after the game!
Alicante and Elche are neighbouring cities, about 100 miles south of Valencia. It takes roughly two hours by train and two hours 30 minutes by bus to get from Valencia to Alicante with the bus connections more regular. At the time of writing (March 2020), there are only three daily direct trains from Valencia to Elche but you can take the bus with the time again roughly 2 hours 30 minutes. Use Alsa to search for bus tickets and times. Buses from Alicante to Elche take just 30 minutes.
Alicante is probably the best base for groundhopping around the province of the same name. It has an extensive tram network which links the city with the many beaches and holiday resorts to the north of Alicante. However it's not the most rapid system in the world and both trams and buses in and around Alicante do take a while so it can take as much as two hours to get to La Nucía for example via a connection in the boozy resort of Benidorm which is full of British holiday-makers. Buses to Orihuela take 1 hour 45 minutes from Alicante Bus Station which is located in the port area of the city. Trains take about an hour but aren't that frequent.
Getting around the city of Valencia is best done by metro or on foot in truth with both clubs within walking distance of the city centre. Be aware though that neither the Valencia metro nor the tram in Alicante have services that are as frequent as you find in major cities such as Barcelona or Madrid so you may find yourself waiting longer for a connection particularly at non-peak times.
---
Away from the Football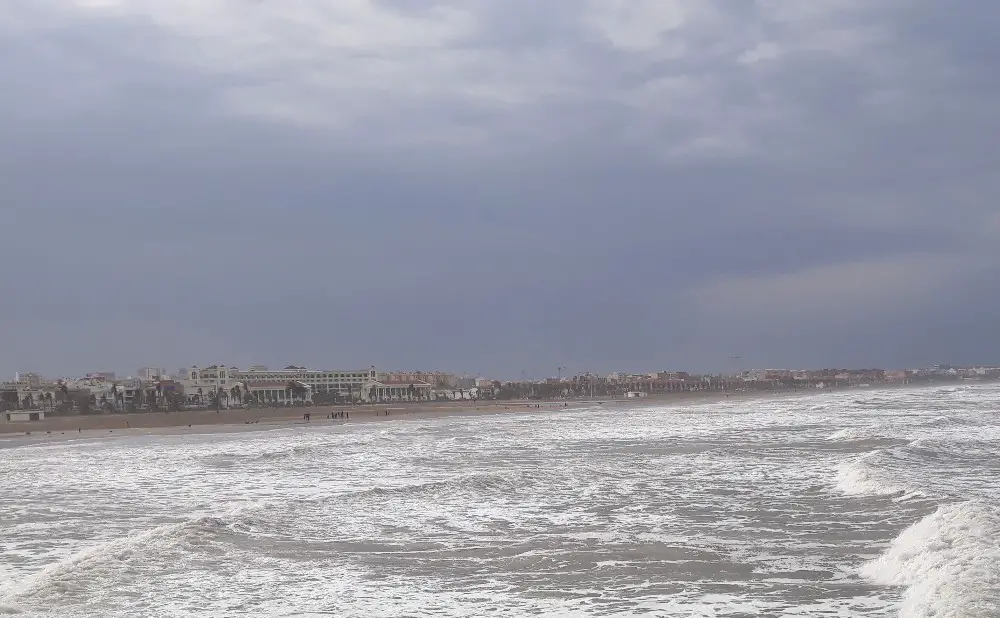 This is one of Spain's most visited regions and for good reason. The Valencian Community is home to 350 km of beautiful coastline and its beaches are blessed with better weather than you find on Spain's north coast or even in Catalonia for example. Whether you're looking for a resort holiday or a more authentic Valencian experience, you are spoiled for choice in terms of beaches in which to base yourself with the area around Alicante perhaps your best bet.
In terms of the cities, there's a little bit of history in Elche but Alicante and Valencia are the most interesting to visit and if you're coming for a groundhopping weekend, you're almost certainly best basing yourself in one or the other.
For top flight football, Valencia (pictured above) is clearly the smarter choice and it has plenty to see and do with its old river bed having been spectacularly converted into a lush park complete with many attractions including the impressive City of Arts and Sciences as well as one of the world's best aquariums. The city also has a nice beach and port area and is also famous for its cuisine as the birthplace of Paella. If you visit in March, you may be able to catch Las Fallas – one of Spain's best festivals.
Alicante is another really nice city and in contrast to the resorts to the north, it still retains a local flavour and very Spanish feel. The Castle of Santa Barbara is one of the largest ancient forts in Spain and looms large over the city. Meanwhile the spacious 7 km long San Juan Beach is considered one of the country's best.
---
This post on the region of Valencia football travel was published in March 2020.
If you have any questions about visiting the Valencian Community for football reasons, feel free to get in touch.