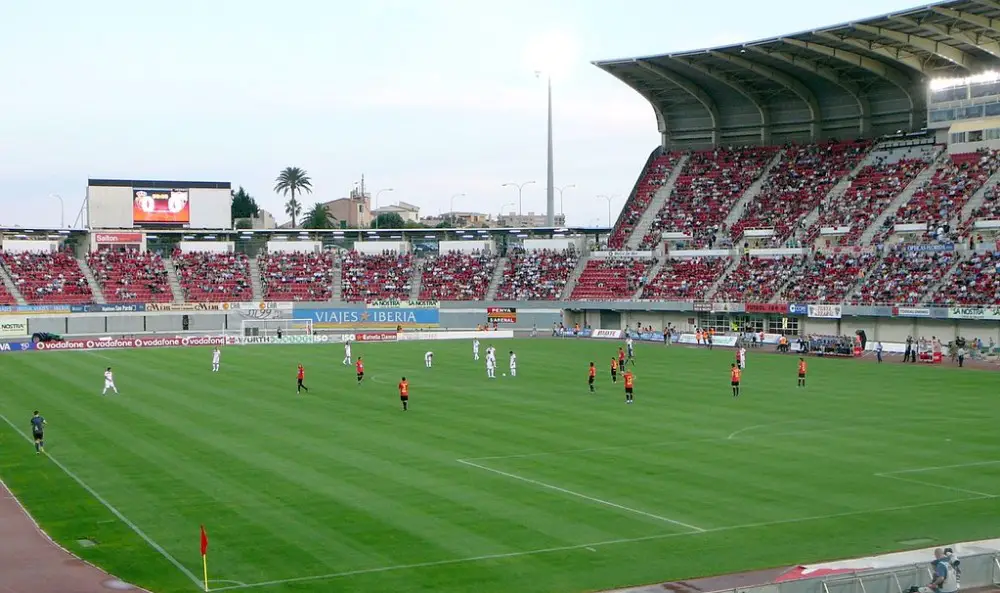 The Balearic Islands of Mallorca, Menorca, Ibiza and Formentera attract millions of holiday-makers every year but they are also home to over a million permanent residents, many of whom are passionate about football. RCD Mallorca, based in Palma, the capital of Mallorca, are by far the biggest club. However there are several other teams on the islands, many of whom are going through a bit of a renaissance, and we'll go into some detail on them below in this Balearic Islands football guide.
---
Balearic Islands Football Map
There are four main Balearic Islands although two of them (Formentera and Menorca) are very small and don't currently have a football team in any of the top three tiers of the Spanish football ladder (2019/20).
In Mallorca, the largest island, the two main clubs are both based in the capital Palma. RCD Mallorca carry the name of the island and are traditionally the most successful. However across town neighbours Atletico Baleares also boast a loyal fanbase and a long history, and at the time of writing are pushing hard for promotion to the Segunda División.
The party island of Ibiza lies roughly 15o km southwest of Mallorca, closer to the Spanish mainland. While it is a much smaller island, it has two teams currently in the Segunda B. UD Ibiza are an ambitious club reformed only a few years ago under wealthy new ownership and are based in Ibiza Town. Peña Deportiva are the other third tier club on the island, based in Santa Eulària des Riu which is only 12 km northeast of Ibiza Town.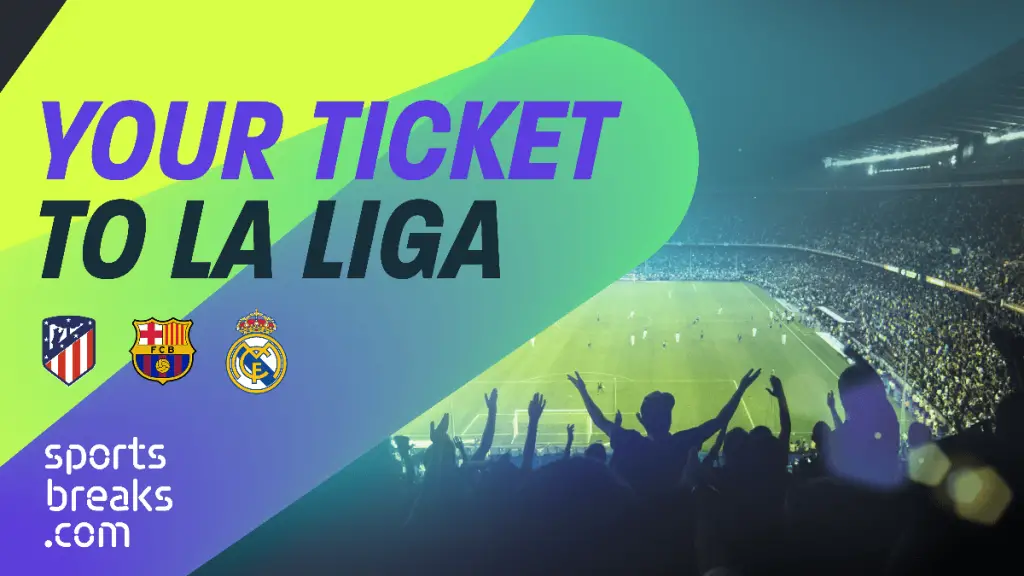 ---
Balearic Islands Football Guide – The Clubs
Clubs in Mallorca
RCD Mallorca
Stadium – Son Moix
Capacity – 23,142
RCD Mallorca consider themselves the pride of the Balearic Islands and they are the only team from the region to have played in the top flight. Indeed they had an unbroken 16 year stint in La Liga between 1997 and 2013, a period which saw the likes of Samuel Eto'o turn out for the club. Mallorca's real golden era came around the turn of the century with two 3rd place finishes in the league and a fine run to the Final of the European Cup Winners' Cup. Mallorca also claimed their first major silverware during that period, winning both the Spanish Supercopa and Copa del Rey.
After that long period of top flight stability, recent years have been something of a roller coaster ride. They dropped down into the Segunda B for the first time in nearly 40 years in 2017. However, out of adversity came triumph as Mallorca remarkably pulled off back-to-back promotions to return to the top flight again for the 2019/20 season.
How to buy tickets for Mallorca matches:
Even in the season of their return to the top flight, Mallorca have a slightly disappointing average attendance of around 14,000 which means getting a ticket shouldn't be a problem for their games. Even their home victory over Real Madrid in October 2019 wasn't a sellout with their slightly uninspiring stadium and athletics track a factor in their struggles to draw in bigger crowds. As a result, it should be easy enough for visitors to the island to buy a ticket on match-day at the stadium. You can also buy tickets online with info available in English on their website.
While Mallorca is viewed as a holiday island, it should be pointed out that Palma is actually quite a large city with the 9th largest population in Spain. Son Moix is located 3.5 km northwest of the city centre and marina area. It would take around 45 minutes to walk but there are plenty of buses which serve the route while a taxi would be relatively inexpensive.
Atlético Baleares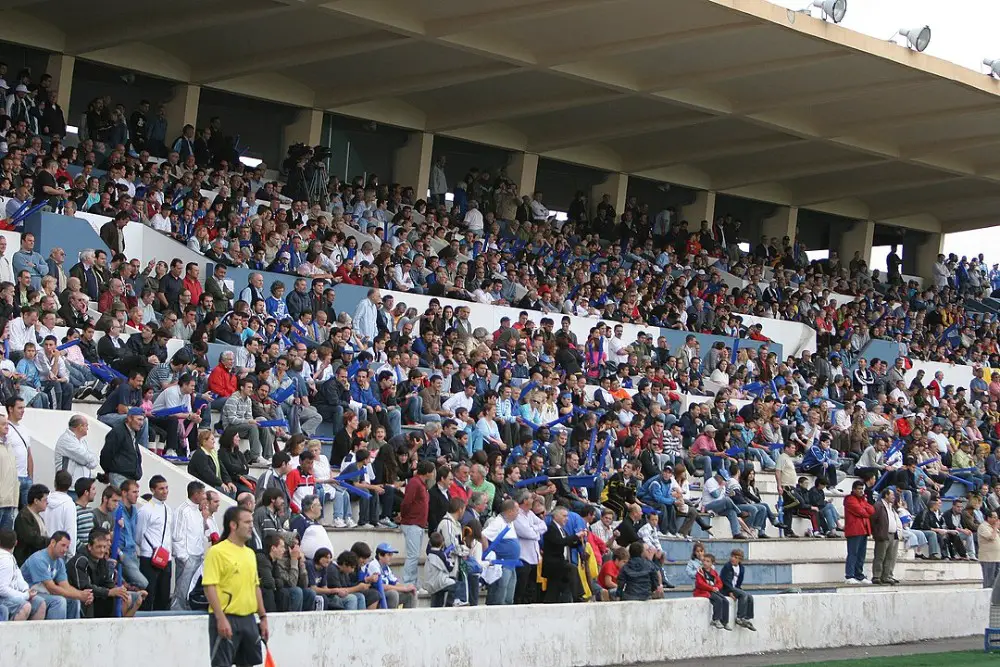 Baleares Stadium via Roberto Valles, CC BY-SA 3.0
Stadium – Estadi Balear
Capacity – 6,000
Atlético Baleares are based on the other side of Palma de Mallorca and while they have rarely been in the same league as their city rivals, there is a genuine rivalry between the clubs. The two renewed hostilities when Mallorca dropped into the third tier for the 2017/18 season.
Originally, the working man's club in Palma, Atlético Baleares are celebrating their centenary year in 2020 and at the time of the coronavirus outbreak, they were well placed to secure promotion to the Segunda Division for the first time since they dropped out of the second tier in 1963. They narrowly missed out on that feat in 2018/19 when they finished top of their league but lost two decisive play-off ties.
How to buy tickets for Atlético Baleares matches:
Like many clubs in the Balearic Islands, Atlético Baleares have a reasonably large expat following and as such finding information about their games and how to get tickets should be relatively simple. They are one of the few lower league teams in Spain with an English version of their website and getting a ticket for Segunda B football is rarely a struggle, so you should be able to get tickets at the stadium on match-day.
Their Estadio Balear was closed for six years between 2013 and 2019 on safety grounds but has since been renovated to some extent and is again the home of Baleares. It is located on the eastern fringes of Palma, roughly 3 km from the centre.
The Other Mallorca Teams
There are no other Mallorca-based teams in the Segunda B or above but clubs from Mallorca make up the bulk of Group 11 of the Tercera Division which is exclusively made up of teams from the Balearic Islands. Santa Catalina Atlético and Collerense are based in Palma (which is home to roughly half the island's population) along with RCD Mallorca's B team.
The other clubs are dotted around the island in small towns and villages. Those visiting Mallorca for a short holiday, may be most interested in UE Alcúdia who are based in the resort town of the same name. Poblense are another club with a long history and they mirror Barcelona in that they have a blue and red striped kit, as well as a similar badge and a stadium called Camp Nou.
CE Constància are another of the more established smaller Mallorca clubs. Based in the central town of Inca, they were a Segunda Division club for much of the 1960's but have fallen down the Spanish football ladder since then.
The Other Islands
UD Ibiza
Stadium – Estadi Municipal de Can Misses
Capacity – 4,000
UD Ibiza were only founded in 2015 but they've come a very long way in a short time. They've risen through the leagues to establish themselves as a strong Segunda B outfit with high hopes of reaching at least the second tier in the coming years. With significant financial backing, something which is very rare at this level, they have a genuine chance of doing just that and really putting the party island of Ibiza on the Spanish football map for the first time.
Their finest hour to date was their 2019/20 Copa del Rey adventure, where they came close to pulling off an almighty upset against Barcelona, leading for most of the game, only to ultimately succumb to two late goals.
How to buy tickets for Ibiza matches:
As a new club on such a touristic island with a very low permanent population, attracting new fans from abroad is a huge part of UD Ibiza's ambitious plan. For advice on taking in a game and getting tickets, contact the Ibiza Fans or Official Club twitter accounts (both in English) or head over to their website. Their stadium is located around 30 minutes walking from the centre of Ibiza Town or a short taxi-ride.
The Best of the Rest
UD Ibiza are not the only team from the island in the Segunda B. SCR Peña Deportiva, based up the coast in Santa Eulària des Riu, have rarely made it as high as the Spanish third tier but at the time of the coronavirus outbreak were enjoying the best season in their history, sitting in 4th place in the league with a good chance of at least securing a play-off berth and an unlikely shot at promotion to the Segunda.
In the Tercera, CD Ibiza Islas Pitiusas are another club in Ibiza Town and they play at the same ground as UD Ibiza. CF Sant Rafel and Portmany are also Ibiza-based Tercera Division clubs.
Just across the sea from Ibiza, the tiny island of Formentera is also represented by SD Formentera. Their best season was 2017/18 when they reached the Segunda B for the first time and famously won at San Mames to knock Athletic Club out of the Copa del Rey. They have since dropped back into the Tercera Division.
The island of Menorca meanwhile doesn't have any representation even in the fourth tier. Sporting Mahonés regularly played at that level or above but the Mahon based club was dissolved in 2012 with high debts.
---
Groundhopping in Mallorca & Ibiza – Getting Around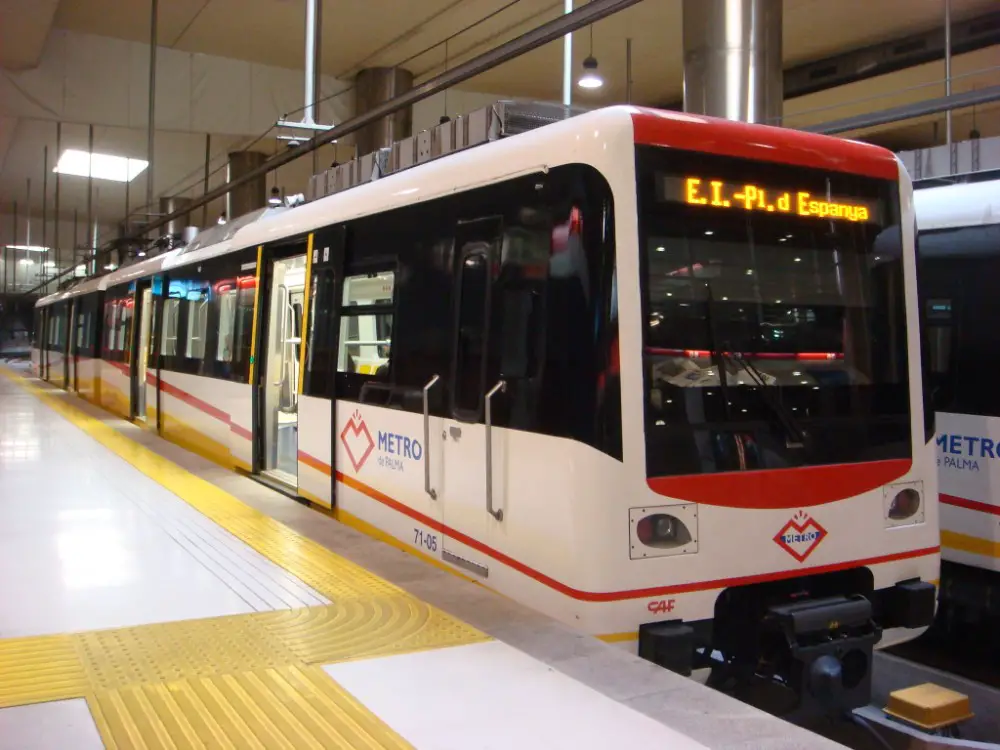 Palma Metro via Catorze, CC BY 2.0
Mallorca is by far the largest of the islands but in terms of football, Palma is clearly the main source of interest. Anyone flying into Mallorca will land at Palma Airport, the third busiest in Spain. It's a relatively compact city with a small metro network but it's not that useful for getting to either of the two main clubs which are relatively inconveniently located on the fringes of the city. There is an abundance of buses and taxis though.
Getting to other parts of Mallorca is usually best done by bus. You can see a route map and get timetable info for services across the island here. There is also a scenic train line which links Palma with Inca (home of CE Constància) and Manacor (home of CE Manacor).
There are ferries between Mallorca and Ibiza departing from Palma and arriving in Ibiza Town (or vice-versa). You can expect to pay around 40 Euros for a seat on the ferry with the fastest crossings taking around 2 hours. Trasmediterranea and Balearia are the two ferry companies that run services.
Ibiza is a much smaller island and you may find that getting a taxi is the simplest way to get around with journeys between different towns rarely taking more than 15-20 minutes unless you are heading to the far north of the island which has little going on football-wise. If you're on a smaller budget, there is also a bus network which connects Ibiza Town with other parts of the island although outside of the main summer tourist season, there are less connections.
Both Ibiza Town and Sant Antoni de Portmany on the opposite coast of the island, have ferry connections to Barcelona and Valencia. You can also travel by ferry from Ibiza Town to nearby Formentera (20 km)  if you are looking to tick another island off your list and catch SD Formentera play.
Hiring a car may also be a smart idea if you are planning to see and do a lot, particularly in Mallorca which is a relatively large island.
---
Away from the Football
The Balearic Islands rank amongst Europe's most popular beach holiday destinations. No matter what you are looking for, you should be able to find the perfect base to suit your needs.
Ibiza Town and Magaluf in Mallorca attract a young party crowd with huge clubs and wild nights out. Ibiza is notoriously expensive though so be sure to bring your wallet. There are many other resorts in Mallorca such as Alcudia and Albufera which are lively but more geared towards young families.
If you're looking for something quieter and away from the main tourist resorts, it shouldn't be hard to find either. Menorca and Formentera are much quieter islands, full of beautiful bays and sandy coves. The northern half of Ibiza is also quiet and peaceful in complete contrast to the carnage of Ibiza Town.
Away from the coast, Mallorca has the most to offer with the Tramuntana mountain range offering cooler air, great views and some lovely villages where you can get a taste for the 'real Mallorca'. The city of Palma is also well worth visiting and not just passing through when you fly in or to catch a football game. You can easily spend a day or more visiting sites such as the huge Santa María cathedral and the Moorish Almudaina fortress.
---
This post on Balearic Islands football travel was published in May 2020.
If you have any questions about visiting Mallorca or Ibiza for football reasons, feel free to get in touch.
---