Madrid is one of Europe's finest football cities with two huge clubs which offer different matchday experiences. Here's a look at how to plan a trip to the Civitas Metropolitano as we run through how to buy Atletico Madrid tickets for LaLiga and UEFA Champions League matches.
How to buy tickets for Atletico Madrid matches online
Atletico Madrid are one of the easier Spanish clubs to plan a football trip for with tickets going on sale many weeks in advance, which is not the case across town at the Santiago Bernabeu.
The easiest way to buy tickets for Atletico Madrid fixtures is via the club's website. Their official ticketing page is available to use in English and it shows which games have tickets currently on sale.
Simply click the "buy tickets" tab for the match of interest and you'll be directed to a big stadium map where you can see any available seats. You have the option to register, but can also simply buy tickets as a member of the general public without any need for registering as a member or on the website.
You can use their virtual stadium to check out the view from your chosen seats and once you're happy, you'll be asked to fill out some personal details and pay for your tickets which are then sent to your email.
Atletico Madrid ticket & hotel packages
The Atletico Madrid stadium is large enough that tickets will almost always be available, even in the days leading up to a game. Therefore in most cases, it's safe to plan your trip to Madrid and arrange flights and accommodation in advance before buying tickets when they go on sale nearer the time.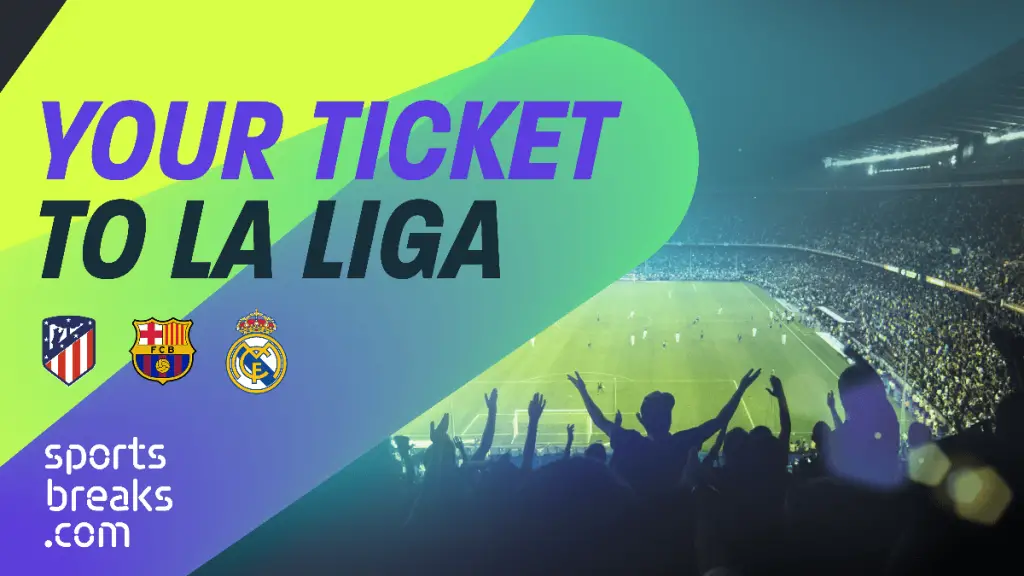 However for some bigger fixtures and for anyone just looking for the peace of mind of having a ticket guaranteed and everything sorted in advance, you may want to check out sportsbreak.com's Atletico Madrid ticket and hotel breaks.
These enable you to purchase breaks that include accommodation and a ticket for games that aren't currently on sale via the club's website. These are official LaLiga ticket and hotel breaks and they also work with Real Madrid and Barcelona.
The Civitas Metropolitano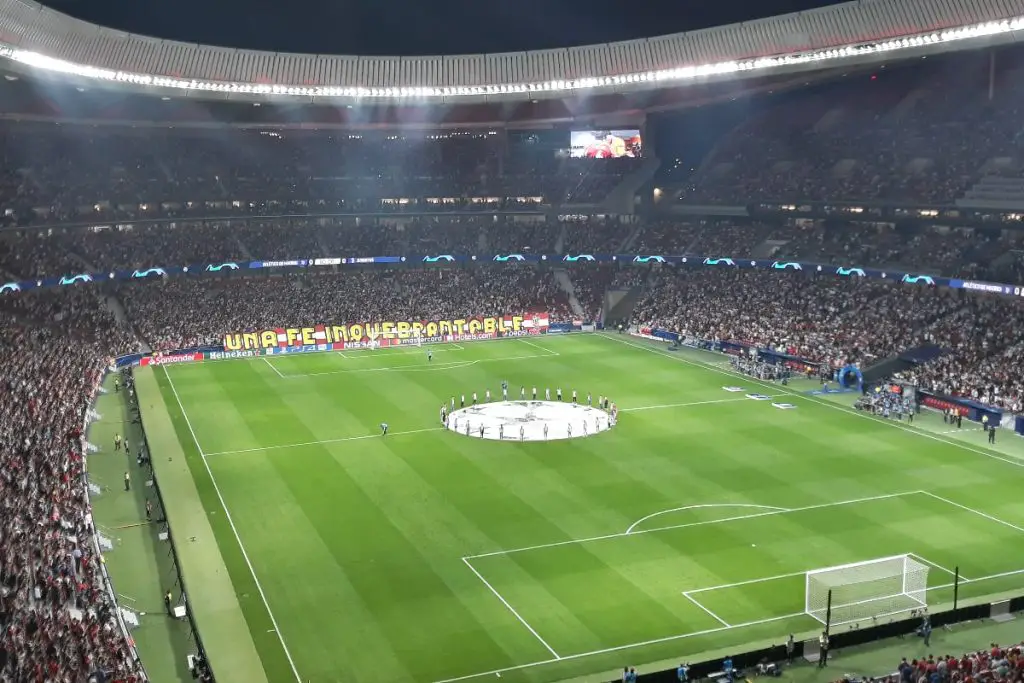 Atletico Madrid left their historic old home, the Vicente Calderon, in 2017. The old stadium was located on the banks of the Rio Manzanares and close to the centre of Madrid but since the 2017/18 campaign they've been plying their trade at the Estadio Metropolitano on the eastern fringes of the city.
It's a far less interesting location and is actually some way from Atletico Madrid's traditional heartlands but it's a vast modern arena that can accommodate 70,460 people making it the third largest football stadium in Spain behind Camp Nou and the Santiago Bernabeu.
Stadium tours, Atleti Museum & more
Like most big European clubs, Atletico Madrid has a range of other experiences on top of matchday tickets and you can find details of those here.
The stadium tours (which includes access to the club's museum) run throughout the week and cost 22 Euros for those 14 or over and 16 Euros for 4-13 year olds. 0-3 year olds can enter for free but must be added to your booking.
There are also special matchday tours which are more expensive but can be added to match tickets and offer access to areas of the stadium usually only reserved for players in the build up to the game.
Atletico Madrid tickets – FAQs
How hard is it to get Atletico Madrid tickets?
Generally speaking, it's not difficult to get Atletico Madrid tickets. Most matches do not sell out with average crowds in the region of 55,000 during the 2022/23 LaLiga season, some way short of its capacity.
For the vast majority of league games, you'll have no problem buying tickets online in the days before the game or at the Atletico Madrid ticket office on matchday itself. It's also possible to buy them at the club's official store on Gran Vía in the heart of Madrid.
The only games where you are likely to have more difficulty securing a ticket are matches against Barcelona, the Madrid derby or big Champions League fixtures, particularly knockout matches. Even in those cases, it's usually possible to find a ticket, although cheaper ones will sell out quickly.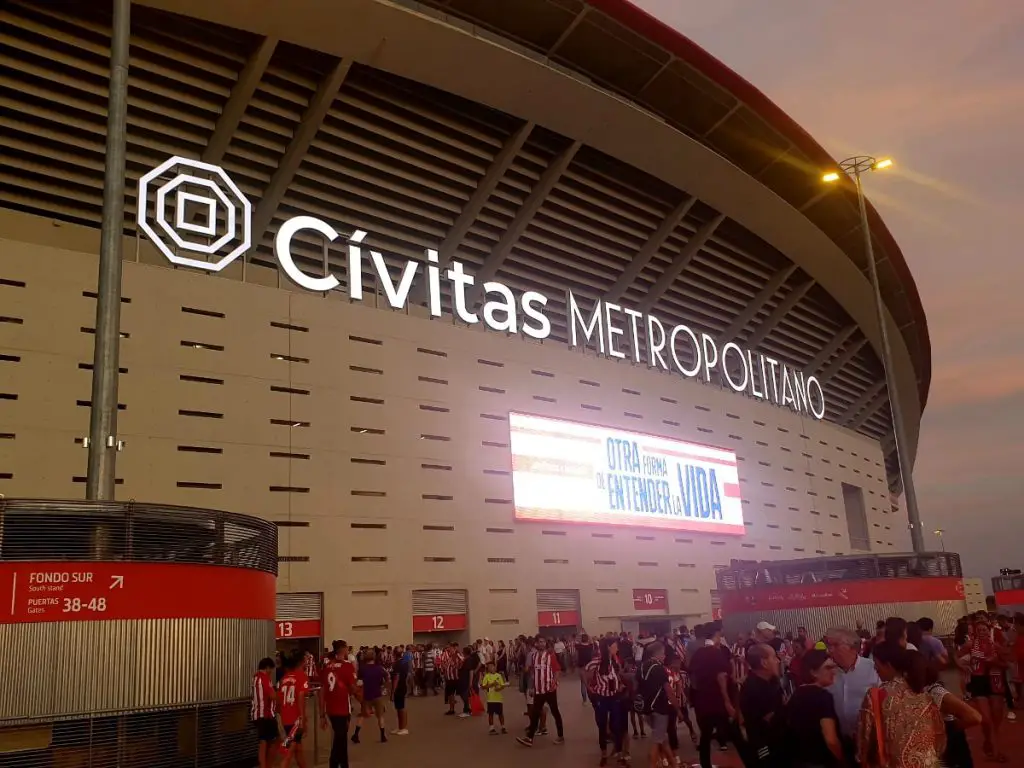 How much do they cost?
Atletico Madrid tickets typically start at €30 (plus €2 booking fee) for less glamorous LaLiga matches and occasionally dip to €20 if it's a midweek match or if there's a special promotion on. These are for tickets located high up, but you can still usually find good seats in the cheaper price ranges at the Metropolitano. To sit closer to the pitch, you'll need to pay more.
For big Champions League knockout games or matches against Real Madrid and Barcelona, the cheapest tickets will be in excess of €50 and perhaps closer to €100 depending on availability.
Discounts are available for those with an Atletico Madrid membership which costs €64 for adults (25+), €48 for youths (14-24) and €32 for younger children. For anyone based in Madrid and likely to take in several matches during a season, this may prove cost effective as membership also includes a gift voucher (€25 for adults) which can be used on match tickets.
How do you get to the Estadio Metropolitano?
The easiest way to get to the stadium is to take the Madrid metro and Line 7 to Estadio Metropolitano station which is located only a few minutes walk from the stadium.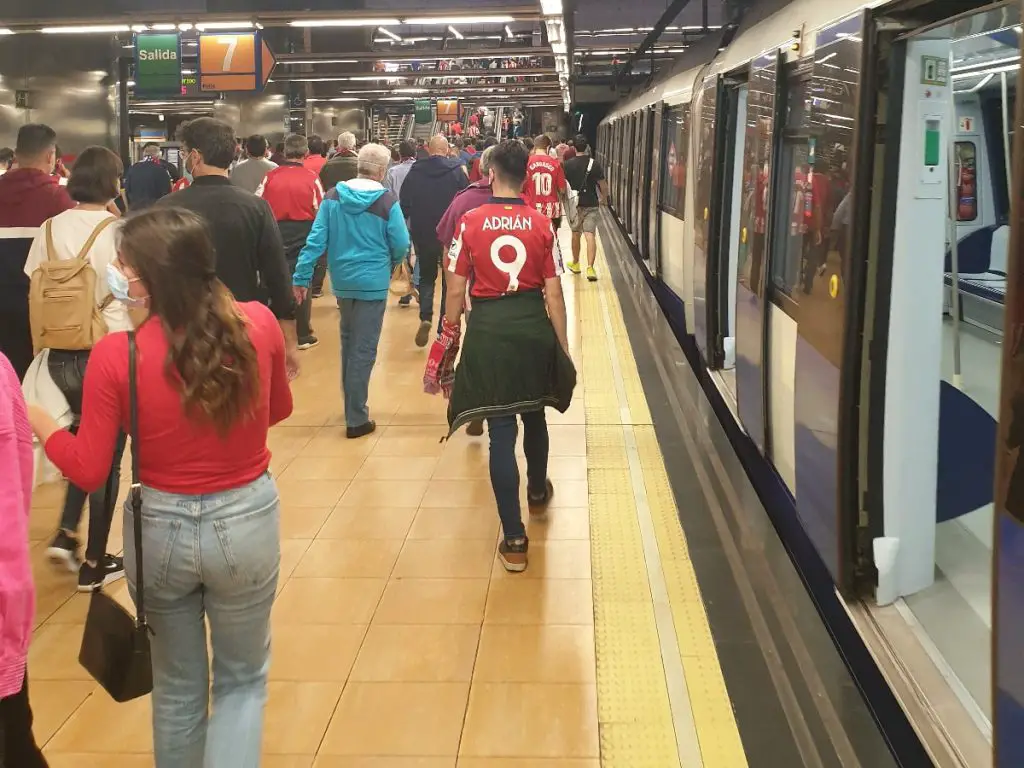 From Puerta del Sol, Madrid's widely accepted centre-point, it takes around 50 minutes to reach the Atletico Madrid stadium by metro given its location on the edge of the city, not too far from Barajas Airport. There are also multiple bus connections, although the metro may be simpler to navigate and you just need a regular Madrid metro Zone A ticket (consider buying a T10 ticket, currently just €6.10 for 10 rides on the metro or bus in Madrid).
Taxis from Central Madrid to the Estadio Metropolitano may be in the region of €20-25 depending on where you're starting from and traffic. 
Do you have to print Atletico Madrid tickets?
When buying Atletico Madrid tickets online via the club's website, you are instructed to "print them out" and warned that you may be asked for ID when entering the stadium.
In practice, all tickets include a barcode which can be scanned on your mobile and you're highly unlikely to be asked for ID. However, you may prefer to print tickets out and bring a driver's license or something similar for peace of mind.
Can you drink in the Atletico Madrid stadium?
No, alcohol is not permitted inside football stadiums in Spain, however there are bars and stalls selling beer outside the ground.
Where do Atletico Madrid ultras sit?
Atletico Madrid's ultras sit in the Grada de Animacion (bottom section) of the Fondo Sur. This is where much of the noise comes from and tickets here are not usually available to the general public.
Can you sit in the home end as an away fan?
Generally speaking, you will not have any trouble sitting in home sections of football stadiums in Spain as a follower of the visiting team, as long as you're respectful. It's common to see fans of away teams wearing their club's colours in home sections of the Estadio Metropolitano with official away allocations often very small.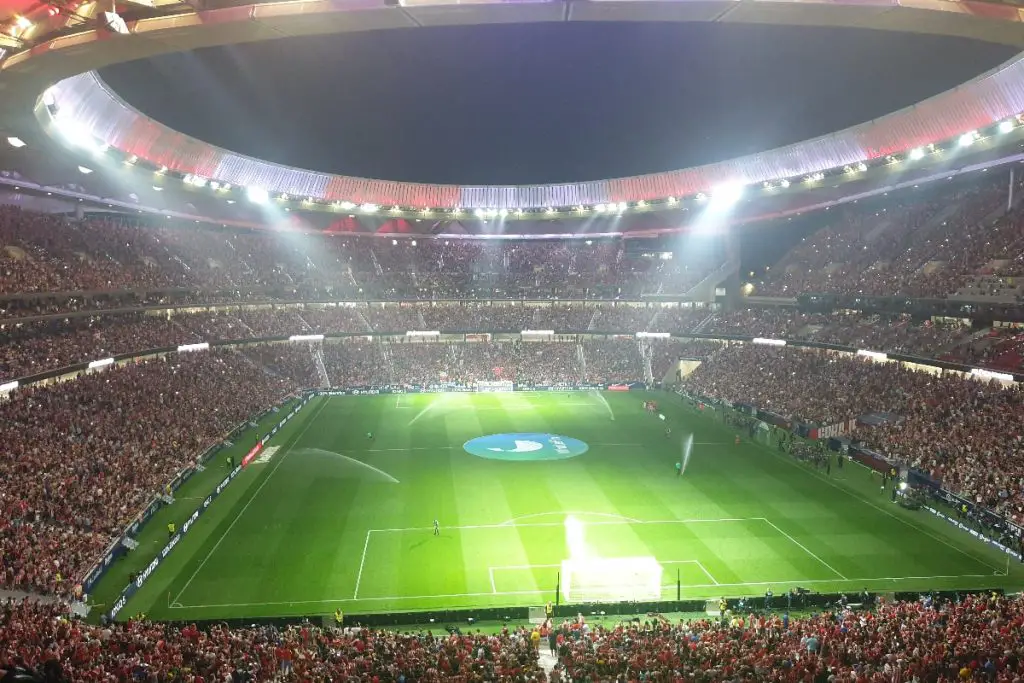 How far in advance do Atletico Madrid tickets go on sale?
Atletico Madrid's policy seems to loosely be that they release tickets on sale when a fixture has an official date and kick-off time. This is usually around a month or so in advance for LaLiga with the league relatively slow when it comes to finalising matters compared to other major leagues.
You will most likely be able to buy tickets online via the official site for the next two or three league games and any European or cup matches which have their kick-off confirmed.
Anyone interested in how to get tickets for Atletico Madrid matches that are further away, needs to be aware that as yet unscheduled league matches could take place at any point between Friday and Monday on a regular LaLiga weekend matchday (although will most likely be scheduled for Saturday or Sunday). The LaLiga calendar will be updated when a match has been allocated a timeslot. Midweek matchdays run from Tuesday to Thursday.
Tickets can be reserved further in advance with a Sportsbreak Atletico Madrid package although they won't be delivered to you until nearer the game.