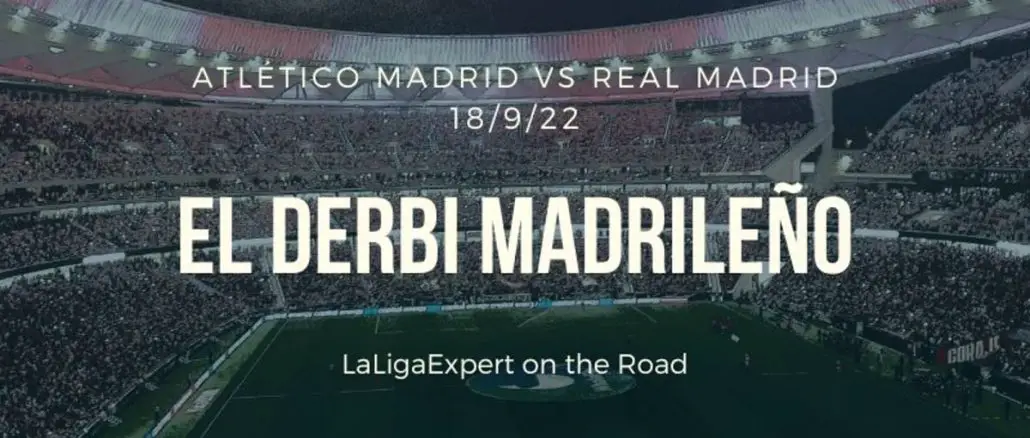 El Derbi Madrileño. Perhaps second only to El Clásico in terms of its importance on the Spanish football calendar, the Madrid derby is a historic fixture that has evolved into one of Europe's most significant and most competitive local rivalries.
That's largely thanks to Diego Simeone and the rise of Atlético Madrid under his leadership over the past decade. Before El Cholo, this had for a long time been just another one-sided city derby. Atleti didn't register a single victory over their rivals in the 2000's. They'd lost 8 straight league derbies heading into the 2013/14 season when the balance of power truly started to level up in the Spanish capital.
Buoyed by a 2013 Copa del Rey Final victory over Real Madrid in their rivals' own stadium, Simeone's team would win 4 of the next 5 meetings in LaLiga, including a wholly unprecedented 3 straight wins at the Santiago Bernabéu. These were not one-off results but a sign of a new, competitive Atleti who have also managed to finish above their city rivals in 4 of the last 9 seasons, twice being crowned champions of Spain.
Yet, this has also been a period when the two biggest Madrid derbies of all time have taken place – both Champions League Finals, both won by Real Madrid. Those agonising losses in Lisbon and Milan have helped cement Atleti's identity as the "jinxed one" just when it looked like they may firmly banish that particular tag for good. After nearly 11 years of Diego Simeone, Atleti have come so far, yet that lingering sense of inferiority remains when it comes to this rivalry. It's less than it was, far less in fact, but it's still there.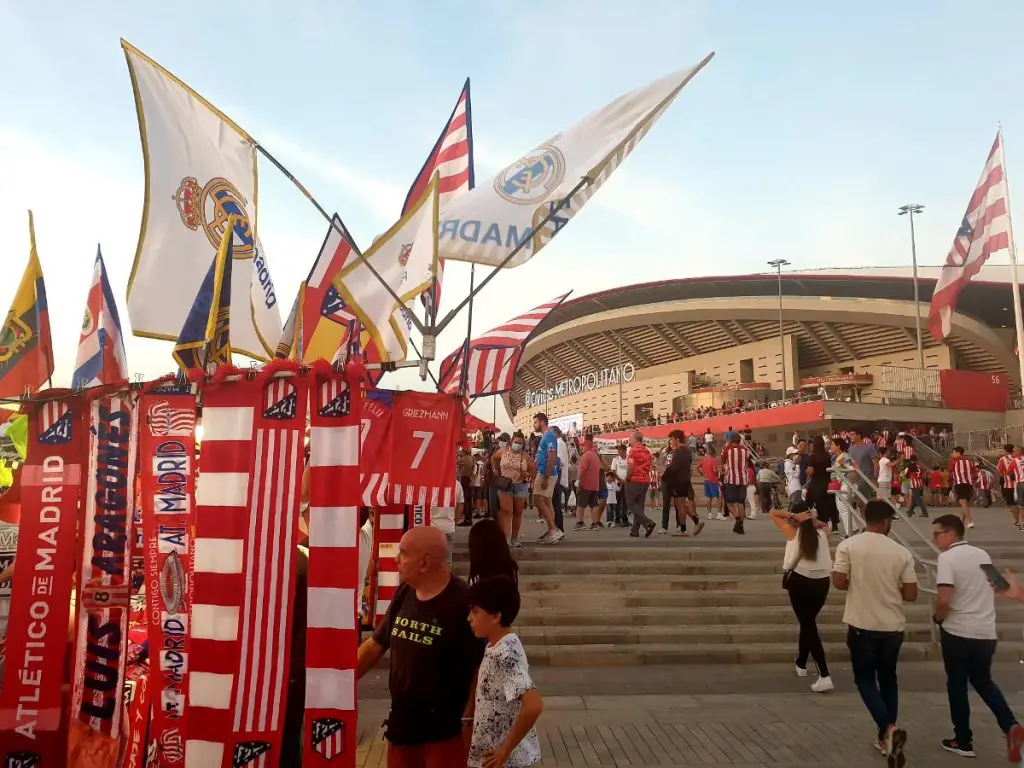 The latest edition of el derbi madrileño, the 171st meeting in Spain's Primera División, would showcase all that's good about this fixture, whilst also hinting at a darker side to Spanish football and to some extent Spanish society as a whole.
The basic narrative when it comes to the Madrid clubs is relatively simple and fairly well known. Real Madrid are the so-called Galacticos on the pitch and often seen as representing the elites off it, with historical ties to both Franco and the Spanish monarchy. Atlético by contrast, are largely the club of Madrid's working class, widely portrayed as the good guys trying to overcome the odds and compete with their stuffy, all conquering neighbours.
Of course, the reality is a whole lot more complicated. Amongst Atlético Madrid's most vocal supporters are the Frente Atlético, an ultras group with far right leanings with a history of violence, fascism and racism. They were previously banned from the Vicente Calderón after an incident in 2014 which saw an ultra from Deportivo de La Coruña beaten and thrown into the Río Manzanares where he would die of his injuries.
However unlike many clubs in Spain who have permanently banned the worst elements of their fanbase, Atlético Madrid have since allowed the Frente Atlético to take their place in the southern section of the Estadio Metropolitano, their home since 2017.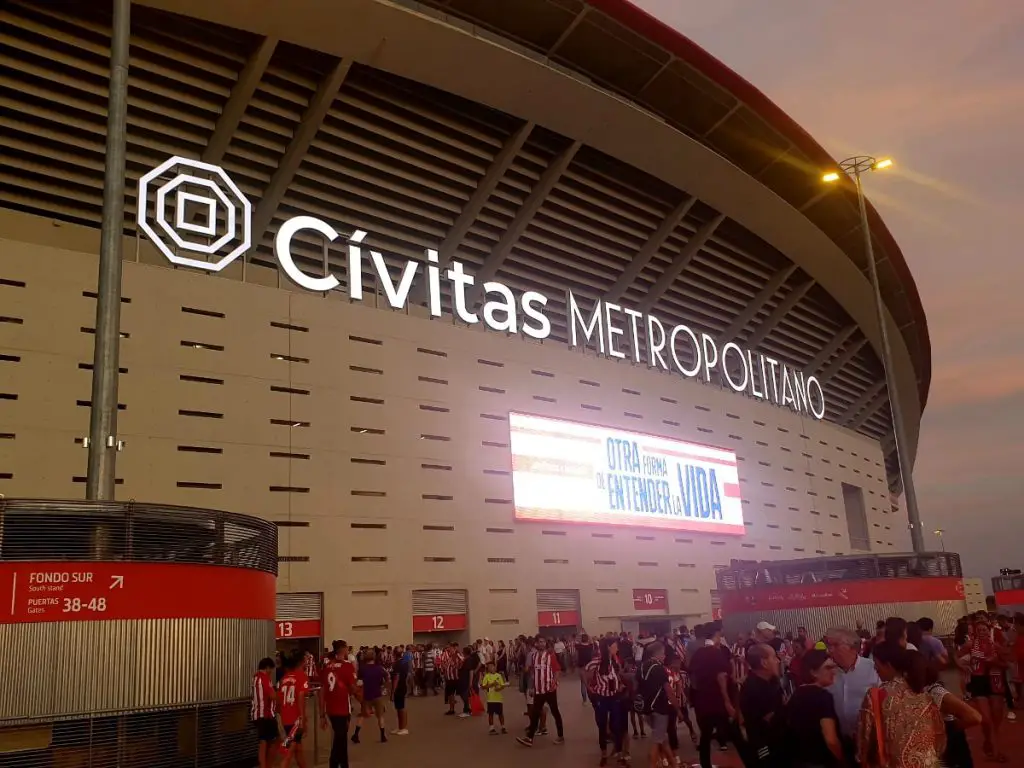 The buildup to this particular derby, had largely been overshadowed by comments from a high profile Spanish football agent who criticised Real Madrid's Vini Jr for dancing when celebrating goals, urging him to "stop playing the monkey" on the controversial late night football show El Chiringuito.
The comment generated support for the young Brazilian from across the wider football community and also within Spain, but it also sparked debate with some questioning whether the comment even had racist undertones which tells you plenty about how frequently the use of stereotypes and racist language is tolerated in this country.
For a small yet sizable section of the Atlético Madrid fanbase, this incident was sadly used as fuel for further racist abuse of the forward, before and at isolated moments during Sunday's derby.
Loud chants of "you are a monkey, Vinicius you are a monkey" were heard outside the stadium before the game and widely shared on social media. He was also further targeted by a minority at points during the match, altogether souring an occasion which given everything that went before it, if anything should have been an opportunity for fans of rival teams to show a united front in their opposition to racism.
The silence from both LaLiga and Atlético Madrid in the immediate aftermath of such racist abuse in one of Spanish football's most highly profile fixtures was sadly telling, although the former did later release a statement claiming "hate speech has no place in LaLiga and we always work with the clubs and the authorities to identify and bring to justice any such case."
This should be a watershed moment, but if history is anything to go by, you suspect very little will ultimately be done and this kind of thing will happen again and again, until serious action is finally taken.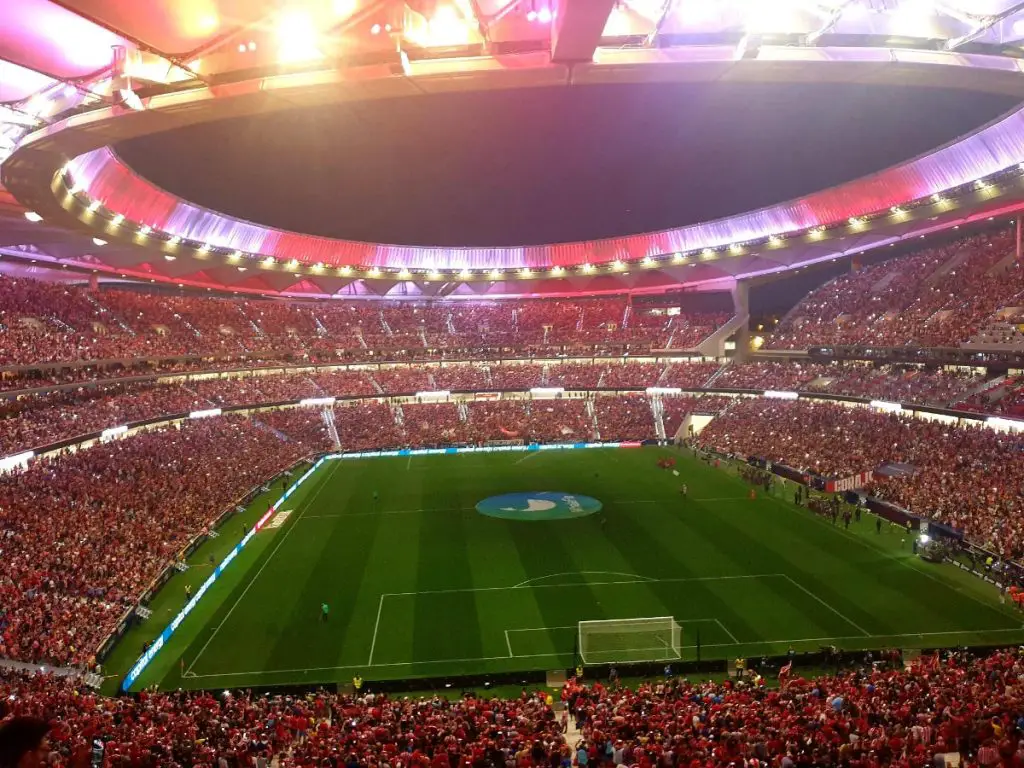 It's a shame because Sunday's Madrid derby also highlighted many of the things that are great about football in this city and indeed this country. When the lights dim as kick-off approaches, there are few better sights or sounds than the Estadio Metropolitano in full voice on derby day.
There are many things that Spanish football does get right. The passion and atmosphere is truly special on big nights such as this, but that very rarely boils over into outright aggression or trouble between rival fans. Indeed in many "home" sections of the stadium, Real Madrid supporters sit openly in their team's colours surrounded by Atleti fans without even the hint of tension.
For all the deep divides that help define these two great clubs, there is a degree of respect that is often lacking at other major derbies across the world. Although great strides clearly still need to be made on certain fronts, the Madrid derby is predominantly a safe environment for those wanting to come and watch football and sample a cracking atmosphere, without worrying about getting caught up in some of the uglier stuff that crops up when rival teams in other cities meet.
For a while on Sunday, it also looked like we might get a great game too as Atlético Madrid came charging out of the blocks to the delight of the majority of the 67,000 crowd in their modern home on the outskirts of the Spanish capital.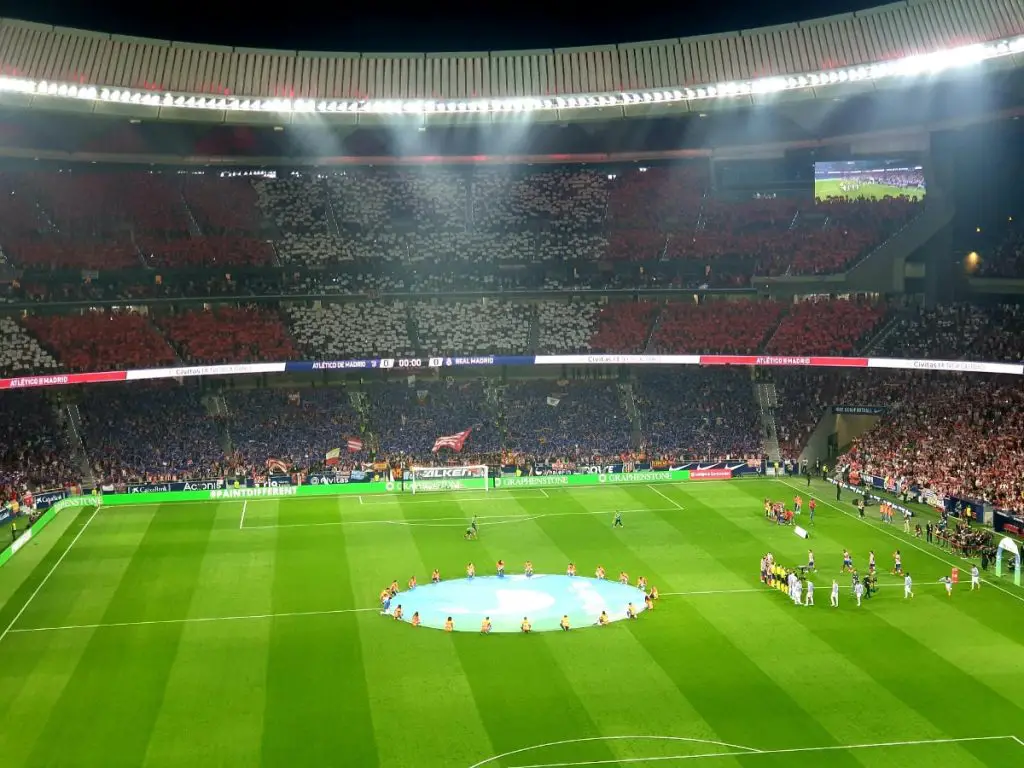 With Antoine Griezmann finally granted a start, Atleti pressed from the front and from the first whistle. For a spell, the defending Spanish and European champions were really under the cosh as Atleti created several half-openings during a frenetic opening to the game.
A couple of feisty early exchanges also left no doubt that this was a derby with Diego Simeone getting a talking to from the referee as early as the third minute for already venturing outside of his technical area to shout about something.
His opposite number, the considerably more sedate Carlo Ancelotti, would have had plenty of food for thought as his team, who entered the game with their 100% record for the season still intact, were pressed back in a way that few teams have managed to do against Real Madrid in recent times.
However, before long, Real Madrid's gameplan started to emerge and it wasn't long before it bore fruit. With Karim Benzema sidelined through injury, Ancelotti was clearly happy for his team to soak up pressure and look to strike on the break with a front-line packed full of pace and skill.
With 18 minutes on the clock, having not registered an attempt on goal until that point and seldom even got near Jan Oblak's goal, Real Madrid produced a move of sheer quality. Fede Valverde's burst of energy in midfield helped launch a rare attack for the visitors before a brilliant one-two between Aurélien Tchouaméni and Rodrygo saw the Brazilian race in behind Atlético Madrid's back three to fire in the opening goal with a first-time finish.
It was a sucker punch and one that helped to quieten a home crowd that was just starting to warm to the idea that their side was going to be capable of making a real game of it, despite an unconvincing start to the season.
It wasn't long before that notion would seem even more distant though, as Real Madrid once again produced another fine move to open up an Atlético defence that was fast starting to feel like the game's weak link. 
Again the break came on the Real Madrid left, but with Luka Modric this time providing the pass to release Vini Junior who broke beyond Felipe to race in on goal. On this occasion, Oblak was able to get something on the shot, diverting it onto the post, but the ball broke kindly for the onrushing Fede Valverde who fired home to give Real Madrid a 2-0 advantage with only 36 minutes on the clock.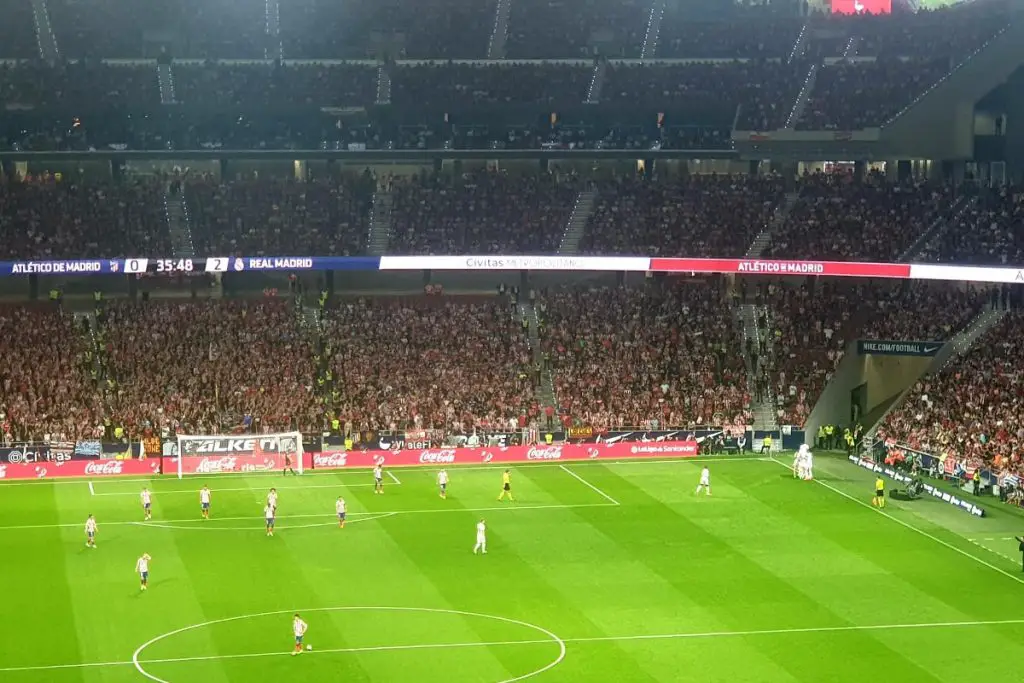 You could almost feel the belief being sucked out of the stadium at that point and the cauldron of noise that had greeted the teams earlier on was no more. Despite the scoreline, it wasn't as though Real Madrid had suddenly assumed total control of the game but they were starting to look more comfortable than in the early stages and Diego Simeone's dilemma was pretty clear.
Any risks Atleti took in terms of pushing forward would risk exposing a defence that was missing the likes of José María Giménez and Stefan Savić, and in truth simply didn't look up to the task against Vini, Rodrygo and co. An even heavier defeat was the last thing Los Colchoneros needed with confidence already drained following a midweek loss in Europe, yet this was also a "must not lose" game in terms of their league ambitions with Real Madrid already 5 points better off.
For much of the Second Half, there was no real sense that Atleti were going to get back into a game that was in danger of petering out into one of Real Madrid's most comfortable derby wins of the past decade. 
However the buzz and noise of the derby would suddenly return in the closing stages as a rare error from Thibaut Courtois enabled substitute Mario Hermoso to bundle the ball home from an 83rd minute corner.
It sparked the crowd back into life as the decibel levels rose once more and the belief spread to the Atlético Madrid players who sought to launch a late onslaught in the hunt for an equaliser. As the game crept into Stoppage Time, Atleti won another corner on the same side of the pitch.
However rather than serving up a leveller for the hosts, it would just prove to be the latest example of Hermoso's almost unrivalled ability to go from hero to zero as the Atleti defender clashed with Dani Ceballos, receiving his marching orders from the referee for a second booking, just 19 minutes after his introduction.
2-1 to Real Madrid was how it would finish, a second victory for Los Blancos at the Metropolitano and one that extended an impressive 100% start to the season in all competitions, into the international break. Job done for Carlo Ancelotti and his side.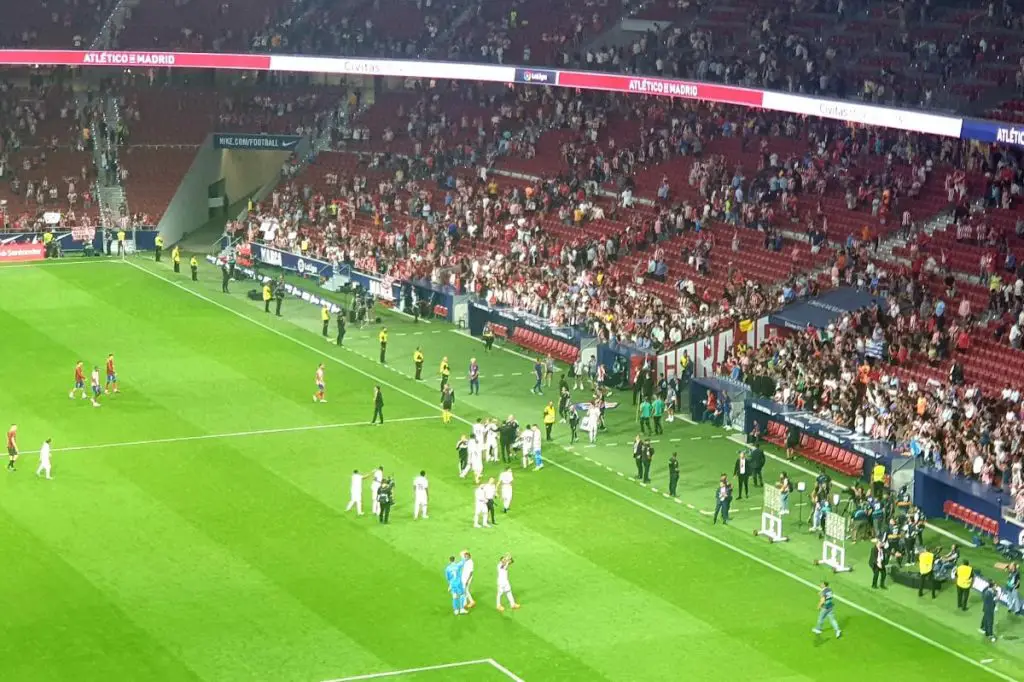 For Atlético Madrid, there was plenty more soul searching to be done, both on and off the pitch. Already 8 points off the pace in LaLiga, the result appeared to confirm what many already suspected, that this season's title race will be a two-horse one involving Real Madrid and Barcelona. That will increase the pressure on their European games between now and the World Cup with Champions League progression a must from a relatively weak group.
The soul-searching will, or at least should, extend to properly confronting and tackling the racist behaviour from a small section of their fanbase which overshadowed this particular edition of one of the world's great football derbies and continues to be a stain on the so-called "people's club". For now, their silence speaks volumes.