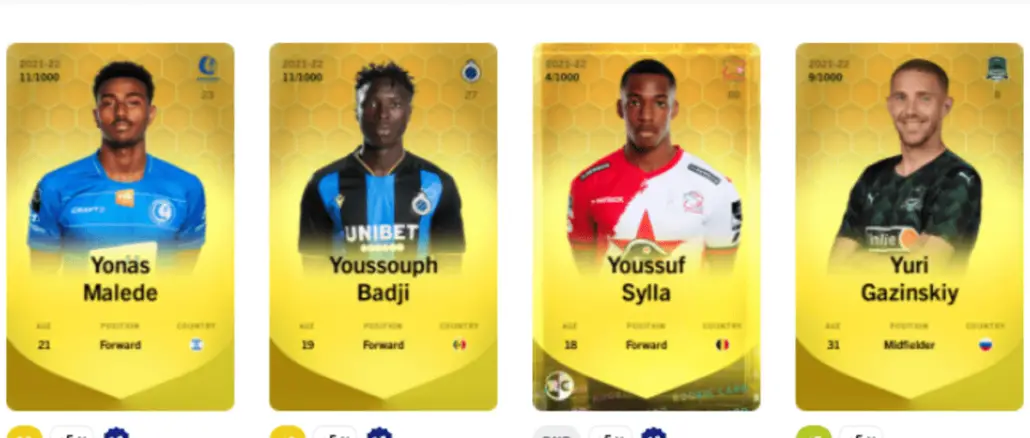 A new era is here on Sorare with the launch of a brand new scarcity which should help the NFT fantasy football platform appeal to a much larger audience. In addition to the existing Rares, Super Rares and Uniques, you can now get your hands on Limited cards. The shiny yellow cards made their debuts on Friday 13th August 2021 and will be a cheaper alternative to the existing scarcities, giving new users with more limited funds an easier entry onto the platform. Read on to find out all about Sorare limited cards.
---
Sorare Limited Cards – Great News for Managers on a Budget!
---
How will they work?
Sorare Limited cards will quickly eclipse the existing scarcities in terms of supply and managers will have to get used to seeing yellow cards dominating individual player screens. There will be up to 1000 Limited cards for any given player each season, continuing the 10x increase that currently exists from Uniques to Super Rares and Super Rares to Rares.
| | |
| --- | --- |
| Scarcity | Maximum Cards per Season |
| Unique | 1 |
| Super Rare | 10 |
| Rare | 100 |
| Limited | 1000 |
It should be noted that the maximum card number is not necessarily the same number of cards there will be for each player each season. Sorare carefully monitors demand for player cards and user growth and in many cases do net get anywhere near issuing 100 Rare cards per season for example, so we can expect something similar to take place with the Limited ones initially at least.
Much will depend on how Sorare grows during the coming year, but essentially the introduction of Limited cards makes it so much easier for new users to join and properly try out the platform without putting a large amount of cash in. With almost all starting rare goalkeepers currently going for 0.2 ETH (approx $600) at the very least, the introduction of a new rarity was certainly needed.
Note that for the purposes of this article we are referring to Sorare Football. Limited cards work slightly differently in Sorare NBA basketball and Sorare MLB.
How do you get Sorare Limited cards?
If you've looked at Sorare in the past but have been put off by the high cost of cards, now might be the time to finally get involved. Sorare Limited cards can be bought in the same way as the previous scarcities. If you're not already on the platform, the easiest way to get Sorare Limited cards is to sign up and head over to the New Card Auctions section where there are currently several Limited card auctions per day for many players.
You can also buy Sorare cards directly off other managers which will become more common once the number of Limited cards on the platform grows. You can also receive free Sorare cards as rewards by succeeding in the SO5 tournaments.
You can get one free Limited card after your first five card purchases from the new signings market (any scarcity from Limited to Unique) by signing up using this link.
You may want to educate yourself on the platform before diving in though and we weigh up some of the good and risky parts of it in our Sorare fantasy football review.
What tournaments can you enter with Sorare Limited cards?
Keen not to change the current market dynamics for Rare, Super Rare and Unique cards, a separate tier of the existing tournament structure has been added where only Limited cards can be used.
This tier is Division 5 and will operate in all the existing leagues and regions (Global, Global U23, Champion America, Champion Asia, Champion Europe, Challenger Europe). The only way to enter Division 5 SO5 tournaments will be to field a team consisting of five Limited cards. As a result of the increased supply, putting together a competitive Division 5 team or squad will be much cheaper than doing likewise at Division 4 or above.
The NFT prizes in Division 5 will also solely consist of Limited cards so you should be able to quickly add more cards to your collection if you make smart additions and pick the right teams. There will also be ETH rewards for podium finishes. The first ever Division 5 tournament (Global All Star – Week #194) has 0.25 ETH, 0.19 ETH and 0.15 ETH as the prizes for 1st to 3rd places which is between $460 and $780 at the time of writing.
It's important to note that currently there are no changes to Divisions 4 and above. The popular Global All Star Division 4 will run in exactly the same way for now requiring teams to be entered featuring four or five Rare cards and at most one Common. The only way you may be able to use Limited cards with the other scarcities in the short-term is likely to be in a few Special Weekly events.
As a result, the addition of Limited cards for now mostly feels like a separate game as an extra to the existing structure which shouldn't have a major impact on the value of Rares. While it's true that some managers may be in the process of selling Rares to try and build a Limited collection, any impact on the valuation of other scarcities is only likely to be minor and will most likely be a temporary thing.
Looking further ahead, it does seem possible that at some point in the more distant future, the rules may change to allow for a more natural interchange between scarcities as is the case with the D1-D4 tournaments. For example it may well be that instead of 4 Rares + 1 Common, it will ultimately become something like 4 Rares + 1 Limited at D4 level and perhaps 4 Limiteds + 1 Common at D5. However this is purely speculative and a matter for another day.
Valuing Limited Cards
Valuing Limited cards is not an easy task right now as there is obviously very little price data available yet. As is the case with new season or new player cards at the other scarcities, the first edition Limited cards are going at vastly inflated prices with some managers seeing collectible value in such cards.
As is often the case on Sorare, exercising a bit of patience may be the way to go. With up to 1000 Limited cards each season for all players, the market will soon be flooded with Limited cards and you should certainly be able to find a better price than those where the initial auctions end at.
However it is something of a balancing act. The arrival of the new scarcity may be followed by a big marketing drive and we could see a massive rise in user numbers in the coming weeks which usually has the effect of pushing prices up across the platform. There are already signs that active user numbers have grown quickly since the first Limited cards arrived on the market.
In terms of how much Limited cards are likely to go for in relation to the other scarcities, again there is sadly no proven formula to rely upon. Logic may suggest that given the supply of Limited cards should be roughly 10x that of Rares, they should go for one tenth of the price. However it is a lot more complicated than that as there are all kinds of factors which drive market prices.
Take the comparison between Rares and Super Rares for example. Again the supply difference is roughly ten-fold yet historical data suggests your average outfield Super Rare might be typically sold for roughly 4-5 times as much as Rares while goalkeepers are more in the region of 3 times as expensive as Super Rares when compared to Rares.
That doesn't necessarily mean it will be the same difference between Limited cards and Rares but it's something to bear in mind.
Analysis – What does this mean for the future of Sorare?
This feels like a really exciting moment for Sorare and its users, potentially the tipping point which sees the NFT fantasy football platform's popularity explode as it suddenly becomes accessible to millions of football fans around the world.
Converting football fans and fantasy football enthusiasts into loyal users obviously still takes some doing, but so far Sorare have done brilliantly to grow their platform into where it is today with just a small team. 
Some people are put off by the notion that they may have already missed the boat when it comes to Sorare, but with only around 25,000 managers currently owning an NFT card, the ship has barely even left the harbour.
The addition of the new Limited scarcity looks like it will be the event which sparks a huge new wave of user growth which makes this a great time to get involved – be that as an existing manager or a new one.
---
Disclaimer – This post contains some affiliate links.