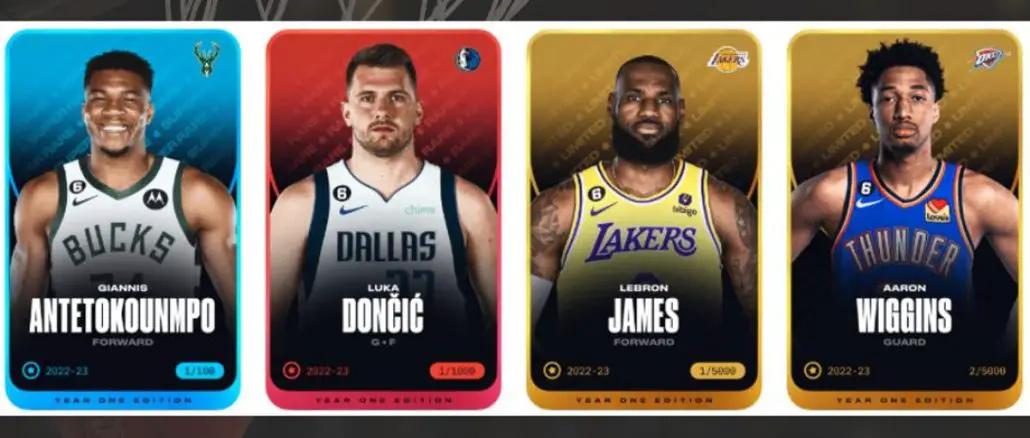 Basketball has arrived on Sorare, making it the third sport to land on the growing global fantasy sports platform. In this Sorare NBA review, we'll guide you through how it will all work and how it will compare to the football and baseball versions of the game, as well as the existing NFT's on NBA Top Shot. We also have a Sorare NBA sign up offer for new users which will enable you to claim a free card.
Sorare Background
Launched in 2019, Sorare is a fantasy sports platform which uses NFT and blockchain technology. It's a place where you can buy officially licensed digital collectibles and use them to compete in free fantasy tournaments where you can battle it out against other users for prizes. 
Prior to this year, it was solely a football (soccer) platform, but Sorare MLB launched earlier in 2022 and Sorare NBA was announced in September. Its launch has been timed to coincide with the start of the new NBA season (18th October 2022).
Sorare is not just any old NFT project but a multi-billion dollar valued company that has sealed official partnerships with some of the biggest sports teams and leagues in the world. They have used blockchain technology to create an engaging and enjoyable fantasy sports platform that is already loved by tens of thousands of users and all things considered, the market has held up reasonably well even during what has been a really tough time for NFT's, crypto and indeed most kinds of assets.
Sign up for Sorare basketball using the link above to activate the offer. Note, that by primary market, we mean auctions. This is where newly minted cards are first listed for sale and sold to the highest bidder. After you have bought five cards via this method, you will receive a free limited card with the sign up offer. This card can be used in tournaments and kept as long as you want, or sold immediately. There are no limitations on that.
While the three sports currently on Sorare operate totally separately to one another, you only need one account to access them. Therefore this Sorare basketball sign up offer is only for totally new users to the platform. If you are already a user of Sorare football or Sorare baseball, you just need to log in as usual and click on the Sorare NBA tab at the top of your screen where you can get started on your basketball journey by selecting your free common cards.
How does Sorare Basketball work?
For the opening few weeks, Sorare NBA will only have Common card tournaments with the other scarcities available to buy but not usable just yet. Common cards are always free and cannot be bought or sold and are designed to give new users an introduction to the platform and the gameplay aspect. You can claim your first bunch of commons just by signing up and you can then get straight to picking your teams for the next gameweek.
As with football and baseball, there will be two gameweeks per week. For Sorare NBA, these will run from Monday to Thursday and Friday to Sunday. The deadlines to submit teams will be just ten minutes before the first game, so you have plenty of time to consider your options. Each tournament will require you to pick five players but those with larger galleries will be able to enter multiple tournaments each gameweek.
In one big difference from the previous sports, Sorare NBA will employ a points cap system in its fantasy contests. Every player will have an average points score from their last 10 games and each tournament will have a points total that you cannot exceed when you add up the averages of your five players. This essentially prevents you from just picking the best five players in the NBA and you will need to think tactically about how best to compile your team for that gameweek without going over the cap.
At each scarcity level (details of those below), there will be "Contender" and "Champion" tournaments. The champion events will offer the better rewards for those who do well, but will require better cards to compete as each team can include one "MVP" whose points average does not count towards the cap. Therefore you can effectively pick the best player you can get your hands on, and spread the limit out over the other four. Contender tournaments will not have an MVP so the L10 averages of all players will contribute to your total.
Note that those L10 averages will change from gameweek to gameweek. Therefore the five players you choose for gameweek 1 for example, may no longer be under the cap when gameweek 2 comes around if they have performed well.
Sorare NBA Scarcities
| | | |
| --- | --- | --- |
| Scarcity | Colour | Maximum Cards per season |
| Common | Grey | Unlimited |
| Limited | Gold | 5000 |
| Rare | Red | 1000 |
| Super Rare | Light Blue | 100 |
| Unique | Purple | 1 |
If you're totally new to Sorare, understanding the different scarcities is one of the first things you need to do. There are going to be five scarcities for Sorare NBA and these will take the form of different coloured cards with a limited number of each produced each season for each player as outlined above.
The common cards are not NFT's and can't be transferred to other users but Limited, Rares, Super Rares and Uniques are where the real action will be when the game fully launches. These are NFT's that can be bought and sold, and used in fantasy contests to win rewards. In their NBA launch video, Sorare committed to reserving 40% of the total supply of the cards for the first season for the rewards pool.
The most expensive cards will be the uniques as there is only one of these per player per season. The demand for a Unique LeBron James card will be very high for example and will most likely go for tens of thousands of dollars given the potential long-term collector value of a card like that, not to mention its use in the game.
However Sorare is not just a place for NFT investors with deep pockets. Those on a smaller budget will most likely want to focus on Limited cards first as there are up to 5000 of these minted per player per season. While the stars are still likely to be relatively expensive, you should be able to compile at least a competitive five-man team without spending a huge amount and the salary-cap system should ensure that you have the potential to compete for prizes each gameweek.
Sorare vs NBA Top Shot – How do they compare?
Sorare and Top Shot are both NFT-based platforms that are officially licensed by the NBA. They both take the form of cards but while Top Shot is focused on the digital ownership of moments (short video clips of NBA action), Sorare is a fantasy sports platform that offers collectibles that can be used in their game, which is based on the real-world performances of the player in NBA matches.
That added utility is the fundamental difference between the two and arguably where Sorare has a major edge on Top Shot and indeed most NFT projects. As is the case on Top Shot, your Sorare cards can be collected, bought, sold and traded. However they can also be used in weekly fantasy contests where you can use your NBA knowledge to outperform other users and potentially win more cards or even real world prizes. The exact details of these will be announced in due course but based on what Sorare has done with other sports, they may include match tickets, merchandise or other experiences with your favourite NBA players and teams.
Sorare cards do not feature any video footage or moments as such. However, in an apparent nod to Top Shot, they will be releasing two versions of their cards (both can be used in fantasy tournaments in just the same way). Initially the cards will just feature head and upper body shots of each player, but later in the season we will also get action shots taken from their performances in the NBA this year.
Another difference is that there are no packs in Sorare. You can try to buy any card on the platform if you have the funds, but there isn't an option to buy packs where you don't know what you will find. There is a broad crossover though in that rewards from their fantasy tournaments are unknown, so you can still get a buzz out of claiming your rewards and finding out who you've won whenever your teams do well.
Sorare NBA Review – Initial impressions & things to consider as a new user
Given it has only just launched, it's hard to give a full, in-depth Sorare NBA review just yet but initial impressions seem positive. The scoring system and overall gameplay feels a bit more intuitive and easier to follow than with MLB for example, but having a points cap in all tournaments is a really interesting twist which should act as a leveller which will make it harder for the so-called Sorare whales to dominate at lower levels. This is a regular complaint from football managers on small budgets. 
However at Super Rare and particularly the Unique level, there could still be a real scrap on for the few cards of those star players who could make all the difference in the MVP slot, so there should be something here that will get Sorare users on all budgets excited.
If you are joining Sorare for the first time to get involved in the NBA action, there are a few things that are important to consider and understand if you want to avoid overpaying for players. 
Firstly, it's certainly worth noting that the first editions of each of these cards are widely perceived to be the most collectible with the greatest long-term value so many will go for a lot of Eth (the in-game currency is Ethereum). If you're mostly drawn to the gameplay element and not the collectability, it may be wise to play the free common tournaments first, get a feel for the platform and wait until prices have started to settle down before starting to buy cards and build your galleries.
In the other sports, there has often been very significant drop-offs in prices after the first few cards of any new season have been sold, but it's not that easy to predict, even for a more experienced Sorare user.
If collectability is more your thing and you strongly believe in the long-term future of NFT's, then there is more of a case for getting involved in the early auctions. There will only ever be one first edition card at each scarcity for each player and as is the case in the physical card world, these will most likely be worth the most should Sorare still be around ten or twenty years from now.
Another notable point from the announcement video and launch is that Sorare are only referring to the NBA platform as a BETA version at this point. Reading between the lines, that may be just to cover themselves in the event that some things don't go quite as planned in the opening few weeks, for example if there are some unforeseen technical problems affecting gameplay. The Sorare MLB launch earlier this year was relatively smooth but new users should probably be aware that this is a brand new product in a young space so there may be occasional moments where things don't function perfectly, although those are relatively rare in football which is a much larger and more established game.
Indeed, much of the initial user base for Sorare NBA will not even be basketball fans, but Sorare football managers who are looking to try the shiny new section of the site out and perhaps get into a new sport while they're at it. As a result, anyone with a genuine passion for and knowledge of NBA basketball and particularly those with some fantasy sports background, may be well placed to come in and do really well here.
If you fancy giving Sorare NBA a go, sign up here to claim your free common cards and get your free limited card (after your 5th auction buy). You may also find our Sorare NBA guide useful for getting started.