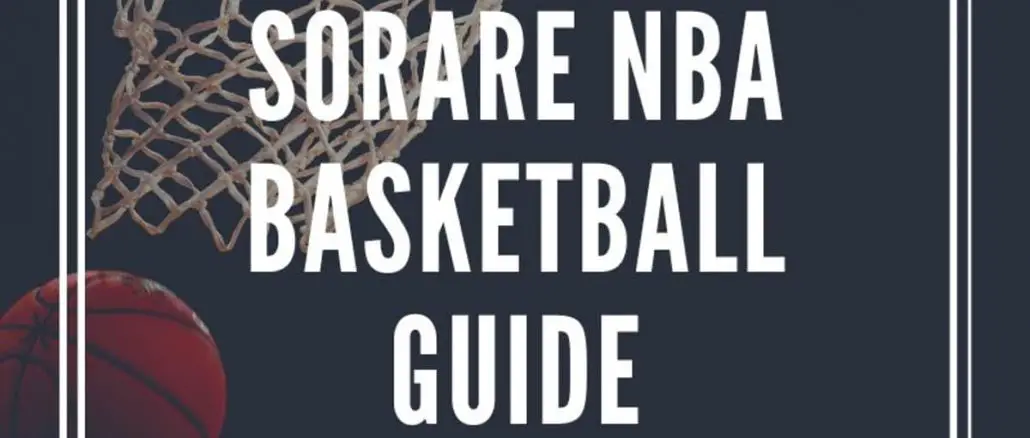 Sorare basketball is here meaning you can now buy and sell NFT playing cards for every team in the NBA whilst entering fantasy tournaments. In this Sorare NBA guide, we'll give you the lowdown on getting started and let you know what to expect from your first few weeks playing the game.
Signing Up to Sorare Basketball & Collecting your Free Cards
If you're not a Sorare user, you can sign up here to claim a bonus limited card (NFT), which you will receive after your fifth purchase (via auctions). To complete the signup process, you will also get to choose one common card (try to pick the best player) before being allocated a number of other free commons which will allow you to get started on Sorare NBA.
Note that common cards are not NFTs and cannot be bought or sold, but you can use them in fantasy tournaments to help you potentially win limited cards which do carry a value.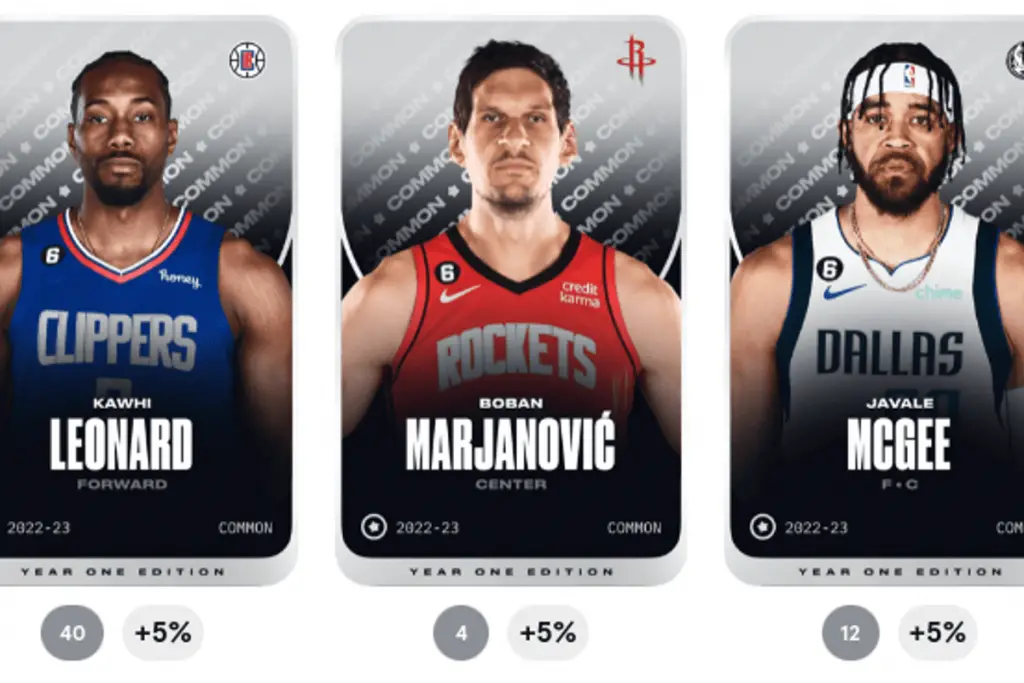 If you're already using Sorare to play fantasy football or baseball, you simply need to click on the NBA tab, either when you log in or at the top of the screen in the menu bar. This will get you started on the NBA onboarding process which is faster and easier to follow than the football and baseball ones. You will then get a choice of one free common card out of a selection (consider using Soraredata to pick the best scoring one) before being allocated a relatively random selection of cards that will enable you to field two common teams each gameweek.
Buying Cards
It's probably advisable to play at least one or two gameweeks of fantasy basketball using your free common cards before you dive in and start spending money. That will enable you to get a feel for how the game works and what it may take to be successful. There's more info on that in the next section.
Once you decide to take the plunge and start buying cards, limited is the cheapest and most natural scarcity to target for beginners. However if you've a slightly higher budget, then you may look to target one or more of the other Sorare NBA scarcities:
| | | |
| --- | --- | --- |
| Scarcity | Colour | Maximum cards per player per season |
| Limited | Gold | 5000 |
| Rare | Red | 1000 |
| Super Rare | Light Blue | 100 |
| Unique | Purple | 1 |
There are two ways to buy player cards. You can either buy them via auction (new cards minted by Sorare) or you can buy them directly from other users:
Buying Cards via Auction
For the first approach, click on MARKET – NEW CARD AUCTIONS in the top menu. This will show you all the cards currently being auctioned. There is a constant stream of auctions with several ending every minute. If you're shopping for limited or rare cards, you will almost certainly find at least one for the player(s) you are targeting. 
You can use the filters on the left hand side to narrow down your options via scarcity, teams, price or other variables. It's advisable to do a bit of research first though and decide on which players you think represent good value and are worth targeting to build a winning fantasy team, rather than just bidding on a bunch of different cards. 
Buying Cards from Other Users
The other way to buy cards is directly from other Sorare NBA users AKA managers. You can find a list of the players up for sale via the MARKET – MARKET SALES option from the menu. However it's normally better to search for the player you want to buy from the search icon (top right of the screen).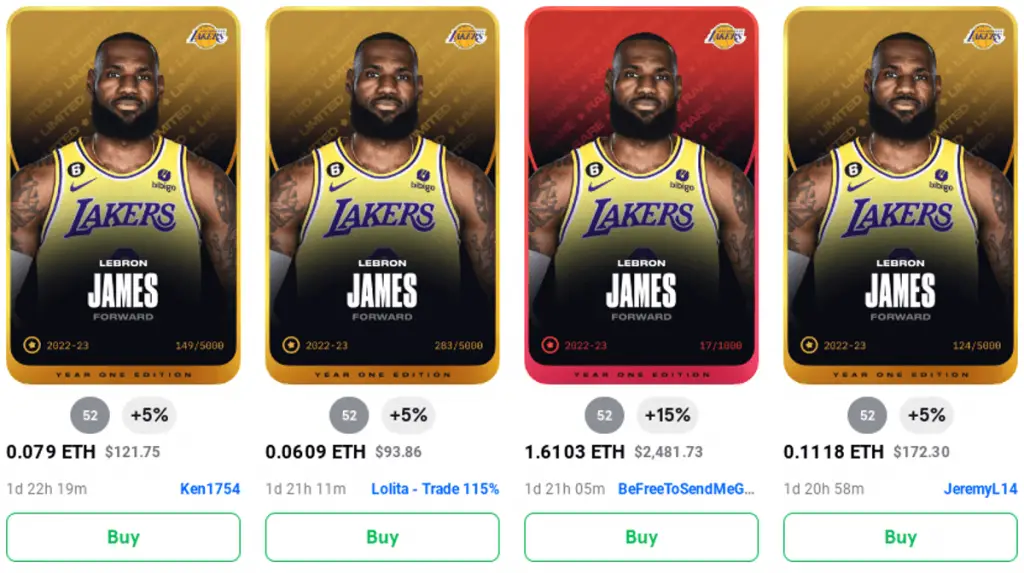 From there, you can find all the cards of that player that are in the game. Most will not be listed for sale, but some managers who are looking to sell their cards will list them at the price they'd be prepared to sell at (see the example above with NBA legend Lebron James).
You can buy any card at the list price by clicking the BUY button beneath the card. However most users list their cards above the going rate, so you will normally need to make an offer for the player to get a fair price. To do that, click on the card itself and then find the TRADE tab. This is where you can make an offer which the manager can then choose to accept or reject. 
Properly valuing players is key to success on Sorare. To do that, Soraredata will be your best friend. You can use their many different tools and graphs to find historical price data for all Sorare NBA players which will help you decide how much you might expect to pay for any card on the platform.
How to Pay for Cards
The in-game currency on Sorare is Ethereum. There are no special Sorare tokens or anything like that. In Sorare Football, many users still value their cards in Fiat currency such as Euros or USD, so major fluctuations in the value of ETH usually shifts the price of players up or down. However it's too early to judge whether or not that will be the case with Sorare NBA which is a separate and different ecosystem.
To pay for cards, you can either deposit Ethereum directly into your Sorare wallet and use your balance which you can find in the top right of the screen. Alternatively you can buy or bid for players using your credit card with payments converted to Ethereum.
Entering Sorare NBA Fantasy Tournaments
Unless you are primarily interested in trading, your Sorare NBA strategy will revolve around trying to succeed in the fantasy tournaments which run twice each week. It's therefore important to get a clear understanding of the Sorare NBA rules which are fortunately a bit easier to follow than their football and MLB equivalents.
To enter any tournament, you need five player cards and they can be of any team or position, but there are some scarcity restrictions (outlined in the table below). You can only use each card once each gameweek. As Sorare NBA only launched in October 2022, at the time of writing, some of the tournaments are yet to start, but in principal you will be able to choose from the following competitions each gameweek:
| | | |
| --- | --- | --- |
| Tournament | Allowed Cards | MVP |
| Common Contender | Commons | No |
| Common Champion | Commons | Yes |
| Limited Contender | Limiteds | No |
| Limited Champion | Limiteds | Yes |
| Rare Contender | Rares (minimum 3), Limiteds | No |
| Rare Champion | Rares (minimum 3), Limiteds | Yes |
| Super Rare Champion | Super Rares (3), Rares | Yes |
| Unique Champion | Uniques (2), Super Rares | Yes |
In addition, all NBA players will have a points number associated with them and that will relate to his average score over the past 10 games. Therefore, this number will constantly be changing according to how well he performs. This number is important because in all competitions, there will be a points cap. If we take Limited Contender as an example, currently that points cap is 110 meaning the total number of points must not exceed 110 when adding up those average scores of the five players you choose.
Furthermore, Champion competitions will also feature an MVP. This means you can select one player who will not count towards your point cap (this will automatically be set to your highest scoring player). Therefore in these competitions, the points cap will only relate to the four lowest scoring players.
Gameweeks will run from Monday to Thursday, and Friday to Sunday, meaning you will need to set your teams and enter tournaments twice per week with the deadline being ten minutes before the first NBA match of the gameweek.
You can find the tournament lobby by clicking on PLAY – UPCOMING from the top menu. Initially, only the Common Contender and Common Champion tournaments will be available to you and by using your free starter cards, you should be able to enter both in any given gameweek. Once you have bought enough cards of the other scarcities in order to field a five man team, the other tournaments will open up to you.
Any unused players each gameweek can be entered in a training lineup. This will help them build a bigger Xp bonus which will be useful in the longer term as it adds a small percentage to your players score in fantasy tournaments.
Sorare Basketball Guide – Gameplay & Winning Cards
Once you have entered your teams, you can sit back and enjoy the action and see how your players do. By clicking on PLAY – LIVE from the menu, you can monitor how your teams rank and what prizes you are on course to win.
This will depend on their score according to the Sorare basketball scoring matrix which we have detailed below. Note that if your player has more than one game in that gameweek (which will often be the case), the higher score will count. Therefore selecting players with two games rather than one may be a wise strategy when picking your teams, although it will of course still depend on other factors such as the relative strength of their opponent.
Sorare NBA Scoring Matrix
| | |
| --- | --- |
| Action | Score |
| Point | 1 |
| Rebound | 1.2 |
| Assist | 1.5 |
| Block | 3 |
| Steal | 3 |
| Turnover | -2 |
| Made 3 point FG | 1 |
| Double Double | 1 |
| Triple Triple | 1 |
This is again much simpler than the corresponding scoring matrices in Sorare MLB and football. It should make it very easy for both basketball fans and newcomers to the sport to follow the action and understand how actions impact on their players' score.
Your players' total score each gameweek will be calculated according to the above matrix. In addition there will be bonuses added to that score according to the scarcity, season and Xp of the card.
A player of the current season will get a 5% bonus (initially all cards will have that until the 2023/24 season starts). Rare cards will get an additional 10% bonus, Super Rare cards will have 20% added while Uniques get 40%. Finally the Xp bonus will be between 0 and 10% and will grow slowly over time as the card is used in tournaments and training lineups.
You don't need to worry too much about these bonuses initially but they could become a bigger factor in the future. They are designed to act as a differential in the likely event of some managers naming identical teams.
Rewards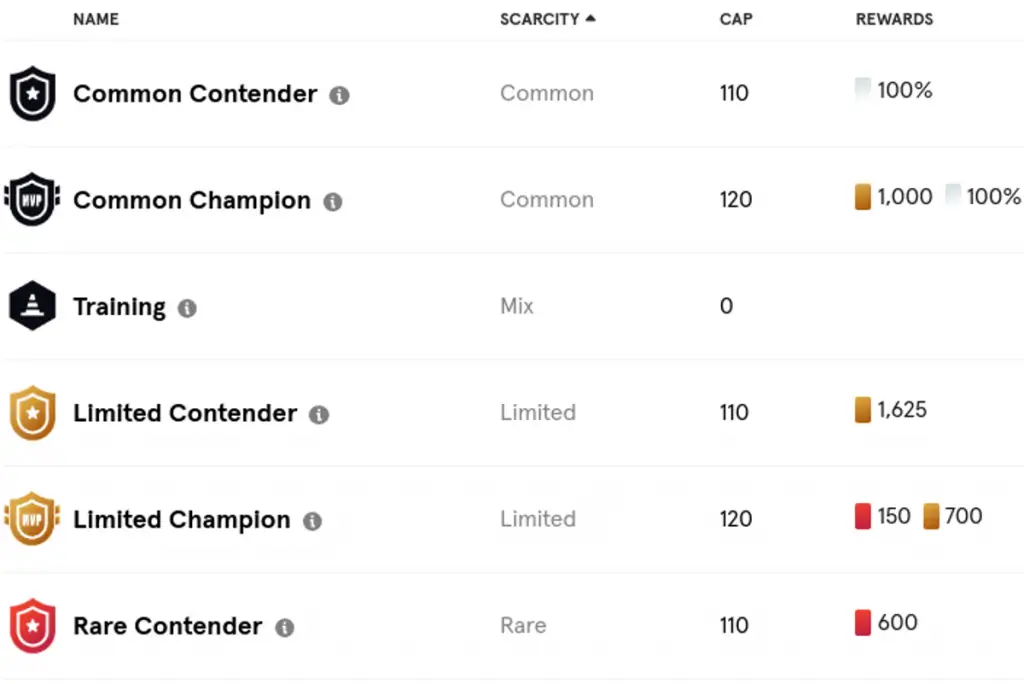 All tournaments offer rewards and you can see the breakdown from the main tournament lobby. This may change with time, but currently all players will win at least a common card in each of Common Contender and Common Champion. The higher you finish, the better chance you have of winning a better player. For the upcoming gameweek (at the time of writing), the top 1000 positions in Common Champion also offer a limited card reward so you can potentially win NFTs just by using your free common cards.
Your best chance of winning cards you can then sell or use in future tournaments comes via the other scarcity competitions though and Sorare have committed to offering around 40% of the total supply of cards for the rewards pool in the first season of NBA on the platform.
These are the how rewards will be distributed:
| | |
| --- | --- |
| Tournament | Scarcity of Rewards |
| Common Contender | Commons |
| Common Champion | Limiteds/Commons |
| Limited Contender | Limiteds |
| Limited Champion | Limiteds/Rares |
| Rare Contender | Rares |
| Rare Champion | Rares/Super Rares |
| Super Rare Champion | Super Rares |
| Unique Champion | Uniques/Super Rares |
Sorare NBA FAQ's
Is Sorare NBA free to play?
All Sorare tournaments are free to enter and that's the same across all sports. In theory, you could use Sorare NBA totally for free and only play the common tournaments. You may even win some limited cards, however in practice you will need to spend money and buy cards if you want to enter the tournaments at higher scarcity levels which offer a much greater chance of winning NFT rewards.
Can you win cash rewards on Sorare NBA?
No. This is a major shift from Sorare Football for example where it is possible to win Ethereum rewards in most tournaments and there are even very reachable threshold payments each week at Rare level. Currently the only rewards on offer in Sorare NBA are in the form of cards.
What about real world prizes?
Sorare is keen to offer real world prizes in the form of jerseys, tickets and other experiences, which should be relatively easy for them to do given they are an official partner of the NBA. In the absence of Eth rewards, this is surely something we will see soon when all the tournaments are up and running and it is something they've done in both football and baseball.
How do you sell cards?
Any cards from the main scarcities (limited, rare, super rare and unique) can be listed for sale at any time. This includes the cards you win as rewards. To list a player, first locate your gallery by clicking on MY CLUB – CARDS from the menu. Then click on the card you want to sell and press "list your card for sale" where you will be invited to set the list price.
It's obviously advisable to research what a fair price for the card might be and perhaps set your list price slightly above that. You can also see what the current market price is by searching for the player and seeing what other managers have listed him for in each scarcity. You will be notified of any offers or if someone buys the card by matching the list price.
Will current season players be usable in the future?
Yes. When the 2023/24 starts and new season cards are issued, you will still be able to use 2022/23 season cards and they will be good to use for as long as Sorare is around and the player is active in the NBA. The only difference will be that they lose their 5% current season bonus at that point.
Do you need a separate account for Sorare basketball?
No, you only need one Sorare account to play any or all of the three sports. For example, if you sign up to Sorare NBA, you can later decide to give football or baseball a crack too. Indeed, multi-accounting is technically not permitted on Sorare.
Will other leagues be added?
The official title is Sorare: NBA so we can only assume that this will only ever be an NBA game and we won't see other major basketball leagues added. Therefore players who move to another league will no longer be useful in the game.
How do you make money on Sorare NBA?
Sorare is not an investment platform, although it is true that some users on Sorare football have viewed it as a way to make money. The company is keen to discourage that though and the absence of cash rewards appears to mark an even bigger shift away from that with the NBA version. 
It is still possible to use your basketball knowledge to pick up undervalued cards and sell them for a profit later on. You can also simply play the tournaments to win cards and then sell those rewards. However it's not advisable to view this solely as a way to make money, especially with no Eth prizes underpinning the value of these cards.
How do you get free cards?
You can build up a relatively large gallery of common cards just by entering both common tournaments each gameweek as you are always guaranteed to win common rewards and have a small chance of winning limiteds. However there is no magic formula for getting free cards of the main scarcities that doesn't involve buying good cards that will be competitive in tournaments and help you win rewards. You can also claim a free limited card by signing up to Sorare here and purchasing five cards (of any scarcity) via the auctions.
---
Given the game has only just launched, it's hard to know what other questions new or potential users may have. We have some more info in our Sorare NBA review. If you have any additional doubts or questions, feel free to ask in the comments section below this Sorare NBA getting started guide. You can also get in touch via @sorarelaliga on Twitter.