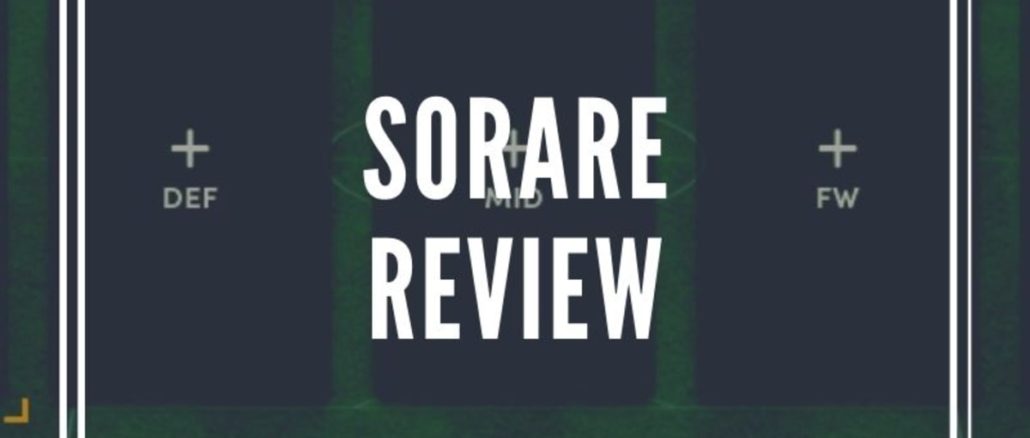 Over the course of last year, we started using and featuring Sorare, an NFT based global fantasy football platform which has built up an army of loyal fans. It has generated excitement and interest from everyone from big name footballers to big hitters in the NFT space. In this Sorare review (fully updated in April 2022), we'll explain what makes it so unique and how it differs from other fantasy sports and football trading platforms. There are also details on how you can get started without spending anything with a bunch of free cards through the sign up offer (see below).
Note, this review relates to Sorare football. Since it was last updated, both baseball and and basketball have also been added. Read our Sorare NBA review to find out more about the latter.
---
What is Sorare?
Sorare is a fantasy football style platform built on the Ethereum Blockchain. It was launched in 2019 and is based on real on-pitch events in football competitions across the world including most of the biggest leagues in Europe, Asia, North America and South America. Major continental events such as the Champions League and international competitions are also featured.
Managers can buy, sell, exchange and win digital player cards to build up a collection which may be entered in tournaments. These tournaments are all free to enter and see managers field teams of five players to compete with other managers for prizes. These prizes are either new cards or an amount of Ethereum – the cryptocurrency which is used to buy and sell cards on the platform.
However in truth the answer to the question "what is Sorare?" will depend on who you ask. Some users are less focused on the gameplay aspect and more interested in its status as one of the most exciting projects in the NFT space and are attracted by an opportunity to collect some of the earliest and already most valuable sports NFTs.
---
Sorare Sign Up Offer 2022 – Up to 12 Free Common Cards +1 Limited Card*
One of the best things about starting out on Sorare, is that you don't need to deposit any money, enter any bank details or go through any tiresome identity checks to get going. Just click the link above (or graphic below) and you can be registered in a couple of minutes. You will then be given free Sorare common cards in starter packs after you complete each step of the short onboarding process. These can be used to enter tournaments while you take a look at the platform and decide whether it is for you.
Common cards can be used in the Casual League which is basically the free version of Sorare and you will win two more common cards each week once you start playing (provided you remember to log in and submit your teams). You can spend as many weeks as you like in the Casual League which no longer has an expiry limit following a rules change in September 2021.
The gameplay and scoring system is the same as in the higher leagues so by entering teams and competing for prizes in the free version, you get a pretty good feel for Sorare. This should help you decide whether it's for you and if it is, you can then move into the higher leagues which do require some form of cash investment.
*Using the sign-up link above, you will also get a free limited card (NFT) once you buy five cards of any scarcity on the primary market (individual card sales and bundle sales). The sign up offer is also valid for both Sorare NBA and Sorare MLB.
Sorare no longer issue free rare cards to new users but with the most expensive limited (Kylian Mbappé) going for around $3500, you still have the chance to get a really valuable card, although it's seemingly pot luck so don't automatically expect a world-beater!
---
How does Sorare work?
It does take some time to get used to Sorare and to fully understand all the rules and the league structure. It will take even longer before you really get a feel of how to value players (Sorare Data is a very useful tool for this). However once you've signed up, entered a few common card tournaments and experienced a few matchdays, you'll start to pick it up. Here's a brief explanation of how the basics work:
The lifeblood of the platform is currently SO5 tournaments where managers enter teams of five players that earn points (from 0 to 100) based on their performances in real football matches. These teams must consist of:
1 Goalkeeper
1 Defender
1 Midfielder
1 Forward
1 Extra Player (any outfielder)
You can also nominate one captain in most tournaments. The captain earns a 20% bonus. There are other bonuses depending on the type and experience of the card (basically how often it has been entered in tournaments – referred to as XP). Cards from the present season also get a 5% bonus but you can still use older cards. For example a 2019/20 card can still be used in the 2021/22, 2022/23 or even 2030/31 campaigns, even if the player has transferred to a different club or league – providing that club plays in one of the competitions that are featured on the platform. There are more details on this below.
The actual points scoring matrix which determines the score out of 100 players gain from their performances on the pitch is explained further in Sorare's Game Rules section. At this stage, it's probably not worth getting too worked up about the scoring matrix as it's quite complex.
Essentially it works in a similar way to other fantasy football style games but uses more advanced metrics to calculate the score. Everything from goals and assists to completed passes, clearances and even penalty area entries improve your players score. However cards, missed chances and lost duels are among the things that will decrease the score. Match data is provided by Opta.
Tournaments run twice per week, covering the midweek and weekend fixture lists and are always free to enter. There are global tournaments where players from any of the covered competitions can be entered. There are also regional leagues where you have to select your five players from a specific region.
Sorare Regional Leagues:
European Champions League

Premier League, LaLiga, Bundesliga, Serie A, Ligue 1

European Challenger League

Top flights in Portugal, Russia, Belgium, The Netherlands, Scotland, Switzerland, Austria, Croatia, Denmark & Turkey plus the English Championship

American Champions League

MLS, Liga MX, Brazilian Serie A, Superliga Argentina, Colombian Primera A

, Peruvian Primera

Asian Champions League

J1 League, K League 1, Chinese Super League
Note that at the time of writing (April 2022), there are only 231 officially licensed clubs so many players are not currently on Sorare. However this list is increasing all the time with European giants such as Real Madrid, Liverpool, Bayern Munich, PSG and Juventus among those to have signed up.
The fully licensed leagues (where every club has Sorare cards) include the Belgian and Dutch leagues in Europe as well as the MLS, K-League and J-League. Sorare has also sealed deals with LaLiga, which joined in September 2021, and the Bundesliga meaning you can get all the biggest names and hottest young talents in Spain and Germany. Sorare's regularly stated goal is to add all of the top 20 leagues in the world so expect more additions during the rest of 2022 and beyond.
As well as the four regional leagues, there is also a Global League and Global U-23 League where only younger players can be picked. Within the global and regional structures, there are also different tiers (according to the scarcity of the card) designed to ensure the platform appeals to people on all kinds of different budgets.
There are different rules in each division as to what kinds of cards you can use. For most new users, the Limited division will be the easiest way to test the waters and move up from the Common division. To compete in this, you can only use limited cards. There are up to 1000 limited cards issued per season for any one player and as such they are considerably cheaper than the three other scarcities – Rare (100 per season), Super Rare (10 per season) and Unique (1 per season).
As you get further in the game or if you have a higher starting budget, you may also progress into the Rare, Super Rare and Unique divisions. There are also some special tournaments each week where you can use a mixture of scarcities. Some of these involve having to abide by certain selection rules (for e.g. only players with an average score of under 40 for their last 5 games). These can also be good ways for new users on a lower budget to compete for Sorare prizes.
If you haven't followed all of that, don't worry! It's not that complicated once you start playing the game but it does take a bit of time to properly get to grips with the different cards and tournament structures.
---
How do you profit on Sorare?
Some people primarily play Sorare just for the fun and pure enjoyment of fantasy football. Others are in to try to make money. If you fall more into the latter category, there are many different approaches you could take when it comes to trying to profit from Sorare.
There are some, who simply use it as a trading platform and do so by buying players cheap and selling them for a higher price. Buying out-of-form, injured or even merely players nearing the end of their seasons can prove fruitful in the long-run as there is a fair amount of short-term thinking. Many managers focus purely on who they can use in this or next week's tournaments leading to significant price fluctuations and opportunities for longer-term traders to succeed.
Alternatively you can just focus on putting together strong squads to compete in tournaments where you can win cards. Even if you don't want the card you win, it will carry a value and you should be able to sell it to another manager for Ethereum. The very top positions also carry ETH rewards (which can be exchanged outside of the platform for FIAT currencies such as the Dollar, Pound or Euro).
In the Rare Division you will win 0.01 ETH just by getting a score of 205+ and 0.02 for 250+ in the Global All Star tournament. You don't need a star-studded team to reach these thresholds so it can be a good way to build a balance. Following Sorare's March 2022 community update, these payments will be pegged to the US Dollar starting from the 2022/23 European season. This will see you get an ETH amount that is the equivalent of $25 for 205 points and $50 for 250 points. This is the most popular league with a lot of managers given the ease with which you can win monetary prizes.
There are other managers who fall more into the collector category and have their eyes on long-term profits by getting early NFTs of some of the best football players in the world. You'd have to be quite a big believer that NFTs are here to stay for the long-term and quite patient for this strategy but buying cards with some collection value as well as in-game utility are a good way to cover your bases.
---
NFT Collectibles – How does it differ from other Fantasy Football/Trading platforms?
The blockchain element is what really sets Sorare apart from the crowd. If you're from the UK or Ireland, you may be familiar with now defunct platforms such as Football Index and Footstock. If you used them, then it's understandable why you may be concerned about jumping on to Sorare and have fears it may suffer a similar fate. There are still risks involved and you should certainly do your research and try to understand their business model before getting on board, however it really is a very different platform for many reasons, not to mention much better run (so far at least!).
The most obvious difference is that you have a genuine sense of ownership. The cards you buy are NFTs and belong to you. There are already ways you can use them outside of Sorare and there could be all kinds of different ways they could have a use in the future. This is a striking difference from the aforementioned platforms where any cards or "shares" you bought, only really existed in the game.
Information surrounding the actual number of shares or cards in circulation was sketchy at best on those platforms and the companies largely just issued new shares as and when they pleased. This made it very difficult to truly know how to value your players. On Sorare, every single transaction is stored on the blockchain and you can easily see how many cards there are for each player – as well as when and at what price each card has previously changed hands at. With each scarcity having a maximum number of cards issued per season, you can also make better estimates as to the current and future values of your cards as the supply has a fixed limit.
While having to learn a bit about cryptocurrencies and use Ethereum will be a nuisance for some, it does also help create the truly global platform that Sorare is. While Football Index for example developed a passionate community in the UK, they struggled to secure any licenses to operate abroad, limiting its potential for growth. Sorare on the other hand, from day one could be used anywhere in the world and already has users right across the globe meaning this is a small but rapidly growing global community.
The final factor that ought to help convince anyone that this is a platform that is going to be around for the long-term is the sheer scale of backing they have already accumulated. On 21st September, Sorare announced they had raised a staggering $680 million through Series B funding. That was a record amount for a European company and gives them a huge wad of cash to develop their website, build a mobile app and attract new clubs and leagues. It also meant Sorare's value soared to $4.3 billion. That's a comparable figure to the very biggest football clubs in the world!
Sorare also has some pretty powerful backing behind it in terms of personnel and tech support meaning it has come a very long way from where it started as a small project run by Paris-based developers Nicolas Julia and Adrien Montfort. They now have the backing of gaming giants such as Ubisoft while World Cup winners André Schürrle and Gerard Pique are among those on board.
There are even a large number of players who use the platform itself with Pique and Antoine Griezmann (see below) among the most well known Sorare managers.
---
Sorare Review – Overall Verdict
Overall, it's very exciting to be part of something with such huge potential to grow in what is still its very early days. Within a few weeks, you can quickly find yourself obsessing over players in leagues you've never previously paid any attention to. It's not like anything else we've looked at before and there are lots of great things about Sorare but also a few things that potential users need to consider before deciding to put their time and money into the platform.
Things to like about Sorare
Anyone, anywhere can use Sorare. You can use your local knowledge or interest in specific leagues to gain an edge and can be part of a global community of people passionate about the platform. According to their latest figures, Sorare have registered users from 184 countries.
At the time of writing (April 2022) there are around 115,000 users who own one or more blockchain cards (limited, rare, super rare or unique). That's relatively low given its valuation as a multi-billion dollar company but is still almost a 10-fold increase over the last 12 months. In a global market of hundreds of millions of football fans, that figure could explode in the coming years and that should only benefit current users and those joining now.
You know exactly how many cards there are in circulation (everything that happens on Sorare can be viewed on the Ethereum Blockchain). The number that can be issued of any player is currently limited to 1111 each season (1000 limited, 100 rare, 10 super rare, 1 unique). This makes valuing players much easier and the whole platform much more transparent.
It truly rewards football knowledge and scouting
With players in the MLS and J-League just as likely to earn points and rewards as those in the Premier League or LaLiga, anyone willing to put some time into scouting players and researching teams, can find a genuine edge on the market.
You don't need a huge amount of money to get started
Thanks to the introduction of limited cards, it's possible again to put together a team that can at least compete for rewards in one of the limited leagues for around 0.1 ETH (around $300-350 currently). You can start out on even less than that and try to trade your way up too. In time, if you recruit well, you will win cards which adds to the value of your collection and gives you more options for trading and generating fresh funds.
Things new users should bear in mind
It's important to understand that while you can view trades converted to your own currency, ultimately all business on Sorare is done in ETH. Like many cryptocurrencies, it is prone to wild swings in its value. While over the past year or so, the cost of one ETH has soared from 300 to over 3000 USD at the time of writing, there are periods when ETH also falls in value quite rapidly.
While you don't need to understand everything about cryptocurrencies to join Sorare, you at least need to be comfortable with the volatility of them. It is worth pointing out that there is not a total correlation between the value of cards and price of ETH. Indeed increasingly, more and more managers seem to value their players in their own FIAT currency, and Sorare themselves have made recent moves that should increase that trend by pegging rewards to USD valuations.
Not all players & clubs are on Sorare
While we do now have all of LaLiga which is brilliant, if you're a fan of a Premier League club for example, chances are most of your players won't be on Sorare yet and if they are, it'll probably be in their former team's kit. Sorare is working hard to add more clubs and leagues but there are some big names still missing and that may be frustrating for some people who are keen to get their own club's NFTs or those of certain players.
The Future of NFTs is the source of much debate
There are people who see NFTs as a huge part of the future world as we move further into the digital age. There are others who see them as a huge fad that will eventually die a death. Overall, the gameplay element and potential utility value gives Sorare a massive advantage on many current NFT projects and it does look much better placed to survive should NFTs experience a dip in demand in the coming months and years. However it's still something to be aware of and you may want to try to read up more on NFTs to better understand them before investing heavily into Sorare.
Withdrawing funds requires a separate crypto account
While you can deposit funds and buy player cards using your debit or credit card, withdrawing is currently slightly more complicated (although this is likely to change with time). You will need another Ethereum wallet on another cryptocurrency exchange or platform such as Coinbase or Bitpanda.
From there you will be able to transfer the funds into your currency and withdraw it to your bank. For the uninitiated this can seem like a daunting prospect, but educating yourself on crypto and the blockchain can be a useful process as this technology is most likely going to become more and more common in our lives in the years to come.
---
Ready to start your Sorare journey?
We hope this 2022 Sorare review has been useful and given you a better understanding of the platform. Overall though, the best way to get a proper feel for it, is to try it out yourself by signing up and taking advantage of the Sorare sign up bonus. You will have full access to the entire Sorare platform and be able to spend as long as you want playing the free version with no obligation to deposit funds. You can easily just close your account, if you decide it's not for you.
If you've any questions, DM's are open via @SorareLaLiga on twitter or you can get in touch via e-mail. You can also find some useful Sorare tips and ask questions through the Sorare reddit community.
---
DISCLAIMER – This post contains affiliate links to Sorare. We aimed to give an honest review which highlights some of the pros and cons of their platform but please do your own research before signing up. This is not investment advice & you should never spend money you can't afford to lose!