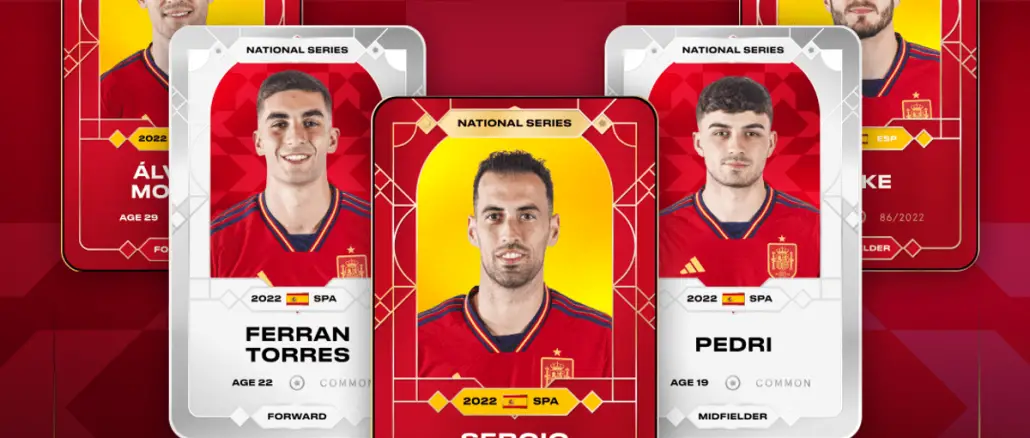 The 2022 World Cup is nearly upon us with the first game between hosts Qatar and Ecuador taking place on Sunday 20th November. That means it's time to get picking your fantasy teams for the tournament and Sorare has announced how its free to play, World Cup fantasy football will work. Read on for the full guide, featuring how to pick your squad and compete for prizes over the next few weeks.
---
World Cup Fantasy Football 2022 – The Lowdown on Sorare's Global Cup
---
To play, you first need a Sorare account. Sign up here* and complete the simple registration process to get started on Sorare Football. Once you've done that, you'll be able to start constructing your World Cup fantasy football team.
The competition is known as the "Global Cup" as this is not the official World Cup fantasy football game, but your chances of winning prizes are far, far greater than in the FIFA version. Like that one, Sorare's Global Cup is also totally free to play and there is no need to buy cards as is the case with most other regular tournaments on the platform.
*By signing up using this link, if you go on to become an active Sorara user, you will get a free Limited card (which can be sold) after your 5th auction buy.
Building your Fantasy World Cup Squad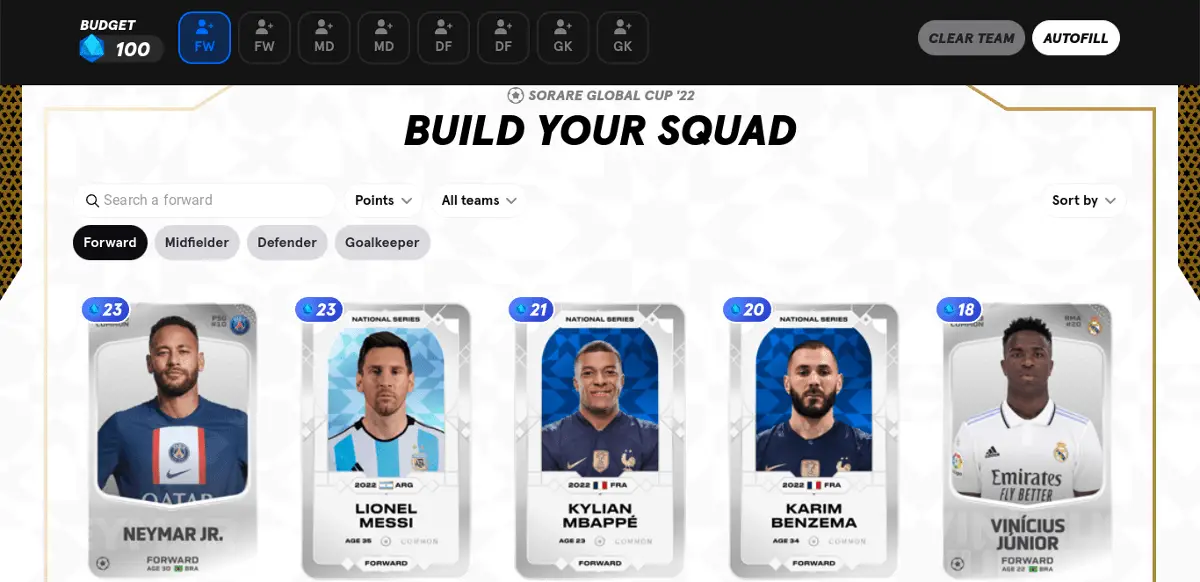 Click on PLAY – UPCOMING from the menu to locate the tournament lobby which will currently show Matchday 1 and the time left until the tournament kicks off (the deadline for entering is an hour before the first game).
The only option should be the Global Cup and you need to click on the DRAFT button to start constructing your squad. Note, that you can go back and edit your selection at any point before the deadline.
You will see a selection of players from different teams and positions and each will have a points value, effectively their price. These vary from some of the best Sorare players such as Leo Messi (23 points), who was announced as a Sorare ambassador only this week, down to some of the tournament's lesser known names which start at 5 points. 
Your budget is 100 points and with this you need to select a squad consisting of:
2 Goalkeepers
2 Defenders
2 Midfielders
2 Forwards
The only additional requirement is that you can pick no more than 2 players from any one national team. 
As with most fantasy sports games, you will need a combination of elite stars who you think will light up the 2022 World Cup, as well as some budget buys. 
This initial squad of 8 players will be your pool for the opening matchday in the group stage and you will need to pick a 5-man lineup from those players (more on that in the next section). Your squad will however naturally grow as the tournament progresses as no matter where you rank, you will win an extra player after every matchday. In addition, you you will get to select four more cards at each of the following points:
Before the Round of 16
Before the Quarter-Finals
Before the Semi-Finals
Obviously, the further the competition goes on, the more of your players will be knocked out, but the option to select four more cards at each of the above points, should ensure you are always able to have at least five active players on every matchday.
Picking your Lineups
You will need to pick seven different lineups during the tournament from your squad of players with Sorare's competition broken down into 7 distinct "matchdays". This must be done before each of the following stages in the World Cup:
| | | |
| --- | --- | --- |
| Sorare Matchday | World Cup Stage | Deadline |
| 1 | Group Stage MD1 | November 20th |
| 2 | Group Stage MD2 | November 25th |
| 3 | Group Stage MD3 | November 29th |
| 4 | Round of 16 | December 3rd |
| 5 | Quarter-Finals | December 9th |
| 6 | Semi-Finals | December 13th |
| 7 | Final & 3rd/4th Place Game | December 17th |
The deadline to submit your Qatar World Cup fantasy football team will always be an hour before the first game of that matchday.
Picking your lineups will work in the same way as other fantasy football tournaments on Sorare. You will need to select five players consisting of the following positions:
1 Goalkeeper
1 Defender
1 Midfielder
1 Forward
1 Additional Outfielder (Defender/Midfielder/Forward)
They will score points according to the usual Sorare scoring matrix which gives players a score between 0 and 100. It is one of the most advanced fantasy football models factoring in everything from goals and assists, to interceptions, duels won and penalty area entries.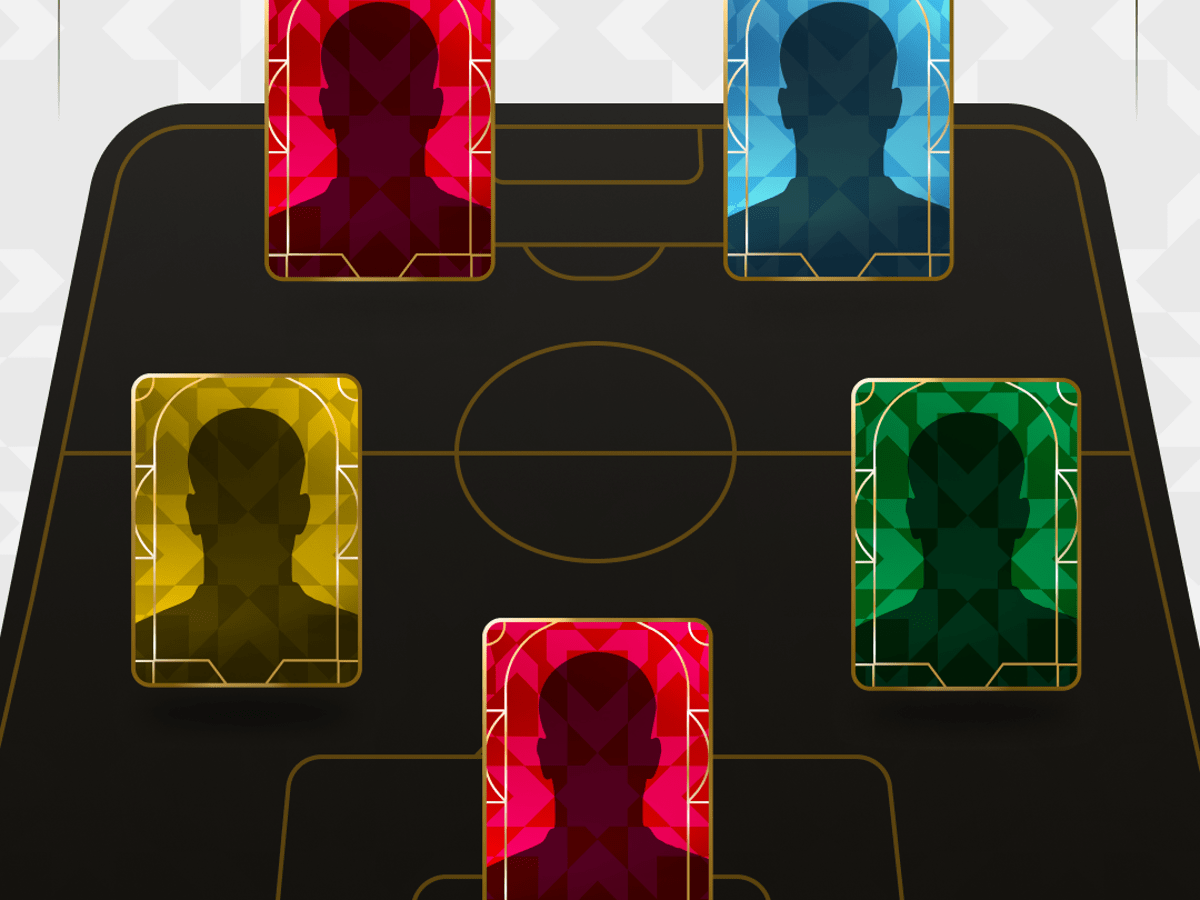 How will the Global Cup competition work?
Essentially, the Global Cup will work in two ways with competitions each matchday, as well as a full tournament competition where your scores across each of the 7 matchdays will be added together. These will be referred to as the Matchday Leaderboard and the Overall Leaderboard.
With some juicy prizes for the top places in the matchday competitions, one of the best Sorare World Cup fantasy football tips in this case may be to really hone in on one or two matchdays in the group stage when picking your initial squad and target those. 
For example, matchday 1 sees Argentina face Saudi Arabia while holders France take on Australia which both have the potential to be quite one-sided games. Picking two of the best Argentina players and two of the best from France in your initial draft should stand you in good stead to compete in the matchday leaderboard in the opening round of fixtures.
Those prioritising the overall leaderboard may want to take a different approach though by considering players whose teams are most likely to advance deep in the competition. This will give you a wider range of options in the latter stages.
In addition, for the first time on Sorare, you can create your own private league and compete with friends during the World Cup. If you manage to create a private league with 6 or members by November 26th, you will be entered into a raffle to win one of 100 signed jerseys.
Prizes
Sorare's Global Cup (which remember is completely free to play!) offers guaranteed prizes in both the matchday and leaderboard competitions. 
In the matchday competitions, 100,000 Special Edition National Series cards will be given away. These are NFT digital collectibles and can be sold on the market in the usual way. In addition, the top 5,000 managers will win regular Limited cards while a total of 6 Ethereum (approximately 8,000 Euros at the time of writing) will be divided amongst the top 3 places. In the lesser positions, the prizes will just be Common cards which can be used in the Global Cup but they have no real intrinsic value as they can't be bought or sold.
You will need to finish in the Top 100 to win prizes in the Overall Leaderboard. The prizes will be divided as follows:
| | |
| --- | --- |
| Position | Prize |
| 1st-5th | Zidane Experience + ETH |
| 6th-10th | 2 x VIP Tickets + ETH |
| 11th-100th | Signed Jersey |
| 1st-40,000th | Limited Card |
The Zidane experience will see the top 5 managers (and a guest each) win an all expenses paid trip to Marseille to play a five-a-side football match with World Cup legend Zinedine Zidane at the Z5 facility. 6th to 10th will receive VIP tickets to a football match in your part of the world while a total of 17 ETH will be divided between the top 10 managers.
In addition, those who finish between 11th and 100th will win an official signed football jersey, the identity of which will be a mystery! Meanwhile everyone in the top 40,000 will get a Limited card which will be useful after the World Cup has finished in Sorare's many other tournaments.
Sorare Global Cup FAQ's
Can you use Special Edition National Series cards in regular Sorare competitions?
These are being billed as "collectibles only" and cannot be used in Sorare tournaments, including the Global Cup.
What is the difference between Special Edition National Series cards and National Series Common cards?
The Special Edition National Series cards are NFTs meaning they can be bought and sold and will have serial numbers like regular Sorare scarcities (Limited, Rare, Super Rare, Unique). Whereas, the National Series Common cards are not NFTs but can be used in gameplay throughout the Global Cup. You will win one common card every matchday regardless of where you finish in the Matchday leaderboard.
What happens to the National Series Common cards after the World Cup?
After the tournament, all the National Series Common cards that you either picked in the draft or won during the World Cup will be converted into regular club common cards (of the same player when possible). You can use these to enter Sorare's twice weekly free-to-play common tournaments throughout the year.
Can you use other Sorare scarcities in the Global Cup?
No, this is a common card only tournament. For more on the other scarcities and other gameplay modes, see the Sorare FAQ in our main review.
Is it really free to play, with cash prizes?
Yes! Unlike regular common card tournaments on Sorare, this one will include ETH rewards and way more NFT prizes than normal and it is still free to play. You don't need to spend any money at all to compete in this tournament.
Why are they doing this?
The World Cup, not to mention rumours of a Sorare Premier League launch in the very near future, make this a crucial time for onboarding and Sorare are basically using this free to play tournament to help grow their user base. The game is great fun and has already built up a large and loyal global community, but there is no need to spend money or keep playing Sorare after the World Cup if you don't want to.
Will the regular Sorare competitions continue during the World Cup?
You can still play regular Limited, Rare, Super Rare and Unique tournaments such as the Global All Star, Under 23 and Underdog competitions during the World Cup. The main difference is that the gameweek calendar has changed and won't run from Friday-Monday and Tuesday-Thursday any more, with it instead being based around the World Cup matchday calendar (outlined above). The Under 23 competitions will also only have 4 scoring players as opposed to 5 to account for the lack of U23 goalkeepers active during this period.
Will there be any other World Cup only competitions?
If you select the MIX tab from the tournament lobby, you will find International Specials for all of the main scarcities. Here, you can use your regular cards to try to win rewards throughout the tournament. There will also be some Special Edition National Series cards up for grabs here.
---
Feel free to use the comments section if you have any other questions about Sorare's World Cup Fantasy Football or the platform in general. Get started on your Global Cup adventure by joining Sorare and selecting your 8 players from the initial draft.