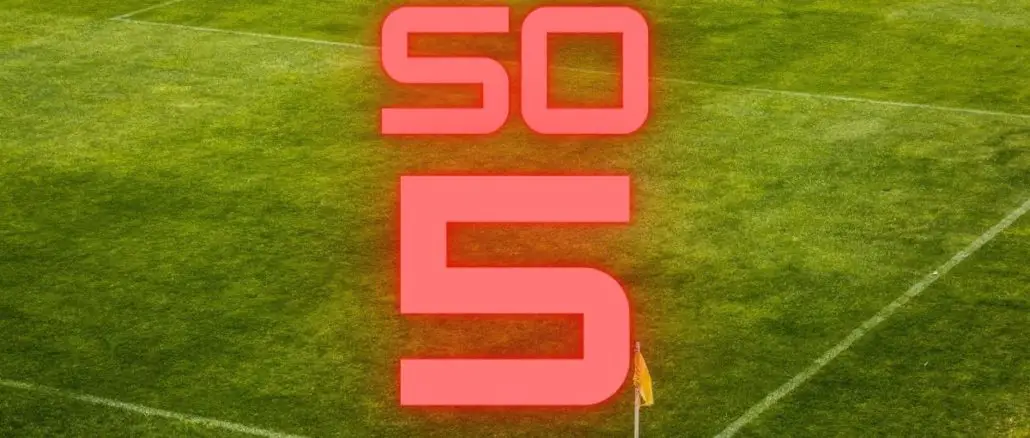 Today, we're going to look at the art of selecting SO5 teams on Sorare. No matter how good your recruitment is, or how large your budget is, things can quickly fall apart when game weeks roll around if you don't get the team selection right. In this post, I'm going to detail the process I go through when selecting teams and try to help managers avoid some common mistakes which can derail your challenge for prizes.
Beginners may also be interested to check out our updated Sorare review and/or Sorare guide for new managers.
First, some context
First, it's probably important to provide a bit of context as to my squad (SorareLaLiga). After joining in December, I focused on recruiting MLS and J-League players during the off-season and was fortunate enough to compile a pretty competitive squad quite cheaply with the aim of getting two starting goalkeepers in each league and four players in each outfield position. Having decent depth is key to being able to field 5-man teams mostly consisting of players with more winnable fixtures, as well as ensuring you have enough cover in the event of injuries and suspensions.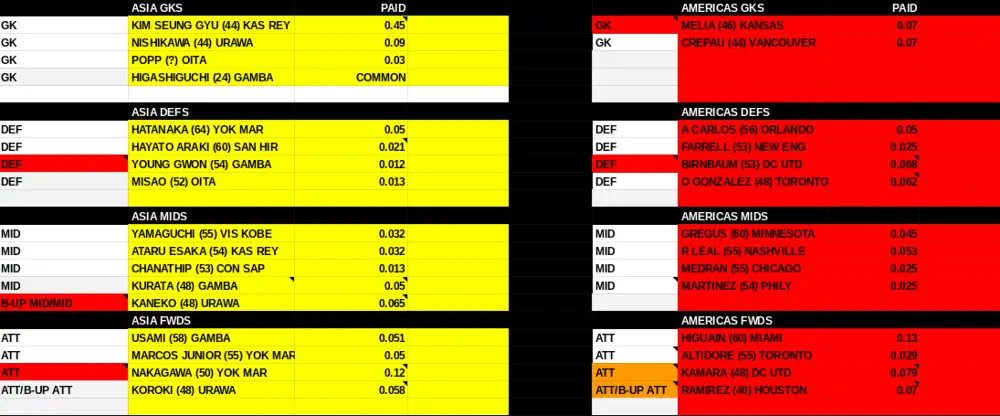 I was fortunate to get in before the big price hikes and it certainly would cost a lot more now to compile a squad of solid players with a good track record on Sorare. However this is by no means an elite squad. Aside from common cards and Kaoru Mitoma (won as a prize today), it doesn't feature any of the 30 most valuable Champion Asia players, according to the 1 month rare averages at the time of writing (via soraredata). It features only 1 of the 30 most valuable Champion America players – goalkeeper Tim Melia, who is yet to play this season due to injury.
However despite that, I've managed to secure 1st, 5th and 7th place finishes in Champion Asia D4 (after 11 rounds in the 2021 J-League season) and a 3rd place finish in Champion America D4 (2 rounds). The prizes won from those finishes have already more than covered my total deposits on Sorare (around 1.3 ETH).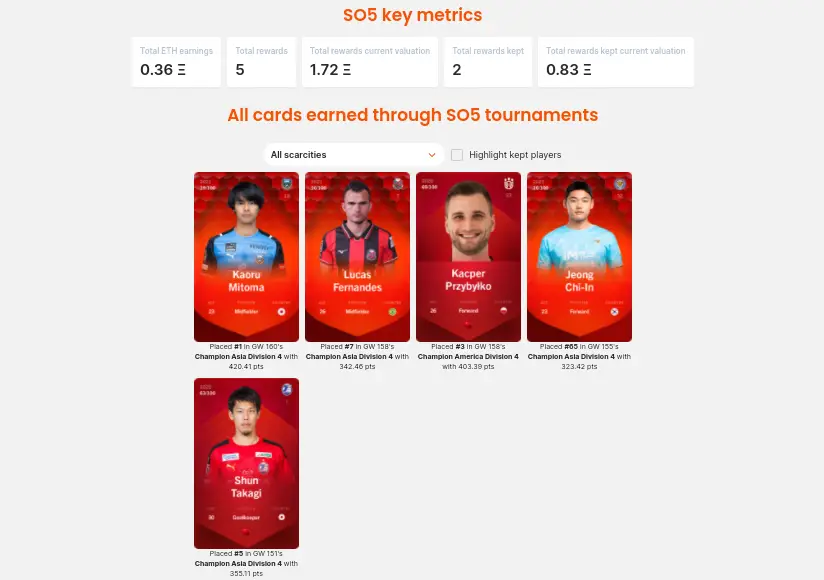 Now, it's probably going to be difficult to maintain such form when you've got 1000+ managers entering these tournaments. No matter how good your team selection process is, you will always need a bit of good fortune and it seems like I've had that of late. However, at the very least these results suggest that my SO5 team selection strategy seems to be a good one. It also hopefully goes to show that you don't need to be stacked full of elite cards to compete for the top prizes on Sorare.
---
My Strategy for selecting SO5 Teams
---
Here are the main steps I go through when selecting my teams each gameweek.
1. Team News – Do your research & don't pick any doubts!
This is possibly the most important step. The fastest way to find yourself out of the running for prizes in SO5 tournaments, is to end up with those dreaded DNP's. Therefore you really do need to do your research into the team news if you want to minimise your chances of this happening. Ideally you want more than one source to compare as even major publications sometimes miss suspensions and injuries.
Clearly if your player is injured or suspended, you shouldn't pick him. That's obvious, but many managers end up with DNP's by still selecting players who have slight injuries and are rated doubtful. If in even the slightest doubt, it's best not to take any chances. For example, if you pick two players who look 75% likely to play, that still equates to a 50% chance you will end up with a DNP – and having one player not feature at all, makes it almost impossible to seriously compete for major prizes.
The other main reason why DNP's happen is squad rotation. While there is little excuse for picking injured or suspended players, this is a lot harder to judge. Teams involved in continental competitions as well as domestic matters are more likely to rotate and you may wish to check their schedules and see if they've got another big game in a few days before picking players with a history of being rotated in and out.
In terms of team news resources, you can use sites such as Whoscored and Rotowire which feature predicted XI's for matches in most competitions featured on Sorare. Sportsgambler also has good team news info. It's a bit harder for the Asian leagues. The Sorare Japan patreon and Gamba Osaka Blog have been useful tools for finding info on likely XI's but in Japan at least, injuries seem to often not get disclosed which is a bit of a nightmare for Sorare managers!
Note – Lowering the risk of DNP's can also be done at the recruitment stage by trying to focus on buying cards of players who are regular starters who have hardly missed any games over the previous year or two. No matter how good their average scores, in most cases, a player who frequently rotates in and out is simply not worth the risk as it becomes very difficult to ever be 100% certain he will start.
There are some accounts cropping up on Twitter and in the Sorare Community that are producing detailed graphics and spreadsheets on this. Personally, I find it a bit too time-consuming to go too deep into analysing precisely how many goals a team is predicted to score or concede using some of the more advanced data models.
Instead, I just look at what the betting odds are for each J-League and MLS match that gameweek and within a minute, it's very easy to spot which teams have the most favourable fixtures. That doesn't mean you should solely pick players from those teams. Your best players are still your best players but if they are away to the team top of the league, maybe it's a good week to leave them out and give one of your budget buys a go if they have a better fixture.
This is perhaps most important for goalkeepers and forwards. Clean sheets are so key when it comes to keepers getting good SO5 scores so in this case you do want to look slightly beyond the fixture difficulty, and consider how strong the opposing team is going forward. For your strikers or goal-scoring midfielders, a weak opposing defence or just a match that seems like it will be quite open and produce goals, is also a positive sign.
3. Prioritise Tournaments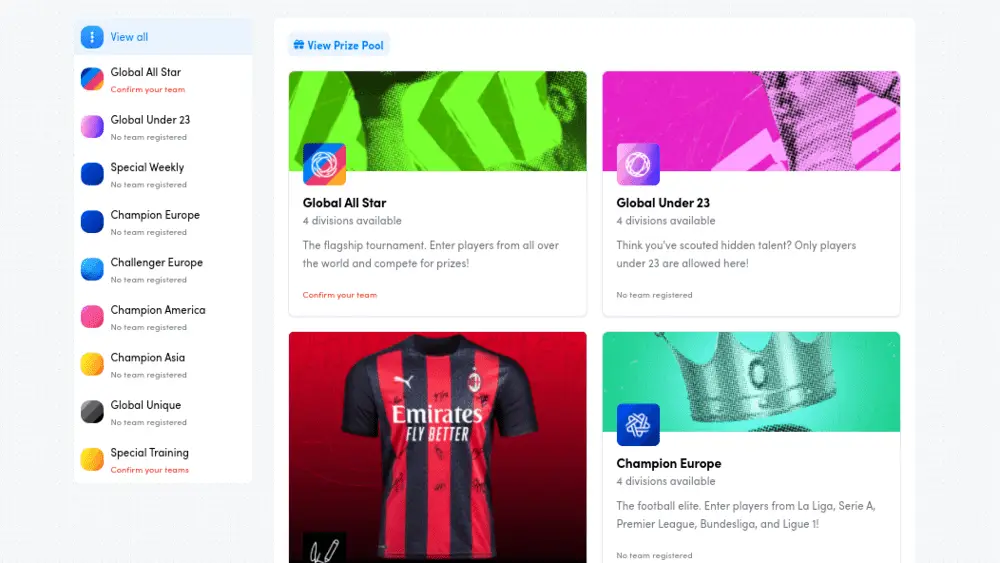 If you want to challenge for the very top prizes, prioritising tournaments seems to be the way to go rather than spreading your best players out across the board. If you have a really big collection and lots of star players, perhaps there's more of a case to mix and match. Most managers starting out on Sorare though may find targeting one or two D4 leagues offers the best opportunities and that has certainly worked for me.
Each weekend, I prioritise Champion Asia D4 and Champion America D4 – picking the best 5 as I see it for that gameweek. I then pick the strongest remaining 5 to enter the Global All-Star D4 with an eye on trying to hit the 250 point threshold rather than seriously competing at the top end for card prizes.
I rarely have enough players left over to scramble together any D3 or Special Weekly teams and even if I did, the chances of those teams competing for prizes in those tournaments would be minimal. As a result, I normally just pile everyone else into training teams. These XP points will add up in the long run and may ultimately prove the difference between a small and big prize in a future gameweek so always remember to select your training teams!
4. Picking your Players
Having some kind of spreadsheet, document, or even old fashioned notebook with a list of your players, separated by position and league, will make it easier for you to select your teams. While unlike rival platforms such as Fanteam, you only have to pick five players, it can still take a bit of time to figure out your best options.
During the previous steps, you can quickly cross out those unavailable or doubtful and highlight anyone with decent fixtures. By taking into account all those factors as well as recent form and overall quality of the player, the actual process of selecting the best players for that gameweek should become relatively straight-forward unless you've got a really massive collection.
In terms of formations, there is no right or wrong way to go about it and it'll vary between the different leagues and according to what positions you are strong in. I tend to go 1-2-1 or 1-1-2 but there's certainly a case to be made for playing 2-1-1 at times, particularly in Global D4 where you can be rewarded well for just fielding five solid players with consistent averages.
As far as captains go, I tend to pick a midfielder or a forward who carries a goal threat and is playing against a weaker team. Having a captain that scores big really can thrust you up from top 20 contention to a podium position. While you clearly need more than one player to play well to challenge, you frequently see managers seal big prizes despite having one or two players with average scores of around 50 or less.
These are the four teams that have secured top 10 finishes for me so far and you can clearly see there are some low scorers in there but the captains have generally delivered: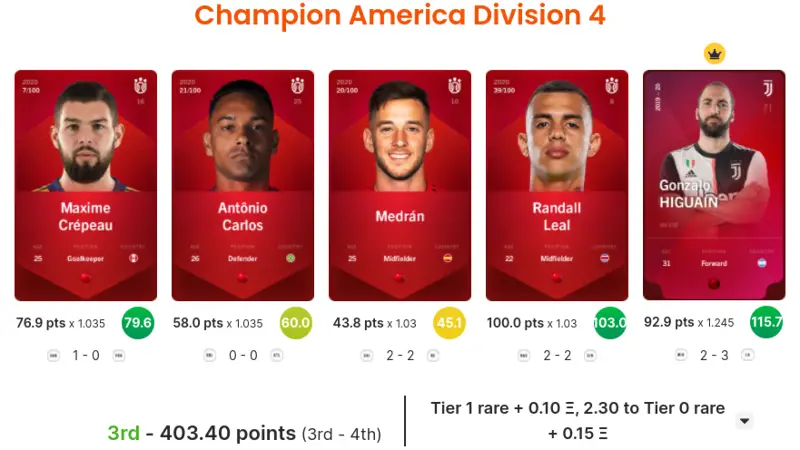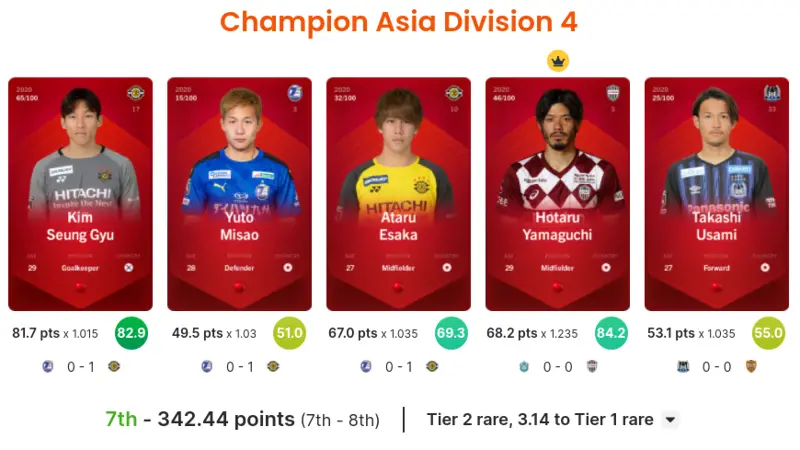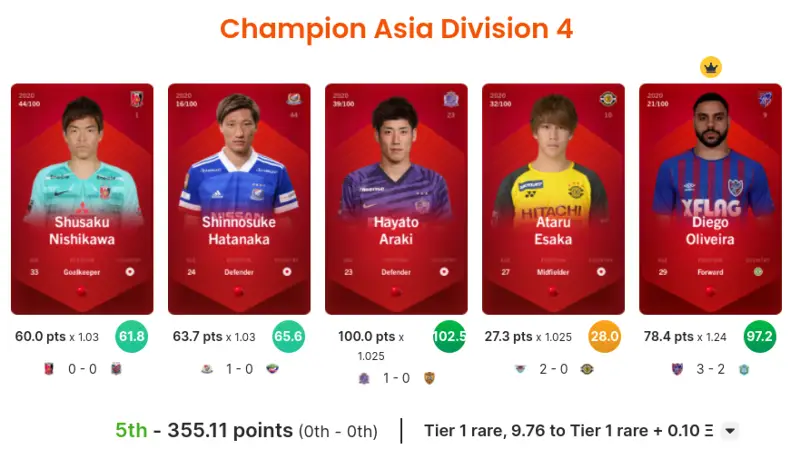 The graphics come from the excellent soraredata.
Hopefully this article has been useful for you. It is by no means the definitive guide to selecting teams on Sorare and you may find success by adopting very different methods. With competition ever increasing, there is perhaps even an argument to just trust your instincts and adopt your own strategies rather than using the same resources and methods that are popular within the community.
It should also be said that higher than Division 4, there are most likely some other very important factors to consider, but similar basic principles apply. If you've got any comments or questions about this post, you can get in touch on twitter – @sorarelaliga. You may also want to check out my recent article on 5 Sorare Strategies that will help you find an edge.