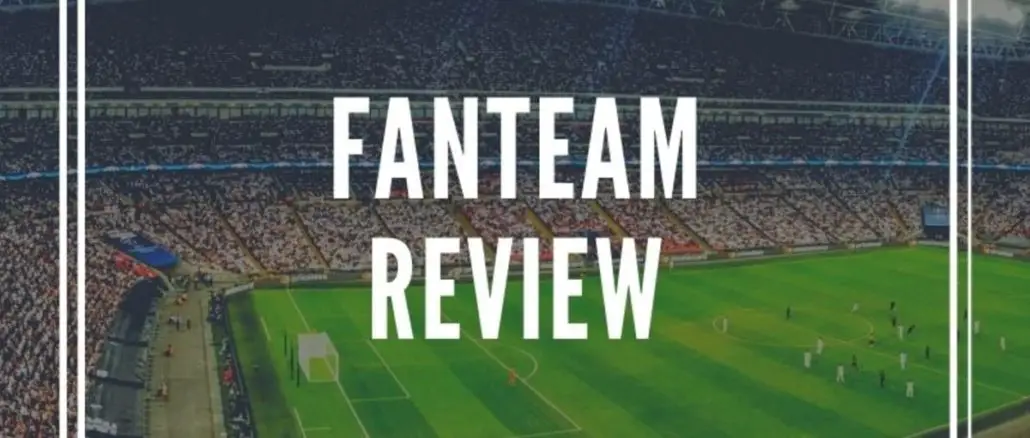 In this post, we're going to take a deeper look at FanTeam, which bills itself as Europe's biggest daily fantasy sports site. While other sports are available, we're going to focus on football and specifically the fantasy element in this FanTeam review. We'll go deeper into what it is, what games you can play and how to profit on the site before reaching an overall verdict.
---
What is FanTeam?
First formed in 2013 and rebranded as FanTeam in 2015, it is predominantly a Fantasy Sports site with a focus on Fantasy Football. From single fixtures to full matchdays and some season or tournament long events, you can select teams and compete with other users to score the highest number of points and potentially win cash prizes. There are loads of different leagues and competitions to choose from each day.
While it has the look and feel, and works in a similar way, to free fantasy football sites, it is essentially a betting platform as you must pay to enter tournaments and play their other games (more on this later!). It is licensed and regulated by the Malta Gaming Authority and UK Gambling Commission.
Note that FanTeam is quite different to other "alternative betting" or fantasy sites in that at no point do you buy or own shares or cards in players. You simply pick and choose which contests you want to enter and pick your teams from the full list of available players taking part in the relevant matches.
---
FanTeam Sign Up Offer 2021
The sign up process is quite straight forward. After clicking the link above, which will activate the FanTeam sign up offer, you have a short registration form to fill out where you can set your username which is what will show up on leaderboards when you start entering tournaments.
While some of the tournaments are slightly more complicated than your average fantasy football set-up, the basic principle is the same. Once signed up, you are able to start entering fantasy football contests right away and start picking your teams for upcoming matches/matchdays. There are ones to suit all budgets with the cheapest starting in the £1-2 region so you really don't need to make a big initial deposit to get started on FanTeam.
If you just want to have a bit of fun, you could just enter one tournament a week in your favourite league without spending even £10 a month. Alternatively you can set up private leagues with your friends where you can set your own payment/prize structure. If you're more serious about Fantasy Sports or just have deeper pockets, then there are tournaments with much higher buy-ins and consequently much higher prize pools.
---
FanTeam Games & How to play them
The site has four main sections or games where you can bet on football (and some other sports) and use your fantasy skills and football knowledge to try and make money.
Fantasy
The core of the site is the Fantasy section which has loads of daily fantasy sports tournaments centred around the fixtures that day or that weekend. There are also some longer "seasonal" ones too such as the upcoming special Euro 2021 fantasy football tournament where you can pick squads to compete across the duration of the whole event with a total prize pool of £1,000,000.
The rules aren't dissimilar to most fantasy football games out there. You get a fictional budget and pick your team (this could be 11 players or less depending on the rules of the tournament). Then based on real events on the pitch they earn points for things like goals, assists and clean sheets. You can read the full FanTeam scoring matrix here. There are also some slight tweaks depending on the event such as stacking penalties and safety nets so it's important to fully understand the specific rules every time you enter a tournament.
In most cases you will have to pay to enter and the entry fees are collected to form the prize pool with FanTeam taking a small cut. Usually around 15-25% of entries end up winning prizes with big rewards on offer for the highest positions.
Matchups
The matchups section effectively gives you the option to build accumulator bets by selecting players who you think will score more fantasy points than a given opponent that gameweek. Each day you will see a list of "duels" between two players that are expected to secure roughly the same number of points and you must pick which one you think will do better.
These players don't necessarily have to be playing in the same match or same competition. For example you could back Leo Messi to score more points in Barcelona's next game than Cristiano Ronaldo does for Juventus or vice-versa.
Pick'em Jackpot
The Pick'em Jackpot game is a new addition to FanTeam in late 2020. Featuring a small entry fee and a jackpot which grows every time it isn't won, users must try to predict the outcome of a number of football matches (WIN-DRAW-LOSS) plus the correct score in one game. It's essentially a Football Pools style game with very low chances of winning but it can add a bit of extra interest to matchdays with sizable jackpots waiting to be won.
Sportsbook
This is where FanTeam is more like a traditional betting site with a typical sportsbook allowing you to bet on football matches. You will get all the usual markets such as Full Time Result, Double Chance and the Handicap options. 
The FanTeam Sportsbook also gives you some special markets based on the Fantasy scoring matrix. For example you can bet on a player to score over/under a certain number of fantasy points or pick which player out of a selection involved in the game will score the most.
---
How do you profit on FanTeam?
Once you get to grips with the FanTeam Rules for each game, it should be pretty obvious how you can profit on the platform, but it's certainly not easy. In the fantasy games, you need to be really good at Fantasy Football to make a regular profit. If you're regularly bossing your mates' leagues then that's a good sign but if you're serious about trying to make a profit on FanTeam, you will really need to hone your skills. There are people who take Daily Fantasy Sports incredibly seriously and know all the tricks in the trade.
The Matchups are fun to play but like most accumulator style bets, the odds are stacked in favour of the bookies – and clearly the same goes for the Sportsbook section. By really researching fixtures, form and how games may pan out for individual players on the pitch, it may be possible to find value there at times but again it won't be easy.
The Pick'em Jackpot doesn't really feel like a big section of the site that you will end up spending much time on. Clearly the odds of winning are incredibly low but for those who like the thrill of chasing big wins with small stakes, it's a nice little extra option to have.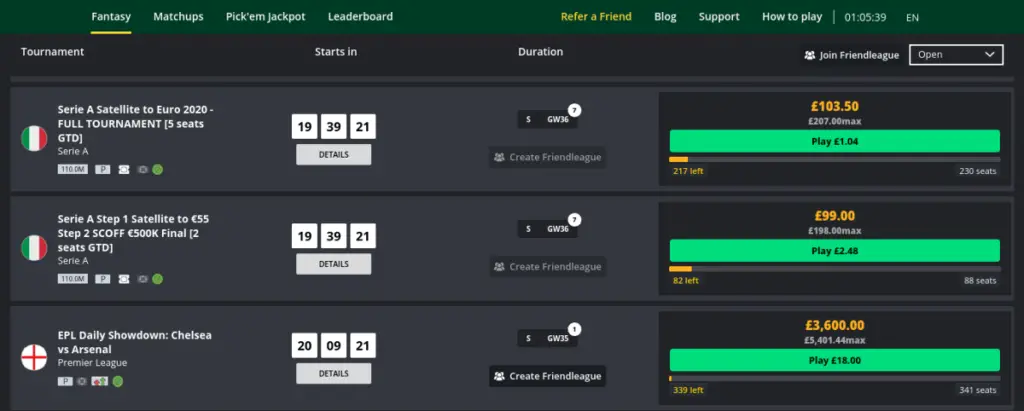 ---
How does it differ from other Fantasy Football/Betting sites?
As previously referenced, FanTeam is very different to "trading" platforms like Football Index and Footstock. The most striking difference is that there is no real ownership of shares or footballers and no suggestion that you are making career bets. This makes it more sustainable and easier for FanTeam to manage their liabilities and be in a position to always pay out.
It is what it says – a daily fantasy sports site. This concept is more common in the United States where fantasy games are a big part of the major sports there with companies such as FanDuel and DraftKings, both of which are valued at more than $1billion, the biggest players in the DFS market. FanTeam is essentially a European version of those sites with some tweaks to tailor it more towards football/soccer fans.
It differs from traditional bookmakers in that the sportsbook is only really a side section to the site. The main focus and unique appeal of FanTeam is the ability to play paid Fantasy Football throughout the year with new tournaments starting all the time, whereas most fantasy games can only be entered at the start of a new season unless you don't want to be at a serious disadvantage.
---
FanTeam Review – Overall Verdict
Overall, FanTeam seems to deliver when it comes to living up to the tag of Europe's biggest and best Daily Fantasy Sports site. It's a sector that is likely to grow in the coming years and if you're a big fan of Fantasy Football, chances are you will enjoy the FanTeam experience.
Things we like about FanTeam
A Sustainable Business Model
While it has only really gained popularity in recent years, FanTeam has stood the test of time with the company having formed eight years ago. Their business model is easy to understand and is much more sustainable when compared to some of the others in the alternative betting or trading sector. For all their fantasy tournaments and games, it's quite easy to do the maths and see that they take a cut and their model is in many respects even safer than most high street bookies.
For those left frustrated and in some cases out of pocket by the collapse of other companies in the emerging Fantasy/Trading space, but also unimpressed by the experience with traditional bookmakers, then FanTeam offers a happy medium. It's fun to play and the company is highly unlikely to disappear overnight.
One of the coolest features on FanTeam is the ability to create leagues for you and your friends. This is a pretty common feature on sites such as Fantasy Premier League, but those looking to introduce some form of buy-in/prize system generally have to organise it between themselves. FanTeam takes away the hassle of that and allows you to go head to head with your pals and potentially win prizes.
Fanteam's website is pretty simple to use and everything feels quite intuitive. The "Games" section is where most of the action is, while you can easily keep tabs on your current entries and follow live results via the other tabs.
Things new users should bear in mind
You will not get rich quick (unless you're a Fantasy Football God!)
While early adopters of rival platforms such as Sorare have benefited from user growth and other factors driving up the value of their portfolios to the point where stunning returns have been possible, that's simply not going to happen on FanTeam. Essentially they are a bookmaker that enables you to bet on Fantasy Sports and as is the case with all bookies, most users will lose money in the long-term.
There are a lot of different tournaments, each with their own slightly different formats and special rules. New users may find this a bit complicated at first and it certainly goes beyond what you get on most regular Fantasy Football sites. It can take a bit of digging around on the site to find clear explanations too and you may find it simpler to find a format or weekly event that you like and really try to master that rather than constantly entering different ones.
---
We hope you've found this FanTeam review useful. Sign up using our FanTeam bonus offer if you wish to get started. You can always get in touch via email if you have any questions.