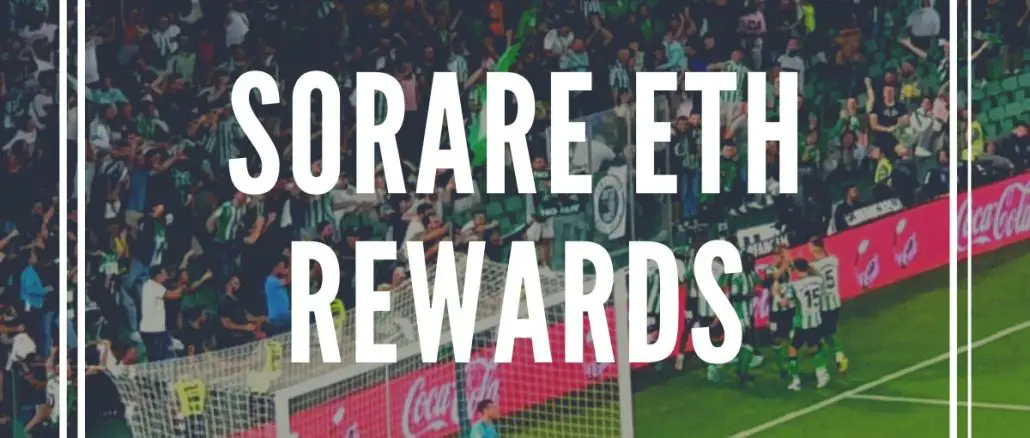 Sorare's ETH rewards structure has undergone its second big update in less than four months. Following December's decision to introduce threshold payments across all scarcities, ETH rewards at Super Rare and Unique levels have now been doubled. Below we'll look at how to make money on Sorare in 2023 by entering the Cap 240 tournaments and targeting the thresholds.
If you're yet to sign up to Sorare, it's worth noting that these are not the only rewards on Sorare. There are dozens of tournaments you can enter and try to win card rewards, but it's harder to predict the value of your likely returns. That's partly due to the unpredictable nature of fantasy football but also comes in the context of a Sorare market crash which has seen card values tumble across all scarcity levels over the past twelve months.
On one hand, that makes entering the market as a new user now much more attractive. You'll certainly be able to get in at a big discount on the prices that cards were changing hands at in 2022. However it'll obviously depend on your appetite for risk, and as mentioned in our 2023 Sorare review, nobody can seriously predict the future of NFTs and play to earn games like Sorare. This post is not investment advice in any way, but will hopefully demonstrate the kind of returns that are possible based on the current reward structure.
If you're already a Sorare user, hopefully the information below will help you decide whether moving up a scarcity is the right choice for you. The potential to now win $200 or $500 each gameweek, certainly makes the leap from Rare to Super Rare, or Super Rare to Unique, seem more attractive.
Sorare Rewards in Cap 240 Tournaments – How to win Ethereum
| | |
| --- | --- |
| Scarcity Level | Sorare ETH Threshold Payment |
| Limited | $5 |
| Rare | $50 |
| Super Rare | $200 |
| Unique | $500 |
All four scarcity levels have Cap 240 tournaments where managers must field a team of five players (1 keeper, 1 defender, 1 midfielder, 1 forward, 1 other outfielder). That team must fit within the 240 point cap which is based on the sum total of each player's average score over their last 15 games.
To win the ETH rewards detailed in the table above, your team must score 250 points or more. There are no xP or captain bonuses in Cap 240 tournaments, so essentially your team must outperform their average by at least 10 points in total, assuming they exactly met the 240 cap.
The more cards and options you have, the easier that'll be. For the purposes of this article, we're going to use an example team of current LaLiga and Segunda Division starters whose sum L15 total is currently exactly 240 points as of 29/3/23 (before GW359, the first to feature the new threshold payments):
Note, these are not necessarily players that we recommend to buy or pick, and they may not even fit beneath the 240 point cap in future gameweeks. The idea is to just give you a rought idea of how much it costs to put a team together that will at least stand a chance of competing for Cap 240 threshold rewards across the scarcity levels. 
Limited Threshold – $5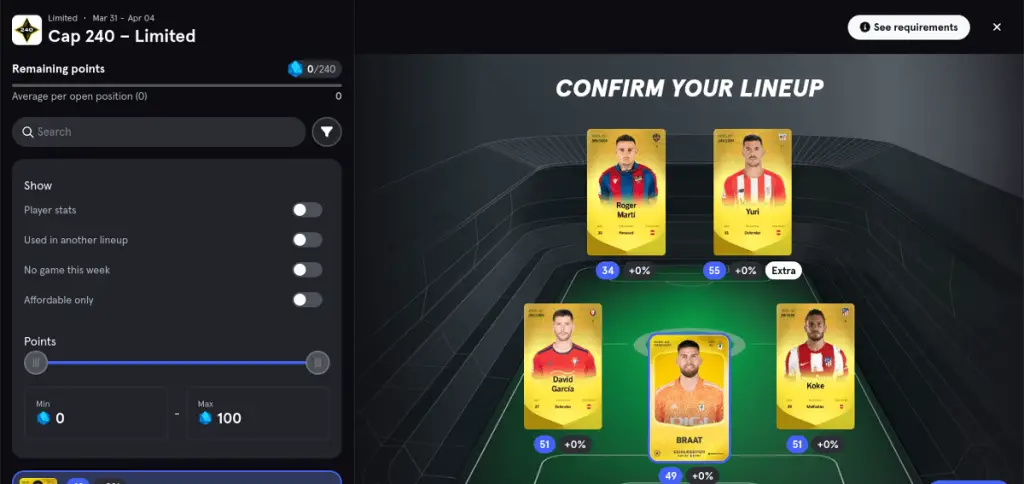 The Limited threshold reward is just $5, which like all threshold payments is pegged to the dollar, but paid out in Ethereum, Sorare's in-game currency. At only 10% of the Rare threshold, this isn't a hugely attractive amount, but if you're a new user playing Sorare on a budget and looking to make that transition from the free common tournaments, it can still be a very useful starting point.
Let's see how much it would cost to build our example Cap 240 team at Limited level on Sorare according to current 3-day average prices (via Soraredata) rounded up/down to the nearest Dollar:
Braat ($24)
David Garcia ($4)
Koke ($7)
Roger Marti ($2)
Yuri ($5)
Total: $42
A Limited team consisting of these players would cost only $42 to build (as of late March 2023), approximately €39, £34 or 0.023 ETH. Just one threshold win would yield a 12% return on your investment. You won't be able to consistently enter Cap 240 and challenge for thresholds with just 5 players in your gallery but by adding your keeper's back-up as a safety net, plus a bunch of other budget outfielders ($2-5), you ought to be in a position to at least be in with a shot at hitting 250 points each week.
Increasing your Limited budget to around $100, you'd certainly be able to put together a competitive collection and winning 20 thresholds to return your initial outlay in one calendar year would not be an unrealistic goal if you recruit well and make smart selections each gameweek.
Rare Threshold – $50
Prior to December 2022's Sorare ETH threshold update, the only scarcity to offer these kinds of payments was Rare. You can no longer win $25 for hitting 205 points, but the $50 rare threshold remains tempting and offers a 10x jump on rewards in the Limited Cap 240 tournament.
Let's see how much our example Cap 240 team would cost at rare level, again according to 3-day average prices:
Braat ($377)
David Garcia ($45)
Koke ($58)
Roger Marti ($34)
Yuri ($36)
Total: $550 (€508, £447, 0.31 ETH)
These prices once again demonstrate how getting a starting goalkeeper is the biggest obstacle to anyone looking to move up scarcity levels with Real Oviedo's Braat accounting for nearly 69% of the total cost of this team.
For this particular team, the amount of threshold wins you'd need to return your initial investment is higher than at Limited level, with exactly eleven 250+ point scores needed based on current prices (11 x $50 = $550). However by scouting the rare market, you might be able to compile a team for slightly less.
It is worth noting that we're nearing the end of the season in Europe which partly explains the relatively low prices on Spain-based players, so there are added elements of risk when it comes to potential summer moves and suchlike. However, right now, you could easily add another 10-20 budget Rare outfielders from a European league to bolster your squad (and give yourself a real shot at hitting 250 points each weekend) whilst staying within a total budget of $1000, the equivalent of 20 threshold wins. 
Upping that to $1500 should enable you to add a second starting goalkeeper and perhaps a couple of backup keepers which would also enable you to enter another Rare tournament each gameweek, opening up more ways to win prizes. 
Super Rare Threshold – $200
The ability to play and earn on Sorare has now increased with Super Rare threshold payments going up from $100 to $200, starting on gameweek 359. This is likely to boost Super Rare card values which had also been falling. 
With fewer trades due to the decreased supply, getting realistic current values for these cards is also trickier in this case when compared to Limiteds and Rares. As such, we'll look at the most recent sale (USD value) for each player in our example Cap 240 team:
Braat ($1025)
David Garcia ($267)
Koke ($209)
Roger Marti ($226)
Yuri ($159)
Total: $1886 (€1741, £1532, 1.05 ETH)
You should probably take these values with a pinch of salt to some extent. There hasn't been a Roger Marti Super Rare sale since May 2022 and he's made both a transfer and subsequent loan move since then. However Yuri, Braat and Koke Super Rares have all sold in the past month.
The total of $1886 works out at just under 10x the threshold payment at Super Rare level so again the returns look good for those willing or simply able to make that initial dive into the market to build a Super Rare side. Again though, you'll obviously need to spend more than this to be competitive on a weekly basis.
Building a squad of players from just one league may be advisable for Cap 240 across the scarcities  to make sure gameweeks align and ensure your players are available at the same time. That being said, if you have more cash to build a squad, selecting a combination of players from summer and winter leagues will help you compete in Cap 240 virtually every weekend throughout the year.
Unique Threshold – $500
The unique scarcity level where just one card of any player is minted each year is high roller level and won't be relevant to the majority of people reading this. You'd need some significant funds, and preferably a strong belief in the long-term future of Sorare, to get involved at Unique level but the rewards are of course the highest on the platform with the chance to win $500 each gameweek just for hitting 250 points.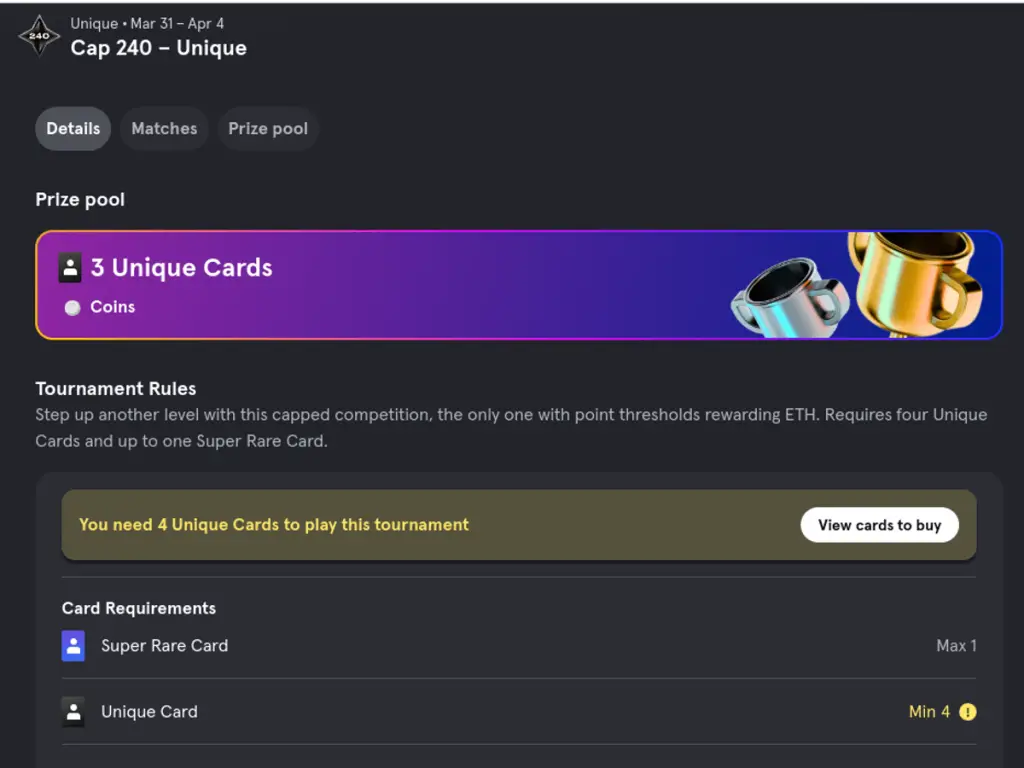 Last prices for our example team are a bit all over the place at Unique level given how infrequently they are auctioned or sold. Braat went for $1478 in December 2022, not much more than his last Super Rare price, although he had only relatively recently taken over as Oviedo's number 1 at that point.
David Garcia's last Unique sale was similar at $1462 while Koke last went for a whopping $14909 in September 2021. Yuri's last unique sale was nearly a year ago ($3197) while there are no Roger Marti uniques. Recent unique auctions have mostly been going for significantly less than in 2021 or 2022 though, with some attractive potential returns again available if you do your research and can afford to put a Unique squad together.
Putting even an estimated figure for a likely ROI in Sorare's Unique Cap 240 competition is almost impossible though, not least because it may take several months for things to settle down following these latest changes. View the live Unique auctions to get an idea of the current state of the market.
Will Sorare's ETH rewards change in the future?
This is the million dollar question. The short answer is almost certainly yes and they already have since the initial announcement of ETH threshold rewards across all scarcities in December 2022.
Sorare then stated "as part of our commitment to continued game refinement and transparency, the threshold values (250 points and ETH rewards) will not change until at least July 2023. We will then evaluate our data and threshold values ahead of the 2023–24 European football season".
The continued fall in prices in early 2023 and disgruntlement amongst so-called "whales"  seems to have sparked them into action when it came to increasing Super Rare and Unique thresholds in March 2023. Whether or not it's enough to improve the state of the Sorare market by bringing new money to the platform, which may in time trickle down into the Rare and Limited scarcities, remains to be seen.
Based on current market prices, it's hard to see how the current ETH threshold payouts would be sustainable in the long run. However any significant reduction in ETH rewards ahead of the 2023/24 season in Europe would still seem unlikely. There is little suggestion that Sorare, a company that has been valued at $4 billion and has added the much sought after Premier League license already in 2023, is experiencing financial difficulties despite falling market prices.
To say that any decision to significantly reduce threshold payments ahead of the 2023/24 season would not go down well, would be a massive understatement and it'd risk sparking a massive market fall and potentially a mass exodus from the platform. It's hard to see any prospect of that, but it may take a secondary wave of NFT interest or other unforeseen events to truly kickstart the market again and it's hard to know if or when that may come.
Other ways to win Sorare ETH Rewards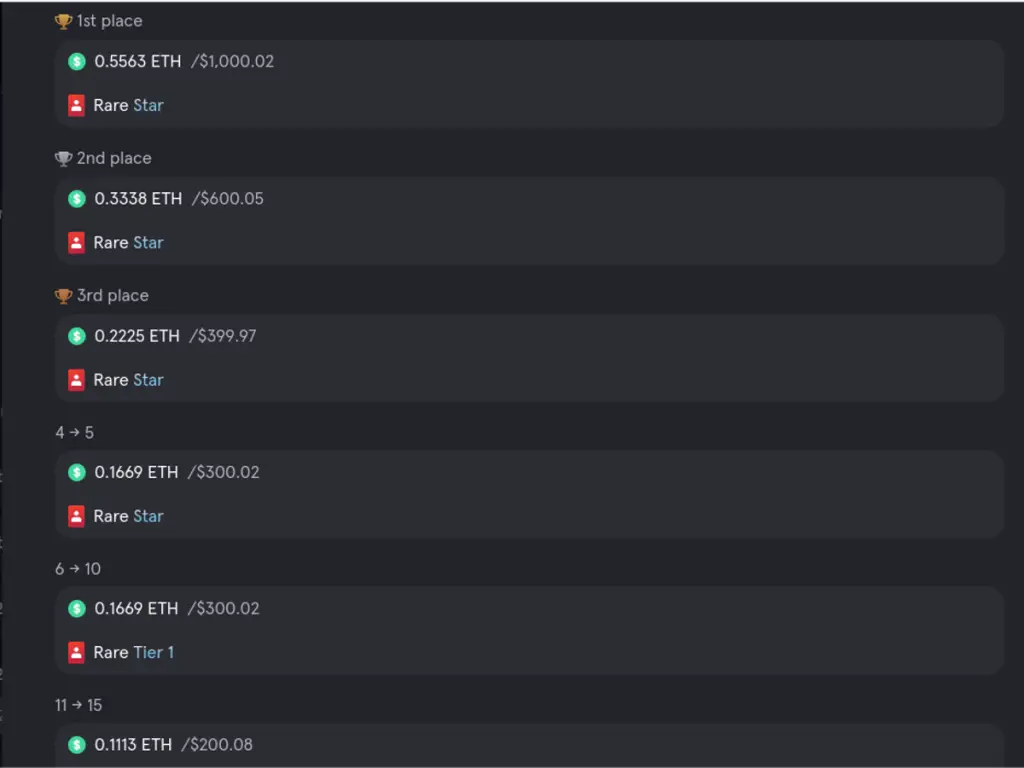 If you were to hit the ETH threshold in roughly half of Sorare's weekend gameweeks during the regular European season, you could expect to make around $100 in Limited Cap 240, $1000 in Rare Cap 240, $4000 in Super Rare Cap 240 and $10000 in Unique Cap 240. That's not an unrealistic target if you have a decent sized gallery including perhaps a couple of starting goalkeepers but even the best Sorare managers will struggle to hit 250 points every week.
The ETH threshold rewards are not the only way to earn money with Sorare though. There are dozens of different tournaments you can enter across the various scarcity levels and a large number offer significantly higher ETH rewards for podium finishes. 
For example, for this coming gameweek, coming 1st in Champion Europe Rare will earn you $400 while there is $275 for 2nd and $200 for 3rd. Finishing on the podium, particularly at Limited and Rare level where there are often thousands of entrants, is not easy though.
Aside from Cap 240 tournaments, your best shot at winning more ETH will come in the All Star competitions. Another 2023 introduction, ETH rewards are now paid out for the following positions in All Star tournaments:
| | |
| --- | --- |
| All Star Tournament | Positions paying out ETH |
| Limited | Top 300 |
| Rare | Top 100 |
| Rare Pro | Top 30 |
| Super Rare | Top 10 |
| Unique | Top 3 |
The exact amount of ETH paid out will depend on the size of the gameweek (how many matches there are). As an example, for GW359, there will be $6350 paid out in Limited All Star, $15100 in Rare All Star, $7550 in Super Rare All Star and $5300 in Unique All Star.
That creates another avenue for managers to potentially make money on Sorare. However given All Star tournaments have no cap, you'll need some pretty good cards to stand much chance of competing and that will obviously require you to spend more on your gallery and some different recruitment tactics to those that might be necessary to compile a Cap 240 team to target the thresholds.
---
For questions or comments about the article, get in touch via twitter: @sorarelaliga. If you're not yet on Sorare, you can sign up here to get a free card after your 5th auction buy.