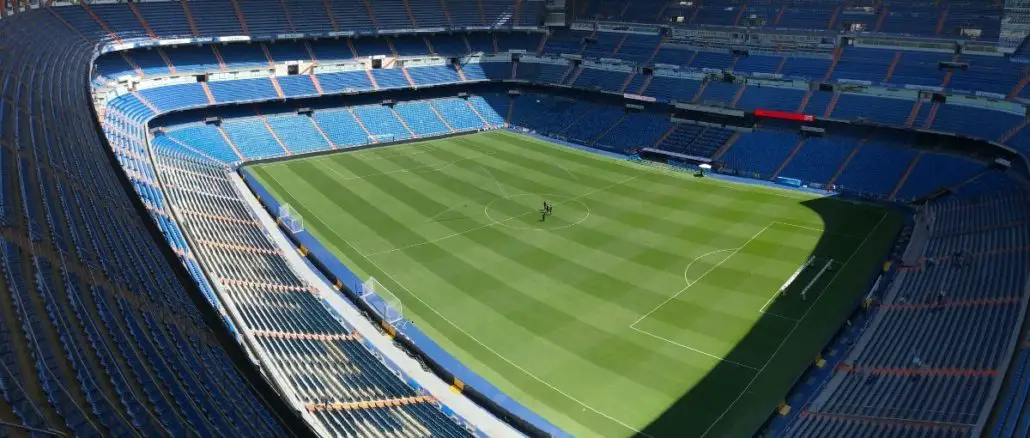 As is the case with all of LaLiga, Real Madrid's officially licensed digital playing cards are found on Sorare. You can buy, sell, collect and play fantasy football with the Real Madrid NFTs which exist on the Ethereum blockchain. In this post, we're going to delve into the squad of Los Blancos and analyse the short and long-term prospects of their players which will largely determine the value of those cards.
If you're not yet on Sorare, we have plenty of other content which will help you get started. Read our Sorare onboarding guide for the lowdown on the basics of starting out. By far the simplest way to start buying Real Madrid trading cards (NFTs) is to use a Sorare sign up offer (get a free Limited Card after your 5th purchase on the primary market using the link) and start searching for players. 
Be sure you are aware of at least the basics of how to value players before diving in and buying your first cards though! Sorare operates using four main scarcities of card (Limited, Rare, Super Rare & Unique). Limiteds (1000 minted each season) are the cheapest, while Uniques (just 1 minted per season) are the most desired and most expensive.
Price data is based on their current average price during the past few days or over a longer period where there has been no recent sales. Values are in Ethereum, the in-game currency, with 1 ETH worth approx $3200 at the time of writing. SO5 Last 15 averages are via SorareData which will massively assist you when it comes to finding value and buying players at the right moment.
Real Madrid Best XI 2021/22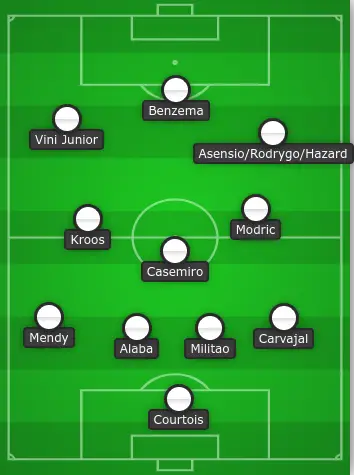 To succeed in Sorare's SO5 "play to earn" Fantasy Football contests, you want to assemble a number of players who are regular starters because you can't use substitutes and players who don't feature won't score any points. Real Madrid are actually a really good team to buy players from in that regard as they haven't rotated much this term and there is a real clarity which exists when it comes to their strongest eleven. 
While Dani Carvajal's regular fitness issues have given Lucas Vazquez plenty of game-time at right-back of late, there is only really one place that is truly up for grabs at the moment and that's the right wing slot where the likes of Marco Asensio, Rodrygo and Eden Hazard are competing for the right to start alongside Karim Benzema and Vini Junior who have both been outstanding this season.
The preferred midfield three is the same as it has been for a number of seasons now with Casemiro, Toni Kroos and Luka Modric clear starters. We may though see more rotation in the second half of the campaign, particularly if Los Blancos can build up a commanding advantage at the top of LaLiga. That may see the likes of Eduardo Camavinga and Fede Valverde see more action.
At the back, Thibaut Courtois is the undisputed number one and there is little doubt about central defence either now with David Alaba and Eder Militao having firmly established themselves as the preferred pairing with Ferland Mendy and Dani Carvajal the obvious picks at full-back when fit.
In Sorare's SO5 fantasy football game, you won't go too far wrong if you can afford to stack Real Madrid players from the XI above in your five-man teams with no limits currently in place for the number of players you can pick from any one club. However Real Madrid digital playing cards can be used over the entirety of the player's career on Sorare so it's important to consider the long-term prospects of their players too, as well as the collectability factor.
Real Madrid on Sorare – Position Analysis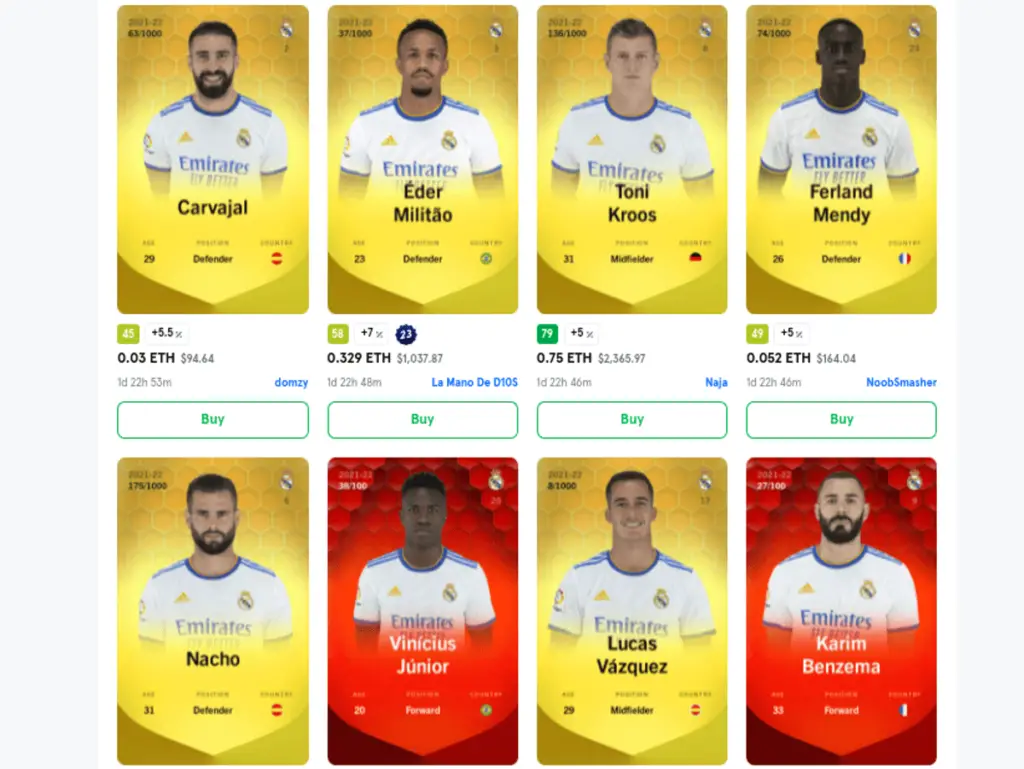 Real Madrid Goalkeepers – Sorare NFTs
| | | | | |
| --- | --- | --- | --- | --- |
| Player | Age | Limited Price | Rare Price | SO5 Average – Last 15 Games |
| Thibaut Courtois | 29 | 0.33 | 2.43 | 57 |
| Andriy Lunin | 22 | 0.055 | 0.48 | – |
| Luis Lopez | 20 | 0.010 | 0.10 | – |
If you've the budget, there are no safer goalkeepers to hold on Sorare than Thibaut Courtois. The Belgian number one is currently the undisputed star when it comes to LaLiga goalkeepers with the usually reliable Jan Oblak enduring a torrid season across Madrid at Atletico. Courtois by contrast has been exemplary and at 29, which is no age for a goalkeeper, should still have many years left as Real Madrid's first choice keeper.
His back-up is the highly rated Andriy Lunin but the Ukrainian only sees game-time in the Copa del Rey, which isn't covered by Sorare. Courtois hasn't missed a Real Madrid league or UCL game since the 2019/20 season when Lunin was impressive on loan at Real Oviedo in the Segunda Division. He has been an unused sub in LaLiga 56 times for Los Blancos since then and it's just so hard to see a path to the first team given he has arguably the best goalkeeper in the world ahead of him. Lunin will be increasingly hungry for football and a summer move looks almost guaranteed, presumably on loan again but most likely to a top tier club this time, and many Sorare managers will be hoping he'll be a starting U23 keeper in 2022/23.
That would most likely leave Real Madrid looking to bring another back-up keeper in. Their only other goalkeeper on Sorare is 20 year old Luis Lopez who has featured regularly for the B team in the Spanish third tier this season. A sudden injury crisis aside, it's highly unlikely we'll be seeing him in first team action any time soon and he's highly unlikely to be trusted as the primary back-up keeper should Lunin leave.
Real Madrid Defenders – Sorare NFTs
| | | | | |
| --- | --- | --- | --- | --- |
| Player | Age | Limited Price | Rare Price | SO5 Average – Last 15 Games |
| David Alaba | 29 | 0.082 | 0.59 | 57 |
| Éder Militão | 23 | 0.28 | 2.00 | 67 |
| Ferland Mendy | 26 | 0.056 | 0.36 | 55 |
| Carvajal | 30 | 0.025 | 0.18 | 58 |
| Marcelo | 33 | 0.007 | 0.053 | 39 |
| Nacho | 31 | 0.005 | 0.047 | 37 |
| Miguel Gutiérrez | 20 | 0.016 | 0.16 | – |
| Vallejo | 25 | 0.004 | 0.046 | 29 |
Centre-backs David Alaba and Éder Militão are the stars as far as Real Madrid defenders are concerned on Sorare. The latter has been outstanding over the past twelve months, averaging 61 across the last 40 games and is one of the best players on the game in U23 tournaments, although he will no longer be eligible for those after this summer.
Full-backs Dani Carvajal and Ferland Mendy are both clear first choice and solid options but perhaps not quite as appealing options. Carvajal is simply too injury prone. He is into his ninth season with Real Madrid's senior team now but has only once started more than 25 league games in a campaign and has continued to be plagued by problems this term, although in fairness he still looks good value at current prices. Mendy meanwhile is a very steady defender but doesn't possess the kind of attacking qualities that would really propel him into a 60+ scoring player.
As far as the fringe defenders go, all have been starved of minutes this season. Marcelo is expected to leave this summer when his contract expires and could be a possible candidate for a move to the MLS or perhaps even back to his native Brazil. Nacho should stay in Madrid where he is seemingly content with a back-up role, as has been the case for virtually his whole career. The same currently appears true of Vallejo for the time being with the 25 year old having failed to really make the most of two recent loan spells in Granada.
20 year old left-back Miguel Gutiérrez is one of the brightest young prospects at the Bernabeu and has done well during his limited first-team openings and may be the sole back-up to Mendy next season.
Real Madrid Midfielders – Sorare NFTs
| | | | | |
| --- | --- | --- | --- | --- |
| Player | Age | Limited Price | Rare Price | SO5 Average – Last 15 Games |
| Casemiro | 29 | 0.12 | 0.60 | 64 |
| Toni Kroos | 32 | 0.40 | 2.95 | 80 |
| Luka Modrić | 36 | 0.062 | 0.44 | 62 |
| Fede Valverde | 23 | 0.044 | 0.40 | 35 |
| Antonio Blanco | 21 | 0.009 | 0.10 | 30 |
| Eduardo Camavinga | 19 | 0.091 | 0.79 | 37 |
| Isco | 29 | 0.015 | 0.15 | 26 |
| Dani Ceballos | 25 | 0.014 | 0.18 | 32 |
Toni Kroos continues to set the bar on Sorare, not just at Real Madrid or in LaLiga, but across all the covered leagues. At the time of writing, no player on the game can better his ridiculous average L15 score of 80 while only Lisandro Martínez and Robert Lewandowski have better scores over the last 40 games. He only has one more year to run on his current deal but there's no reason why the German can't continue to boss it in midfield for Los Blancos for several more years if his current form is anything to go by.
At 36, Luka Modrić clearly doesn't have quite as long left but the 2018 Ballon d'Or winner continues to perform at an elite level and is one of those unique players whose NFTs will surely have collectability value even after he eventually hangs up the boots. Casemiro completes Real Madrid's first choice trio and gets big scores and a surprising number of goals for a holding midfielder which makes him another useful card to have if you have the funds.
Isco is another player who will surely be on his way when his contract expires this summer. Whether he still has enough to succeed at the top level in an elite European league is increasingly doubtful after a miserable few years in Madrid. There's no obvious next step for the Spaniard who is yet to turn 30. There may still be European clubs willing to take a punt but few outside of the Premier League, where it's doubtful he would thrive, would have the funds to match his salary demands.
Fede Valverde and Eduardo Camavinga both should have long-term futures at Real Madrid but the continued excellence of Kroos, Casemiro and Modric suggests they are going to have to be very patient. That's less of a problem for Camavinga at 19 than it is Valverde at 23 but there's no suggestion the Uruguayan is unhappy and it's worth noting he will continue to qualify for U23 tournaments until 2023 which could make him a useful card to hold. Antonio Blanco is the other young midfielder in and around the Real Madrid first team squad but with only 30 minutes of LaLiga action so far this season, looks a strong candidate for a loan move in the near future.
Real Madrid Forwards – Sorare NFTs
| | | | | |
| --- | --- | --- | --- | --- |
| Player | Age | Limited Price | Rare Price | SO5 Average – Last 15 Games |
| Vini Junior | 21 | 0.44 | 2.50 | 62 |
| Karim Benzema | 34 | 0.30 | 2.02 | 68 |
| Marco Asensio | 25 | 0.035 | 0.25 | 46 |
| Eden Hazard | 31 | 0.031 | 0.30 | 44 |
| Lucas Vazquez | 30 | 0.016 | 0.12 | 47 |
| Gareth Bale | 32 | 0.012 | 0.18 | 63 |
| Rodrygo | 21 | 0.045 | 0.42 | 42 |
| Mariano Diaz | 28 | 0.009 | 0.072 | 37 |
| Luka Jovic | 24 | 0.024 | 0.22 | 35 |
It's a case of Vini Junior and Karim Benzema plus one for Real Madrid up front at the moment. Benzema has taken over from Leo Messi as the outstanding forward player in the league with 17 goals and 7 assists from 20 appearances so far in LaLiga 2021/22 giving him comfortably the most goal contributions. Teammate Vini Junior is second on that list with 12 goals and 4 assists in a remarkable campaign for the young Brazilian, who until the summer was much maligned for his inability to show composure in the final third and finish chances. Those interested in the collection side of Sorare may see value in his 2021/22 cards as this campaign already feels like it will be remembered as the one where the young Brazilian truly announced himself as a world class performer.
Elsewhere, Real Madrid have lots of forward players but not many that convince in terms of their current form or usability on Sorare. There are still no real signs of the Eden Hazard that excelled at Chelsea and at 31 it's questionable whether we will ever see that kind of excellence again from the Belgian. Gareth Bale is another whose best years are very clearly over. He we will finally leave Real Madrid in the summer when his contract expires and his next destination may just as easily be the golf course as the MLS or another league with rumblings about an imminent retirement enough to put you off the 32 year old's cards, although Wales qualifying for the World Cup (they are in the play-offs) would surely put that on hold.
Rodrygo has rather been left in the shadow of his fellow Brazilian forward this season. At 21 and with a contract until 2025, time is still on his side but it's hard to see a path into the first XI should Kylian Mbappe arrive this summer. The same could be said of Marco Asensio who hasn't quite developed as many had hoped and could find himself at some kind of crossroads sooner or later and he does only have 18 months left on his present deal.
Mariano Diaz has been offered a door out of Real Madrid but is seemingly determined to stay put even if that means very limited game-time. He may see out his contract which runs until June 2023. He will battle it out with Luka Jovic for the right to be back-up to Benzema. A summer move for the Serbian international is perhaps more likely as a result with Jovic's career having stalled since joining Los Blancos in 2019.
Finally, we have Lucas Vazquez who is not really a forward by any stretch of the imagination, but his versatility has ensured he has still featured regularly for Real Madrid during his time at the club. A bit like Nacho, he is content with a back-up role and is currently featuring prominently (and scoring well) as a right-back due to Dani Carvajal's injury issues.
The best Real Madrid Fantasy Football Stack?
If you've been stacking Real Madrid starters in your SO5 teams this season, chances are you will have seen plenty of rewards come your way. While they aren't as dominant as an Ajax or Bayern Munich are in their domestic leagues, and are regularly made to work hard for their points, Los Blancos have been really consistent and some of their players are posting big numbers on a regular basis.
Even some of their lesser scorers are very useful cards to have but if you've got the budget (and you will need a big one!) the ultimate Real Madrid SO5 team perhaps looks like this: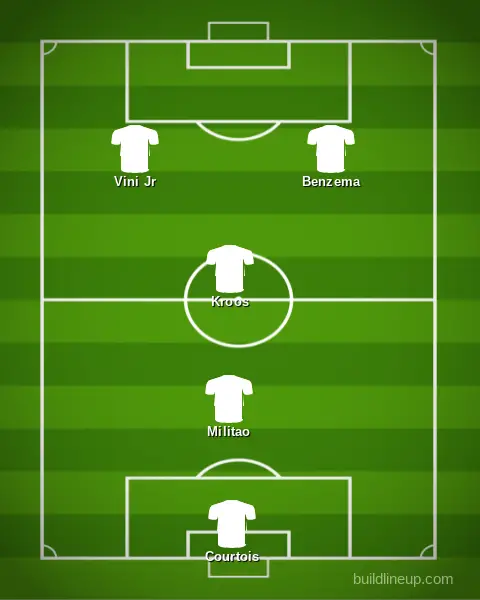 While you could make a case for Luka Modric or Casemiro too, Vini Junior and Karim Benzema are just such terrific cards to play together as they are regularly creating goals for each other and you're looking at two guaranteed 60+ scores whenever that happens. Frequently it is much more than that and LaLiga matchday 20 saw both players bag braces and SO5 scores of 93 in the 4-1 demolition of Valencia. No other player in LaLiga topped 90 on that matchday.
The other positions are relative no-brainers with Toni Kroos an unstoppable SO5 force, posting five scores of 98 or higher in his last twelve games, while Éder Militão is the standout defender, at least from a Sorare perspective.
---
Please note all data is correct as of 17th January 2022 but prices do regularly fluctuate on Sorare. For more sporting superstars, check out our Sorare NBA sign up offer.
This post contains affiliate links to Sorare. Do your own research into NFTs and Sorare itself before putting any money into the platform. If you've any questions about Real Madrid or anything Sorare related, you can get in touch on twitter – @sorarelaliga.