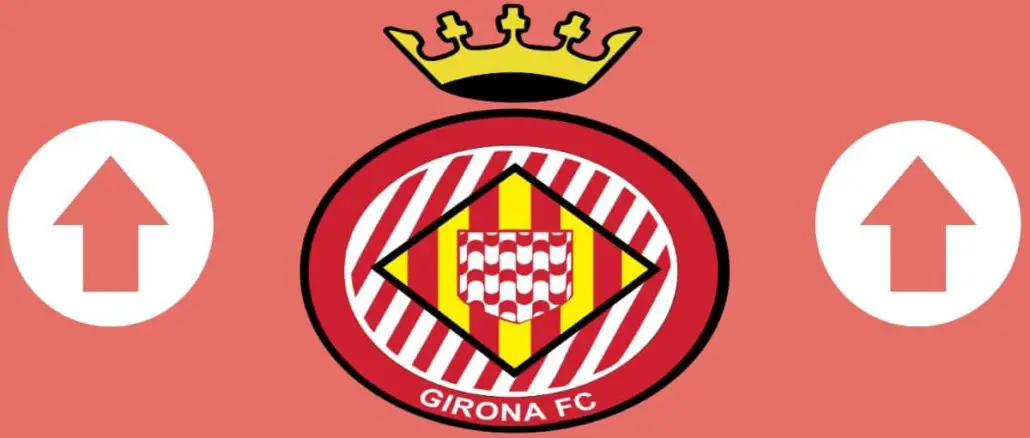 The 2021/22 Spanish football season finally reached its conclusion on Sunday evening, deep into June, over 1300 km southwest of mainland Spain, on the "holiday island" of Tenerife. 
This though, was all business and very little pleasure for the players of CD Tenerife and Girona as they battled through a nerve-racking 90 minutes. It wasn't any more enjoyable for the thousands packed into the Estadio Heliodoro Rodríguez López on a night that, despite regular outpourings of noise and collective belief, would ultimately end in heartbreak for the home fans.
This was Girona's night. It was Girona's redemption after a series of missed opportunities, blown leads and the very worst of emotions that the play-offs can conjure up. Five times in the previous nine years had their season been extended by the chance to win promotion to the top flight via this route. Five times they failed to go up, despite winning four of their Semi-Finals.
The play-off system only came into existence in Spain as recently as 2010 but no club can quite compete with Girona's tale of end of season misery. Beaten finalists by Almeria in 2013, they somehow contrived to blow a 3-0 advantage from the away 1st Leg against Real Zaragoza in 2015, their only failure at the Semi-Final stage. Another home defeat contributed to a Final loss against Osasuna the following season before Girona finally did win promotion to the top flight for the first time, via a 2nd place finish, in 2017.
On relegation, it was almost as though little had changed despite a memorable two years in the Primera. Girona quickly returned to their ways of making the top six in the second tier, but failing to make the most of home advantage in the play-offs. In 2020, it was Elche who finally broke the deadlock in a cagey and until that point scoreless Final, six minutes into Stoppage Time at the end of the 2nd Leg at Montilivi. The following year, Girona were in an even better position, 2-1 up from the 1st Leg of their showdown against Rayo, but again failed to see the job through at home as the Madrid club fought back to win promotion.
It's fair to say then, that Girona fans had reason to be cautious heading into their fifth play-off Final in the space of just nine seasons against Tenerife. Given the scars of recent years on home soil, it perhaps benefited them to have the 2nd Leg away this time with a goalless first meeting in Catalunya leaving everything finely poised as they headed to the Heliodoro on Sunday.
You could even sense the differing emotions from the expressions on the faces of the two sets of supporters prior to the game. The Tenerife followers were boisterous and bouncing. Many had come hours earlier to wait outside for the team to arrive and there was a confidence to them, in no small part thanks to a wonderful Canary Island derby win over Las Palmas in the previous round.
By contrast, the few hundred Girona fans who had made the long trip looked pensive. Even the most optimistic would have struggled to totally banish the painful memories of recent play-off nightmares.
The same could be said of the visiting players, many of whom remain from previous campaigns. They started, as was the case for much of the 1st Leg, on the front foot and dominating possession, with Tenerife boss Luis Miguel Ramis seemingly content for his side to sit deep and try to find some joy on the counter. It was understandable to some extent, given their failure to net an away goal the previous weekend, but it perhaps prevented his side from really using the early energy that was sweeping around the stadium to their advantage.
That perhaps helped to calm a few nerves in the visiting camp but Girona's attempts to settle into their stride weren't aided by some robust challenges early on from their opponents. One such tackle brought an early end to midfielder Iván Martín's evening after just 18 minutes, to the obvious dismay of the Girona bench as Michel opted to introduce the talented, but often frustrating, Samu Sáiz as his replacement.
It wasn't really until the half-hour mark that Tenerife started to come out of their shell and ask some questions, but just when it looked as though the hosts might be starting to get on top, Girona were gifted a golden opportunity to break the deadlock.
Juanpe's effort was diverted away from goal by the hand of Tenerife centre-back Sergio González. With his arm outstretched, it was not a difficult decision for the referee to award a penalty and it was over to free-scoring Cristhian Stuani to send the goalkeeper the wrong way and fire in a priceless away goal for Girona.
The Uruguayan striker, who netted 40 goals across the club's two top flight seasons, has stunned many with his continued commitment to Girona. This was his 24th of the current campaign, taking his overall goal tally for Los Blanquivermells past 100. To all intents and purposes, Stuani has been a top flight player plying his trade in the second tier for three years.
Like his club, he has had his fair share of unhappy play-off experiences, most notably the red card which contributed to Girona's demise against unfancied Elche two years ago. For Stuani, this success would taste sweeter than most and provide some well deserved reward for his admirable loyalty to the Catalan club.
It wouldn't come without a few difficult moments in the Second Half when it looked like yet another Final might be starting to swing away from Girona. Tenerife levelled the score on the 59th minute as the home team's Half-Time introduction Carlos Ruiz crept around the back to powerfully head home a teasing cross from Álex Corredera.
For a spell, the Heliodoro was rocking and Míchel looked like a worried man on the sidelines. The stage was seemingly set for a grandstand finish from Tenerife (who still needed to score again given the away goals rule) and yet another play-off collapse from Girona.
However, this time, lady luck was on their side. With Tenerife pressing for a winner, the visitors broke through Sáiz who released Álex Baena into an advanced position on the right flank. With few players up in support, his cross was little more than hopeful, but it took a wicked deflection off Tenerife defender José León which diverted it past Juan Soriano in the home goal to put Girona 2-1 up.
As the visiting players celebrated in front of their fans in the corner of the pitch, plastic bottles began to fly in their direction, sparking a delay which only further served to suck the energy out of the home crowd. The cries of "Sí, se puede" that had reverberated around the old ground for much of the evening were no more and Girona must have sensed at that point it was going to be their night.
19 year old Arnau Martínez made sure of it, connecting with Aleix García's free-kick on 80 minutes, to ensure that Girona had an advantage that even they couldn't blow. They could finally rejoice and celebrate the end of a decade of play-off frustration when the Full-Time whistle sounded signaling their return to the top flight.
In truth, it's fair to say not everybody will be pleased to see them. They are a Catalan club to their core and can count amongst their supporters the exiled Carles Puigdemont who led the push for the region's independence from Spain in 2017. In some respects, the club are now more representative of the Catalan identity than the increasingly international FC Barcelona, and their return to the top flight won't exactly be welcomed in sections of the Spanish media, not to mention more right-leaning fanbases across Spain.
There is also the ownership issue with the City Football Group their main shareholder, leading to accusations that their success is largely connected with their cosy relationship with the English champions. The extent of Manchester City's involvement in their playing matters has been overplayed in truth with only a handful of youngsters swapping Manchester for Girona in recent years and few have been more than fringe players. However the presence of a perceived Premier League feeder club in LaLiga understandably doesn't sit well in some quarters and it's probably fair to say many in Spain would rather have seen Tenerife emerge victorious on Sunday night.
That's not something that Michel or his players will be losing much sleep over though. It's doubtful they'll be getting much of that done on the long flight back to Catalunya in any case, but when the emotion of the evening finally subsides, there will be a real sense of satisfaction at the reward for their persistence and dedication over the past three years following their relegation in 2019.
Faced with such painful setbacks and the budget impact that is inevitable when clubs fail to quickly bounce back to the top flight, many were expecting Girona to slide back down towards what might be viewed as their natural standing on the Spanish football ladder, which would at the very best be in the bottom half of the Segunda División and has often been much lower.
Instead, they will be back in with the big boys for the 2022/23 campaign and having famously twice defeated Real Madrid during their first stint in LaLiga, they won't fear anyone.