2021 was an extraordinary year of growth on Sorare. Trading volumes increased to over $300m from $7.7m in 2020 as the number of managers with at least one card rose from just over 3,000 on 1st January 2021 to just shy of 75,000 by the end of the year. With the market booming as we enter 2022, there's plenty of reason to expect both those figures to continue to significantly grow over the next twelve months and in this post we'll look at what to expect from Sorare in 2022.
For the benefit of any doubts, these Sorare predictions and thoughts are purely speculative and not based on any information that isn't publicly available via any of their official channels. They will no doubt have one or two other surprises up their sleeves and have already strongly indicated that a new sport will be added in 2022.
However, for the purposes of this post, we'll focus purely on football and look at some of the main things that appear likely to happen over the coming 12 months.
---
Sorare Predictions – 10 Things we may see in 2022
---
1. The Long Awaited Progress Bar
We have been hearing about the progress bar for some time now and it featured way back in May's AMA. At the time, it was suggested that when the progress bar launched, managers would get a choice of card, ETH or XP rewards for making progress in the game as a whole over a longer period of time than just individual gameweeks. However details were relatively sketchy on how that might work and we've not heard much more about it since.
Given how it has the potential to shift the dynamics of the Sorare experience and how managers are rewarded for achievements in the game, Sorare are understandably keen to make sure they get this right. That is most likely the reasoning behind the delay and the most recent product update in November only briefly mentioned the matter, stating "We're currently working on the new game modes and are just as excited as you are for them to land".
No timeframe was given and there is no real indication that the progress bar is about to drop imminently and radically shake everything up. It is something we'd still expect to see at some point in 2022 though and it's most likely going to be central to a number of the other potential changes listed below.
2. Common Pro & Limited Pro
A more immediate change may well be the additions of Common and Limited Pro competitions, or at least one of them. We already have Rare Pro which acts as a nice bridge for anyone looking to move more into Super Rares from Rares. It seems logical that Sorare will look to do likewise at the lower scarcities too.
While initially, Limited cards were introduced as a standalone scarcity with no crossover with the other ones (except in the odd Special Weekly), adding a Limited Pro would allow managers with mostly Limited collections to make those first steps towards getting into Rares.
Perhaps even more significantly, adding a Common Pro (perhaps where you can use 3 Commons & 2 Limiteds) would make the transition from the free version of Sorare into the paid game much easier and more accessible. While it is possible to pick up many Limited cards very cheaply at the moment, it's tough to compete for the more attractive rewards without buying some of the more expensive players which even at Limited level will still set you back a sum of money which is beyond the budgets of many casual users starting out.
3. Requirement Changes – No more Commons in Rare Tournaments?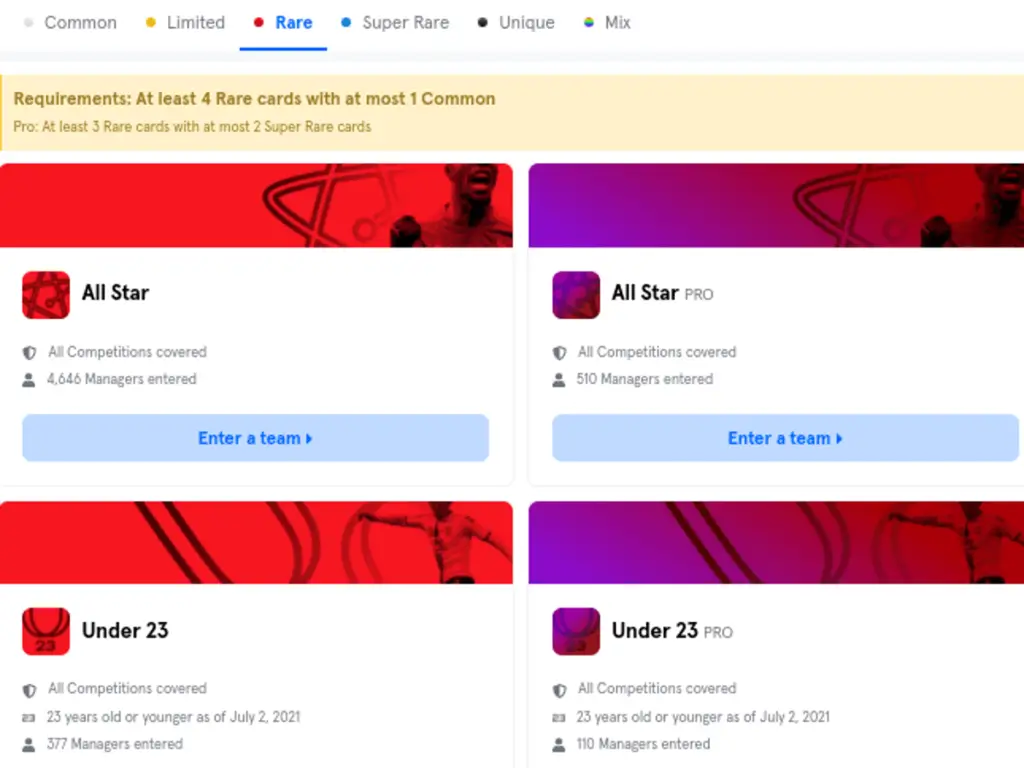 Following on from the last two points which also revolve around the theme of progression, one obvious change that is surely coming soon is the removal of the option to use a Common card at Rare level. 
It simply feels unintuitive that Common Cards can currently be played alongside Rares, yet neither can be fielded with Limiteds – the scarcity in between the two. While this may be an unpopular alteration with managers who are focused on targeting ETH thresholds at Rare level by using Common goalkeepers, it feels like a change that has to come in order to make progression on Sorare more logical moving forwards and easier for new users to follow.
Assuming it does happen, what will be really interesting is to see whether or not the rules for Rare tournaments become just 5 Rares or 4 Rares + 1 Limited. If it's the latter, a decision would also have to be made regarding points penalties for using Limiteds.
4. Threshold Changes
We currently only have threshold payments in the Rare All Star league and we received somewhat mixed communications from Sorare in 2021 about the future of those or alternative systems moving forwards. 
In the short-term, it would seem as though the 0.01 and 0.02 ETH rewards are here to stay at Rare All Star level. Tying in with the Progress Bar (which may also feature some form of threshold payments), Sorare are clearly anxious about making any changes until they are certain they are the right ones. Removing thresholds without a suitable replacement has the potential to crash the bottom end of the Rare market, something they are surely acutely aware of and would have to take into consideration when making any decisions about removing or altering thresholds.
Overall, it's really hard to predict what they are going to do here and the best advice is perhaps to play the game as it is today, but keep an eye out for those all-important announcements and be quick to adapt your strategy if needs be when changes do come in.
5. Bigger & Better Special Weeklies
One common grunt right now, is that to win the top prizes in most global and European tournaments, it feels like you need to have teams stacked full of star players from a select group of clubs (Bayern, Ajax, PSG etc). Many managers on Sorare, even at the Limited level, simply do not have the budget to put together such teams and there's a danger many will simply lose interest in the platform over time if it becomes just too difficult to win. 
While there are utterly dominant teams in European football leagues (and this is unlikely to change anytime soon), there is no easy solution to this for Sorare HQ. The more the userbase grows, it is only likely going to become harder to win as there are only so many cards they can release as rewards. 
The easiest way for them to make the game more fun and make better rewards more accessible to lower budget managers is by doing more Special Weeklies where only players who are averaging less than a certain score can be selected. This is a genuine leveler and does create opportunities for almost every manager on the platform to potentially put together a team that has a chance of finishing high up on the leaderboard that gameweek.
Perhaps a Max L5 score tournament could even become a weekly feature or perhaps we may get special tournaments added at each different scarcity. Either way, they do seem popular with the community and introduce interesting new dynamics when it comes to recruiting players and selecting teams.
6. Lots more League & Club Launches
2021 was a huge year in terms of new launches with LaLiga and the Bundesliga both added in full towards the end of the year. Sorare are well on their way to reaching their stated aim of adding the top 20 leagues and in a thread this week, Sorare's Brian O'Hagan said he was optimistic that the goal could be reached in 2022.
That would be a phenomenal achievement and would cement Sorare's status as the undisputed home of football NFT's. Adding the Premier League alone would arguably do that in any case and reading between the lines it would seem a big deal with the English top flight is in the pipeline and that could spark another period of massive growth given the EPL's global appeal.
7. A Training Revamp
A revamp to how training works is another thing that Sorare has mentioned as likely in the near future. It may not be a big part of the game for many managers but those with larger collections will certainly welcome not having to spend so long confirming teams and adding players to training teams twice a week.
Quite how it will work is unclear. Sorare will most likely still be keen to reward managers who stay engaged with the platform and it's likely you will need to at the very least log in and sort your training plans out each gameweek. 
However, picking a load of teams featuring players who don't even have games, to compete in training leagues with no prizes, all seems like a bit of a waste of time right now. A simplification is overdue and will surely come on Sorare in 2022.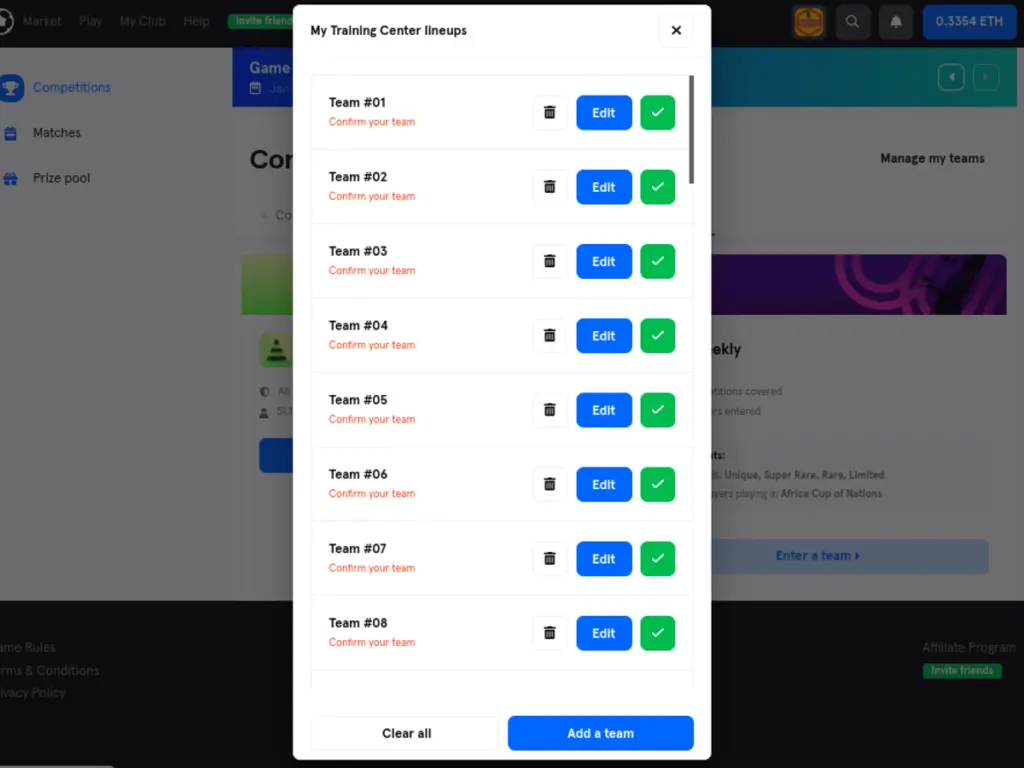 8. A Mobile App
A Sorare mobile app is also expected to launch in 2022 and if it's designed well, it could permanently change how the majority of people use Sorare with over 50% already using mobiles to play the game despite the absence of an app.
You sense Sorare's massive growth has caught even them by surprise over the past 12-18 months and it has clearly taken time for them to catch up with that growth. They do now though seem to be making progress when it comes to speeding up recruitment and onboarding new employees to allow them to cope with the massively increased userbase.
As their recent $680m raise shows, a lack of funds should not be an issue at Sorare right now and there's not really any excuse for them not to have a first class team building what will hopefully be a world class app. 
9. More Real World Prizes & Uses
This is still very early days for NFT's in general and Sorare is no exception. As time passes, we can expect there to be more and more ways that you can use your Sorare cards in real life situations and that's something the company, clubs and leagues may look to figure out in 2022.
An obvious way to bring Sorare to life would be to add more real world prizes in tournaments. That might be match tickets, signed shirts, paid football trips or meet and greets with some of Sorare's biggest stars – some of whom are using the platform themselves such as Antoine Griezmann and Gerard Pique.
10. More International Cards & World Cup Specials
2022 will end with the World Cup in Qatar and that'll be the biggest football tournament to take place since Sorare was released in 2019. We saw with Euro 2020 last summer that Sorare were able to strike deals with some of the biggest international sides to mint cards featuring their players and we can expect more of the same as the 2022 World Cup nears.
Whether we have any more official partnership between Sorare and FIFA for the tournament is also something interesting to keep an eye on. They have so far largely resisted any big marketing drives but Sorare is now big enough that such a deal at a major global event like the World Cup cannot be ruled out and would further raise its profile and allow it to reach huge new audiences.
In terms of SO5 gameplay, it'll also be really interesting to see what happens during the World Cup. Unlike the Euros when there were still leagues going on in the Americas and Asia, top level domestic football around the world is set to be almost totally halted for the tournament. Therefore the World Cup will be the main focus on the platform for a number of weeks and Sorare will surely have some exciting plans for that.
NOVEMBER UPDATE – World Cup fantasy football on Sorare is live!
---
Overall, it promises to be an exciting year on Sorare and there are sure to be many other new additions that we haven't featured above too. If you're not on the platform yet, you can get a free limited card (NFT) after your first 5th purchase on the primary market, by signing up to Sorare here (affiliate link).
To get in touch, discuss anything in the post or make your own Sorare predictions for 2022, mention or DM @sorarelaliga on twitter.