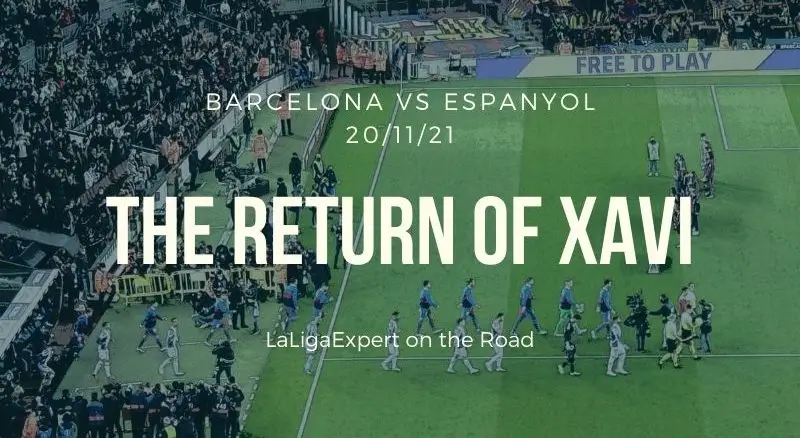 Derby night in Barcelona. LaLiga's most played yet historically most unbalanced local derby was set for another chapter with significant subplots on both sides of the Catalan divide. 
This would be the first Derbi Barceloní in 16 months since Luis Suarez's goal, in a game that ended 10-a-side, condemned Espanyol to their first relegation in 26 years at the home of their great rivals. The only saving grace for their followers was that nobody was there to witness it.
Espanyol's resurgence and return to the top flight happened quickly under Vicente Moreno and few could have predicted on that painful summer night in 2020, their next visit to Camp Nou would see them travel across town with as much optimism as they have done at pretty much any point in the last 15 years. 
Pericos invariably approach this fixture with faint hope rather than any real expectation. History teaches them to expect the worst, with eleven straight league defeats at Camp Nou and no derby victories in LaLiga home or away since a brace from former Barça midfielder Iván de la Peña sealed victory on his old ground way back in 2009.
Even whilst tasting such a rare success, Espanyol fans would have to sit back and watch Barcelona bask in the glory of winning the treble later that season, their first campaign under the guidance of Pep Guardiola. For many Espanyol fans, their fondest recent memories of this fixture date back two years prior to that and a match dubbed El Tamudazo after visiting forward Raúl Tamudo scored twice in a 2-2 draw to dash Barcelona's title dreams on the penultimate matchday.
It's sweet moments such as that, where Espanyol manage to actually land meaningful blows on their illustrious rivals, that followers of Barcelona's "other club" live for. Fast-forward to autumn 2021 and Espanyol were presented with another opportunity to do just that with their neighbours in crisis, but hoping for a bright start to a new dawn under the leadership of a familiar face.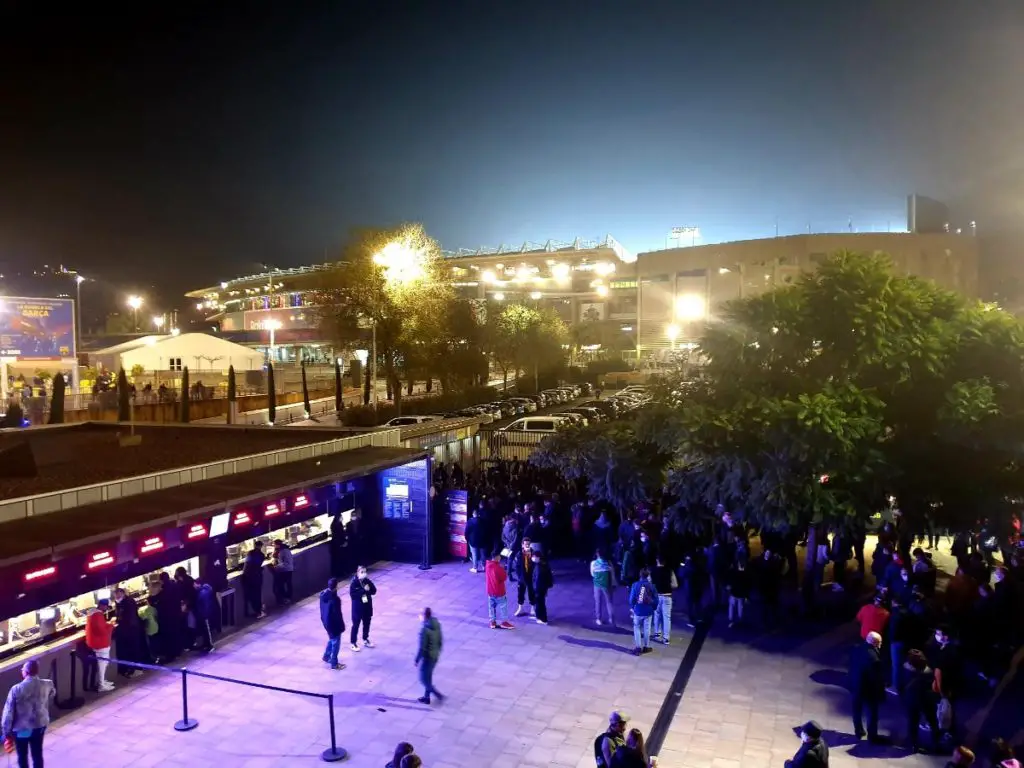 For the watching world and most followers of FC Barcelona, the derby element to Saturday's fixture was secondary to the significance of the return of one of the club's favourite sons. 
This would be Barcelona's first home game in three weeks since a 1-1 draw against lowly Alaves attracted a crowd of just 37,278 with Camp Nou less than 40% full. It would be their first fixture since a Second Half collapse saw Barça inexplicably blow a 3-0 Half-Time advantage to draw in Vigo. More significantly, it would be their first in over six years to feature Xavi Hernandez in some capacity, the most recent being the 2015 Champions League Final when the legendary midfielder came off the bench to help the Catalan giants complete their second treble in his 767th and final appearance for the club.
Xavi has been in Qatar ever since, finishing off his playing career before learning his trade as a manager with Doha-based Al Sadd. He has watched on from afar as the wheels have spectacularly come off at his old club with Barcelona falling into a state of decline following years of woeful mismanagement at boardroom level.
There has long been an inevitability that he would return as Barcelona coach before too long. However few expected it to be so soon or quite like this. Xavi was Víctor Font's rather than Joan Laporta's man but when the latter won the presidential race earlier this year and quickly lost faith in incumbent coach Ronald Koeman, the club Xavi's project was fast-tracked with his return over six years on from a glorious night in Berlin, coming in the derby.
Camp Nou was ready for a new dawn and even outside the stadium there was a sense that this was going to be a very different kind of occasion to recent home games. The fans were back in bigger numbers with thousands gathering as the team bus rolled in amidst fireworks and thick plumes of red smoke.
There was excitement in the air at a ground that had almost forgotten what that emotion felt like after years of decline. Barcelona fans, and even some of their players, have been crying out for a project and for better or worse it felt as though Xavi's return would give them just that.
However there was also tension and a sense of anxiety, heightened by recent performances and results and a realisation that there was not going to be any quick fix for many of Barcelona's obvious flaws. Few could have possibly subscribed to the notion that Xavi would simply roll into town as an inexperienced coach and instantly get an underperforming side playing anything like the Barça of the glory years under Pep Guardiola or Johan Cruyff.
Those nerves were magnified by the fact that this was a derby against a resurgent Espanyol side that had already beaten Real Madrid and pushed Atleti close this season. With mounting injury problems too, there was a fear that Xavi's big night could go badly wrong.
Xavi would have been forgiven for staying longer in Qatar, as was his plan, until at least past next year's World Cup in the country and to beyond a point when his old club looked to have finally hit their true rock bottom. Instead he opted to walk into a pressure situation, mid-season needing to balance the importance of a long-term project with the immediate need for results to ensure a cash-strapped club didn't suffer the doomsday scenario of failing to qualify for next season's Champions League.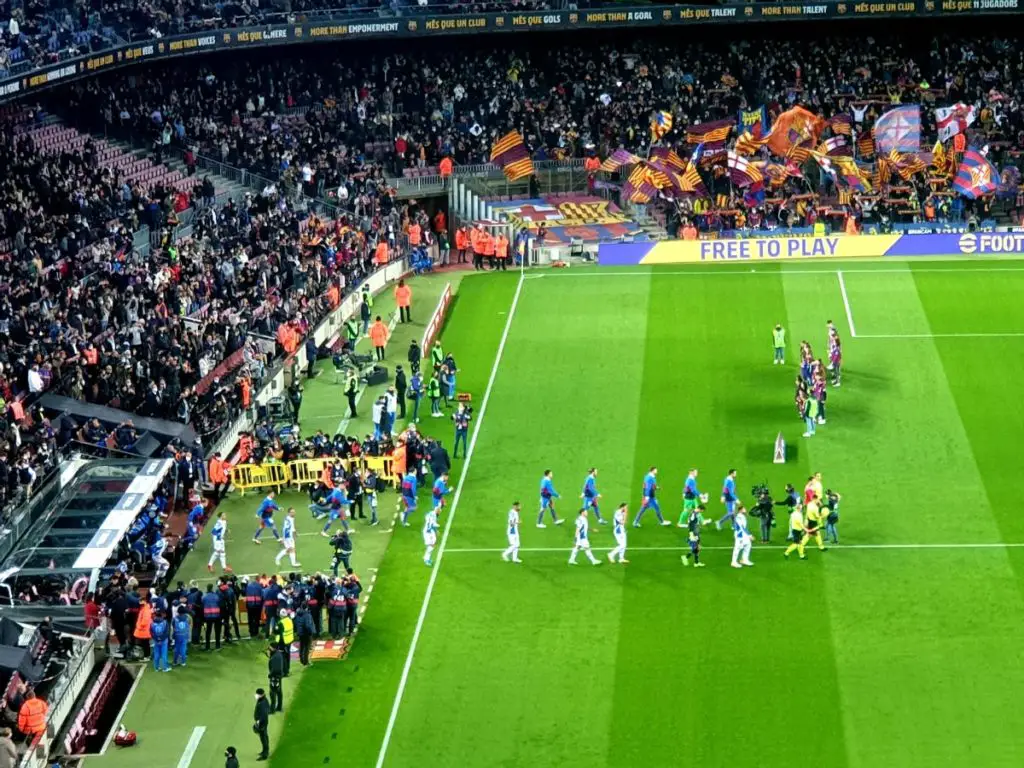 The latter will have to be his immediate priority and his persona for match one in the Barcelona hotseat was professional and businesslike with little room for nostalgia. There was no big introduction to the crowd and it was clear that despite the glaring cameras that surrounded the dugout, Xavi Hernandez did not want this to be all about him.
Accompanied by his support staff, he took his place in the dugout in an understated manner prior to the arrival of the teams and didn't venture into the pitchside technical area until the game was underway.
On a misty, autumnal night in the Catalan capital, there was plenty to encourage the new Barcelona boss in the opening exchanges. There were no early nerves and the hosts quickly settled into their stride with some composed football against an Espanyol side that seemed content to let their opponents have the ball.
It's easy to be drawn in to jumping to quick conclusions when new coaches take charge but Xavi's decision to start 17 year old Ilias Akhomach Chakkour, a player who hadn't even graced the senior team's bench before, felt like a statement. Largely out of necessity, the path from La Masia to the first team had already been significantly opened up by Ronald Koeman, but this was a telling show of faith in youth by the new boss and perhaps a sign of things to come.
Ilias settled into the game by hugging the right flank and won a free-kick with his first involvement. However the youngster would miss the game's first big opportunity on 13 minutes after good work from fellow teenager Gavi on the opposite flank. 
Barcelona also went close in the opening exchanges with a shot from Memphis Depay which was well saved by veteran Diego Lopez, well over twice the age of many of his opponents, in the Espanyol goal.
Chants of "Xavi, Xavi, Xavi" rang around Camp Nou as the new coach started to issue instructions from the sidelines, alongside his opposite number Vicente Moreno. However there wasn't really a big passionate, derby feel to the occasion until things started to heat up with a couple of midfield clashes in quick succession resulting in a few players briefly squaring up and some protestations from the crowd.
Newly promoted Espanyol, who went into the game level on points with their city rivals, were clearly happy to drop deep and try to make things happen on the break. If anything they seemed too respectful of a Barcelona side which included three inexperienced teenagers and a total of five players aged 22 or under.
The hosts continued to press and probe and overall it was an encouraging First Half in terms of some of their football with Frenkie de Jong's forward runs taking him beyond Memphis on a number of occasions to become Barça's most advanced player, a notable feature of the opening 45. 
The home team's quality in possession and nice buildup play was far from matched by their finishing ability though. A number of shots missed the target by a considerable margin and on the few occasions when Lopez was drawn into more serious action, the offside flag was often quick to follow. As a result, we went into the break goalless with Raul De Tomas' late effort, capitalising on an error from Barcelona's Óscar Mingueza, the only moment of real promise for the visitors.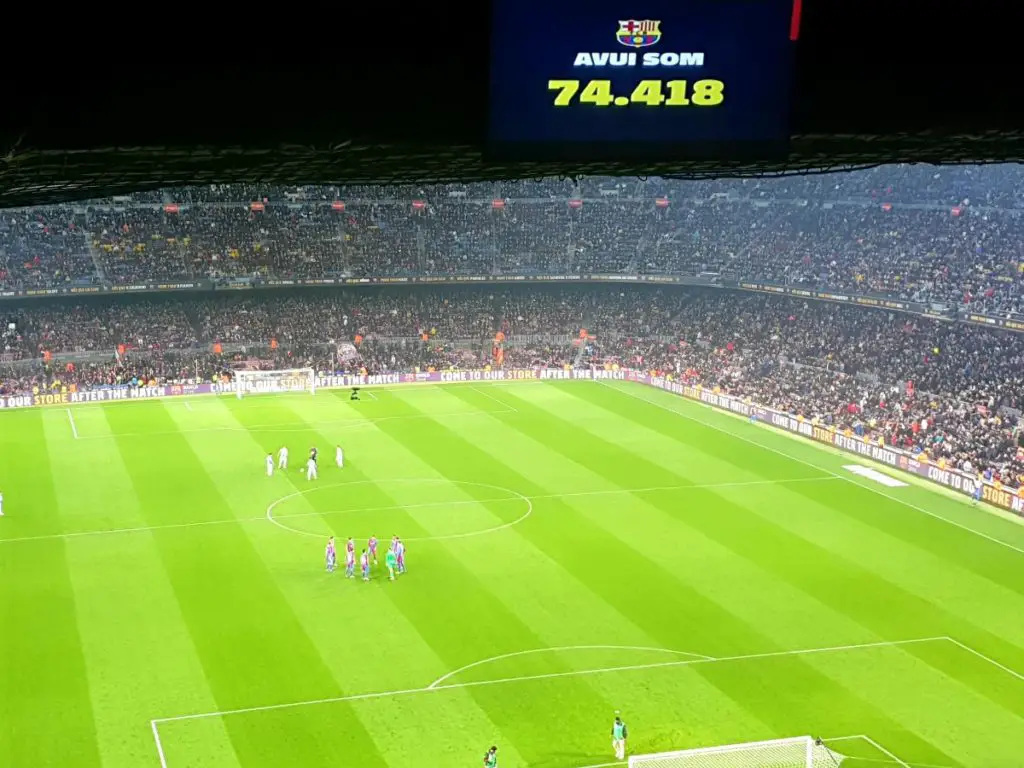 During the interval, an attendance of 74,418 was announced, very close to double the figure that had attended Barcelona's previous home game which also featured discounted tickets for local fans. While the derby factor would unquestionably have added thousands to the gate in any case, it's hard to imagine anywhere near that number coming out on a damp night in November had Ronald Koeman or interim boss Sergi Barjuán still been in charge of this underperforming team.
The Xavi factor was impossible to ignore but even the most vicious elements of the #KoemanOut crowd must have realised that the Dutchman, himself an iconic figure in the club's history at the time of his appointment, was not responsible for all of Barcelona's problems.
It's hard to know what was said inside the home dressing room at Half-Time but a bit more urgency may have been high on the new coach's list of demands. Apart from that early flashpoint, the game didn't really feel much like a hotly contested derby but Barcelona came out for the Second Half, keen to make an immediate impression.
They very quickly managed that. Just 42 seconds into the Second Half, Memphis burst into the area and went to ground under the challenge of Espanyol centre-back Leandro Cabrera. The referee was quick to point to the spot, a call controversially backed up by VAR despite the Uruguayan clearly getting the ball before faintly clipping the Dutchman with his trailing leg.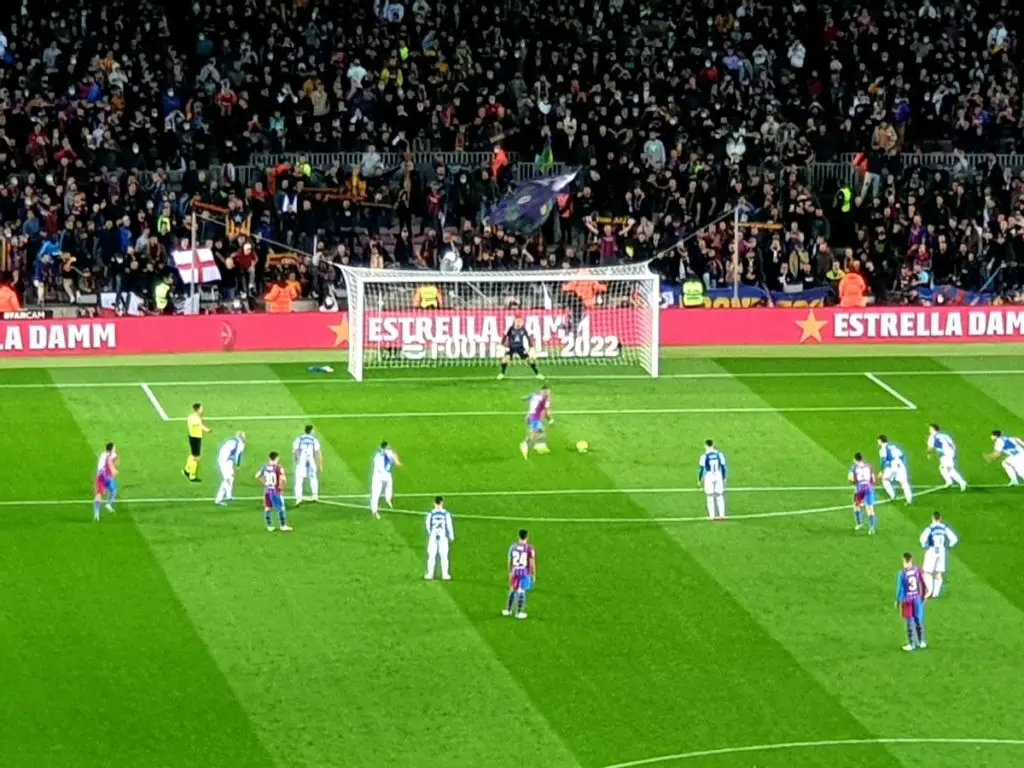 Memphis dusted himself off, to comfortably convert the penalty and sprint off to celebrate with his teammates in the first big outpouring of emotion of the night from Barça players and fans alike.
Suddenly, fears that Xavi's homecoming might go horribly wrong were eased, and for a brief period it looked as though another routine derby victory might be on the cards for Barcelona. Their new boss had opted to replace Ilias with another youngster at the break with 19 year old Abde Ezzalzouli the latest to get the chance to audition for Barça's problem right wing position.
Of the two, Abde looked more unfazed by the occasion, injecting some real energy and passion into the game. He was booked for clashing with Adrià Pedrosa before twice coming close to doubling Barcelona's tally with some lively bursts into the Espanyol penalty area.
However the space that was opening up for Barcelona, was largely a product of the fact that Espanyol were finally pushing up and growing into the game themselves. 
Invariably it was star striker Raul De Tomas, capped by Spain for the first time during the international break, who was their main threat. He took advantage of more unconvincing defending to get in behind on 69 minutes but could only fire just wide of Marc-André ter Stegen's goal.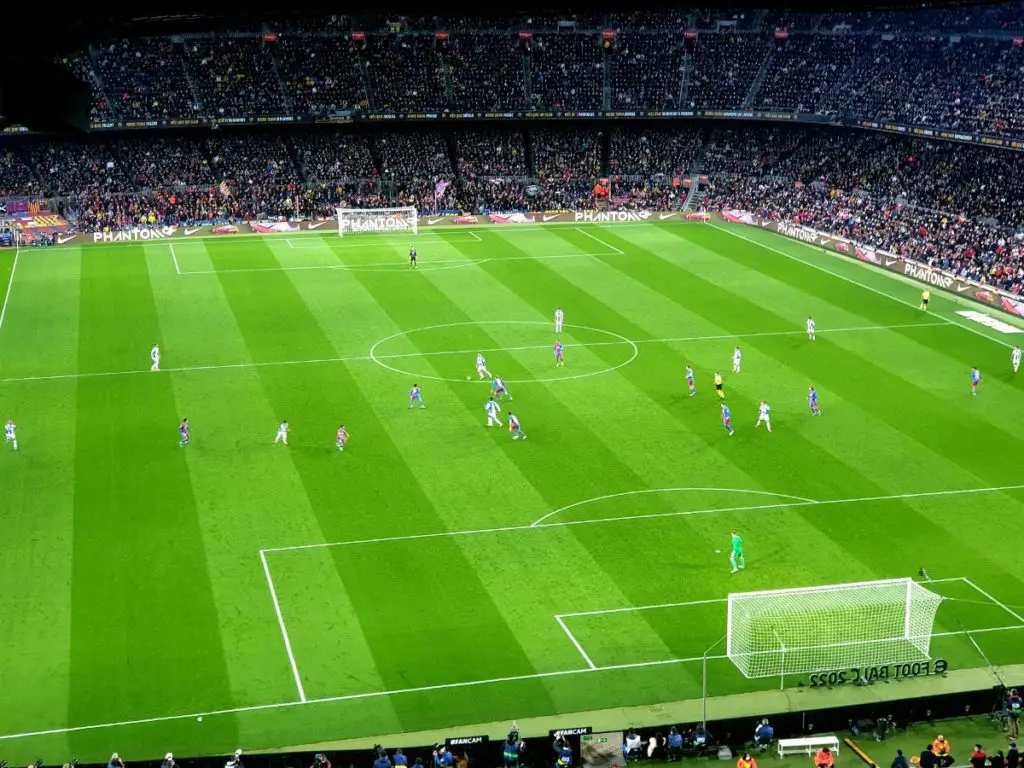 De Tomas then clipped the post with a curling free-kick that looked as though it was destined for the back of the net with ten to play. Suddenly there was real tension in the towering stands of Camp Nou again with the exception of a tiny contingent of Espanyol fans who could see the belief growing in their team whilst all of the doubt and uncertainty of the season so far returned for Barcelona.
Moments later, Espanyol had a golden chance to level the scores as two substitutes combined. Wu Lei curled in the perfect ball and Landry Dimata peeled off his marker but could only head inches wide, all alone from six yards out.
It was the kind of chance that in ordinary circumstances you can't afford to miss at Camp Nou, but Barcelona were all at sea defensively by this point and Espanyol wouldn't have to wait long for their next opportunity. 
This time it was one of Espanyol's own homegrown young talents Nico Melamed who would do the hard work down the left before whipping in a great cross towards De Tomas. Jordi Alba's untimely slip ensured his new international teammate had a free header but for the second time in five minutes, De Tomas' effort could only connect with the post rather than the back of the net.
A few nervy moments in Stoppage Time followed for the hosts and the whistle came as a relief to the vast majority inside Camp Nou. Xavi Hernandez had his first win in his first game as coach of FC Barcelona but during the latter stages, Espanyol had created enough clear chances to win the game, let alone draw it.
While Xavi's reaction was typically understated, above anything else the celebrations that greeted what was ultimately a fortuitous home derby win, felt more like a sign of just how far Barcelona have sunk. Once upon a time, home Catalan derbies used to just be a question of how many they would score rather than whether or not they'd win.
Espanyol could leave Camp Nou with their heads held high, but with no points, an all too familiar feeling for anyone connected with the club. They would leave rueing missed chances and also perhaps with some regrets that they left it so long to really throw caution to the wind and ask questions of a jittery Barcelona defence.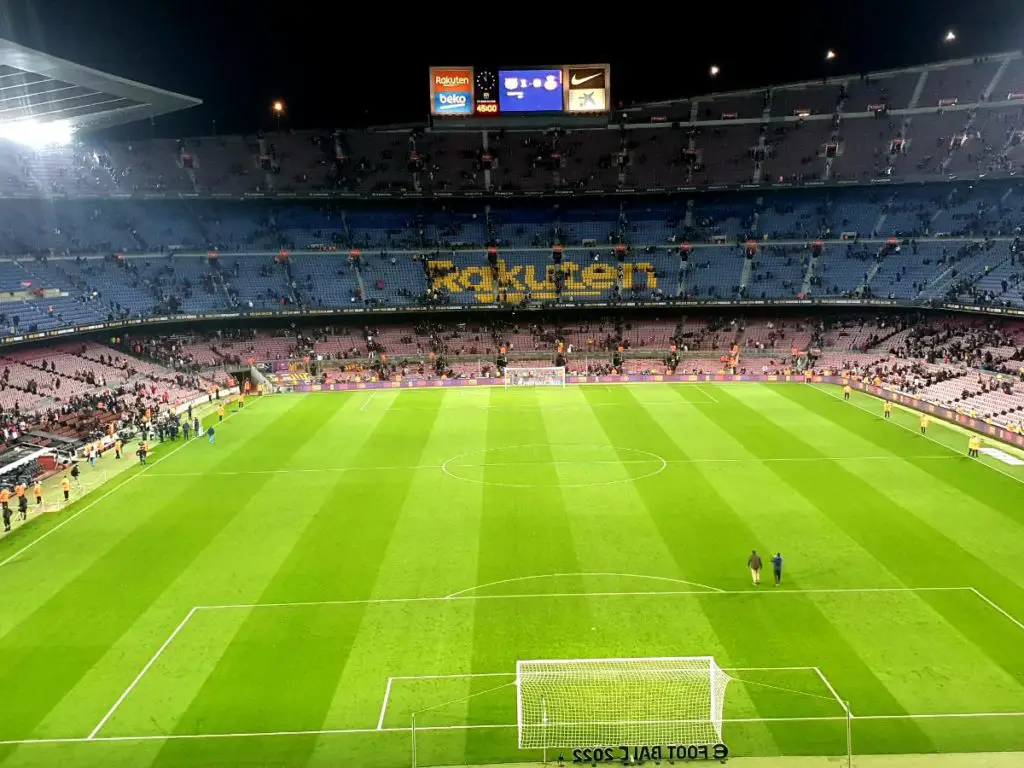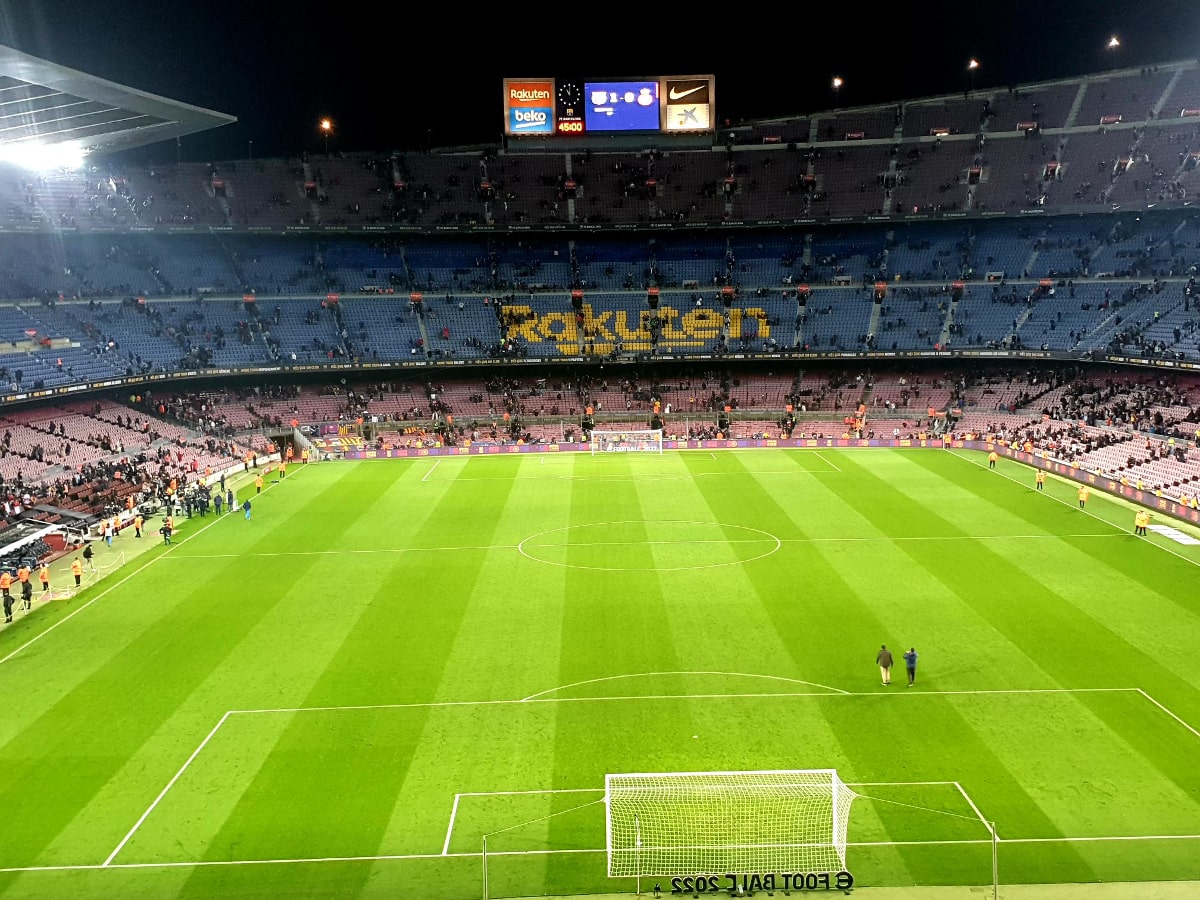 This was a night to savour for Xavi, but also one that highlighted the many challenges that lie ahead. There were positives to take from the game and for much of it tentative signs of progress that can only really be judged over a longer period. However the way things fell apart at the end was very reminiscent of other Barcelona matches this season and the new coach doesn't have long to find the answers with a crucial Champions League game against Benfica to come on Tuesday.
He's hoping to follow in the footsteps of Pep Guardiola and Zinedine Zidane as club legends who have returned as a coach and succeeded at the top level. However as the likes of Solskjær, Lampard and Pirlo will testify, homecomings don't always have a happy ending.
While it may have marked the start of a new era at Camp Nou with a win, Saturday's Barcelona derby was as much as anything a reality check as to just how big a task Xavi has on his hands. Barcelona's long-term project is dependent on short-term results and improvements are needed and fast. This is not going to be an easy job.