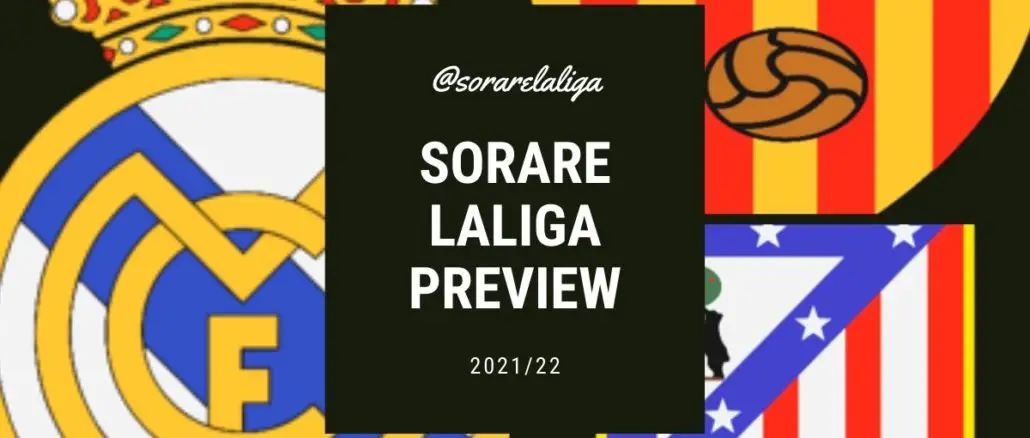 LaLiga returns on Friday night as Valencia, one of the four Spanish clubs currently on Sorare, take part in the first match against Getafe. In this Sorare season preview, we'll look at the LaLiga clubs on the platform, how they might line up in 2021/22 and what cards to look out for. We'll also quickly go around the rest of the league and highlight any other likely starters with Sorare cards.
---
2021/22 Season Preview – LaLiga's Sorare Clubs
---
Fingers crossed, we'll have some good news soon about new Spanish clubs being added on Sorare but for now it's just Real Madrid, Atletico Madrid, Valencia and Real Betis. Here's a look at each of those four teams, starting with the defending champions.
Atletico Madrid
If you caught our LaLiga season preview, you'll know we're pretty bullish about Atleti's chances of defending their title. We're predicting them to edge out Barcelona and Real Madrid and clinch 1st again.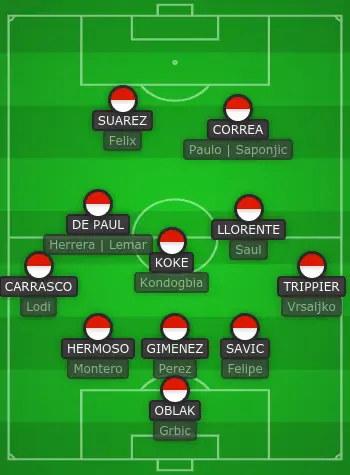 Goalkeeper Situation
Nothing complicated about Atleti's goalkeeper situation. Jan Oblak is arguably the best goalkeeper in the world and if he avoids injuries should start all their LaLiga and Champions League games. He rarely gets injured and has started 37+ league games in 5 of the last 6 seasons, making him a great option in goal if you can afford his card.
Sorare Stars
Despite being champions of Spain, Atleti's players overall don't always score as well on Sorare as dominant teams in other leagues. That's largely down to their tactical approach under Diego Simeone and there were seven teams in LaLiga who had higher average possession stats last term. Their average of 51.8% was the lowest of the teams that qualified for Europe.
That's something to consider if you're looking at new signing Rodrigo de Paul who has posted the highest SO5 scores of any Atleti player over the past season. An L40 average of 62 is seriously good going but even though he's in a stronger team now, it's possible we may see a slight drop-off from his Udinese days. De Paul is still a good option and should be a certain starter in a midfield once things settle down with Marcos Llorente and Koke alongside him, also worth considering.
Atleti tend to mix between 3-5-2 and 4-4-2 which can create a few headaches for Sorare managers but overall José María Giménez is perhaps their best defensive option. However they don't have any defenders or forwards posting consistently high scores so the goalkeeper and the central midfield trio look like your best bets.
Budget Buys
The right-back/right wing-back situation is one to keep an eye on over the next few weeks. Kieran Trippier is the undisputed first choice but has been strongly linked with a Premier League return. Atleti don't want to sell but could be tempted by a large enough offer given the player is over 30. That could create an opening for Santiago Arias or Šime Vrsaljko who are both currently available on Sorare on the cheap.
Saúl is also relatively affordable following a poor season. He could be a decent Sorare option right now with a transfer widely expected this summer and he could flourish if he gets that move to a more attack-minded team.
Real Madrid
Back under the management of Carlo Ancelotti, Real Madrid are the bookies' favourites to win LaLiga, but the Italian has a big job on his hands. He needs to usher in a new era defensively following the departure of the long-standing Ramos-Varane partnership while he'll be seeking to ease the burden on Karim Benzema in attack.
Goalkeeper Situation
A bit like Atleti, the goalkeeper situation is very easy to read. Thibaut Courtois is number one and will play in LaLiga and the Champions League if fit. Andriy Lunin is his back-up and is highly rated but only managed one appearance last season for Los Blancos in the Copa del Rey, warming the bench 51 times in all competitions. He has won 6 caps for Ukraine but ultimately missed out on their Euro 2020 squad meaning he's unlikely to get any international appearances either in this coming season unless he gets more game-time at club level which will only happen if Courtois gets injured.
Sorare Stars
Courtois is one of the best goalkeeping options on Sorare, finishing last season with an L15 average of 57. New arrival David Alaba is likely to be their top scoring defender but it's midfield where most of Real Madrid's Sorare stars can be found.
Toni Kroos is one of the strongest cards on the whole platform, averaging a ridiculous 72 over the last 40 games. He is unlikely to feature until September due to a groin problem though. Even at the age of 35, Luka Modrić is still a certain first choice and a consistent 60+ man on SO5. Those two are your stars but Casemiro also chalks up very good figures for a defensive midfielder.
In attack, Karim Benzema is Real Madrid's only guaranteed starter and can also be relied upon to score around 60 on average.
Budget Buys
As a general rule, Real Madrid players don't come cheap so even some of their more affordable options will be beyond the budgets of many managers. Those that look reasonably good prices right now include full-backs Ferland Mendy and Dani Carvajal. The pair struggled with fitness issues towards the end of last season so don't have great recent averages but should quickly cement themselves as first choice again and we may see the price of both rise in the coming weeks and months.
A lot of Madrid's fringe players are still very expensive despite the lack of game-time. About their cheapest option right now is forward Mariano Díaz with a rare going for around 0.05-0.06 ETH. He is reportedly refusing to leave the club but it seems likely either he or Jovic will leave this summer, even if it's only on loan. Either an injury to Benzema or a transfer to a team where he'd be first choice could see Mariano's value soar so he might just be worth a punt if you're willing to be patient and play the long game. He is a player who netted 18 goals during the 2017/18 season with Lyon in Ligue 1 and in the right environment, Mariano could flourish again as he's still only 28.
Valencia
One of LaLiga's "crisis clubs", things haven't been great at Valencia for a couple of years now with owners cashing in on a host of prized assets last summer and followers of Los Che growing increasingly angry. This season they'll be coached by former Getafe boss José Bordalás and with no significant summer additions, it's largely the same again from a Sorare point of view.
Goalkeeper Situation
The goalkeeper situation at Valencia kept Sorare managers guessing last season with injuries meaning Jasper Cillessen and Jaume Doménech came in and out of the side in between the sticks. Cillessen only started 10 games to Doménech's 28, but the Dutchman ended the season in goal and is generally viewed as first choice. The change in coach leaves that a bit more open heading into the 2021/22 season and just to make matters even more complicated, both Cillessen and Doménech are currently carrying injuries and expected to miss the opening game.
20 year old Georgian keeper Giorgi Mamardashvili (not on Sorare) is expected to start against Getafe. He was only signed to play for the B team so even if he does well, he's unlikely to be a serious contender for the number one role.
It's not beyond the realms of possibility though, that if Mamardashvili does impress, Valencia could look to let either Cillessen or Doménech go to help ease their financial problems and in truth they do look quite well stacked in terms of goalkeepers for what is now only really a mid-table team. One to keep an eye on before the transfer window shuts.
Sorare Stars
While significantly weaker than they were only a couple of years ago when they were in the Champions League, Valencia still have a few players of real quality. Left-back José Gayà is arguably their best player but his SO5 scores aren't that great. Gabriel Paulista though is a really good defensive option, ending last season with an L15 of 60. It's likely to be Gabriel plus one of the other three in central defence this term with Guillamon, Diakhaby and new signing Omar Alderete competing for one place.
Valencia's other standout Sorare star is Carlos Soler. He's their most creative player with an average of 58 over the last 40 games, which is really good in what isn't a particularly strong team. A cautionary note though in that José Bordalás comes in as boss with a reputation for a direct, defensive style of play that some have dubbed "anti-football". That could be bad news for Soler holders on Sorare but in truth Bordalás would be foolish not to try and get his most talented midfielder on the ball.
Budget Buys
Valencia's financial problems are well publicised so it's worth keeping an eye on any developing transfer stories over the coming weeks. They may not be willing to risk the further wrath of the fans by selling popular academy graduates Gayà or Soler. Gabriel Paulista is also a player they surely can't afford to lose but offers for just about anyone else are likely to be considered.
For example we may see them cash in on someone like Goncalo Guedes or Maxi Gomez if a Premier League club came calling with a big offer. That could see somebody like back-up forward Manu Vallejo (0.06-0.07 for a rare) suddenly thrust into a starting role.
Denis Cheryshev (approx 0.03 for a rare) also looks very cheap for somebody who should be first choice on the left flank. Daniel Wass's extreme versatility means he's another who should play most weeks and you can pick up a rare for around 0.05. First-choice right-back Thierry Correia also looks pretty good value at under 0.1 given he is only 22 and will be eligible for the U23 tournaments for two more seasons.
Real Betis
Real Betis are a bit of a strange case on Sorare in that there are actually more Super Rare than Rare cards which doesn't make a great deal of sense. They have some good players though and with European football this season, it might be worth trying to get your hands on some Betis cards although you may need to reach out to managers due to the lack of supply.
Goalkeeper Situation
Betis haven't been busy this summer but perhaps the best piece of business they've done is taking Granada's number one Rui Silva on a free transfer. He looks set to be their starting keeper in the league. Both Joel Robles and Claudio Bravo do remain at the club though and unless one of them departs this month, they may end up fighting it out to be Betis' European keeper with the Europa League group stage starting in September.
Sorare Stars
After a couple of key departures, Betis look like they may be a bit shaky defensively this season which is something to bear in mind and their best players can all be found at the other end of the pitch.
Sergio Canales is often their biggest threat and boasts an impressive L40 average of 57. Operating either off the wing or as an attacking midfielder, he's one of the most creative players in LaLiga and a good card to hold if you can get your hands on one. Nabil Fekir is a little more inconsistent but also chalks up good numbers in SO5 and playing on the bigger European stage may just suit him.
Up front, after a difficult 18 months in the green and white half of Seville, Borja Iglesias finally came good in the second half of last season. He notched up 11 LaLiga goals in the end, still 6 shy of what he managed for Espanyol in 2018/19. He looks to have won the battle with Loren Moron to be Manuel Pellegrini's first choice striker and should start most games this season with Loren rotating in from time to time.
Budget Buys
With only 106 Rare cards in total in circulation, finding a Betis card won't be easy unless you are operating at D3 or above and can afford the slightly easier to find Super Rares. The only player with more than 4 rares is Juan Miranda who may be the starting left-back. He's young but his scores don't really justify his pricetag right now.
The lack of cards means it's hard to get much price data but Betis' European involvement means some of their fringe players should get more game-time this term and there could be some value there. Midfielder Víctor Camarasa could be one capable of stepping up if he can get fully fit again after a difficult few years with injuries.
Loren Morón may also be one worth considering. A Loren Super Rare sold for just 0.148 at auction last month. His SO5 scores have not been good at all of late with only 1 league goal from 9 starts last season but he's a better player than that having reached double figures for league goals the previous year. He ought to still see plenty of game-time and may be a useful card to hold during European weeks when Pellegrini could opt to rotate his strikers.
---
2021/22 Sorare Season Preview – Players at other LaLiga Clubs
---
Other players with Sorare cards that look like they may be starters for their clubs in LaLiga 2021/22:
Memphis Depay, Barcelona
Antoine Griezmann, Barcelona
Marcos Acuña, Sevilla
Jules Koundé, Sevilla
Dani Parejo, Villarreal
Alfonso Pedraza, Villarreal
Joseph Aidoo, Celta Vigo
Raul De Tomas, Espanyol (only 1 Rare)
Carles Aleñá, Getafe (only 1 Rare)
Vitolo, Getafe
Jaume Costa, Mallorca
Lucas Perez, Alaves
The above players all have cards from stints at previous clubs. There's not exactly a huge amount to choose from but Barcelona duo Antoine Griezmann and Memphis Depay are sure to be good options if you can afford them. Even without Messi, Barça should be strong enough to compete with the Madrid clubs and his departure will most likely benefit Griezmann in that he can now operate as more of a number 10.
Depay meanwhile comes with a stunning L15 average of 78, second only to Neymar on Sorare at the time of writing. He may struggle to maintain those kinds of levels in a new team and new league but should still make a big impact in his first season in LaLiga.
The other standout name is Sevilla's extremely talented defender Jules Kounde. The Frenchman has been strongly linked with Chelsea this summer though so it remains to be seen if he is still a Sevilla player in a couple of weeks or so.
Dani Parejo is also a really consistent SO5 performer. He averages 61 for the L40 with a 100% appearance record during that period but Champions League rather than Europa League football this year could see that fall to the high 50's.
In terms of budget options, Vitolo stands out at around 0.05-0.06 for a rare. He never really delivered for Atletico Madrid on a consistent basis but is well capable of establishing himself in the Getafe team and getting his career back on track. Lucas Perez is also a good price for a likely starting striker while Raul De Tomas would be a good option and should score 10+ goals for newly promoted Espanyol but sadly there is just the one R.D.T. in circulation.
---
This post includes some affiliate links to Sorare. SO5 average scores come from soraredata. If you've any questions, get in touch on twitter: @sorarelaliga.