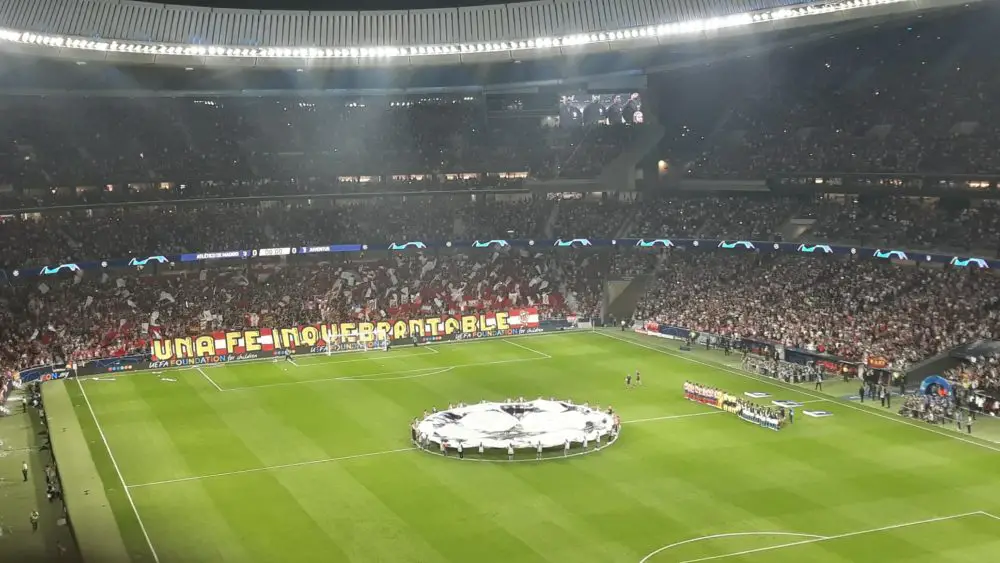 It has been an extraordinary week of European football in the Spanish capital and one that has very much divided opinion amongst the wider football community.
Those that have closely watched and appreciate what Atlético Madrid and Getafe do, have mostly lauded praise on Diego Simeone and José Bordalás for masterminding game-plans that almost completely blunted the attacks of two of Europe's freest scoring teams.
Others, most likely of an Ajax or Liverpool persuasion or merely those obsessed with the modern notion of how the game 'should be played', have been quick to scream anti-football. It is a game of opinions after all, and never have they been more extreme than they are now in the age of social media and particularly twitter.
This isn't "anti-football". There's no such thing. It's funny that this is still a thing in 2020.

This is a highly disciplined team staying compact/keeping their shape to suffocate an opponent. "Anti-football" but they outcreated Liverpool, had actual shots on target & won? https://t.co/GFgsbASvjl

— Nèri (@Cerebrone) February 19, 2020
A Free-scoring Era
The performances of Atlético Madrid and Getafe this week would have barely even raised an eyebrow had they been produced by an Italian club on a big European night at some point between the start of the 1980's and end of the 2000's. The sense of moral outrage at the tactics of Atleti and Getafe, is partly conditioned by the football times we are living through.
The European Cup is now in its 65th season. Not since the 1950's and 60's has it been quite as expansive and free-scoring as it is in this present era where attacking football is king and being aesthetically pleasing has seemingly gained greater importance amongst fanbases, and at times even in boardrooms.
The 2017/18 Champions League produced an average of 3.21 goals per game, the highest figure in over 40 years. This season's competition is almost mirroring that with 3.18 goals per game scored so far across the 100 matches to date (96 group games and 4 knockout stage matches).
Even Italian football has largely shunned its defensive reputation with Serie A now second to only the Bundesliga in terms of goals per game in Europe's big five leagues. Free-scoring teams such as Atalanta, who sliced through an excessively open Valencia side on Wednesday, are successfully breaking the stereotype.
Diego Simeone – Still Defying the Times
In Spain though, two coaches are defying the times and proving that you don't need to follow the Guardiola/Klopp mould to be successful in the modern era.
In truth, Diego Simeone has been doing just that for close to a decade now but never in his tenure as Atlético Madrid boss has his position been under greater scrutiny than it was heading into this week's Champions League clash with Liverpool.
While injuries have hampered Atleti's season, even with everyone fit Simeone has struggled to get his team ticking. They headed into their clash with the Premier League's runaway leaders having won just once in seven matches in all competitions. Liverpool by contrast had taken 103 points from a possible 105 in the most extraordinary run of results the so-called 'best league in the world' has ever seen.
Even the most die-hard of Atleti fans had little reason to believe heading into the tie. This was largely seen as an Atlético Madrid side that no longer played in the spirit of its coach and with just two players remaining from the squad that contested the 2014 Champions League Final in Lisbon, many doubted whether those magical European nights in the red and white half of Madrid were going to be quickly consigned to the history books.
Saúl Ñiguez has now scored 10 Champions League goals in his career, every single one has been the opening goal of the game.

Saúl. Scores. First. pic.twitter.com/2LD5vsbeAW

— Squawka Football (@Squawka) February 18, 2020
Step forward Saúl Ñíguez, who has lit up many a Champions League night in the past, to raise the roof off the Wanda Metropolitano with an early goal. In theory, that set things up perfectly for Atlético Madrid – the masters in the art of defending a 1-0 lead. Only this season, they have often failed to do even that.
On Tuesday night however, it was as if Atleti started playing like Atleti again. Whether it was the amazing backing they received both before and during the game or Simeone's uncanny ability to get it right in the big games in the biggest competition of all, something clicked. Atleti's familiar two lines of four successfully stifled the defending champions into submission.
Atlético Madrid won 1-0 to put themselves in a strong position heading into what will still be a very challenging 2nd Leg at Anfield. Most striking of all was that it didn't even really feel like they had to hang on to get that result. At times, they made the best team in Europe look distinctly ordinary.
Ajax Outfoxed, Outthought & Outfought by brilliant Getafe
Two days later and just 20km or so to the south, another of European football's biggest names was humbled in the Spanish capital and in a not dissimilar fashion.
While it's no longer exactly a miracle to see Atlético Madrid being competitive in the knockout stages of European competitions, illustrious visitors to the Coliseum Alfonso Pérez are something of a rarity. Indeed it would have been almost inconceivable to imagine that Getafe would now be in a position to outfox a team of Ajax's quality, when José Bordalás took over with the club 21st in the Segunda División only three and a half years ago.
Bordalás, who has been somewhat unfairly dubbed the 'budget Simeone' in some quarters, has masterminded a remarkable rise to the point where Getafe now have two very plausible paths into next season's Champions League. Not only are they currently 3rd in La Liga, despite operating on a lower budget than bottom club Espanyol, the manner in which they dispatched a very talented Ajax team on Thursday night suggests they have nothing to fear from anyone they could come up against in the Europa League.
Getafe showed up a host of giant clubs who have been humbled by Ajax over the past couple of years in European competitions. The Dutch outfit, who were seconds away from reaching the Champions League Final last season, remain a team that at times looks capable of scoring goals for fun. They scored four at Stamford Bridge and three in Valencia during a UCL group stage that they were unfortunate not to progress from.
They even famously scored four on their last visit to Madrid when they humiliated Real at the Bernabéu around this time last year. Last night though, at the considerably more humble surroundings of the Coliseum Alfonso Pérez, they were completely out-fought and out-thought by a hungry and at times ferocious Getafe side.
Ajax, who have scored 96 goals already this season in all competitions, registered just two shots in the entire match. Neither troubled David Soria in the Getafe goal. They succumbed to strikes from Deyverson and Kenedy and they will need to come up with a vastly different gameplan if they are to stand any chance of turning this tie around next week.
42:36 – The ball was in play for just 42 minutes & 36 seconds during Getafe – Ajax, the second-shortest amount of time in a Europa League game (since 2009). Patience. pic.twitter.com/FjQSNT71h5

— OptaJohan (@OptaJohan) February 20, 2020
For all Ajax may protest (and protest they certainly did!) at what might be described as the dark arts that Getafe unquestionably do employ, they are not going to be any nicer to play against when the sides meet again in Amsterdam.
What they do may not be 'total football' and it may not please the Cruyffistas but it is still football and at times some of it is far higher in quality than any of their detractors are willing to admit. They were too good for Ajax last night in virtually every department and Erik ten Hag's side might want to be grateful that the ball was only in play for less than 45 minutes, otherwise they might well have lost by more.
What we have witnessed this week is two of Spanish football's sharpest minds putting together perfect gameplans that successfully knocked two of Europe's most acclaimed teams off their respective perches. Liverpool and Ajax mustered up a combined total of 0 shots on target across the two games in a week that defied the current trends of elite level European football and proved that defensive brilliance is not a dying art and can still be used to great success in the modern game.
---
by Mark Sochon – @marksoc1
---