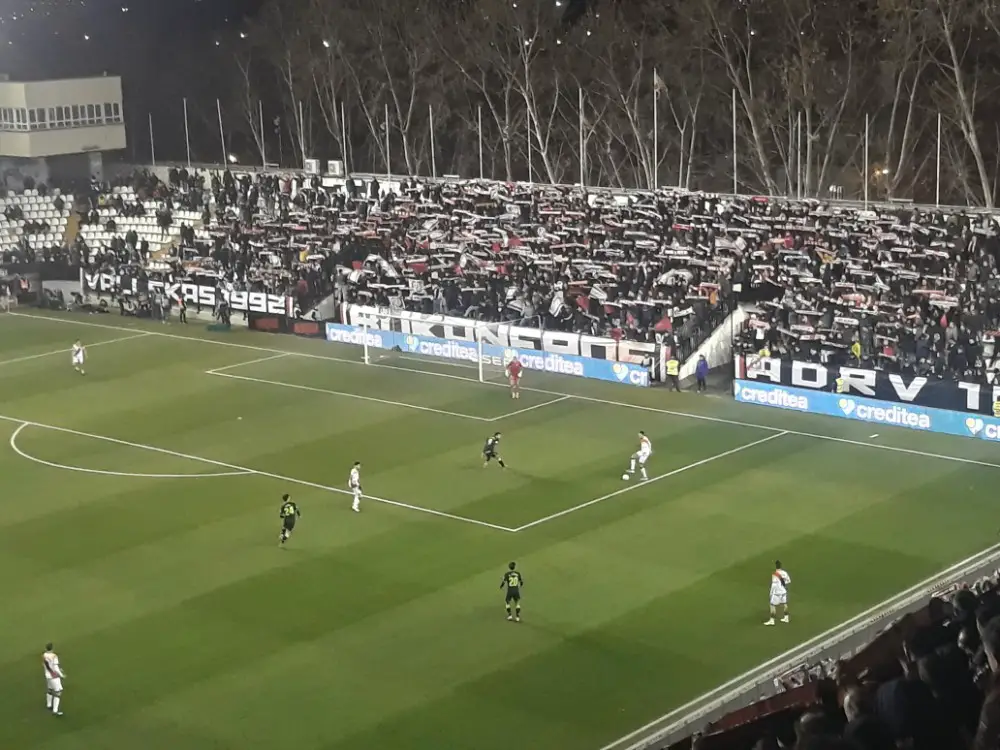 The Spanish capital has been described as the 'football capital of Europe' in recent years and there's certainly something to that. The 2014 Champions League Final was the first contested by two sides from the same city as Real Madrid and Atleti met in Lisbon. Two years later there was a repeat in Milan. The 2010's was also a good decade for a host of other clubs in or on the fringes of the Spanish capital with a record five Madrid clubs appearing in the 2018/19 La Liga season. Therefore it is the perfect destination for a football trip with loads of clubs packed into a relatively small area and in this Madrid football travel guide, we will aim to give you the lowdown on the game right across Spain's largest metropolitan area.
---
The Madrid Football Map
The locations of all the Madrid clubs in Spain's top three divisions (as of 2019/20) are listed above, excluding B teams. Real Madrid, Atletico Madrid and Rayo Vallecano are in the city proper, although Atleti are now out not far from the airport following their 2017 move from the Vicente Calderon to the Wanda Metropolitano.
You can also see a cluster of four clubs to the southwest of Madrid in the commuter belt that includes the towns of Getafe, Fuenlabrada, Alcorcon and Leganes, all of which are currently represented by either Primera or Segunda teams.
There are also a few smaller Segunda B teams that are found to the north and west of the city.
---
Madrid Football Travel – The Clubs
The Big Two
Real Madrid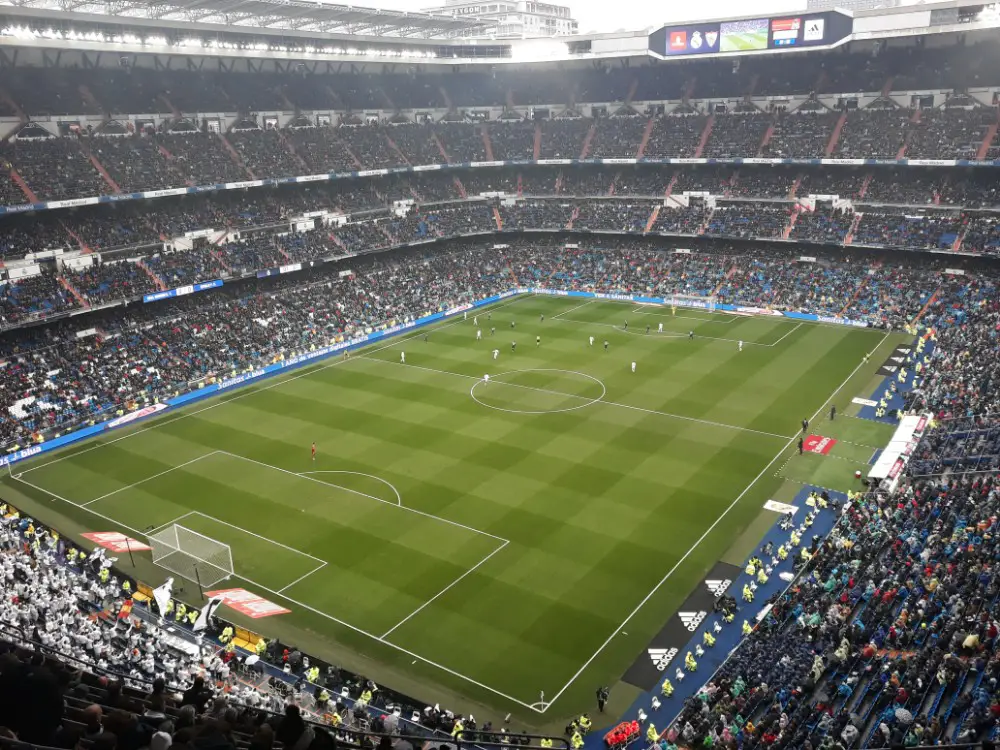 Stadium – Santiago Bernabéu
Capacity – 81,000
Nearest Metro Station – Santiago Bernabéu
For any football visitor to Madrid, a trip to the Bernabéu is still likely to be at the top of the to-do list despite the recent rise of their very noisy neighbours. This after all, is arguably the biggest football club in the world and they are way out on their own as the most successful team in the history of the European Cup/Champions League with 13 titles.
Their home is found in an affluent northern area of Madrid and is easily reached from the centre. The Bernabéu has its own metro station and lies right on one of the city's main thoroughfares – the famous Paseo de la Castellana.
How to buy tickets for Real Madrid matches:
Tickets are easily bought online via the ticketing section of the official website. You can find release dates for all the upcoming matches and once bought, you simply need to download the mobile-friendly version of the ticket to your phone and show it at the gate. Note that some tickets are released later on when members decide not to take their place for certain games so keep checking for the bigger matches if you don't have any initial luck finding spare seats. For lesser games, it should be simple to buy tickets with prices generally starting at 35 or 40 Euros for regular league fixtures. You can also buy them at the stadium on the day of the match when it is not a sell-out (it rarely is unless it's the Clásico or a big Champions League game).
You may also wish to do a stadium tour which costs from €18 for children and €25 for adults. Some sections (such as the dressing rooms) may be off-limits on or the day before matches though.
Atlético Madrid
Stadium – Wanda Metropolitano
Capacity – 68,500
Nearest Metro Station – Estadio Metropolitano
Atlético Madrid emerged in the 2010's as a genuine European superpower under the guidance of Diego Simeone. It was a decade in which they won every major competition they competed in besides the Champions League, despite two agonising near misses. They also moved from their historic old home on the banks of the Manzanares to a shiny new stadium on the outskirts of the city but so far have done a pretty good job of recreating that special Vicente Calderon atmosphere at their new ground.
How to buy tickets for Atlético Madrid matches:
Given the stadium can take up to an hour to reach from the centre of Madrid, you're better off buying tickets online via the official Atleti website to avoid a wasted journey, not to mention a long queue. Note that unlike Real Madrid, there is not currently a mobile ticketing option so officially you are required to print your tickets out.
Ticket prices are typically marginally cheaper than those at the Bernabéu with prices starting in the region of €30-40 for league games and more for Champions League matches or league games against Barcelona or Real Madrid. They do also sometimes run promos for certain games when tickets can be slashed to as low as €15-20.
Stadium tours cost €12 for children and €19 for adults. The Wanda Metropolitano is great but it was only completed in 2017 so doesn't have quite the same level of history or stories when compared to the Bernabéu. It's also located in a fairly uninspiring part of Madrid. At the time of writing, Atleti's former ground – the Estadio Vicente Calderón is still being demolished but the area around it on the banks of the Río Manzanares is worth a visit to get a feel for the heart and soul of this club.
The Hipster's Choice
Rayo Vallecano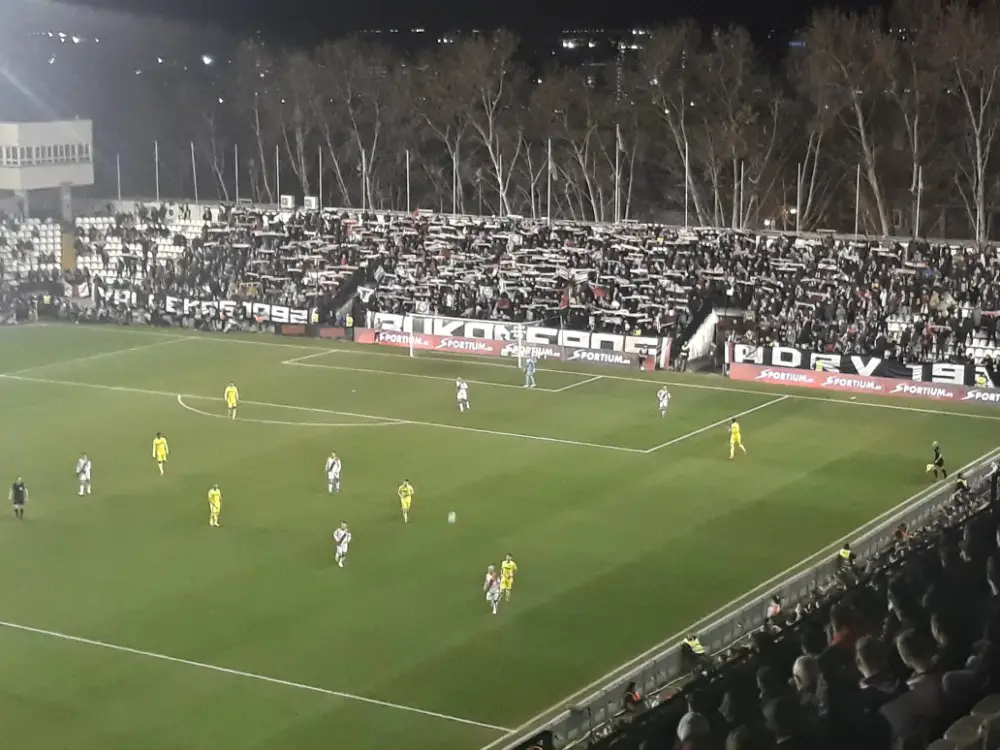 Stadium – Estadio de Vallecas
Capacity – 14,700
Nearest Metro Station – Portazgo
Rayo are certainly the hipster's choice in Madrid and perhaps all of Spain. Their Ultras are fiercely left-wing and they pride themselves on their anti-racism, anti-homophobia stances. They are something of a yo-yo club between the Primera and Segunda divisions and their stadium is certainly one of the quirkiest to have graced the top flight.
At one end, there is nothing but a wall and a couple of tall apartment blocks, the balconies of which fill up whenever there's a big game on with residents effectively getting a free season ticket. At the other end, the small Fondo is where the Rayo Ultras gather and it's where the cheapest seats are to be found, although it's rare that much sitting is done with a good atmosphere pretty much guaranteed. It's easy to reach with Portazgo Metro Station literally on the doorstep of the stadium, in the working class barrio of Vallecas.
How to buy tickets for Rayo Vallecano matches:
Tickets for Rayo matches currently usually cost €20 for the exposed Fondo (behind the goal) or from €25 for one of the two main stands on either side of the pitch. This is likely to increase should they return to the top flight. They usually go on sale about a week before each game with pricing details published in the main section of their website around the same time (Spanish only).
You cannot buy tickets online but in the Segunda at least and with the club's president currently very unpopular, matches rarely sell out and you can just buy tickets on the day of the game with the ticket office usually open from at least two hours before kick-off. For bigger matches, it may be worth heading down to the stadium in advance but do check what times the ticket office is open (look for Horario de Taquillas).
The South Madrid clubs
Getafe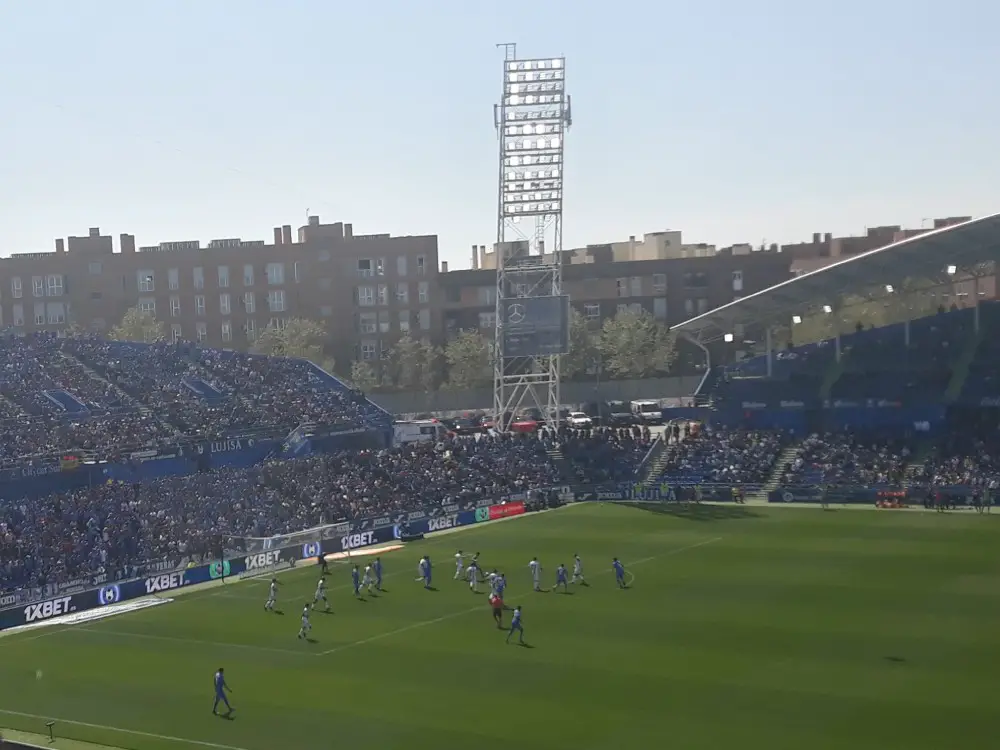 Stadium – Coliseum Alfonso Pérez
Capacity – 17,700
Nearest Metro Station – Los Espartales*
*It is usually quicker to take a Cercanías train to El Casar or Las Margaritas Universidad.
Few teams in Europe have enjoyed a more rapid rise than Getafe over the past few years. They were just one place off the bottom of the Segunda División when José Bordalás took over in September 2016. Since then they have risen to become genuine top four contenders in La Liga utilising a combative style that has rubbed many bigger names up the wrong way. They have made it into Europe and defeated a talented Ajax team in the Europa League just prior to the suspension of football due to the outbreak of coronavirus.
Like most of the South Madrid teams, they are based in an unremarkable commuter town which experienced rapid population growth during the latter half of the 20th Century. It has taken time for the club, which was re-founded in 1983, to really kick on but they had already established themselves as the most successful of the South Madrid clubs, even before their recent rise under Bordalás.
How to buy tickets for Getafe matches:
Tickets for Getafe matches start at €35 even for the least glamorous games and the club does a pretty poor job of promoting themselves to the extent that you wonder if they even want people to come to their games. With a really strong team to support, crowds are up at the Coliseum Alfonso Pérez but sell-outs are still very rare. Unless it's Barcelona or Real Madrid visiting, you should be able to buy a ticket at the gate or online in advance but there can sometimes be problems at the gate with tickets bought online so get there early in case of problems.
Leganés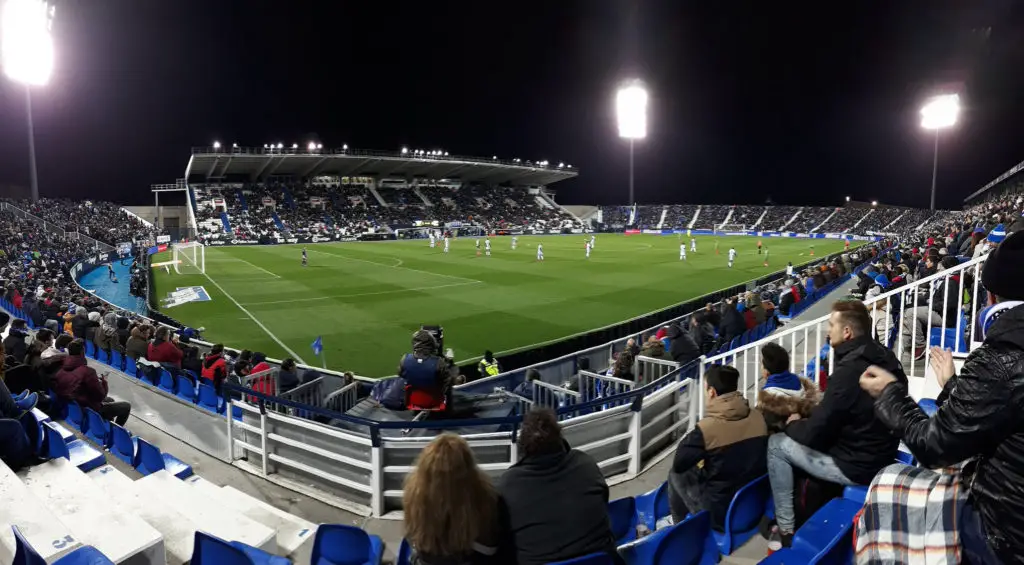 Stadium – Butarque
Capacity – 12,450
Nearest Metro Station – Julián Besteiro*
*It is usually quicker to take a Cercanías train to Zarzaquemada.
Just three miles to the west of Getafe's Coliseum Alfonso Pérez, you will find Leganés' Estadio Municipal de Butarque. The duo contest what has risen to be the biggest South Madrid derby, a fixture that has graced the top flight stage in recent years after Leganés reached the top flight for the first time in 2016.
Like their neighbours, Lega also have a reputation for direct football but they've successfully managed to turn their small ground into a place that few visiting teams relish coming to. The South Madrid minnows have managed to pull off some famous upsets since reaching the top tier, including a 2-1 win over Barcelona early in the 2018/19 season.
How to buy tickets for Leganés matches:
Leganés are a friendlier and more open club than Getafe and one that does seem keen to accommodate visitors from abroad and draw in new fans. In theory you can buy tickets online although there are often problems with foreign debit and credit cards. Your best bet may be to buy tickets on matchday. They can be purchased inside the small club shop under the biggest of the stands. They tend to offer some of the most affordable tickets in La Liga with prices starting at €20 for most fixtures against mid-table bottom half teams. You may struggle to get a ticket for Barcelona or Real Madrid on the day though with the stadium only holding 12,450.
The Other South Madrid clubs
There are five commuter towns to the south of Madrid and they are all connected by Line 12 of the Madrid metro. While Mostoles doesn't currently have a team in the top three divisions, all of the other towns currently have clubs that are flourishing. Aside from Geta and Lega (featured above), Alcorcón and Fuenlabrada are also currently enjoying relatively successful periods with both clubs plying their trade in the Segunda Division as of 2019/20, giving groundhoppers in Madrid plenty of options in terms of football on the southern fringes of the capital.
Alcorcón and Fuenlabrada both have tiny stadiums (capacities around 5,000-6,000) which can make getting tickets marginally trickier but it shouldn't be impossible to get one unless it is a big play-off game or something of that ilk. Alcorcón play at the Estadio Municipal de Santo Domingo while Fuenla's home is the Estadio Fernando Torres named after the legendary Spanish striker who was born in Fuenlabrada but never played for the club.
The Best of the Rest
In addition to the clubs already mentioned, Madrid is well represented in the Segunda B. Internacional, Rayo Majadahonda, San Sebastián de los Reyes and Las Rozas play in Group 1 of that league and are based in small towns and villages just to the north or west of the city.
If you're really desperate to squeeze in another game, you might also want to check out the fixtures for the B teams of Real Madrid, Atletico and Getafe. All three also currently play in Group 1 of the Segunda B. Real Madrid Castilla play at the Alfredo Di Stéfano Stadium (Valdebebas Cercanias Station). Tickets for their games are officially reserved for Real Madrid members but you may be allowed in at kick-off time if you just show up at the gate.
---
Groundhopping in Madrid – Getting Around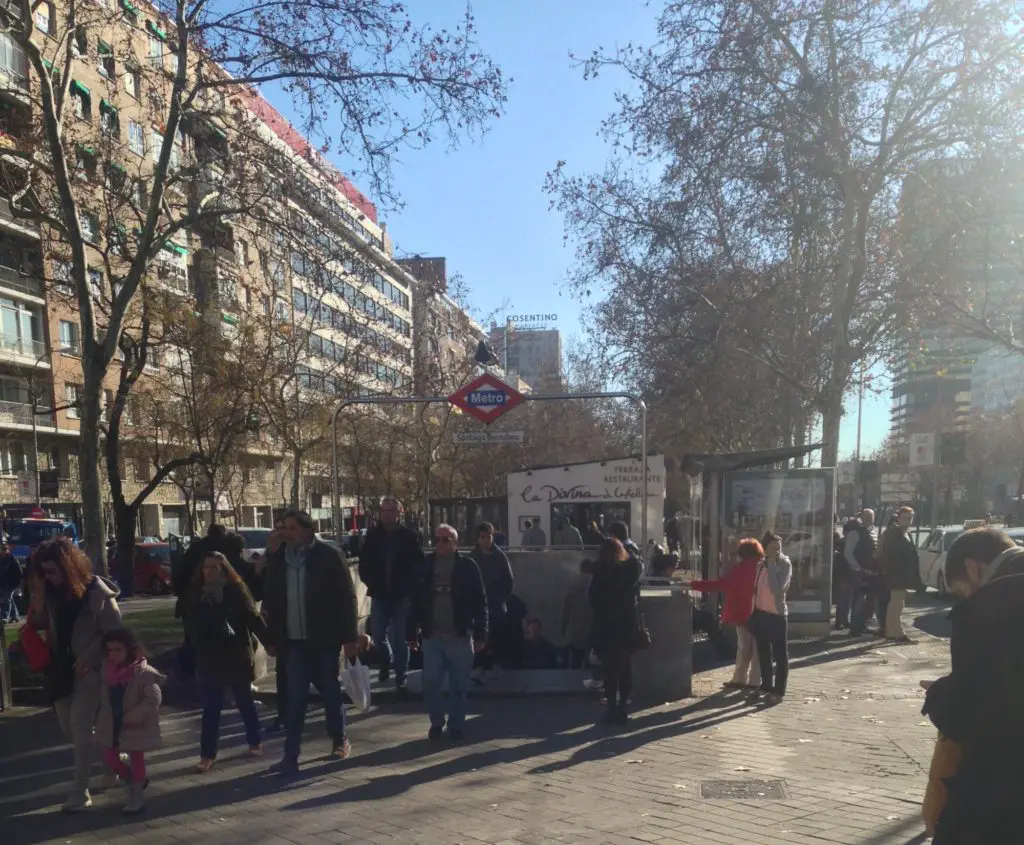 The three clubs in the city itself (Real, Atleti & Rayo) can be reached by the Madrid metro via the stations listed above. You can buy the multi-card from any metro machine (€2.50) and can then load on tickets. A single ticket costs from €1.50 but you may find it better to buy the 10-trip option (€12.20) which is eligible for use on the Metro, TFM, Metro Ligero 1, Metro Ligero Oeste as well as city buses. This should be fine for seeing the city and getting to Atleti, Real Madrid or Rayo matches.
To reach the South Madrid clubs, it's generally quicker to take the Cercanias which is a suburban rail network connecting Madrid to nearby towns and outer districts. The stations of Sol and Atocha in the centre of Madrid are well connected. The nearest Cercanias stations to the South Madrid football clubs are as follows:
Getafe: El Casar or Las Margaritas Universidad (15 minute walk to stadium)
Leganes: Zarzaquemada (15-20 minute walk to stadium)
Alcorcon: Las Retamas (5 minute walk to stadium)
Buy single or return tickets in each case from any of the Cercanias (RENFE) machines – these are different from the Metro machines.
Fuenlabrada's Estadio Fernando Torres is a little harder to reach. The closest metro stations are Hospital de Fuenlabrada and Loranca but a bus from Madrid is typically quicker. In both cases, your €12.20 10-trip ticket will not be eligible as it is outside of the city limits so again buy individual tickets for these journeys.
For the smaller clubs, buses are your best bet for getting to the stadiums of Internacional and Rayo Majadahonda. Principe Pio is the main bus terminal in central Madrid with loads of connections to the nearby towns and villages.
Take the cercanias to Pinad de Las Rozas for Las Rozas games. San Sebastián de los Reyes can be reached by taking the metro to Reyes Católicos while Alcobendas-San Sebastián de los Reyes cercanias station is a 25 minute walk away from the ground.
---
Away from the Football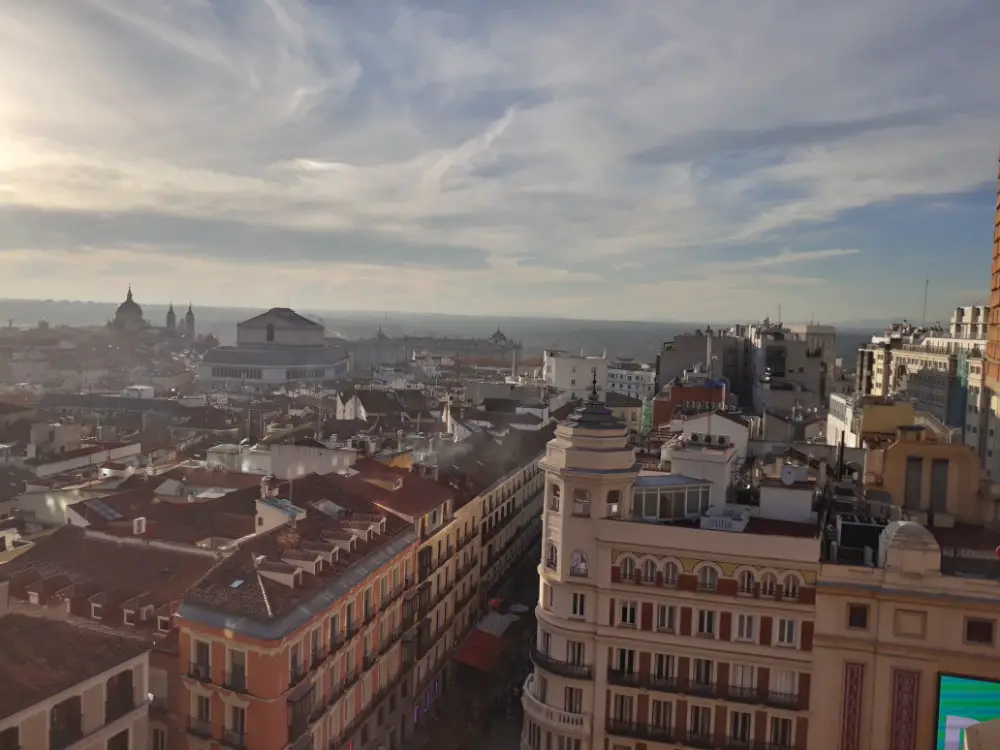 Madrid has an enormous amount to see and do away from the football. While it is a capital, it still retains a friendly vibe and most things to see are reachable on foot if you are based centrally.
Highlights include the glorious Parque Retiro, built around a large lake and one of the biggest leisure areas for Madrileños. Nearby to the park, there are several world class museums and galleries including the Reina Sofia and El Prado.
Madrid is also a city of many famous squares. Puerta del Sol is very much the centre-point in the city and it's useful to have this in mind for getting your bearings. Nearby is Plaza Mayor, possibly the most attractive square in all of Spain but expect to pay tourist prices if you eat and drink in any of its restaurants and bars. Plaza de España is less attractive but has played a big role in the recent history of the city.
If you want to get away from the more touristy parts and experience the city like a Madrileño, head to Malasaña. This district immediately to the north of the centre is full of small independent bars, restaurants, shops and little plazas. If you come to Madrid at the weekend, head to Calle de la Palma and the adjacent streets (Tribunal Metro) for a night out away from the over-priced bars and clubs near Puerta del Sol.
This is only really scratching the surface when it comes to things to do in Madrid. Other options include a trip on the Teleferico which will offer you great views of the city from the enormous Casa de Campo. If you come in the scorching hot summer, cool down at one of the city's many outdoor pools.
---
This post was published in February 2020.
If you have any questions about visiting Madrid for football reasons, feel free to get in touch.
---