Saturday was derby day in the south of Madrid. For just the fourth time, Getafe and Leganés clashed in the top flight with the latter looking for their first ever Primera Division victory over their closest rivals. LLE went along to check out the realities of the South Madrid derby and tried to gauge how it matches up to some of the biggest local dust-ups in Spain.
In purely geographical terms, the Derbi del sur de Madrid has every reason to be viewed amongst the biggest in Spain. Just three miles separate the clubs in neighbouring towns on the fringes of the Spanish capital. The distance between Butarque and the Coliseum Alfonso Pérez is less than that separating the big two in Madrid, even before Atléti's move to the distant outskirts of the city. Only in Valencia and Seville will you find closer top flight neighbours.
Unquestionably though, the fixture doesn't quite hold the same prestige or history as some of the others. Although growing, Leganés and Getafe are both still in essence small clubs with similar problems in terms of generating a fanbase whilst living in the shadows of two European giants. Both towns were little more than villages until the onset of rapid population growth sparked by migration in the latter half of the 20th Century, by which time Spanish football already had a pretty established pecking order.
It was a derby that hadn't even taken place in a level as high as the Segunda Division until the 1990's. The sides then went thirteen years without playing one another between 2004 and 2017 which added to the intrigue when the fixture finally graced the top flight for the first time in September 2017, a 2-1 win for Getafe at Butarque in a match dubbed el derbi historico.
A couple of draws later and Leganés made the short trip to the Coliseum on Saturday hoping to win their first South Madrid derby in 16 years. However they did so, knowing the odds would be stacked against them with Getafe sitting pretty in 4th place having won nine of their last ten at home to aid an unlikely bid for Champions League football.
Derby day commenced with the Leganés team bus heading off for the Coliseum on the morning of the game, making their way through plumes of blue and white smoke as a few hundred Leganés fans lined the streets to give the team a noisy send-off. It was a large amount of passion but on a far smaller scale in comparison to other rivalries and that was in many respects a sign of things to come.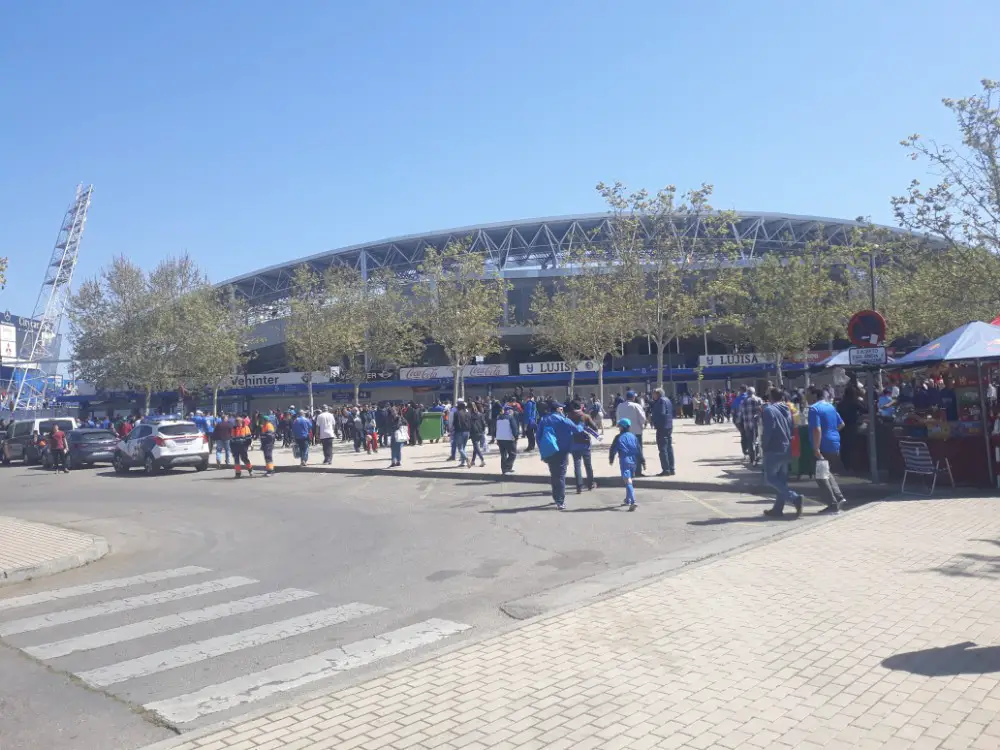 A few miles east in a northern part of Getafe, home fans were making a familiar journey to their team's home, although with a few more butterflies in the stomach than normal. The Coliseum Alfonso Pérez is surrounded by oddly named streets from Avenida Teresa de Calcuta to Calle Helen Keller, none of which appear to have much to do with the relatively unremarkable town of Getafe and certainly not its football club. On non-match-days they form part of a sleepy suburb that feels a fraction more modern than the town centre but lacks much of a buzz.
Today though, there was a palpable energy to the handful of bars and cafes in the neighbourhood as Getafe supporters basked in the sunshine and enjoyed of a few pre-game brunch-time beers ahead of the 13:00 kick-off.
Like the players, the Leganés fans seemed to have already arrived and despite the presence of several police vans and a few lines of officers who looked geared up for a riot, there wasn't a particularly nasty atmosphere as fans bought bags of nuts, pringles and soft drinks before queuing to get into the Coliseum, on the only side of the stadium with any turnstiles.
Getafe as a club don't have a reputation for being particularly fan-friendly or bothered about providing a great match-day experience. Match tickets again started at 35 Euros for the fixture, not because it was a derby but just because that's their established going rate.
The process of trying to get into the stadium on Saturday (for LLE & seemingly one or two others) involved being directed to two separate turnstiles, each with lengthy queues, and then two separate ticket offices because the barcode on the tickets purchased online did not work. It essentially took 25 minutes to just get into the ground, primarily thanks to another example of the shoddy organisation that Spanish football is somewhat infamous for. If La Liga is genuinely serious about establishing itself as the best in the world, it needs to get the basics right first.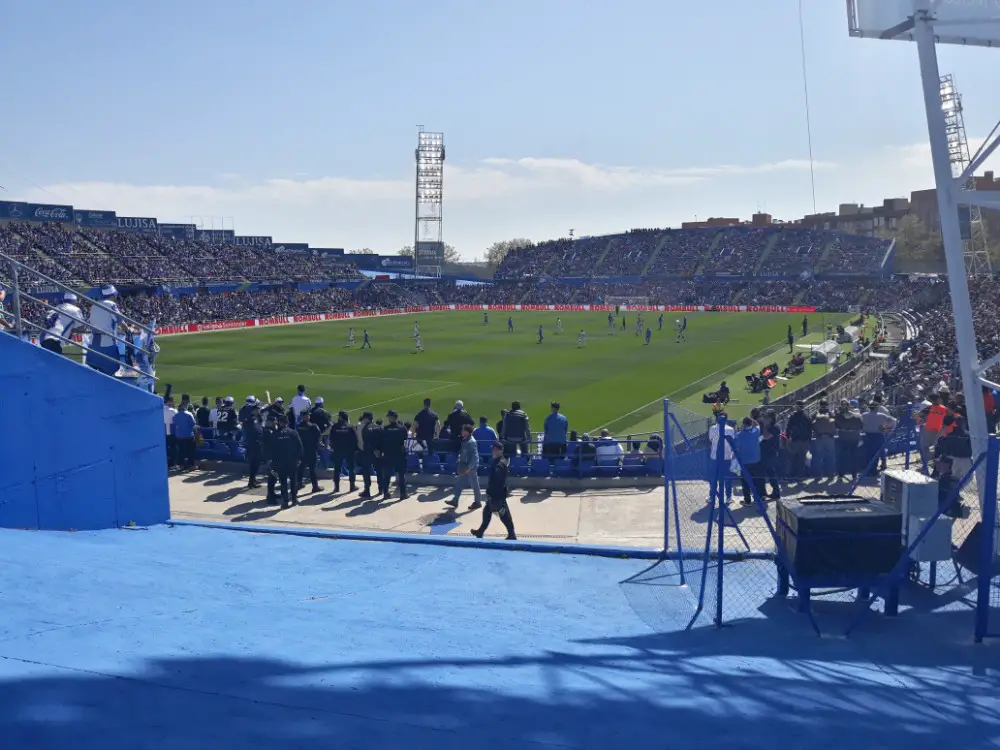 The game was already ten minutes old by this point. No goals had been scored but there was a real atmosphere building and to be fair, the often maligned Coliseum Alfonso Pérez looked a picture, bathed in sunshine and for the most-part full.
It's a ground with some unique qualities. Opened in 1998, it could loosely be dubbed a 'modern football stadium' but it doesn't feel much like one and that if anything adds to its charm. With only one side of the ground accessible from the outside, fans must follow a gravel track which encircles part of the stadium to reach two of the stands. From it, there is actually a really good view of the action on the pitch and those inclined can simply stand anywhere on the track or perch themselves on the walls that run adjacent to the top of the stands rather than take their seat.
Holding only around 17,000, at no point are you too far from the pitch and the lack of jobsworth stewards ushering people to their correct seats was a refreshing twist even when compared to Butarque, let alone the big Madrid stadiums.
There was a small club but big game feel to the whole affair as the sides pressed for an early breakthrough. Jaime Mata, fresh from his Spain debut, blazed over for Getafe on 14 minutes but it would be the visitors who would have the first big opening of the game.
Leganés' 20 year old Real Madrid loanee Óscar Rodríguez unleashed a stinging drive from the edge of the box that was only diverted from its goalbound path by the outstretched arm of Getafe midfielder Nemanja Maksimović. The home fans could have few complaints as the penalty was awarded but Leganés failed to take advantage. Former Southampton striker Guido Carrillo took what was almost certainly the worst penalty in the history of the South Madrid derby, side-footing the ball straight down the middle enabling David Soria in the Getafe goal to make a simple save with his legs.
For the first time, the Coliseum erupted as fans lept from their seats to celebrate a huge early reprieve. With just nine away points all season, Leganés could ill-afford not to capitalise on such opportunities, not least with their rivals boasting the division's third best defensive record.
They do say that the form-book goes out the window in derby matches and as the First Half wore on, you'd certainly have had a hard time figuring which of the teams was flying high in 4th and which one was hovering above the relegation battle.
Getafe did not look like a side with Champions League aspirations. They were struggling to get any real service to their in-form strike pairing of Jorge Molina and Jaime Mata. Their midfield quartet was being outmuscled at times by a physical Lega outfit and already Geta were looking like a team almost resigned to set-pieces being their best chance of breaking the deadlock.
With slow-hand claps greeting some set-piece routines, there was clearly a greater sense of anticipation that corners, free-kicks or even long throws could lead to something than you might find at other clubs. However Leganés are almost certainly the tallest side in the division and they dealt with most of them well. Geta's best opening of the half did come from a corner with Pichu Cuéllar parrying out Mauro Arambarri's shot having punched clear in initial ball in clear.
That was about as good as it got for chances in the first period although Leganés did have the odd break, one of which ended with striker Michael Santos firing wide. Santos was one of five Uruguayans on the pitch, which only added to the already physical nature of a derby match but it was a game of niggly rather than dirty tackles. There was no real flow to it and that you sense suited Leganés, who would have been happy with their First Half efforts besides the penalty miss.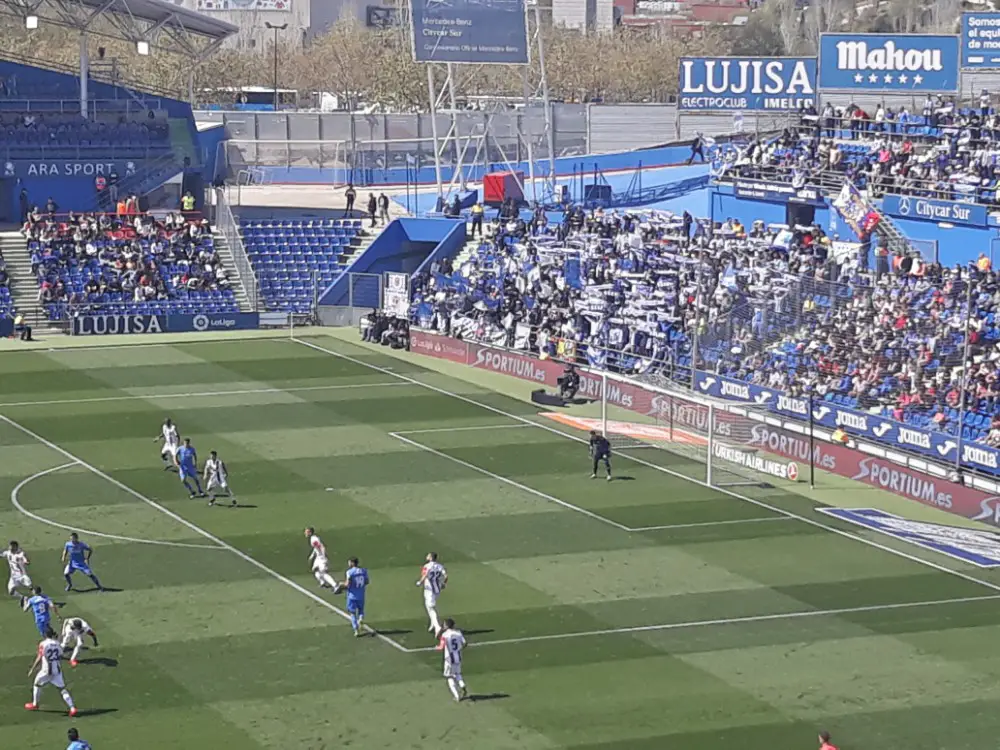 Off the pitch, the 'Lateral' stand had a family feel to it with large numbers of children under ten. In one sense it was refreshing to see evidence that Getafe have finally managed to make themselves more appealing to a generation that will ultimately be pivotal to the future of a club that has always struggled to attract supporters even in their own town. However it did mean there wasn't a great deal of hostility to the atmosphere, which you somewhat expect from a derby match.
Evenso, there was a still a decent back and forth exchange of chants between the two main Ultras groups at opposite ends. The lack of away fans, normally means Spanish games aren't played out to such a backdrop and it definitely added something to the atmosphere with Leganés bringing perhaps around 500 supporters. With empty seats in sections of the home stands, it still seemed like a shame that these clubs can't just give each other a whole end and subsidise ticket prices when they play each other, which would really generate a proper derby atmosphere that you get in other parts of Europe.
Despite their small size, both Ultras groups were and are genuinely noisy and even in an open stadium like the Coliseum, the noise reverberated around the ground whenever either set of fans broke out into song, most of which were aimed at insulting one another. The Geta Ultras were bouncing up and down at times but it was a strangely lethargic performance from their team and they didn't really return for the Second Half with any greater sense of purpose.
The relatively even feel to the game continued as things got underway again on what was heating up into an unseasonably warm day with temperatures touching 20°C, pretty good going for March. Bizarrely though, the floodlights were in operation and adding some completely unnecessary lighting on top of the lunch-time sun in one of the sunniest parts of Europe.
If there was any conclusion to be drawn from the First Half it was that the first goal was most likely going to be key. There hadn't been much sign of it in truth but with the first real opportunity of the Second Half, Leganés struck. As many of their attacks do, it started on the flanks with Jonathan Silva delivering an excellent ball in from the left and his cross was met by a powerful near-post header from Michael Santos which flew past Soria and into the back of the Getafe net.
Leganés' initial celebrations in front of their own supporters were cut short as the referee's assistant flagged for offside but it was quickly and correctly overturned by the Video Assistant Referee to spark a second wave of celebrations, something of a feature of life in La Liga now following the introduction of VAR.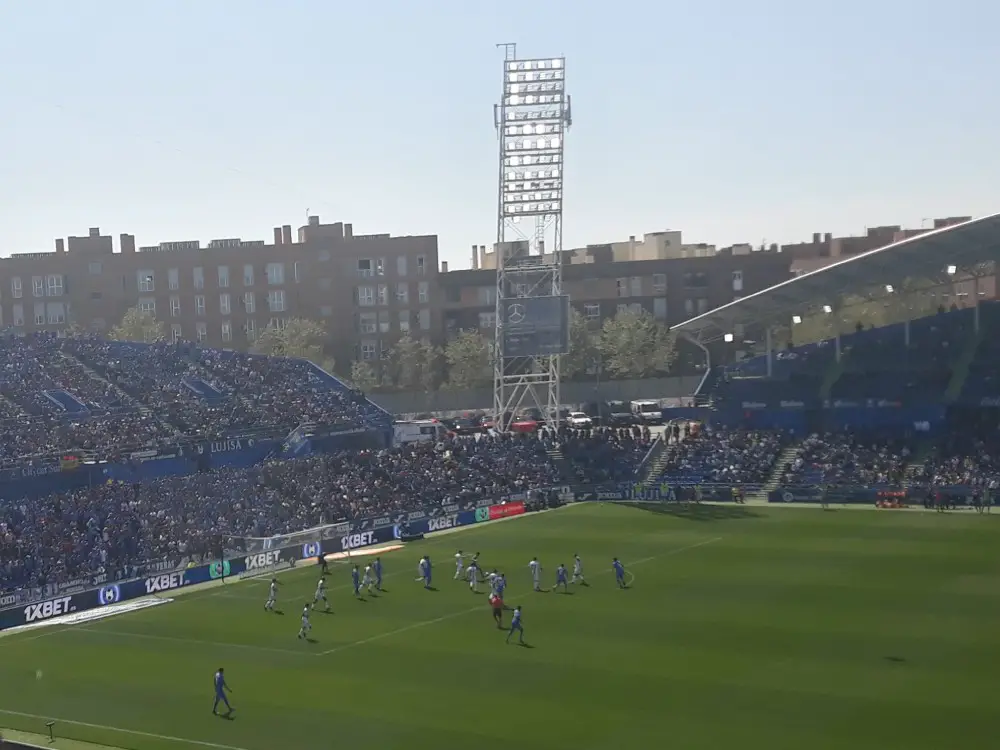 The visitors suddenly had a historic derby win in their sights. Getafe responded by bringing on Ángel, the most technical of their three main forwards, which hinted at a different kind of approach. He at least drew a rare save out of Pichu Cuéllar and the hosts did manage to inject a bit more urgency into their play without really finding a hole in what regularly takes the form of a Leganés back five.
Mauricio Pellegrino's game-plan seemed clear. He brought the pacy Martin Braithwaite on for goalscorer Santos and also introduced full-back Juanfran as Lega started to drop even deeper and play on the counter. The Leganés coach might have hoped Braithwaite could grab a killer second goal on the break but as it turned out, it was his defensively-minded substitution which sealed a famous victory.
With Getafe slightly over-committed, Juanfran broke down the right and ran almost half the length of the pitch with the ball unchallenged before slotting into the far corner past Soria. He had only been on the pitch four minutes and hadn't scored for well over three years but his goal will be cherished by Leganés fans for as long as many of them live.
Ironically Juanfran is a former Getafe player having come through the club's youth academy. However having spent only eight minutes on the pitch in La Liga for his former employers more than a decade ago, his refusal to celebrate his decisive derby strike seemed like a totally unnecessary gesture. It drew a mixed reaction from the Geta fans, some of whom aimed unsavoury gestures at him although there were still a few home fans who applauded him.
It certainly added slightly to the sense that this was not the most ferocious derby in Spain by any means. For Leganés and their supporters though, it was a victory to savour and with the police deciding to keep them in the stadium after the Full-Time whistle, they had plenty of time to reflect on and enjoy their victory and they continued to trade insults with the Getafe ultras behind the opposite goal, who remained behind for a few moments even after all the other Geta fans had left.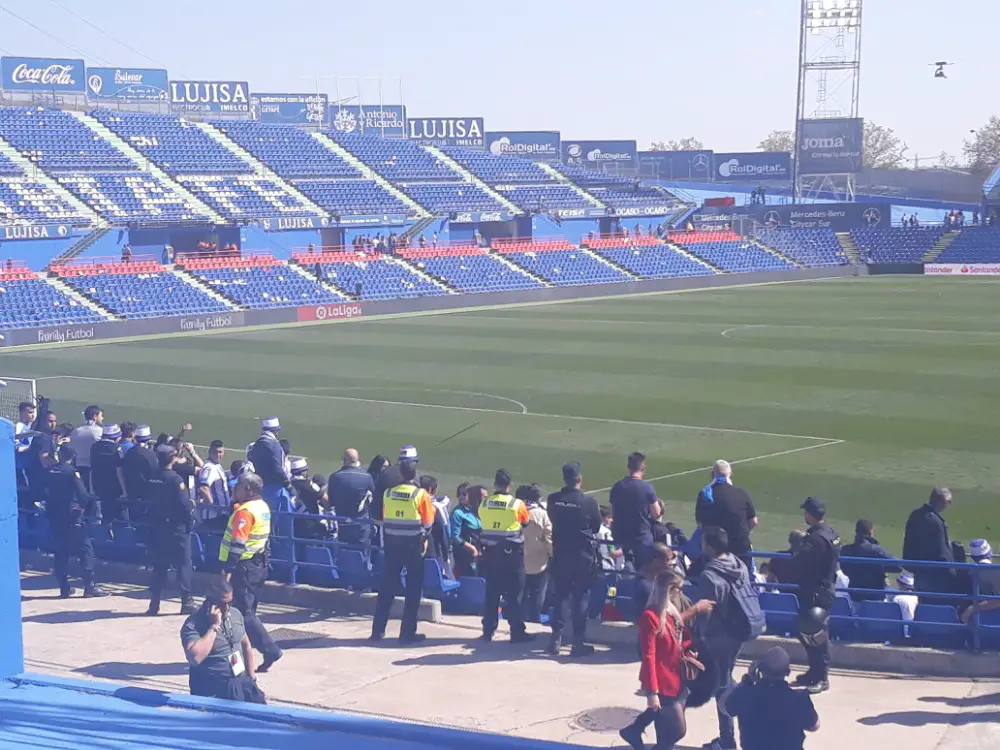 The Leganés players, many of whom tossed shirts and even shorts into the away section, celebrated with Domino's pizza in the dressing room. José Bordalás and Getafe meanwhile would have had a bit of soul-searching to do after saving perhaps their poorest display of the campaign for the game against their fiercest rivals.
When the dust settles on the 2018/19 Primera Division though, both clubs may well be able to reflect on their best ever league seasons. Getafe have never finished higher than 6th in the top flight while Leganés have never bettered 17th. Both clubs are currently on course to improve on those finishes and the real winner here is South Madrid football in general, with this derby now almost boasting the feel of an established top flight fixture.
Even the Getafe fans, who applauded their team off following a poor display, seemed to get that. Overall, the South Madrid derby certainly lacks the ferocity of Sevilla-Betis or the history of any of Spain's traditional regional rivalries. However it does also have more potential to grow than just about any of those fixtures and these are clearly two clubs moving in the right direction.
---
Via @marksoc1
Read more from the LLE on the Road series here.
---