Welcome to our Sorare blog. Here you will be able to find articles and content related to the global fantasy football platform which has been an official partner of LaLiga since September 2021 covering both the Primera and Segunda Divisións.
Sorare in 100 Words
Sorare is a fantasy football and digital card collection game. Managers buy player cards, build galleries and select 5-man teams to compete for prizes each gameweek in fantasy tournaments based on real world action in dozens of different leagues and competitions from around the world including Spain's top two divisions.
It appeals to those with a passion for fantasy football and physical football card collectors, as well as traders hoping to utilise their football knowledge and local insight to find an edge on the market.
Successful managers are rewarded with card, cash and real world prizes such as VIP match tickets and signed jerseys.
Read our full Sorare review for a longer overview.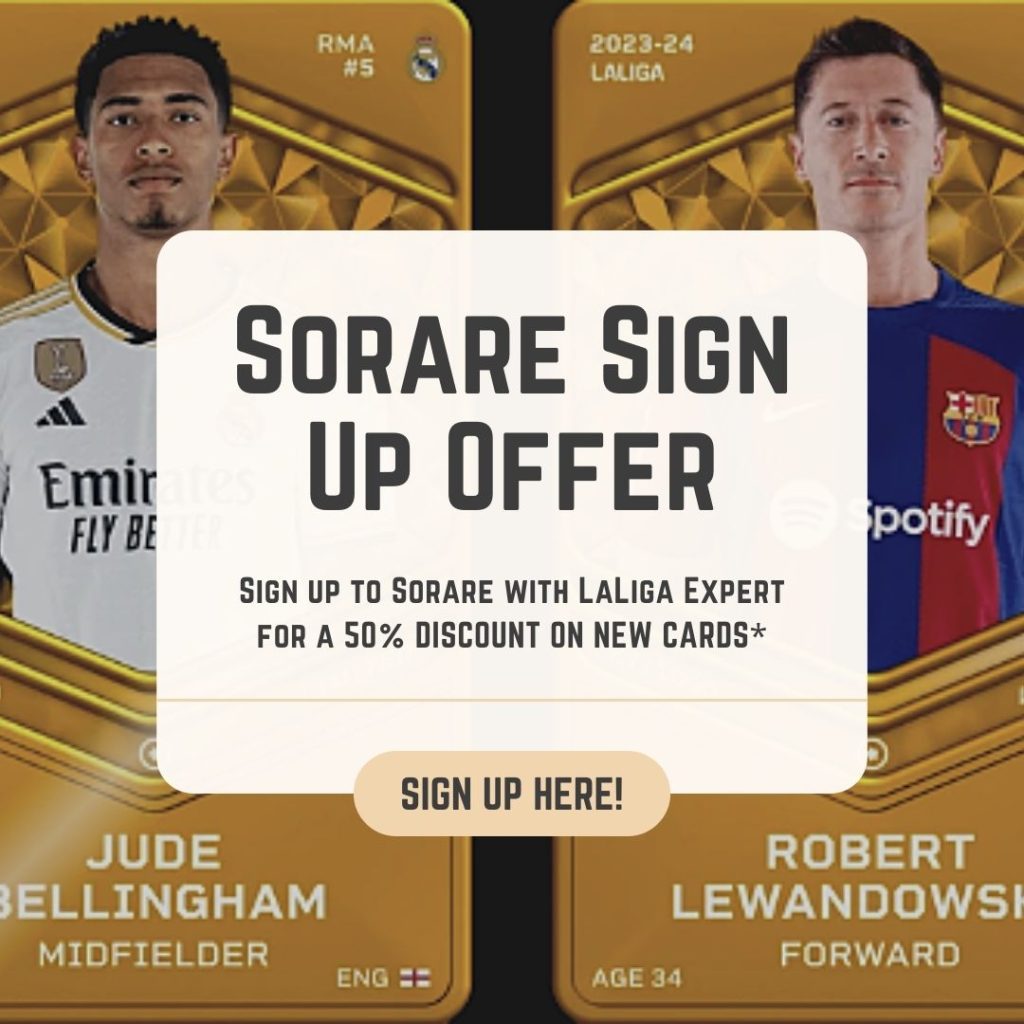 Sign up using the link above to get started by picking your free-to-play draft for LaLiga or any of the other major European leagues. Unlike many fantasy football games, you can start at any time as most tournaments and game modes on Sorare are weekly rather than season-long affairs.
Useful Resources
Getting Started Guide – A beginner's guide to starting your Sorare journey.
SorareData – The best site for scouting & valuing players.
John Nellis | Quinny | Harry Trades – Popular Sorare YouTube channels.
@SorareLALIGA – Contact us on Twitter with any Spanish football or Sorare questions. We also run monthly private leagues with prizes based on the free-to-play LaLiga amateur competition.
LaLiga FDR | Premier League FDR – Fixture difficulty ratings to help you plan ahead.
Sorare Blog Content – All our Articles
Please note some posts contain affiliate links to Sorare. Do your own research into the platform if you'll be buying cards and playing the paid version.