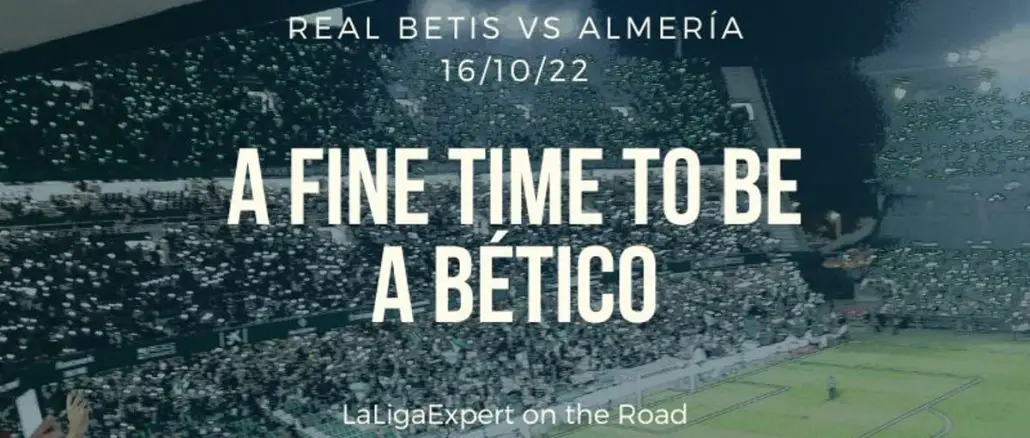 These are good times for Béticos. A quarter of the way through their third season under the guidance of Manuel Pellegrini, Real Betis are still flying high with over a 50% win ratio in all competitions under the Chilean. It feels safe to say now, that this is not just another false dawn that supporters of this club have become all too accustomed to across much of its history.
Betis fans are a unique breed. Heavy migration out of Andalusia to other parts of Spain in the middle of the 20th century ensures their reach is far and wide with sizable Betis followings in all of the major cities. Yet their working class roots in the city of Seville remain as strong as ever.
Despite largely living in the shadow of their neighbours on the pitch in the past two decades, Betis' local fanbase remains large, loud and passionate. Prior to Sunday's game against Almería, average crowds of over 50,000 during the 2022/23 season placed them 21st in Transfermarkt's global attendance rankings, comfortably ahead of anyone else in Spain besides the "big three".
Broadly speaking, they are even reasonably well liked by fans of other clubs around Spain. When Betis reached the Copa del Rey Final in their hometown earlier this year, it was no secret that most neutrals wanted them to triumph over Valencia, something which they managed on penalties to claim what was only their fourth ever major trophy.
With a big stadium that is regularly close to full, a likeable coach, some relatable players and an attractive style of football, Betis are seen as an asset to LaLiga and Spanish football but not a genuine threat to the giants in Madrid and Barcelona. That's a pretty good way to make yourself popular in this country where the football conversation is dominated by a tribal media that broadly falls along Madrid-Barça lines.
It is of course a different story within the city of Seville. The Andalusian capital lives and breathes football and for most of the past two decades, Betis have been the butt of jokes. Their fans have had little choice but to watch on as Sevilla have won a host of European trophies while Betis have often languished in mid-table or the bottom half of LaLiga, dropping out of the top flight altogether in 2009 and 2014.
With Sevilla in the midst of what feels like a genuine crisis, the boot is suddenly very much on the other foot right now. Largely thanks to the struggles three miles away in Nervión, it feels like Champions League qualification is a realistic possibility for Betis this season. Seventeen years on from their one and only appearance in the competition, Béticos have reason to believe that this is their time.
The walk to the Estadio Benito Villamarín from the historic centre of Seville does little to hint at Betis' working class identity. The route takes you through the stunning Parque de María Luisa, home to the iconic Plaza de España, one of the country's most recognisable landmarks.
The Paseo de las Delicias is dotted with swanky bars and open-air night clubs, close to the banks of the Guadalquivir River which dissects the city. Eventually it leads on to the Avenida de la Palmera, a wide avenue and major gateway out of Seville to the south, which is lined with palm trees and home to some of the city's most attractive 20th century houses.
You have to veer quite a way off the main avenue, on which the Benito Villamarín is directly located, to get a better feel for a more typical Bético neighbourhood in a city that for all its beauty is also home to some of Spain's poorest barrios which grappled with severe economic problems and some of Europe's highest unemployment rates in the years following the last financial crisis.
A trip to the Benito Villamarín was a very welcome escape for many during the worst of those years, although unfortunately the period also coincided with one of the worst spells in Betis' recent history with three years spent in the Segunda División between 2009 and 2015.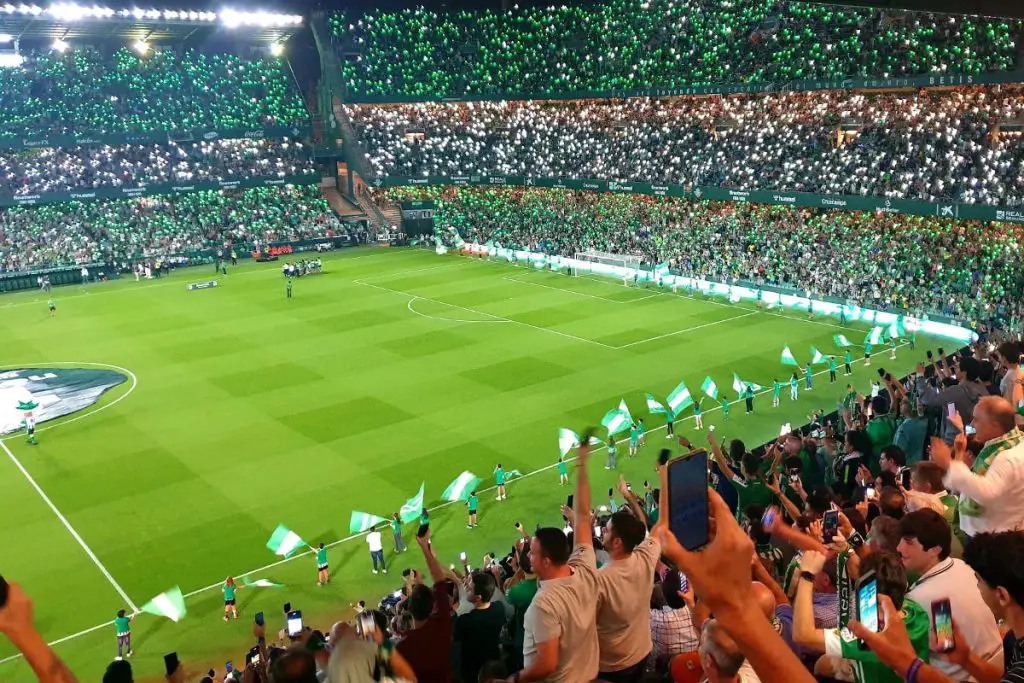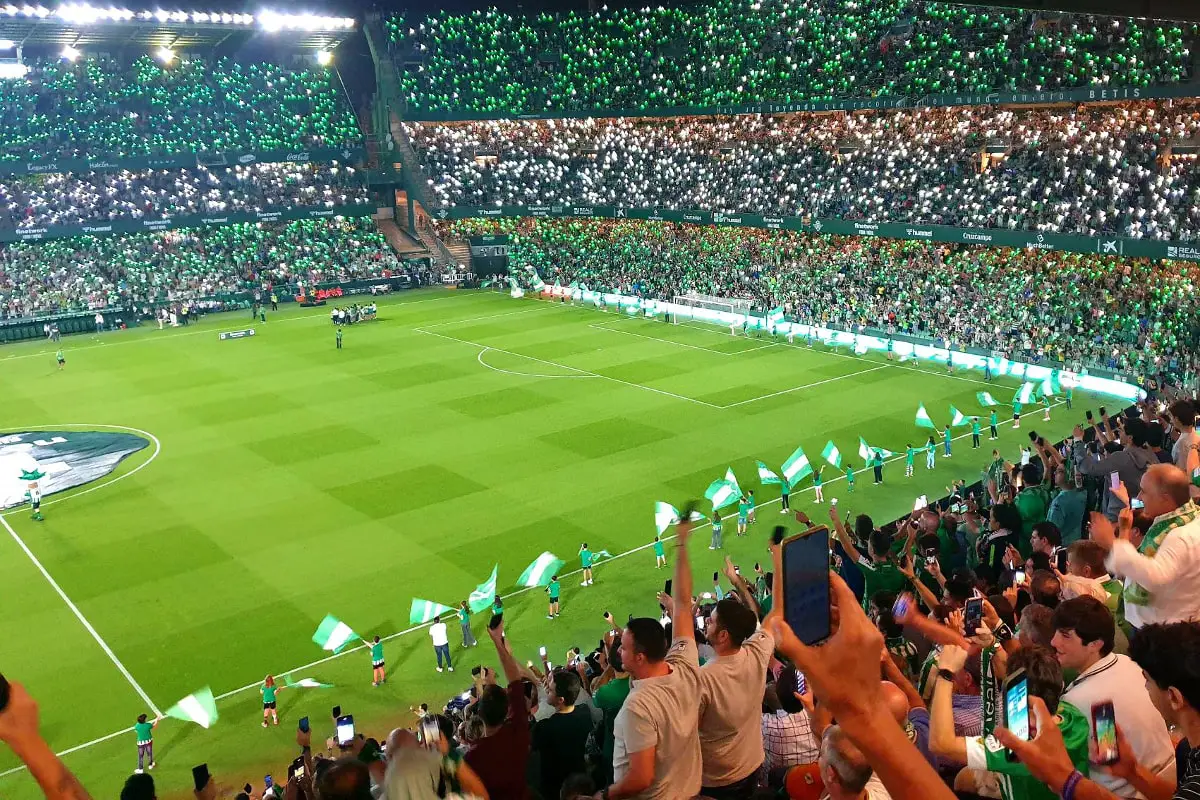 Fast-forward to 2022 and things are a whole lot brighter with the club flying high in LaLiga and going well in Europe. It's clearly going to take more than an autumnal rain shower to dampen the spirits of Betis followers as they cram into the Benito Villamarín once more for the visit of Andalusian rivals Almería.
Only three days have passed since they hosted Roma in the Europa League and this is far from a major Andalusian derby (Seville-Almería is a 500 mile round trip!). Yet, the pre-game atmosphere would make you think that this was one of the biggest games of the season.
The lights of the stadium dim and are replaced by thousands of green and white mobile flashlights as a lone saxophonist plays the tune to a recent hit that was adopted by Betis fans following their Copa del Rey triumph earlier in the year. It makes the Benito Villamarín look and sound spectacular and is an altogether more successful fusion between football and music than Barcelona's decision to wear a special Drake logo on the front of their shirt in their Clásico defeat earlier in the day.
The Betis hymn follows as the lights come back on and supporters put away their phones and lift their scarves high into the night sky to welcome the players onto the pitch whilst belting out the words to one of the best club anthems in Spain. Pre-game is done well at many stadiums in LaLiga these days, but few if any top Betis and immediately it gives visitors a feel for what makes this club special.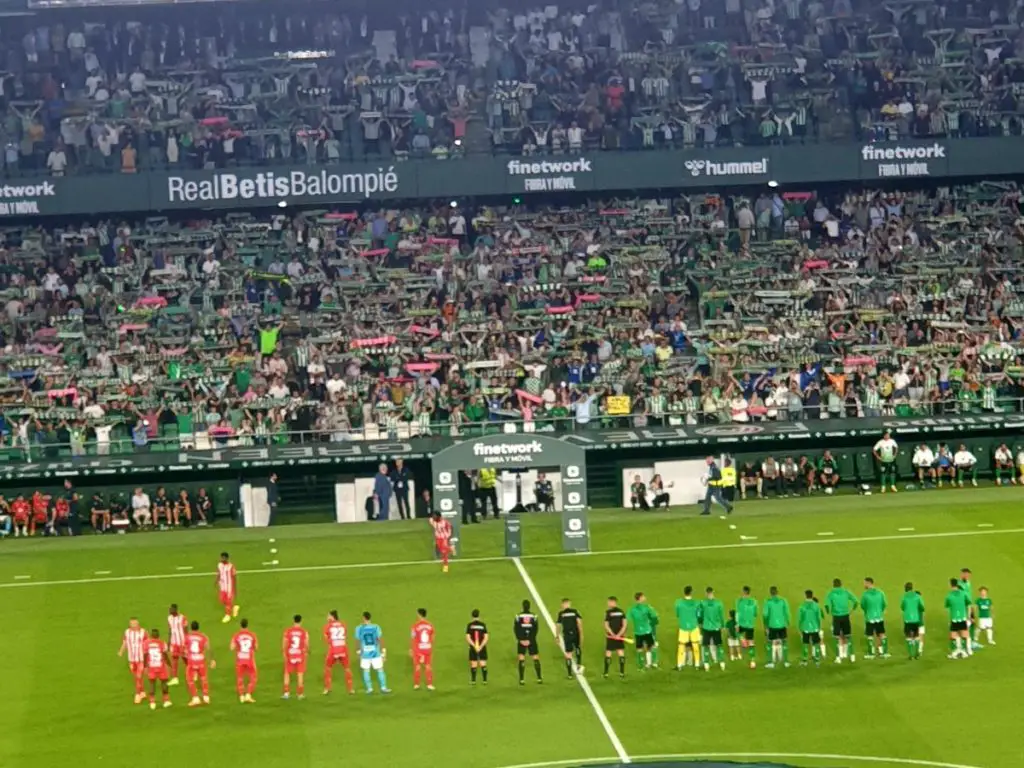 Invariably, they are also treated to some good football too and fortunately this would be no exception.
With home advantage up against newly promoted opposition, Betis were the clear favourites to make it five wins from five at home in LaLiga to start the 2022/23 season. Predictably they started on the front foot but there was the occasional flash of life on the break from Almería too, with the visitors fresh from a much needed 3-1 win over Rayo Vallecano in their previous game.
They even came close to taking the lead with Largie Ramazani, their most threatening player in the early stages, failing to make proper contact with an opportunity to poke the ball past Betis keeper Rui Silva from close range.
It felt like Rubi, on his first return to the Benito Villamarín having been sacked by Los Verdiblancos in June 2020, had at least come up with a gameplan that was going to give his former employers something to think about. However it wouldn't be long before his successor in the Betis hotseat was celebrating.
An imaginative looped ball from the ever impressive Sergio Canales created space for Alex Moreno to advance into the area and the left-back cut the ball back for William Carvalho to arrive unmarked and finish a well worked goal for the hosts. 
It was a moment of quality, albeit aided by some questionable marking, and a very Betis goal in some respects, created by the flair of Canales and a full-back advancing deep into enemy territory.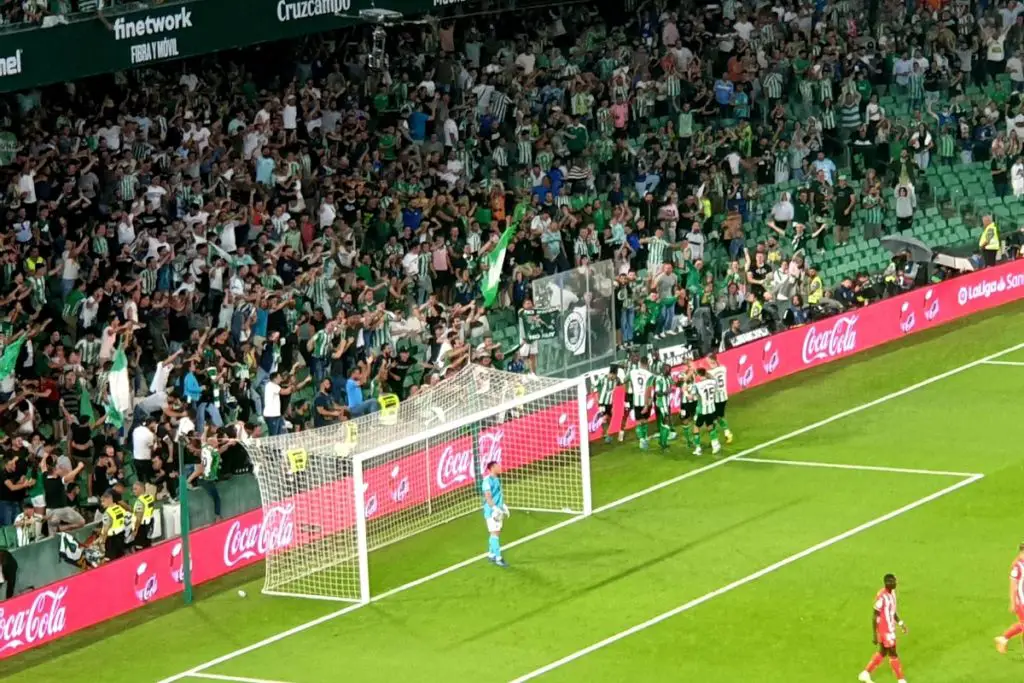 Betis continued to press and probe and their superiority was clear as the home team continued to carve out the better openings, although Almería remained very much in the game as it reached the interval with the score at 1-0.
Even without the injured Nabil Fekir and Juanmi, two players who provided major attacking contributions last season, Betis looked and felt like a good side, playing with the confidence of one that had won 8 of their 12 games so far this season in all competitions. 
However, there was, as there often is with Betis, always the sense that they're not completely impenetrable and a sluggish start to the Second Half from Manuel Pellegrini's side offered Almería a route back into the game.
First, Almería's own marauding left-back Sergio Akieme drew a save out of Silva with a lively burst into the box. A poor kick out by the Betis keeper then indirectly led to an equaliser for the visitors with Gonzalo Melero releasing fellow summer signing El Bilal Toure to fire in his second goal in as many games to briefly silence the Benito Villamarín with the exception of a sizable pocket of visiting supporters high up in the third tier at the northeastern corner of the 60,000 capacity ground.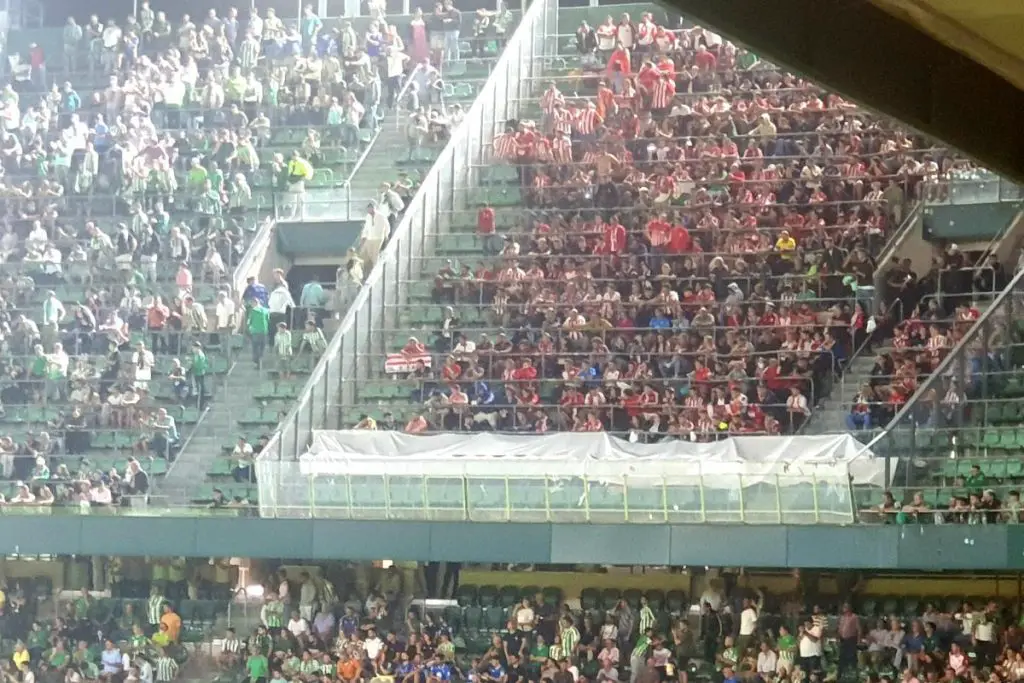 It felt as though Betis had simply switched off to some extent at the start of the Second Half but the goal helped spark them back into life. 
Immediately they went down the other end and carved open a great chance to retake the lead but Moreno could only guide his header narrowly wide of the post. 
Then, on 65 minutes, 41 year old Joaquín, a club icon whose name still dons the backs of the shirts of thousands of Betis supporters, rolled back the years once more with a precise pass in behind the Almería defence. It released striker Borja Iglesias for the kind of opportunity that the in-form 29 year old simply doesn't miss.
"El Panda" would turn provider soon afterwards by finding a gap in a static Almería back four to poke a ball through to Carvalho who again made no mistake with the finish to complete an unlikely brace for the Portuguese midfielder.
It was a goal that killed off any real hope of an Almería comeback with the game's pace slowing down significantly after that, in part because of a raft of substitutions as the attention of both coaches turned to keeping players fresh with a full midweek LaLiga matchday ahead.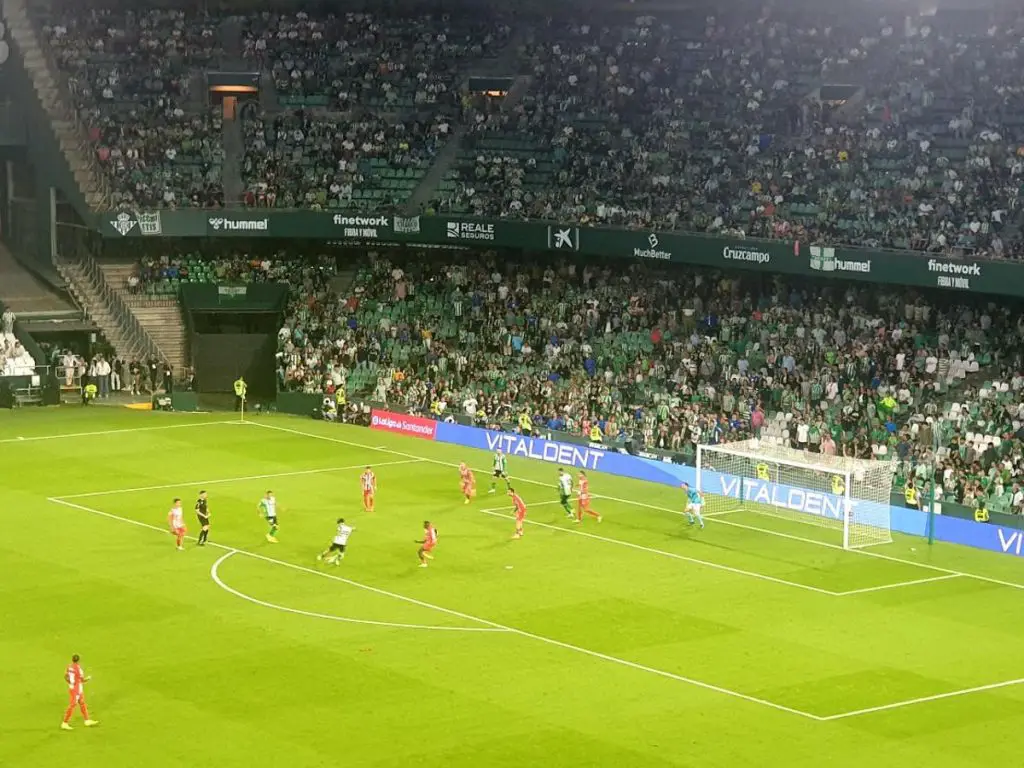 With a 100% home league record extended, Betis climbed back into the top four as a result of the 3-1 win and with the feelgood factor at the Benito Villamarín very much intact as thousands of Béticos headed off home.
Even busier post game, the Avenida de la Palmera was briefly transformed into a vast green and white sea of people, motorbikes, bicycles and electric scooters with fans in no mood to hang around late on a rare wet Sunday night in what is usually one of Europe's sunniest cities.
"We played a very complete match and were superior in both areas" was the verdict of Betis boss Manuel Pellegrini after the game. High praise from the man who has revitalised this club and given Betis' relative lack of success throughout their history, someone who already stands a good chance of leaving as one of its greatest ever coaches.
As many Betis fans will tell you, being a Bético is about so much more than results on the pitch though. There are some special ingredients that are hard to pinpoint as an outsider with an identity that is almost uniquely defined by being a big club with low expectations. Even when times are good, there is almost an acceptance that sooner or later things will go wrong.
Fans of almost any other team that had set such consistently high levels for what is now a relatively prolonged period, would most likely be busy plotting their path to European glory and potentially more trophies. 
At the Benito Villamarín though, the atmosphere is more that of a fanbase that is simply enjoying the ride and living for the moment. For the time being at least, they're the strongest team in the city of Seville and given everything Béticos have had to endure in recent years, that must feel so sweet.