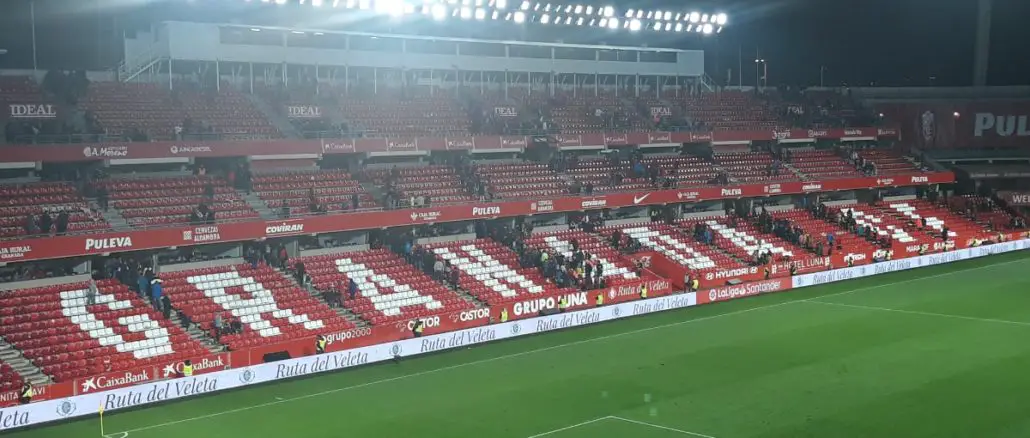 After the introduction of LaLiga Santander early on during the 2021/22 season, Sorare has now added LaLiga SmartBank (AKA the Segunda División) in full too. This is an exciting moment for lovers of Sorare and Spanish football with plenty of opportunities for scouting and trading players in a league which isn't particularly well known, certainly not outside of Spain. Here's the lowdown on what to expect from the Segunda División on Sorare.
LaLiga SmartBank on Sorare – Key Points
Sorare announced the full launch of Segunda División cards on Wednesday, having recently made the somewhat controversial decision to open the platform up to the second tiers in all the "big five" European countries. 
You can now buy cards from all 22 teams in LaLiga SmartBank with the auctions for many of the best first edition cards already underway. They can be used in all Global All Star and Global U23 competitions, as well as the new academy and most specialist and underdog competitions. There will also be a new European division for the second tiers in Spain, England, Germany, France and Italy, which is expected to launch later this year.
For existing Sorare managers, the addition of LaLiga SmartBank brings with it new scouting opportunities and a greater pool of players to choose from. We should see these players filtering into the rewards pools from this weekend too.
If you're not on Sorare yet, but following the league or one of its teams, this could be an opportunity to use your Segunda División knowledge to your advantage and find an edge in Sorare's fantasy football tournaments. Sign up here to receive a free card after your 5th purchase on the primary market. You may also want to check out our getting started on Sorare guide.
What kind of league is the Segunda División?
The Spanish Segunda is a notoriously tight and often defensive league with its goals/game average almost always on the low side when compared to other leagues around the world. There aren't usually that many one-sided games so don't expect to find many all-conquering attacking stacks on Sorare here!
That being said, there are usually a few teams that emerge as the dominant ones and the current financial benefits for recently relegated sides are often significant. Further down the league, it's a bit of a mixed bag with some relatively big clubs such as Real Zaragoza and Malaga who have previously featured heavily in LaLiga but now seem stuck at this level.
There are also a host of small provincial clubs as well as several island teams, including minnows UD Ibiza. This year, we even have FC Andorra (owned by Sorare ambassador Gerard Pique) who have taken Spanish second tier football to the tiny principality in the Pyrenees for the first time. Oh, and Villarreal's B team are there too, adding to the weirdness of it all.
Which teams are expected to do well?
As a rule of thumb, you won't go too far wrong by backing the recently relegated teams in this league. In the past two seasons, only Huesca last year failed to finish in the top three in their first season after relegation from the Primera:

This season, Levante, Granada and Alaves are the three teams to have just come down from the top flight. Led by former Middlesbrough and Nottingham Forest boss Aitor Karanka, Granada are the bookies favourites to win promotion after they somewhat surprisingly suffered relegation on the final day last season. They've started pretty well, winning 4 of their opening 6 games, but were hammered 4-0 by Eibar who should be contenders again having narrowly missed out on automatic promotion in the final minutes of last season.
Levante and Alaves should also go well as they drop down to this level. Levante still have some genuine top flight quality in their ranks having held on to the likes of Jorge De Frutos and José Campaña this summer. Alaves meanwhile have gone for a radical squad overhaul and look set to go down a defensive route which helped new boss Luis Garcia steer Mallorca to promotion two years ago. He's made a good start with the Basque side top after 6 matches.
Las Palmas look like the other team with a really strong promotion chance. They play a more expansive style of football under García Pimienta and were beaten in the play-offs last term. Asturian duo Sporting Gijon and Real Oviedo are also hoping to be in the mix and the same goes for Tenerife, last season's beaten play-off finalists.
Our Segunda División season predictions go into a bit more detail on each team and we'll also have predictions for every match there.
A Goalkeeper's Paradise
Anyone who has been on Sorare a while will know both the importance and difficulties that come with trying to find a good goalkeeper for a good price. That's not an easy task, particularly when it comes to Rares with common cards no longer allowed in the popular Global All Star threshold tournament.
The addition of the Segunda División should be good news for anyone shopping for a goalkeeper. While as is often the case, the early edition cards may go for a lot, once prices settle down there should be plenty of really good options in a league where clean sheets are very common, even for some of the lesser teams.
At the time of writing, LaLiga SmartBank 2022/23 is averaging just 2.12 goals/match with 8 teams keeping clean sheets in 50% or more of their games. Unfancied Burgos haven't conceded a single goal yet this season with four 0-0 draws and two 1-0 wins propelling them into the top six. 
Their goalkeeper José Caro has scored 60+ in 17 of his last 21 appearances. According to Soraredata, he is the best performing goalkeeper over the past 40 games on the whole platform (minimum 20 appearances). That's for a small team who started this season as one of the relegation favourites. While he will struggle to keep that kind of exceptional form going over the course of a whole season, it's just one example of how it should be very possible to find a reliable, high-scoring goalkeeper in this league.
Segunda División Stars – Outfield Players to look out for on Sorare
While we may all now be living in a goalkeeper's paradise, lovers of attacking football and high-scoring creative players may want to save themselves the bother of putting too much research time or money into this league. It's pretty remarkable how few Segunda outfielders average even above 50, although in the case of a lot of players, particularly with those in recently relegated teams, those figures are skewed down by their participation at a higher level last season.
Trying to piece together how those scores will change for players now in a relatively strong team in a weaker league, is going to be the challenge for those who decide to target this league. There is also the conundrum of what may happen at the end of this season when the better second tier players stand a good chance of either winning promotion or transferring to a higher level. Pricing all these factors in won't be easy.
Defenders
While the benefits won't be as extreme as with goalkeepers who get the clean sheet decisive, this being a low-scoring league should be good for defenders. However nobody really jumps out as a clear 60+ option. Over the past 40 games, Las Palmas' Eric Curbelo has the best average (56). He benefits from playing in a strong team who pass it out from the back.
Fran Gámez (Zaragoza), Jérémy Mellot (Tenerife) and Pablo Vázquez (Cartagena) are the next highest scorers over that period. Cali AKA Carlos Izquierdoz (Sporting Gijon) also stands out after an outstanding start to this season and he does have a good track record for scoring well on Sorare following his previous time at Boca Juniors in Argentina.
Midfielders
In midfield, only two players in the entire league currently have L40 averages of more than 51 (with over 50% appearances). The standout star is the exceptional Jonathan Viera who is both a major goal threat and creator in chief for hometown club Las Palmas, although injuries have disrupted his start to this season. The other is Pablo De Blasis at Cartagena who averages 61 over the last 15 games, appearing in every one.
It's reasonable to assume some midfielders at the recently relegated clubs should score much higher this season though. Levante have the likes of José Campaña whose game feels made for the Sorare matrix if he can only manage to stay fit. Alaves don't look like they are going to be a particularly high-scoring team overall but much of their play is likely to go through veteran Salva Sevilla who is starting to find his stride after a summer move from Mallorca where he averaged around 50 even in a struggling team in the top flight. Granada have the widest selection of options but there is no one midfielder who really stands out with rotation a greater risk at the Andalusian club.
Forwards
Up front, there are a few players who can be relied upon to score plenty of goals, even if their Sorare scores are not anything to get massively excited about. Oviedo's Borja Bastón was last season's joint top scorer with 22 goals and averages just over 50 on Sorare over the past 40 games. The only LaLiga SmartBank forward who is a regular starter and can better that is 41 year old Ruben Castro. The evergreen striker left Cartagena to join Malaga this summer, although his new side have not started well.
Title favourites Granada do have two strong forward options with Myrto Uzuni and José Callejón combining well so far and both posting a series of 60+ scores. Current leaders Alaves have Luis Rioja, a winger listed as a forward, who also boasts a pretty good track record for high scores in LaLiga and should thrive at this level. Meanwhile Raúl García at Mirandes looks a good U23 option with 4 goals already for the 21 year old Betis loanee, although his team are being strongly tipped for relegation.
---
Please note, these are intended to be players who look like they will score well, not necessarily those that are the best value buys currently. At the time of writing, there is little to no price data on a lot of these players and as is often the case on Sorare, the best options may well lie with the less obvious picks and players who haven't started this season so well. Do your own research before buying anyone!