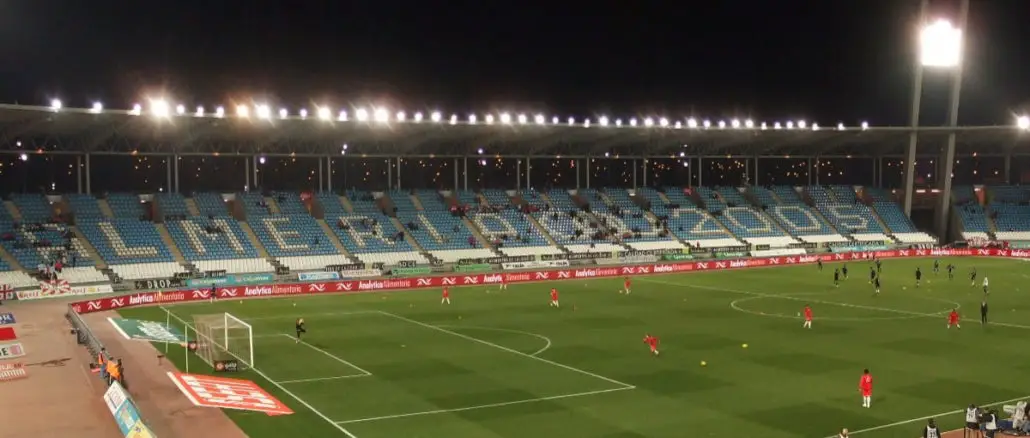 Sunday evening produced a dramatic conclusion to the Segunda División season. Remarkably, the top three sides were tied on 81 points heading into Stoppage Time in the three games that mattered, with Almería on course to miss out on automatic promotion by virtue of an inferior overall head-to-head record against Eibar and Real Valladolid.
Step-forward Giovanni Zarfino. The Alcorcón midfielder had broken Almería hearts just a weekend earlier, with a goal to help ensure the league's bottom club took a point from their trip to the Estadio de los Juegos Mediterráneos, on what should have been a promotion party night for the Andalusian club. Eight days later, he was their saviour, coolly converting a low cross in the 91st minute to crush Eibar's promotion dream in Alcorcón and radically alter the picture at the top of the Segunda División.
Suddenly, Almería, who despite heavy pressure were only drawing 2-2 a few miles away at Leganés, jumped from 3rd to 1st as a result of Zarfino's goal and moments later would be crowned champions with no more significant action in any of the games.
Wild celebrations followed at the Estadio Butarque where large numbers of Almería fans had travelled to watch what for long periods looked like it would be another blown attempt at winning promotion. There have been a couple of those in recent years, but owner Turki Al-Sheikh's dream has now finally been realised and it's a promotion that the rest of LaLiga cannot afford to ignore.
The Takeover
In truth, this is a promotion that has largely been inevitable since Al-Sheikh, an official aide to Saudi Crown Prince Mohammed bin Salman, took over the club in August 2019.
The takeover drew plenty of headlines and attention at the time, suddenly placing Almería under the spotlight after four unremarkable seasons in the Segunda. In part, there was curiosity in a country where big money foreign takeovers of football clubs are a relative rarity in comparison to other leagues, most notably in England. The ones that have taken place in Spain have rarely ended well with the ongoing turmoil at Valencia perhaps the most striking example.
There was curiosity at what kind of owner Turki Al-Sheikh would be and just how serious he was about turning Almería into a genuine force, not only in the Segunda División, but ultimately in the top flight.
It didn't take very long for us to get some answers. One of the new owner's first moves was to unfollow everybody on the club's official twitter account, replacing them with just one person. Himself.
It was an early indicator of the mindset of the man, who was clearly not going to be somebody who would take a backseat role or shy away from the limelight. Turki Al-Sheikh was "hands on" from the get-go and wasted no time in getting to work on overhauling a team that hadn't finished higher than 10th since dropping out of the Primera in 2015.
Coach Óscar Fernández, only appointed a matter of weeks earlier, was sacked before he even got to take charge of a competitive game with former Porto defender Pedro Emanuel taking over following a successful stint in the Saudi league. There were also new appointments to the roles of General Director and Sporting Director as a whopping €26m was spent on new signings in the space of a month, roughly the same figure as the combined summer spend of the league's other 21 clubs.
A Three Year Wait for Promotion
In terms of resources, Almería were now clearly at a significant advantage when compared with the rest of the Segunda División. The only clubs likely to be in a position to seriously compete were those to have recently dropped down from the Primera, benefiting from more generous salary caps in their first season to account for the transition. However any dreams Al-Sheikh might have had about a swift and easily won promotion would quickly be dispelled as the realities of a deceptively competitive league began to bite.
The first season was chaotic. Pedro Emanuel was fired in the autumn with the club 2nd. His replacement, Real Madrid legend Guti, was sacked just two games following the big restart after the Covid-19 interruption of early 2020. Things got worse under Mário Silva who lasted only a month with fellow Portuguese coach José Gomes appointed to oversee the play-offs which resulted in failure as Almería lost both legs of their Semi-Final against Girona.
Despite that defeat, Gomes was entrusted with starting the 2020/21 season. However it would end in an almost identical fashion to the previous one, with a late coaching change, another 4th place finish and another play-off Semi-Final defeat against Girona.
The third season under Turki Al-Sheikh's ownership has been notably more settled with former Espanyol and Betis boss Rubi at the helm throughout. There was little sign of the kind of end of season trouble that had derailed their previous campaigns with four straight wins between matchdays 37 and 40 pushing them to the brink of the promised land.
Draws in the final two games were so nearly costly, with yet another Semi-Final clash against Girona seeming inevitable as the minutes ticked by on Sunday evening. However the three year wait is over and the fact that promotion was sealed courtesy of a favour elsewhere won't bother the Almería owner or fanbase one bit with a first top flight season in eight years on the horizon.
The Football Project
There can be little doubt that Al-Sheikh has made mistakes during his time at the club and at times, particularly during that first year, his erratic behaviour and decision-making has hindered their progress. However there have also been signs of lessons learned, an increasingly structured and stable approach, while the wealthy Saudi can also point to some genuinely good business done in the transfer market as evidence of a serious football project.
Within weeks of Al-Sheikh's arrival, the club smashed the transfer record for the Spanish second tier to sign Darwin Núñez for €13m. It heaped pressure on the then 20 year old forward's shoulders with the figure dwarfing anything that even many top flight clubs in Spain have ever spent on a single player. Twelve months, and sixteen goals later, Núñez left for €24m, a record sale for a Segunda club that offered early evidence that there was serious method to Almería's recruitment strategy which has largely focused around signing young talents on long-term contracts.
Núñez's primary replacement was Umar Sadiq, a Nigerian striker signed from Partizan Belgrade for €5m in the summer of 2020. He has also been a huge hit, scoring 38 times across his two seasons at the Estadio de los Juegos Mediterráneos. Now 25 and with three years to run on his Almería contract, Sadiq will either spearhead the Andalusian club's push to establish themselves in the top flight, or leave for big money with his market value now potentially four times what was paid for him.
There have of course been misses as well as hits. The €9m arrival of unproven and barely tested teenager Arvin Appiah in that first summer stunned many people at the time and has since looked like an awful piece of business. The former Nottingham Forest forward has scored just twice in three years, and that includes an unsuccessful loan stint at Lugo.
Cristian Olivera and Jordi Escobar were two other 18 years olds to arrive in 2020, for a seemingly inflated €6m total investment. Both were quickly demoted to the reserves before being loaned out and will presumably be even further from first team involvement at Almería now they have been promoted.
Overall, the net spend during Turki Al-Sheikh's reign stands at around €26m, which is of course an enormous sum for a second tier club with their wage bill also significantly higher than the vast majority of their Segunda rivals. However much of that outlay came during the first summer, with the Núñez sale largely funding their more recent endeavours as a more measured transfer strategy emerged.
What to expect from Almería in LaLiga
While Almería's ascension to the top flight should have maybe only taken one, or at most two years given their enormous financial advantage, the three year wait has perhaps enabled their owner to better get to grips with the task of running a European football club. Turki Al-Sheikh has seemingly come to terms with the reality that splashing the cash does not guarantee instant results and he has also clearly moved on from that initial impatience by settling on a coach he likes in the shape of Rubi whose top flight experience will be an asset next term.
It's going to be very interesting to see how Almería approach this summer. What seems certain is that money will be spent, although Spanish football's salary limitations should prevent them from investing the kinds of sums that would instantly propel Almería into contention at the business end of LaLiga. Despite the obvious comparisons with Saudi-owned Newcastle United, we are unlikely to see elite level players flooding to this sunny corner of Andalusia in the summer, although don't be surprised if some genuinely big names are linked with the Almería chief known to be on good terms with a number of star footballers, including a certain Leo Messi.
The likes of Sevilla, Villarreal, Real Betis and Real Sociedad can probably afford to breathe easily for now, but Almería certainly have the resources to avoid a relegation scrap and quickly establish themselves in the middle section of LaLiga. It's fair to say that news of their promotion may not have gone down too well at a number of bottom half clubs.
It'll also be interesting to see whether they continue with their long-term approach by again signing young players, or whether they adopt a slightly more cautious strategy and go for a bit more experience and proven top tier talent to help manage the transition.
We shouldn't have to wait too long to find out about that, but Almería's promotion also raises many other questions when it comes to Spanish and indeed European football and its increasing relationship with Saudi Arabia amid accusations of sportswashing.
To some extent, Almería can more easily deflect away that criticism than Newcastle can in England, given they are operating in a country which has already turned to Saudi Arabia to help ease its financial problems. The Supercopa has found a new home in the Arab Kingdom in recent years and that cash has certainly helped Spanish football at large get through the pandemic without further economic hardship, so few clubs or senior Spanish football figures are really in a position to cast judgement.
The relationship between state and club is also slightly more distant than it is over in the northeast of England, where Newcastle are owned by the Saudi Public Investment Fund, a wealth fund directly linked to the Saudi government and controlled by Crown Prince Mohammed bin Salman. It seems clear that the ambition in Riyadh is for Saudi money to help turn Newcastle into Europe's next super club.
Almería has, until this point, felt more like the personal adventure and private project of Turki Al-Sheikh. However his role as an advisor to Saudi Arabia's Royal Court and as the chairman of the country's General Authority for Entertainment, makes it hard to completely separate his ownership of Almería from the Saudi state and everything that goes with that.
The prospect of more direct Saudi involvement certainly seems more likely now Almería are a top flight club and quite how that relationship evolves is something to keep an eye on over the coming months and years.
With a relatively small fanbase and 15,000 capacity stadium, Almería are not going to suddenly become a major force in European football in the space of one or two years. However with their financial pull, they certainly have the potential to thrive in what has become an increasingly cash-strapped league.
Popular or not, their promotion is a significant moment for Spanish football. Taken in isolation, it doesn't radically move the goalposts in the short-term, but there are perhaps parallels to be drawn with Villarreal's rise under Fernando Roig around the turn of the century.
Nobody can say for sure whether Turki Al-Sheikh is in this for the long-haul or whether Saudi money and influence will continue for many years to come, but right now the resources certainly exist to truly build a club from the ground up. If that process is managed well, this could be a very exciting period for everyone connected with Almería, and the rest of LaLiga is most certainly taking note.
---
Featured image of Almeria stadium via Almju, CC BY-SA 4.0 | Transfer fees according to Transfermarkt