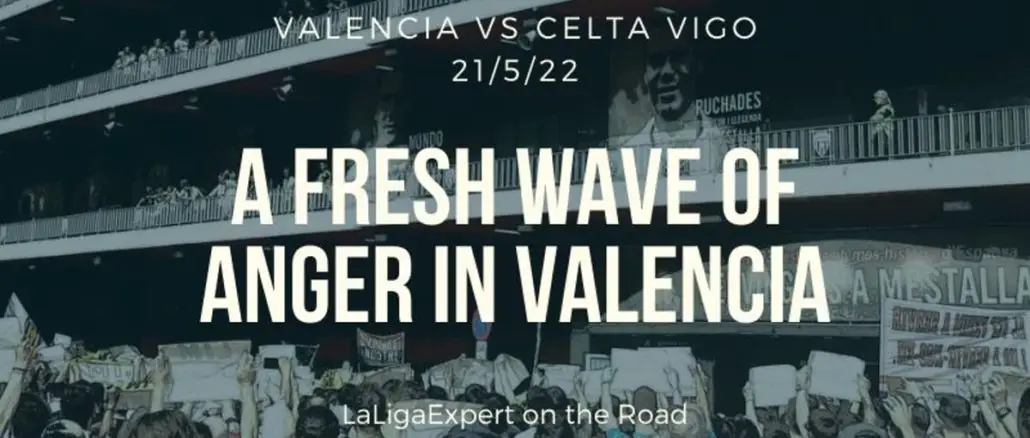 As LaLiga winds down towards the end of another season, Valencia fans are reflecting on eight years of their club being owned by Singaporean businessman Peter Lim. On some levels, the 2021/22 campaign has represented a tentative step in the right direction, at least on the pitch.
Valencia headed into their final day clash with Celta Vigo, certain of improving on last season's 13th place and with a good chance of a top half finish. Fans put initial reservations aside to broadly speaking buy into the idea of a more combative, physical Valencia under the guidance of José Bordalás. The former Getafe boss has brought a sense of identity again following on from the fairly soulless reigns of Albert Celades and Javi Gracia. He even helped steer Los Che to the Copa del Rey Final, a welcome dose of excitement with Bordalás' side coming agonisingly close to getting their hands on a trophy and clinching European football in a penalty shootout defeat to Betis in April.
Yet less than a month on from Seville, the 2021/22 season at Mestalla is ending in much the same fashion as the previous two. It does so with uncertainty, anger and a deep sense of distrust at the way the club is being run. It does so with nobody quite sure which players, coaches or staff will remain when the new campaign kicks off in twelve weeks time.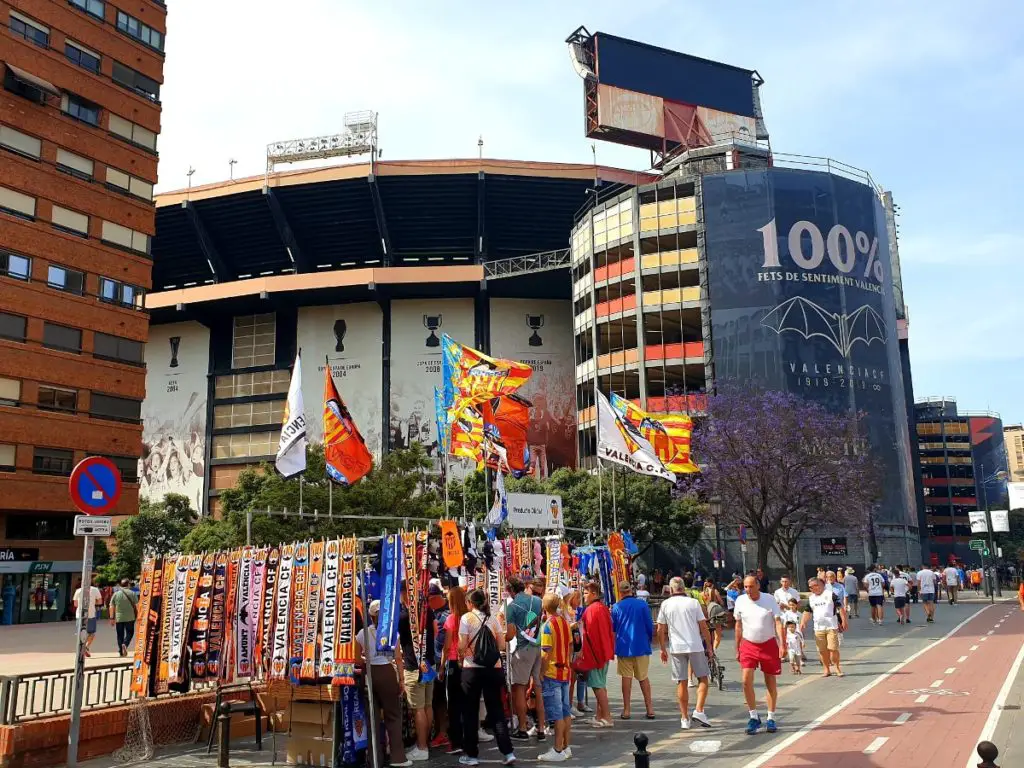 Protests against Lim's ownership are nothing new. Valencia fans, like many others opposed to those running their clubs, haven't stopped supporting their team but seem to go through a cyclical process of greater engagement with events on the pitch, followed by periods of more sustained attempts to force their owners out.
The latest swing towards the latter has been sparked by audio leaks published over the past week by Valencia paper Super Deporte. Not the first victim of this in Spanish football this season, club president Anil Murthy was secretly taped at a "working dinner" airing his views on a range of matters and people connected with the club.
Not dissimilarly to the incidents involving Florentino Perez and more recently Luis Rubiales and Gerard Pique, the majority of the revelations weren't actually anywhere near as surprising or shocking as some of the more sensationalist elements of the media would have you believe.
A figure of 70 million Euros, has been openly circulating for several weeks now, as the amount Valencia need to raise this summer in order to balance the books. Therefore it shouldn't have come as a huge surprise to hear Murthy talking openly about the potential exits of homegrown stars Carlos Soler and José Gayà, both of whom have contracts that expire next summer. In some respects, it would be irresponsible if the club wasn't at least open to the idea of cashing in on prized assets in such circumstances.
Hearing Murthy claim Soler in particular is seeking a move, wasn't exactly a bombshell either. Both he and Gayà are now established members of the Spanish national set-up and are among at best a handful of Valencia players clearly operating on a level worthy of at least a top six side in LaLiga and regular European football. Another wave of departures isn't exactly going to help Valencia get any closer to that level so it's hard to see any reason, beyond a sense of sheer loyalty to their boyhood team, why either would pen new deals and commit the very peak years of their careers to a cash-strapped club in such an obvious state of decline.
Murthy's description of Bordalás as a "complicated" character was another non-story in truth and criticisms of his approach to the cup final and purchase of Marcos André were more embarrassing for the president than something likely to push their relationship past the point of no return. For all we know, those conversations may well have been had behind closed doors and away from any secret recording devices in any case.
Perhaps the most damaging of the leaks, which Valencia have spent the week claiming were "adulterated and edited to generate controversy", was the comment from Murthy that "if he leaves for free, I'll get all the media to kill him" in reference to Soler. 
It was a rare glimpse into the world of professional football clubs and how they use the press to convey a certain message but one that clearly won't sit well with supporters with the emergence of the Valencia-born midfielder, one of the few things followers of Los Che have been able to get excited about in recent years.
Even if the content did little more than reaffirm existing suspicions, merely hearing the club's president speak so openly in such terms has done plenty to ignite fresh anger within a fanbase that was already united in their opposition to the ownership.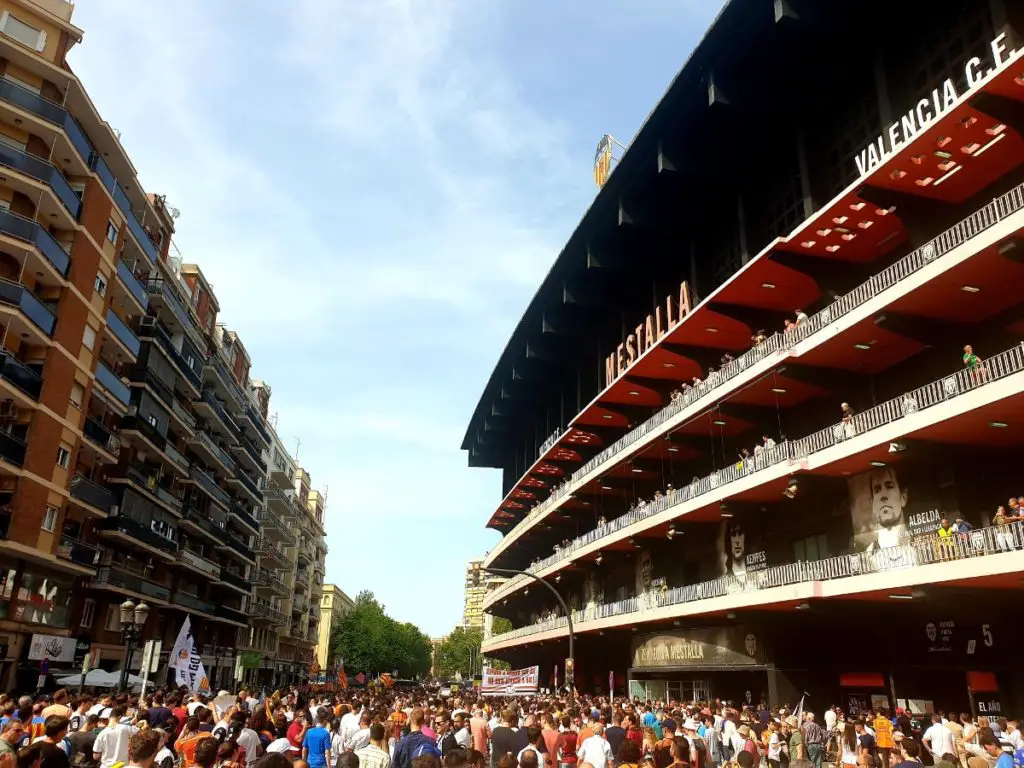 The extent of that unity was about to play out for all to see. The buildup to the Celta game, completely overshadowed by the Murthy tapes, led to calls for fans to boycott the match in protest against the ownership. As the 17:30 kick-off on a scorching hot May day in Valencia approached, fans piled towards Mestalla in their thousands, although most had little intention of going inside.
Instead they gathered in the streets outside Mestalla, with their dali protest masks and placards calling on Peter Lim to "go home". They went through the repertoire of anti-Lim chants, as has been the case on many occasions over the past few years, although this time they were clearly willing to take it up a notch.
Valencia fans are not the first of a major European club to attempt to organise a boycott, but they rarely gain enough traction to make any serious statement or lasting impact. It was immediately clear inside the stadium on Saturday that this was something different.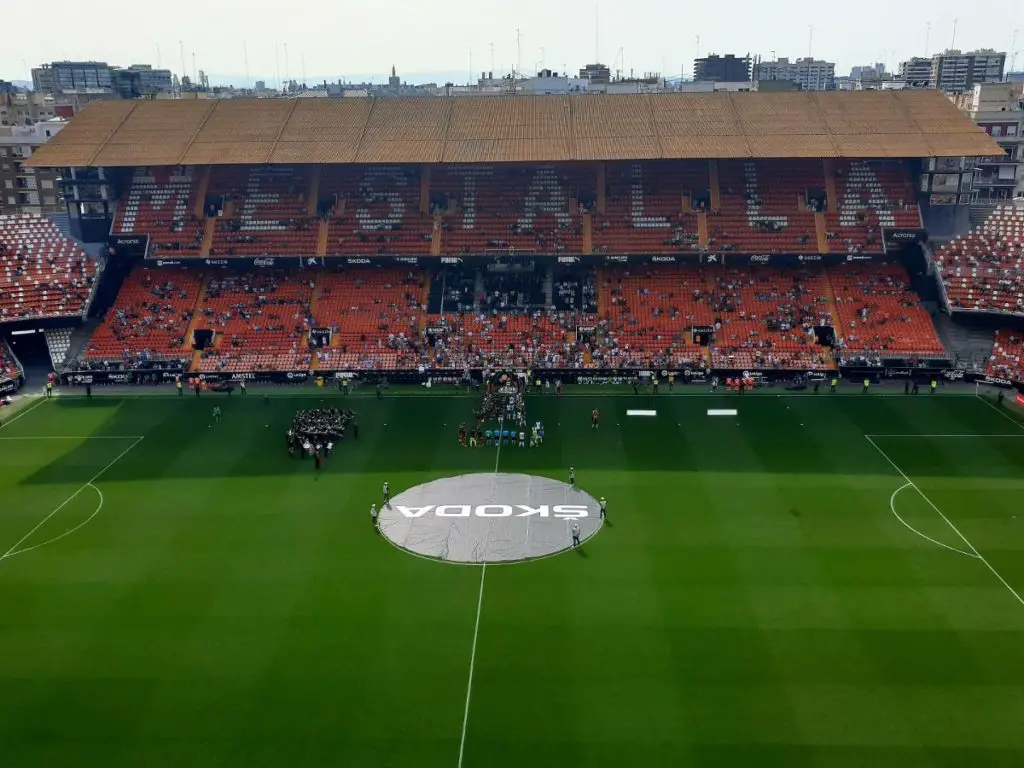 As the two teams strolled out, they were welcomed by a sea of orange seats with just a small smattering of supporters. It's never a good sign when you can read the words that the different coloured seats spell out and in parts of the stadium, it wouldn't have taken that long to count the number of people. The club would later announce an official attendance of 16,189 – a laughable attempt to alter the reality that was so obvious to anyone inside the stadium or watching on TV. To claim that the 55,000 capacity Mestalla was even 10% full would have still felt like an exaggeration.
In the early stages of the game, it seemed like the tiny crowd was actually generating a surprising amount of noise. That was, until you realised that the chants were not coming from those inside Mestalla, but from those still protesting outside as the game progressed.
Most of the noise inside was coming from the club's brass band that would sporadically play music to add to the somewhat surreal atmosphere. Many of the Valencia fans inside were youngsters and there was no suggestion that those present were in any way attempting to show solidarity with the ownership. There was no backlash for example, against any of the players mentioned in the leaks with the supposedly want-away Carlos Soler getting a warm welcome as he trotted over to take a 1st Half corner. Even some of the Celta fans were carrying "Lim Go Home" papers, although that may have been partly motivated by a desire to shade themselves from the baking sun.
The match itself went much as you might have expected given the conditions and the context of it being an end of season, mid-table game played in front of a sparse crowd. It quickly settled down to a predictably slow pace with not a lot of action in the early stages and neither side willing to really force the tempo.
Perhaps surprisingly given the off-field distractions and given they went into the game winless in nine matches in all competitions, Valencia were the better team. Maxi Gomez, having missed one good chance to open the scoring, broke the deadlock in the 28th minute, chesting the ball into an empty net from close range courtesy of Marcos André's pullback.
Celta had the feel of a team going through the motions and ready for their summer break but they did carve open one golden opportunity to equalise. Nolito, captaining the side in his final game for the club, was guilty of an awful miss towards the end of the 1st Half with surprise starter Jaume Doménech in goal for the hosts, somehow keeping the ball out with his feet despite being stranded on the turf.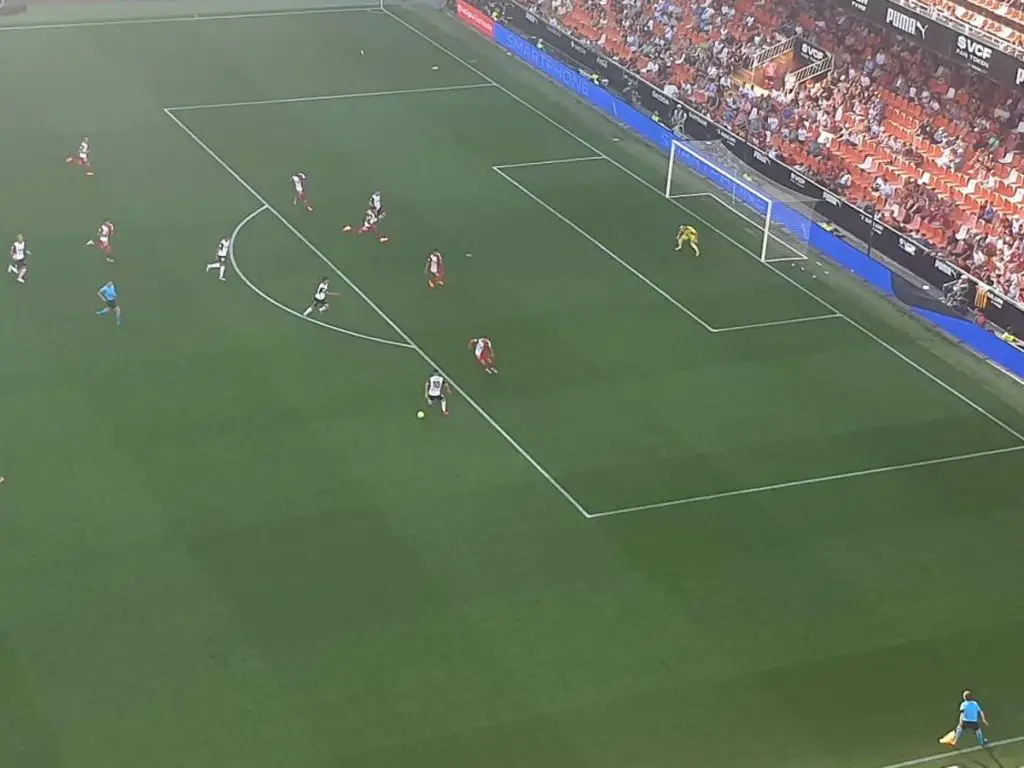 Jaume seemed to be just about the most fired up player on the pitch as he punched the air in celebration of the save. That would be as close as Celta would come to scoring in a game that never really ignited but ended 2-0 to Valencia after Maxi Gomez's cross was deflected into his own goal by Celta defender Néstor Araujo after the break.
It was a result that guaranteed Valencia a top half finish. While that's not even the bare minimum a club of their size should be targeting, it's a sign of the times and the mismanagement of this club in recent years, that going 9th on the final weekend could even be presented as a success.
Events on the pitch at Mestalla on Saturday were always going to be secondary to those off it though. The organised boycott of the game was unquestionably a success and made a powerful statement, best summed up by striking panoramic images showing thousands gathered in the street protesting whilst the game went on in front of the sparsest of crowds.
Despite their attempts to falsify the attendance, there was no way that the club's owner or president could seriously present this protest as merely consisting of a noisy minority, as may have been the case in previous years. This was a large fanbase making a very clear show of their unity and a shared desire, bordering on desperation, for change.
While this alone is highly unlikely to convince Peter Lim to seek to sell the club and may achieve little in the short-term, it has at least sent a message that even the club's controversial owner cannot afford to ignore.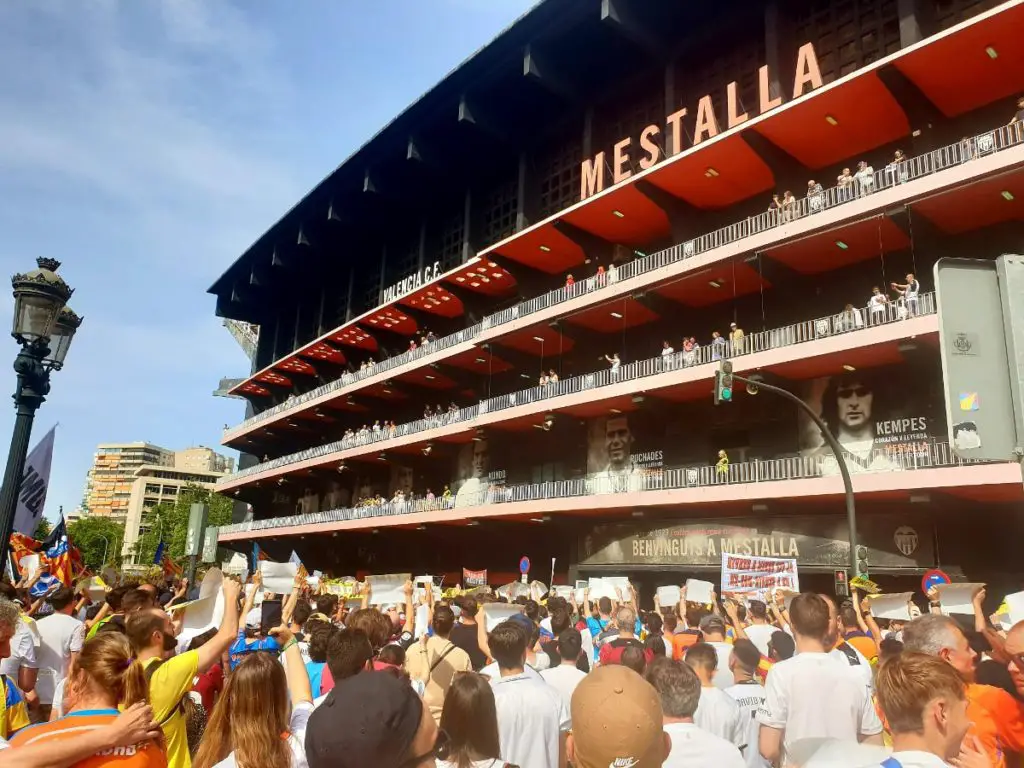 For now, he may just about be able to brush it off as a one-off event – a reaction to a week of embarrassing leaks that would have angered Lim as much as they would have many of the fans. This after all, was not Real Madrid or Barcelona visiting in an important game in the middle of the season, it was a final weekend match where there was essentially nothing at stake and where the global TV audience would have been minimal in any case, sparing the owner any greater sense of humiliation.
Were protests and boycotts of this scale to continue when the 2022/23 campaign kicks off, only then would this become a serious problem for Peter Lim. Like many unpopular owners of well-supported clubs, he'll essentially be banking on the desire and passion people have for going to watch their teams, simply being too strong.
It's a gamble that usually pays off but there is increasingly a sense with Valencia that this fanbase isn't far from breaking point. If history teaches us anything, this board is not going to back down or bother even attempting the kind of charm offensive that might help to at least cool the situation heading into next season.
It's not too difficult to envisage a scenario where things further unravel this summer, key players and potentially the coach leaves and Valencia fans reach the stage where they believe the kind of boycott we saw this weekend, repeated on a regular basis, is the only viable way to try to force Lim's hand.