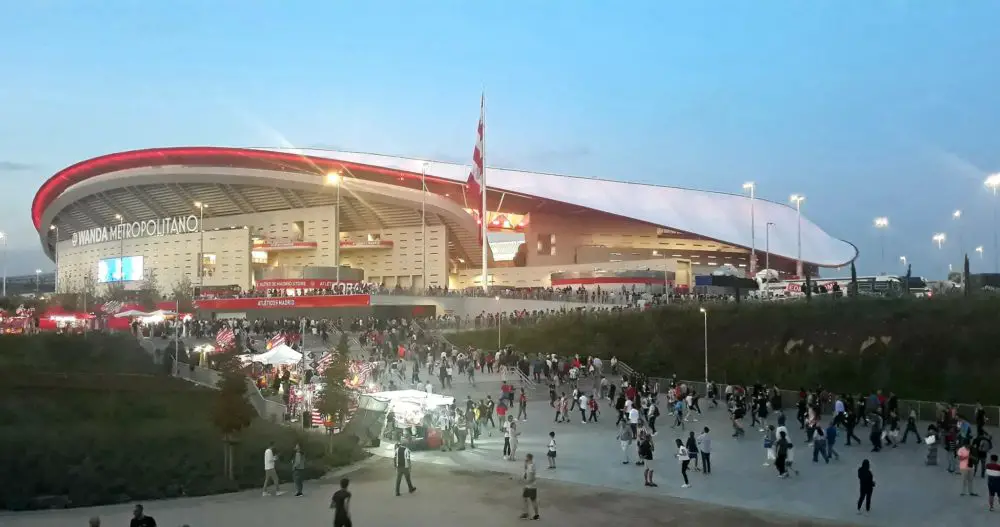 Seven seasons have now passed since what was arguably Atlético Madrid's greatest ever campaign. Any doubt about that would have been removed were it not for Sergio Ramos' 93rd minute intervention in Lisbon but Atleti's unexpected title success and all-round excellence in 2013/14 remains the gold standard to which they've come close to, but haven't quite been able to match ever since.
While Diego Simeone remains and the methods are loosely similar, plenty has changed since then, both in the red and white half of Madrid and in the wider realms of Spanish football.
Atlético Madrid are now operating on a financial level which means it's not unrealistic to expect them to at least push Barcelona and Real Madrid very close, something that was certainly not the case seven years ago. While the costs of a magnificent new stadium, not to mention the pandemic, have taken their toll, it's worth a reminder that less than 18 months have passed since Atleti completed the fourth most expensive transfer in football history to sign João Félix from Benfica.
While that move was largely made possible by player sales, the statement was still clear. This is a bolder, more self-assured, more ambitious Atleti now than the one that unexpectedly took Spanish and European football by storm in 2013/14.
Much has changed with their rivals too. Barcelona and Real Madrid are no longer the undisputed European superpowers they were seven years ago. Despite Los Blancos' 2014 Champions League success sparking a five year winning streak in the competition for LaLiga's big guns, neither are seen as strong contenders to be crowned European champions this year.
Nor are they even guaranteed their place in next season's competition if the opening weeks of LaLiga 2020/21 are anything to go by. With neither Barça nor Madrid showcasing even the remotest sign of consistency, the prospects of a surprise title winner have not looked greater at this stage in a Spanish football season since the early 2000's when the likes of Valencia and Deportivo La Coruña got their hands on the trophy.
Following Real Madrid's latest shocking home display – a 2-1 defeat against Alaves last weekend, coupled with a 6th straight win for Diego Simeone's side, Atleti are now the bookmakers' favourites to emulate the class of 2013/14 by winning their second league title of the 21st Century.
While there are few surviving members of that team, they share plenty of similar traits and based on the first nine games at least, Atleti look well placed to replicate that team's achievements, at least in a domestic setting.
Atlético Madrid's first 9 LaLiga Fixtures – 2013/14 vs 2020/21
| | | |
| --- | --- | --- |
| Matchday | LaLiga 2013/14 | LaLiga 2020/21 |
| 1 | Won 3-1 vs Sevilla (A) | Won 6-1 vs Granada (H) |
| 2 | Won 5-0 vs Rayo (H) | Drew 0-0 vs Huesca (A) |
| 3 | Won 2-1 vs R. Sociedad (A) | Drew 0-0 vs Villarreal (H) |
| 4 | Won 4-2 vs Almeria (H) | Won 2-0 vs Celta (A) |
| 5 | Won 2-0 vs R. Valladolid (A) | Won 2-0 vs Betis (H) |
| 6 | Won 2-1 vs Osasuna (H) | Won 3-1 vs Osasuna (A) |
| 7 | Won 1-0 vs Real Madrid (A) | Won 4-0 vs Cadiz (H) |
| 8 | Won 2-1 vs Celta Vigo (H) | Won 1-0 vs Barcelona (H) |
| 9 | Lost 1-0 vs Espanyol (A) | Won 1-0 vs Valencia (A) |
2013/14 After 9 Games:
Scored 21 | Conceded 7 | Points 24
2020/21 After 9 Games:
Scored 19 | Conceded 2 | Points 23
Atlético Madrid laid the foundations for their first title win in 18 years with eight straight league wins to start the 2013/14 season. While it was ultimately a triumph largely built on their solid defensive qualities, Atleti came out firing with 18 goals in their opening 6 matches. Diego Costa scored 7 of those and would also net the only goal at the Santiago Bernabeu on matchday 7, a first Madrid derby league win in 14 years and a clear sign that Cholo's men meant business.
The class of 2020/21 also came out swinging, netting six in their opening game against Granada. Again it was Costa, who went on to score 27 league goals in 2013/14 (easily the best haul of his career) who set the ball rolling with the opener in the win over Granada.
While Costa won't have as big a role to play this time around and while Atleti were held to goalless draws in their subsequent two games, the symmetry can be traced to another 1-0 win against a major title rival, this time on matchday 8.
? Atleti beat FC Barcelona 1️⃣-0️⃣ in the previous @LaLigaEN fixture.

⚽ @CarrascoY21 ⚡

?⚪ #AúpaAtleti | ⚽ #ValenciaAtleti pic.twitter.com/ruKdfqckmC

— Atlético de Madrid (@atletienglish) November 28, 2020
Previously winless in LaLiga against Barcelona under Diego Simeone, Atleti ended a barren decade against the Catalan giants with a victory which, as was the case at the home of their city rivals in September 2013, felt like it was worth more than three points. The degree of comfort with which they saw the game out against Barcelona suggested this is now a wiser and stronger team than those that have failed to mount a serious title challenge or even land significant blows on their main rivals in the past few years.
After nine games, Atlético Madrid are only one point worse off than they were in 2013/14. They went on to claim 90 points that season to pip Gerardo Martino's Barcelona and Carlo Ancelotti's Real Madrid to the title. The two most recent editions of LaLiga have both been won with 87 points and with the big two both flattering to deceive, it's unlikely to take even that much this year.
How do the teams compare?
Atleti 2013/14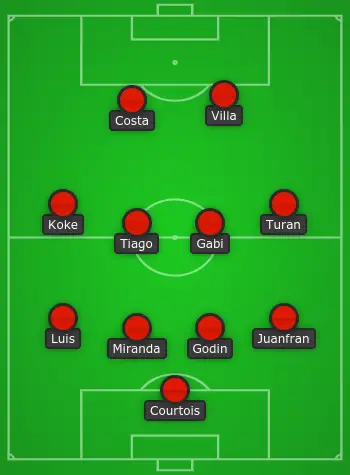 While Diego Simeone has demonstrated more of a willingness to tinker with his approach this season, the core structure of how he wants his team to play remains similar to what it was in 2013/14.
That season, with Thibaut Courtois in goal and an established first choice back four of Filipe Luis, Diego Godin, Miranda and Juanfran, Atleti conceded just 26 goals in LaLiga at an average of only 0.68 per game. All of those five players started at least 32 league games with the familiarity of playing together key in creating such a formidable defensive unit.
While speaking in the present, the thought of such a strong back four with a leader like Godin at the heart may seem hard to match, it's worth remembering that heading into the 2013/14 season all of those players were yet to truly prove themselves at the very top level, certainly in terms of competing with the genuine elite teams in Europe which Atleti did throughout that campaign.
In terms of sheer physicality though, that 2013/14 Atleti squad was streaks ahead of this current Atleti side or just about any other successful Spanish team over the past couple of decades. The likes of Raul Garcia and Mario Suarez regularly came into the eleven as this tough, modern Atlético Madrid identity in the spirit of its coach was formed.
Atleti 2020/21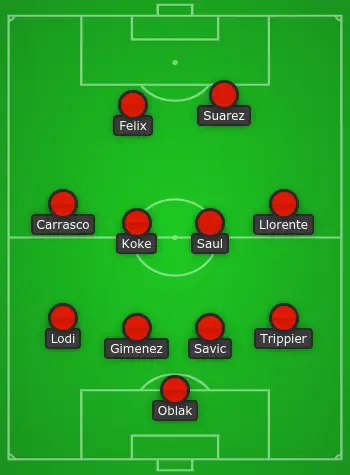 Seven years on and while there may be slightly less of the physical, bordering on nasty stuff, Atlético Madrid no longer look like a side that has lost its soul, as has been suggested during the darker moments of recent seasons.
While a host of important players have departed, including several surviving members of the 2014 squad, those solid defensive foundations remain. Jan Oblak, arguably the best goalkeeper in the world, is a pretty good starting point and while there are chinks in the back four which the likes of Bayern Munich have exploited in the Champions League, few teams in Spain get much change out of it.
Atleti only let in 27 goals last season, two fewer than in the previous year when the likes of Godin and Felipe Luis remained and only one more than during the title-winning season. They've only conceded twice so far this term in LaLiga with Felipe staking a claim for a regular starting role in the heart of defence.
It's small tweaks and changes further up the pitch, that have taken place over the course of 2020, that are responsible for Atlético Madrid's transformation into a team that is scoring more goals and looks capable of challenging for the title once more.
? Marcos Llorente with Real Madrid:
? Games: 39
⚽ Goals: 2
? Assists: 0

? Marcos Llorente with Atlético Madrid:
? Games: 50
⚽ Goals: 9
? Assists: 8 pic.twitter.com/aJxtJnS8k3

— AS English (@English_AS) December 3, 2020
While he's had his critics in recent years, both in the media and occasionally in the stands of the Wanda Metropolitano, Diego Simeone has managed to pull off a few masterstrokes. He's largely responsible for Marcos Llorente's unlikely transformation into a goalscoring midfield player. Atleti's resurgence and current 25 game unbeaten run in LaLiga can loosely be traced back to that switch in the spring of 2020.
Even with key holding midfield Thomas Partey leaving for Arsenal on deadline day, Cholo has found a midfield system that balances risk and reward. He has also shown a willingness to veer from his trusty 4-4-2 and has done so with greater success than in recent years – even utilising wing-backs in the win over Barcelona with Yannick Carrasco shining on the left flank.
The most striking difference between the class of 2014 and last season's Atlético Madrid was up top though. Diego Costa and David Villa contributed a combined total of 40 league goals in 2013/14, while Raul Garcia chipped in with 9 despite starting less than half of his team's matches.
Last season in LaLiga, Alvaro Morata top scored with 12 while no other Atleti player passed 6. Nine games into the 2020/21 campaign and they look to once more have a strike pairing that could potentially provide the cutting edge in the final third that could fire them to glory this term.
In La Liga and the #UCL this season, João Félix has been directly involved in 10 goals [8G 2A] in 11 starts.

Evolving. ?? pic.twitter.com/fMLS50H2pW

— Statman Dave (@StatmanDave) December 1, 2020
João Félix and Luis Suarez have contributed 5 league goals apiece already. The former is starting to look the outstanding player that Los Rojiblancos thought they were getting when they paid all that money in 2019. Meanwhile even at 33, Suarez still has so much to offer and in a system that is showing tantalising signs of getting the best out of both, Atleti fans have every right to be optimistic about what could be in store this season.
Their chances are of course aided by the limitations of their rivals. This is no longer a Barcelona of Xavi and Iniesta serving up chances for a 26 year old Leo Messi nor of a marauding Dani Alves at full-back as it was in 2013/14. Real Madrid's destructive 'BBC' has long been dismantled and hasn't come close to being replaced.
Unless the big two find a level of consistency that currently seems improbable and providing current leaders Real Sociedad or a strong Sevilla side don't do something absolutely extraordinary, Atlético Madrid most likely won't even need to be as good as they were seven years ago, to claim their 11th league title in 2020/21.
---
Read More – LLE on the Road in Móstoles – Spanish Football's New Normal