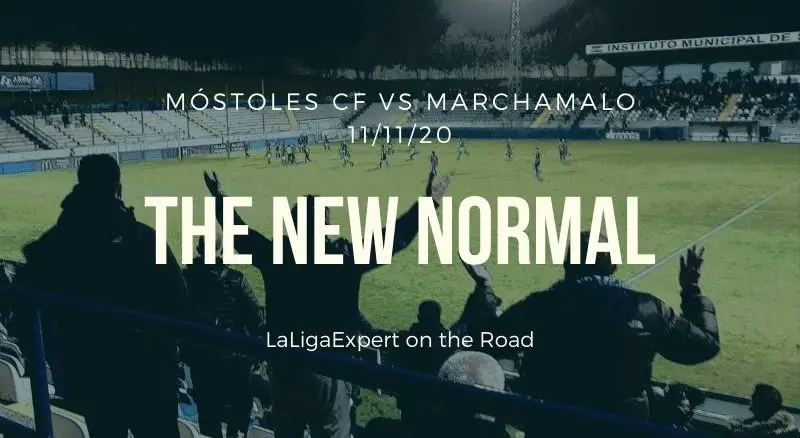 Eight months have now passed since the last meaningful football action was played out in Spain in front of anything close to a large crowd. With Europe facing a second wave of the coronavirus pandemic and Spain again particularly badly hit, the prospect of Spanish football returning to anything like normality currently seems no closer than it did in the spring.
Madrid's major football stadiums have been eerily quiet since early March. Atletico Madrid's memorable Champions League victory over Liverpool now seems like an event in the distant past. The Santiago Bernabeu hasn't even hosted a match let alone welcomed supporters since the Clasico over 250 days ago.
However lower down Spain's football ladder, where TV revenues are non-existent and many clubs will simply fold without some degree of matchday revenue, small crowds have been allowed to start filtering back into stadiums.
Wednesday evening marked a significant step on the return to something like normality as for the first time since March, football in one of Spain's major club competitions took place with fans present as the 2020/21 Copa del Rey commenced with ten preliminary round ties.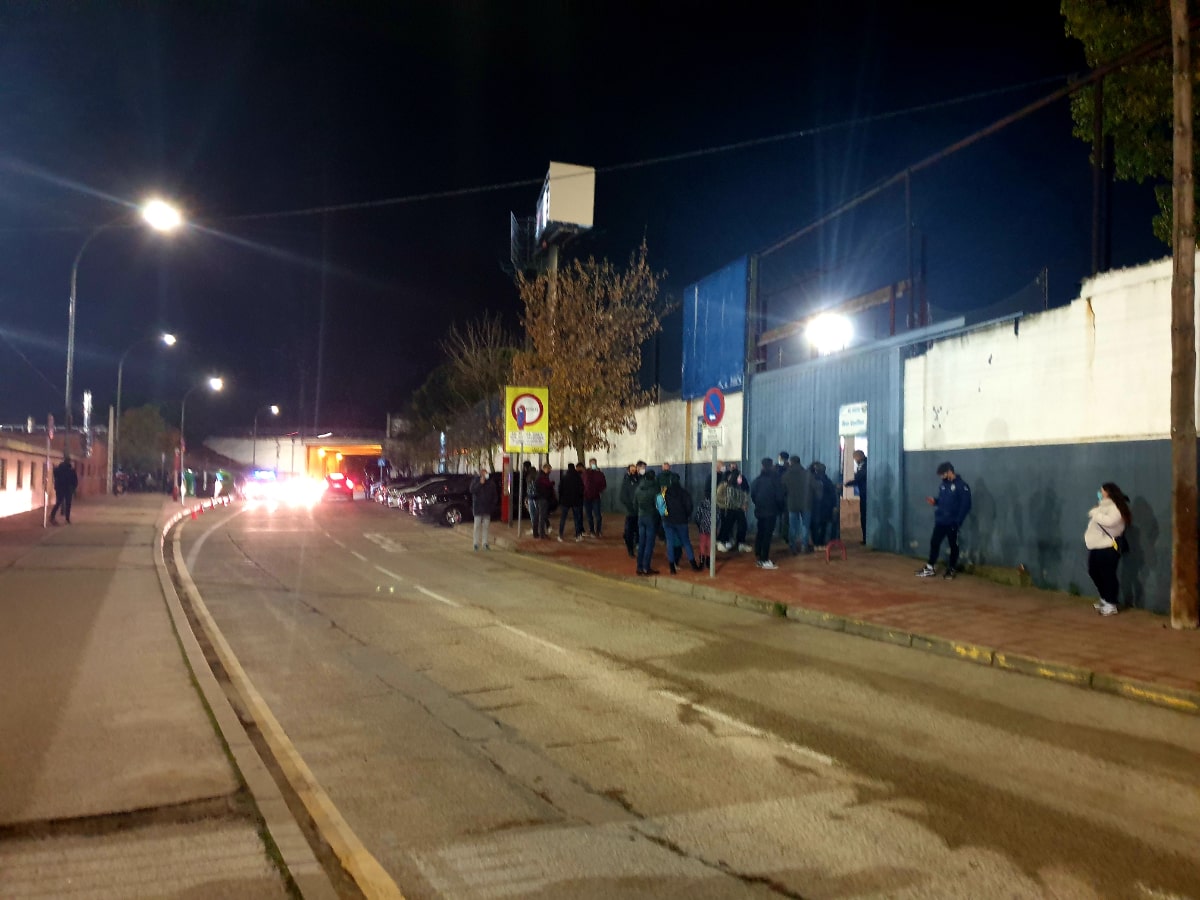 For close to three hours at the Estadio Municipal de El Soto, on the southwestern fringes of Madrid, football fans were able to briefly forget about the misery of a difficult year and once again indulge in the simple pleasures of cheering on their team, berating referees and bemoaning missed opportunities.
Well, almost. Followers of Móstoles C.F. were subjected to temperature checks on arrival as they passed through the turnstiles to take their socially distanced seats. An open seating policy, presumably due to a lack of seat numbering, and a very limited number of stewards meant this was only loosely enforced but it's something that will be easier to put into place once fans are finally allowed to return to larger stadiums.
The facemask was mandatory at all times, as it has been in just about every public setting in Spanish life since the summer. In the pre-pandemic world, this would have been a pretty bizarre set of circumstances to watch a game of football, but in a nation now accustomed to 'la nueva normalidad', once the awkwardly distanced team photographs concluded and the action began, it just felt like a regular cup tie, with two committed teams desperate to progress into the next round.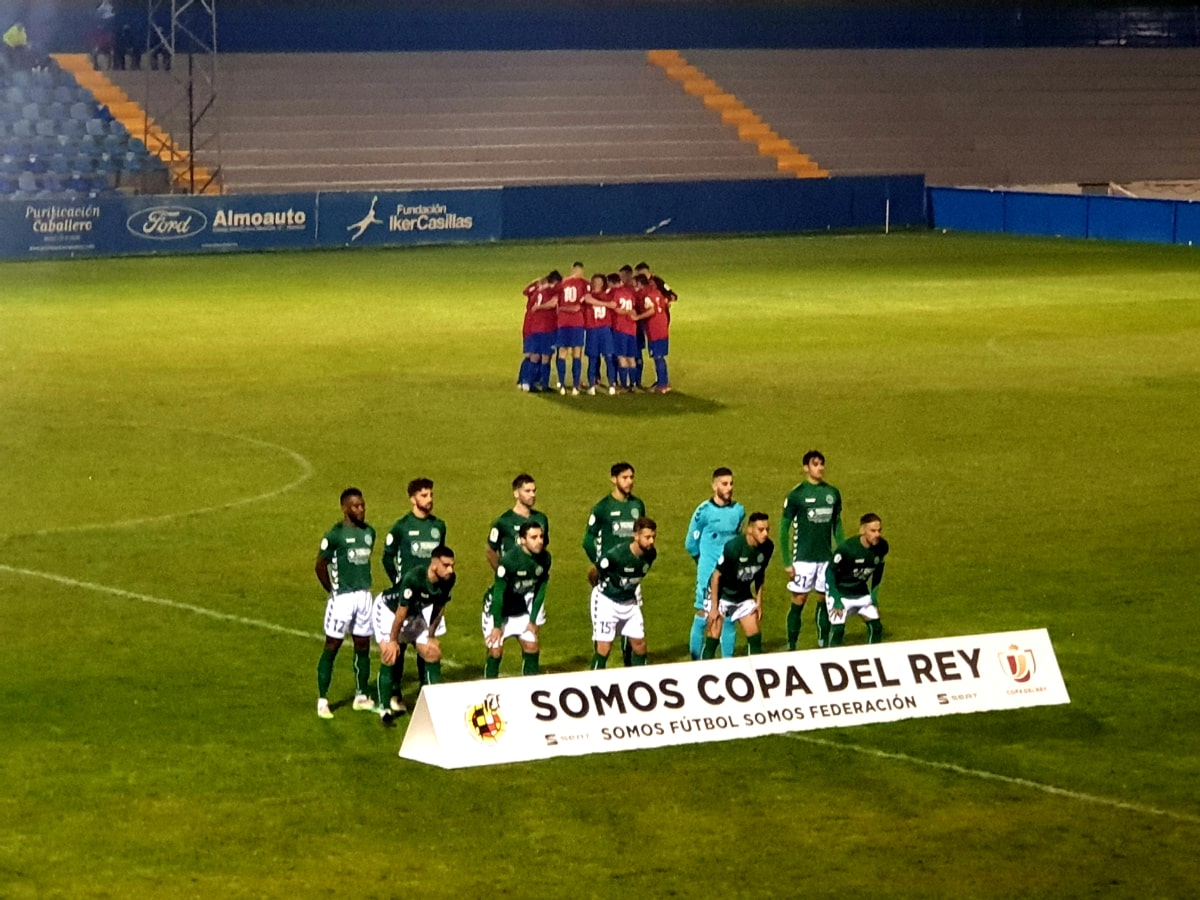 It was a meeting of two Tercera División clubs bidding to make it into the 1st Round of the Copa del Rey and land a glamour home tie against top flight opposition. For both Móstoles and opponents CD Marchamalo, the prize on offer was truly historic with neither having taken part in the 2019/20 Copa, the first to have included clubs from so far down the Spanish football pyramid.
Despite having lost their opening three 2020/21 league fixtures, it was a bright start from Móstoles CF, who are not to be confused with Móstoles URJC, the now defunct CD Móstoles nor UD Móstoles Balompié who gained international attention in 2019 by changing their name to Flat Earth FC.
The match started with the kind of intensity you might expect from two non-professional teams competing for what for many players would potentially be a once-in-a-lifetime opportunity to pit their wits against LaLiga opposition. The home supporters were dreaming of welcoming the likes of Atletico Madrid or Sevilla to a dated ground which feels like a throwback to a bygone era with tall floodlights, old-fashioned netting and a terraced section behind one of the goals.
Read More – LLE on the Road in El Alamo as the new-look Copa comes to town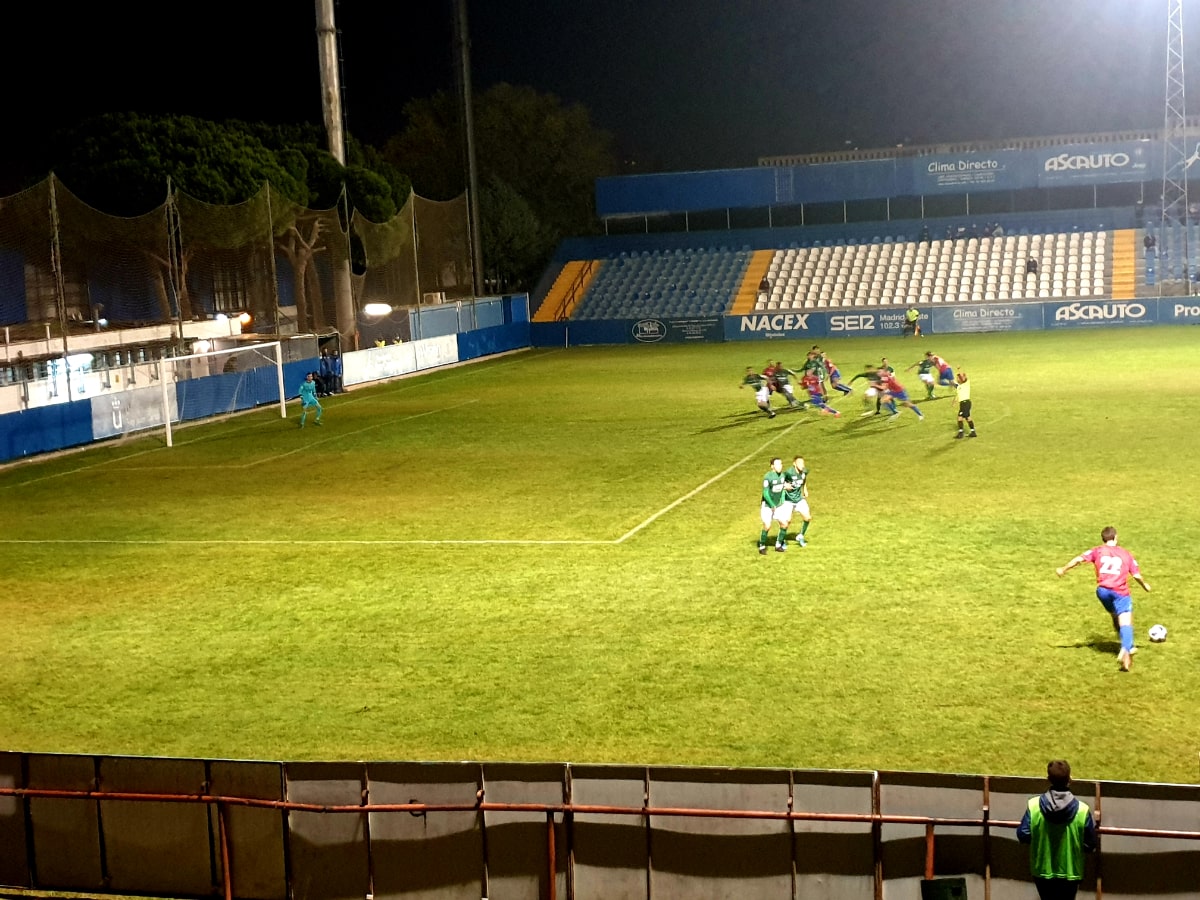 An early long-range effort which drew a save out of the visiting goalkeeper and a couple of set pieces set the tone as Móstoles, wearing red shirts and blue shorts, settled more quickly into the game. Their lively winger Cristian was already catching the eye with his pace down the left flank and created a bit of excitement amongst supporters gathered in the stadium's main stand with an enterprising run to the byline which resulted in another corner.
Even with the restrictions on social distancing, there were still many empty sections in what is a large stadium by fourth tier standards. Football fans in Móstoles would in truth have been forgiven for having long since lost faith in their hometown team/s with a series of clubs coming and going without really capturing the imagination of locals.
Despite boasting the largest population of any Madrid municipality outside of the city itself, Móstoles football hasn't flourished in the same way it has in Getafe or Leganes, or even in Alcorcon or Fuenlabrada, all neighbouring towns in the Spanish capital's southern commuter belt. Móstoles is the only one without a club currently in the top two tiers, and it isn't even represented in the Segunda B.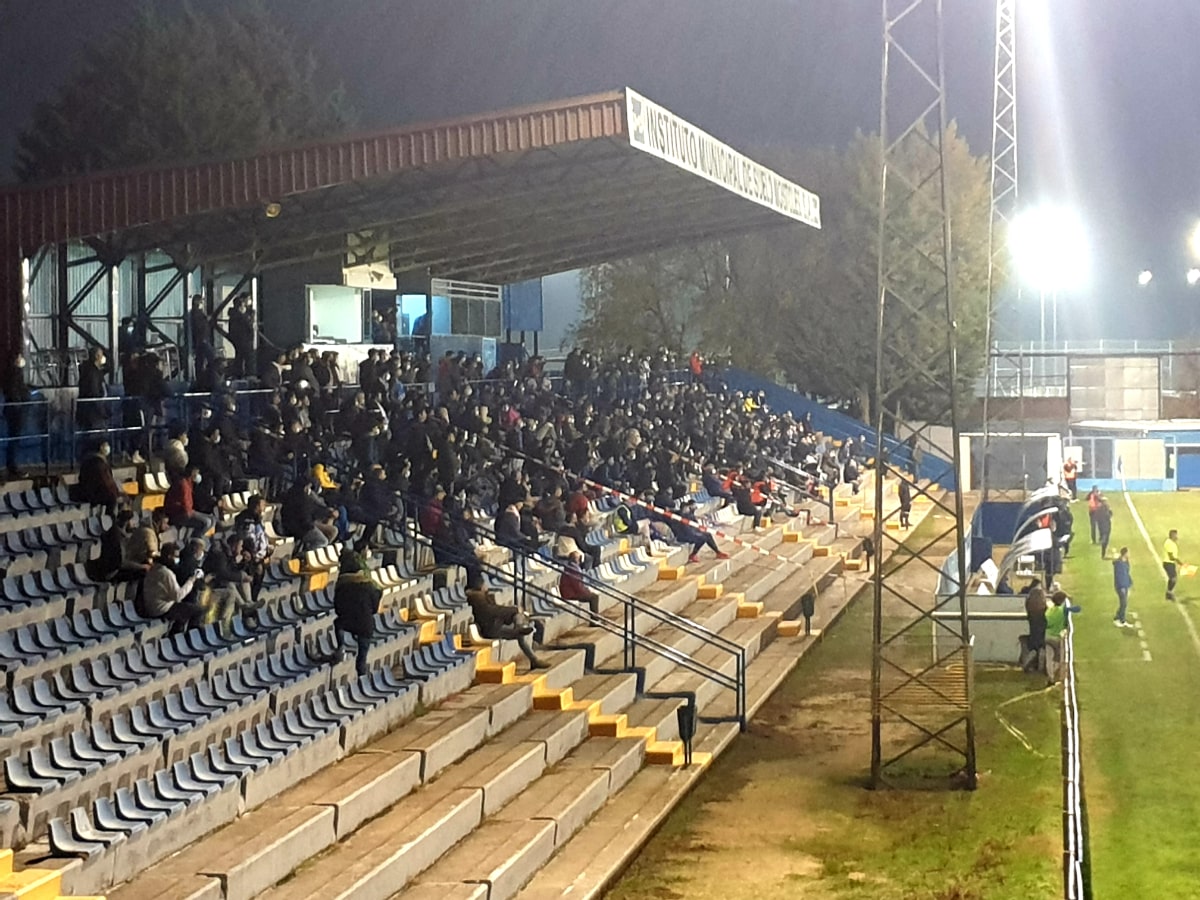 It does though at least boast the considerable honour of being the hometown of Spain's greatest ever goalkeeper and until very recently most capped player. The Estadio El Soto lies on the Avenida de Iker Casillas and is across the street from the Campos de Fútbol Iker Casillas, numerous full-size pitches where dozens of youngsters were training prior to the game. Had this match taken place in any other year, you suspect the club would have provided tickets for many of them to swell the numbers for the occasion of arguably the club's biggest ever fixture.
In a region particularly badly hit by COVID-19, a bit of cup magic and something to get excited about was certainly welcome, although in such difficult times there was also clearly a significant financial incentive for the club to progress into the next round.
The same was clearly true of Club Deportivo Marchamalo, whose players and staff hadn't had to travel too far for the game being based in the province of Guadalajara in Castilla–La Mancha, only a few miles outside the outer boundaries of the Comunidad de Madrid.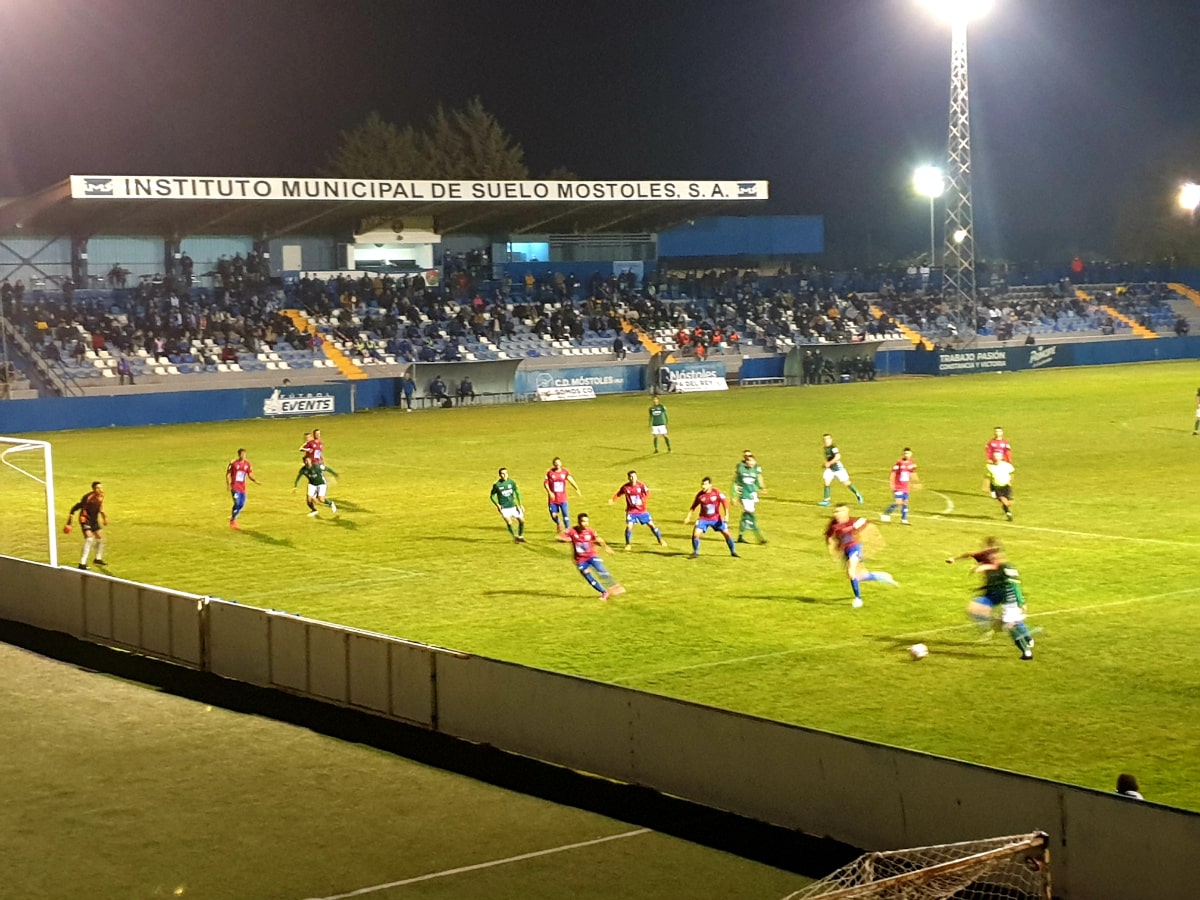 Aside from a hopeful volleyed attempt that sailed comfortably wide, Marchamalo, playing in their home strip of dark green shirts and white shorts, were struggling to get much of a foothold in the game without really looking like they were ever in imminent danger of conceding. With both sides having managed just one goal in their opening three league games, this clearly wasn't going to be a free-flowing classic.
Despite being mostly on the backfoot, the visitors were clearly in no mood to go down without a fight though and Móstoles' players and fans alike were starting to voice their displeasure at what they perceived to be a rather too physical approach from the visitors.
At one point, two Móstoles players were sent tumbling to the ground within the space of a few seconds in separate incidents as an increasingly feisty First Half drew to a close with no goals and little in the way of clear goalscoring opportunities.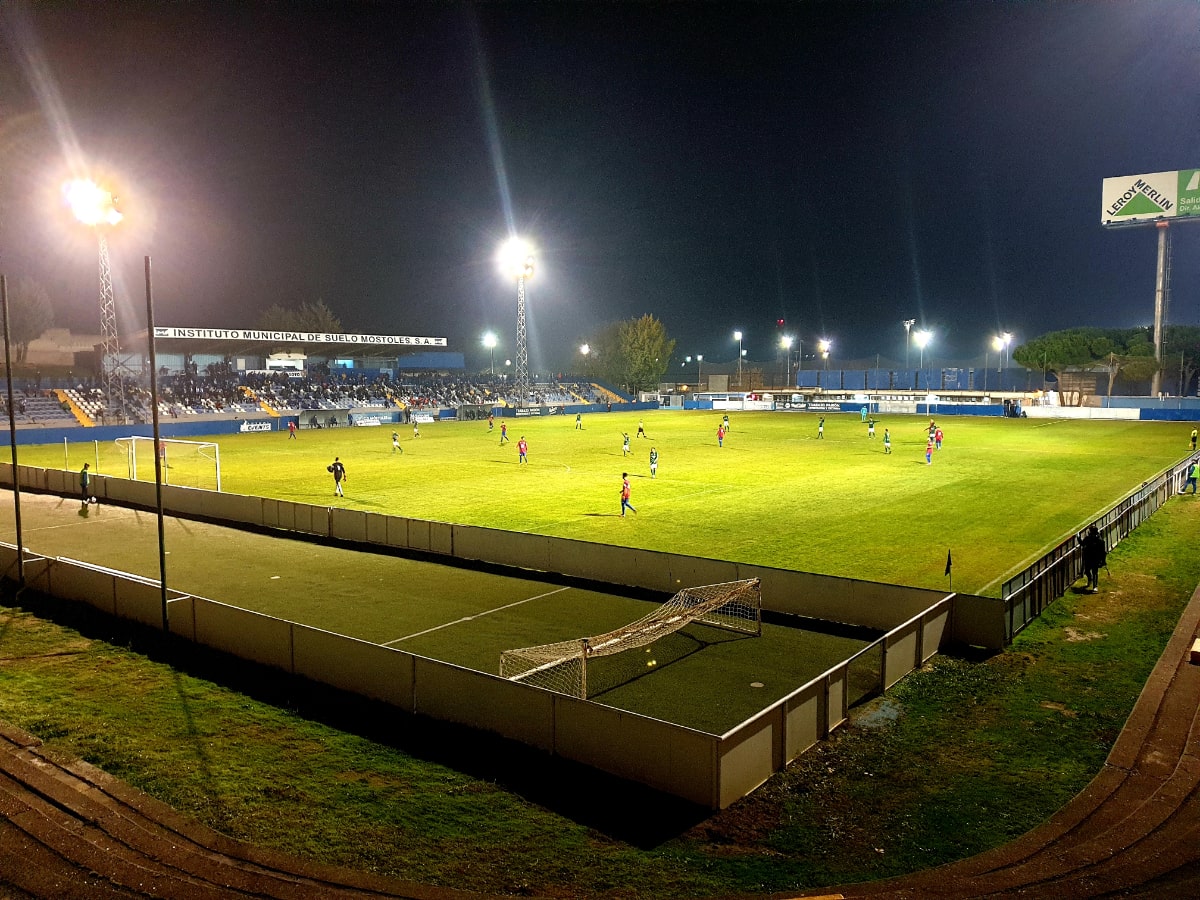 The game recommenced in similar fashion and within five minutes of the restart, there were again two Móstoles players on the ground to the increasingly audible protestations of the home supporters.
Some of the complaints were justified but there were also some fairly blatant attempts to trick the referee into giving free-kicks or penalties from the home team. One such incident resulted in a booking for Móstoles' number 12 Barri, only moments after he'd failed to make proper contact with possibly the clearest opening of the game to date, which somewhat predictably came via a set-piece.
Yells of 'Fuera, Fuera!' rang out from the supporters gathered underneath the only roofed section of the Estadio El Soto. Under ordinary circumstances, it's a somewhat tedious chant that greets just about every decision that goes against home teams up and down Spain. However in these strange times, there was something oddly refreshing about being in a stadium and hearing normal home supporters berate the referee after months and months of televised games, virtual fans and fake crowd noise.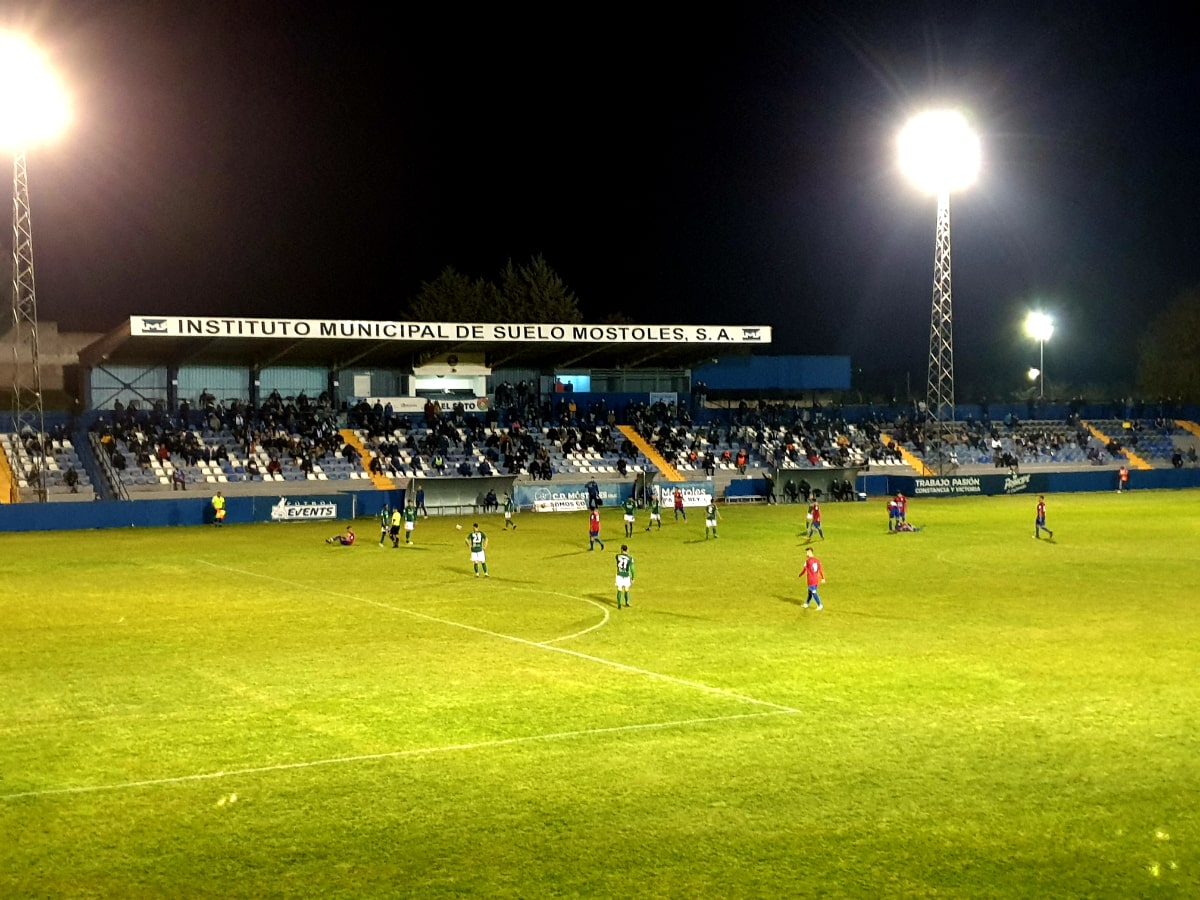 The game did finally start to open up in the Second Half as Móstoles grew in confidence and on the hour mark, they created the first major opening of the game. With the Marchamalo defence having pushed up slightly, midfielder Víctor Pacheco found some space in behind the visiting back-line and raced clear on goal. He managed to dink the ball past the onrushing goalkeeper but it slid agonisingly wide as the 22 year old sank to his knees and put his head in his hands, knowing a golden opportunity had just passed by.
Móstoles were managing to get more midfield runners forward and for a spell it looked like it was only a matter of time before they would find the breakthrough. A well-worked short corner created another clear opening but David Flores' header cannoned off the crossbar and came out.
As the game headed into the final twenty minutes though, tired legs started to become more and more evident on both sides, understandably so given the effort they had put in. Marchamalo, seemingly having weathered the storm, grew into the game a bit and created a rare opening as substitute Juan fired in a low shot from just inside the area that was comfortably saved by the Móstoles keeper.
With the stakes so high and fatigue setting in, an element of caution crept back into the game and the final ten minutes would prove uneventful before the referee blew up meaning we'd have Extra Time and if required penalty kicks to decide which club would progress into the Copa del Rey 1st Round when sixteen top flight clubs would enter the competition.
For those aiming to make it home before the midnight curfew, the latest effort to halt the spread of coronavirus in the Madrid Community, Extra Time was not good news. It was already 22:00 and the Estadio Municipal de El Soto is not the most conveniently located football stadium for anyone without a car – positioned a stone's throw from the busy A-5 expressway on the very outskirts of Móstoles.
Some fans were forced to leave early, a problem which would have been easily fixed by kicking off an hour earlier. Scheduling around such restrictions may be a fresh dilemma for the football authorities when fans are eventually allowed to return to LaLiga grounds with the TV companies eager for many of the glamour fixtures to be staged in the 21:00 slot.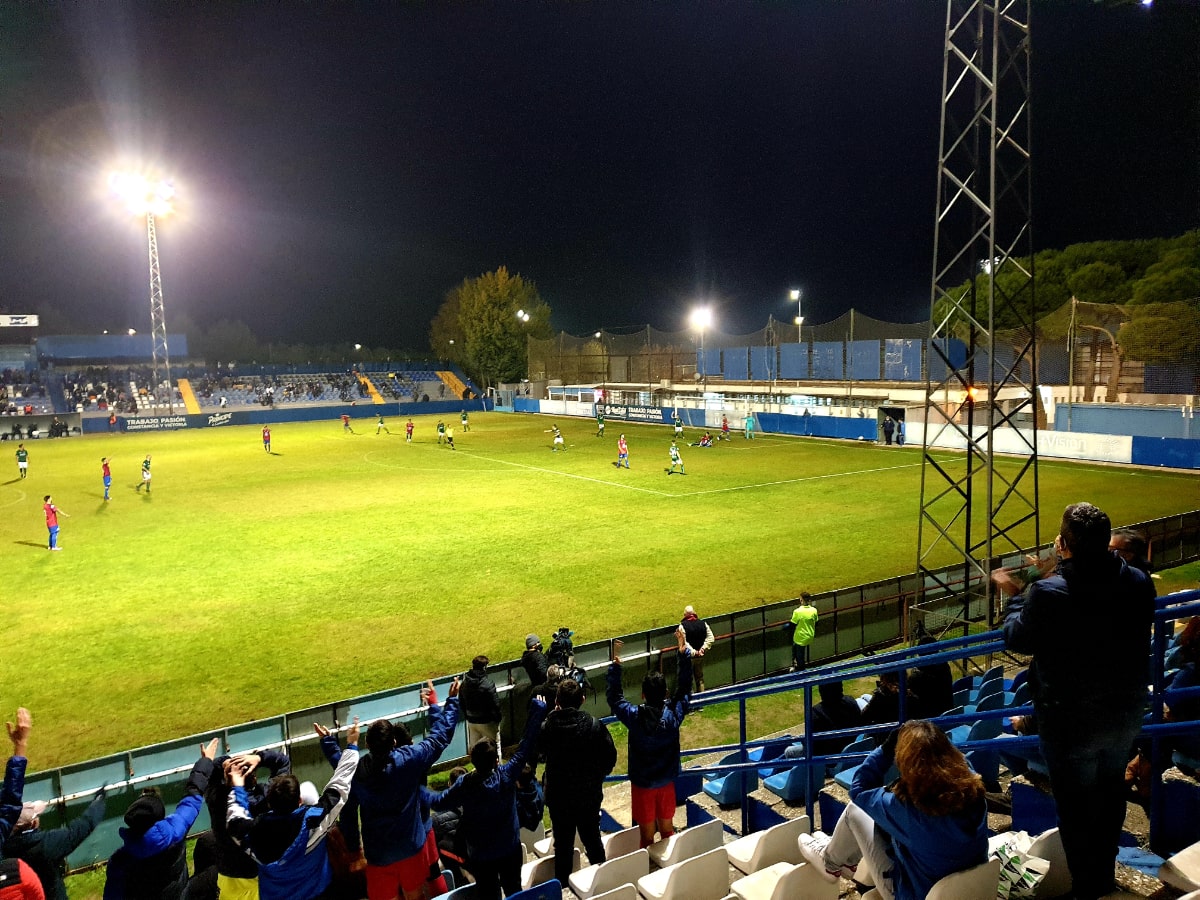 Despite an even more reduced crowd, El Soto was as loud as it had been all night as Extra Time got underway. The passion was still very evident on the pitch too, with the tackles continuing to fly in. The penalty appeals were getting even more hopeful but it was becoming increasingly apparent that this was a match that was heading for only one conclusion.
The lack of quality could be forgiven when you consider both sides had only recently started their league seasons after more than six months without competitive football. Unlike the professional leagues, Spain's regionalised lower tiers did not resume following the initial COVID-19 outbreak in March and it was a wonder how some of these players were still standing let alone trying to produce a moment of magic to win a cup tie.
Both sides had moments of brief promise with a long range strike from Marchamalo substitute Danilo whizzing just past the post before Cristian again beat his man to reach the byline for Móstoles to carve open a half chance that was well blocked by the away defence.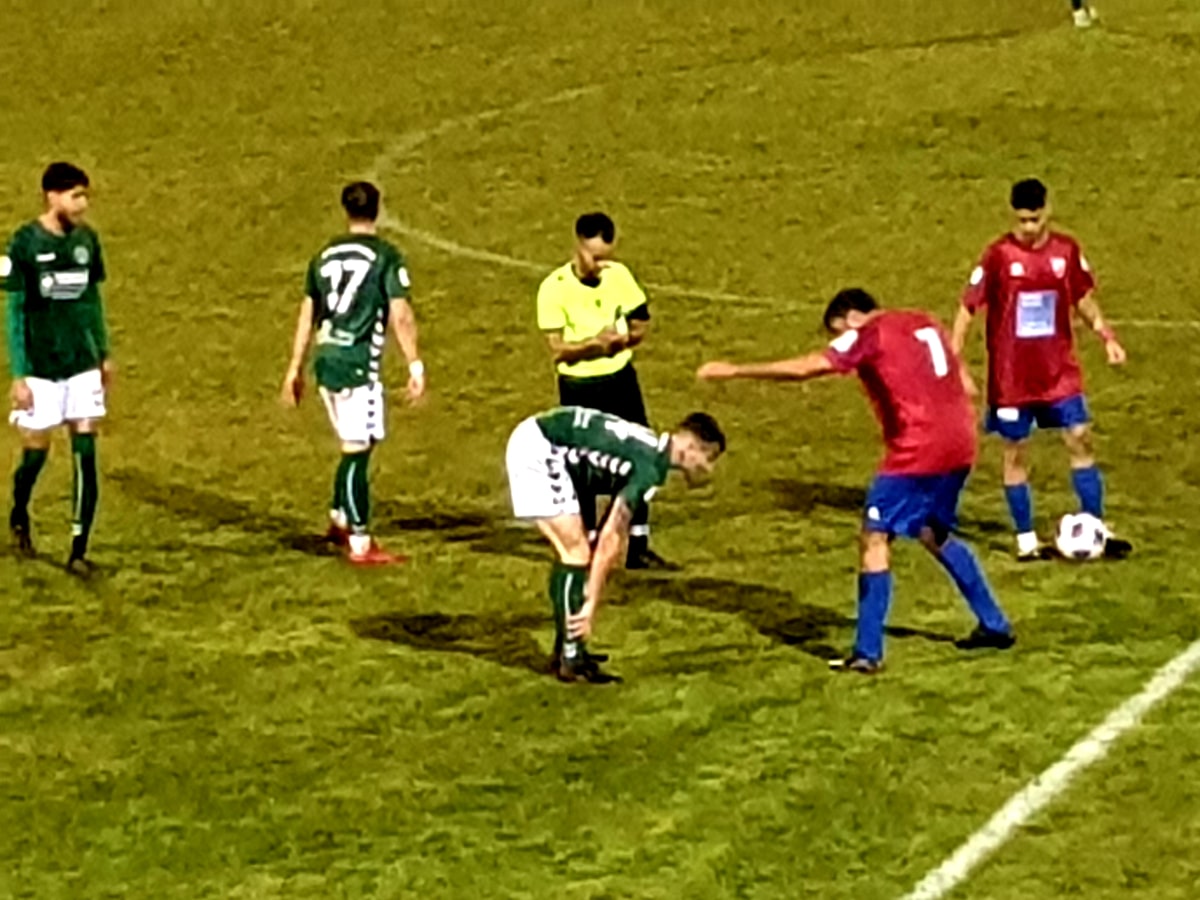 Tensions spilled over into a confrontation between multiple players after one heavy challenge too many in the second period of Extra Time but the referee ultimately managed to contain the situation and before too long he was blowing up to bring to an end a goalless 120 minutes which meant penalty kicks would decide which club would get the honour of hosting top flight opposition for the first time.
The few stewards had long since lost hope in the battle to enforce social distancing in the stands by this point and dozens of Móstoles fans gathered on the sidelines, at the end the penalties were going to be taken.
On the balance of play, the hosts had certainly had the better of the game but a lack of ambition had perhaps cost them the chance to avoid the lottery of the penalty shootout. Despite their ascendancy, Móstoles had been playing with only their number nine Helmer up top for much of Extra Time and it was he who would take the first spot-kick.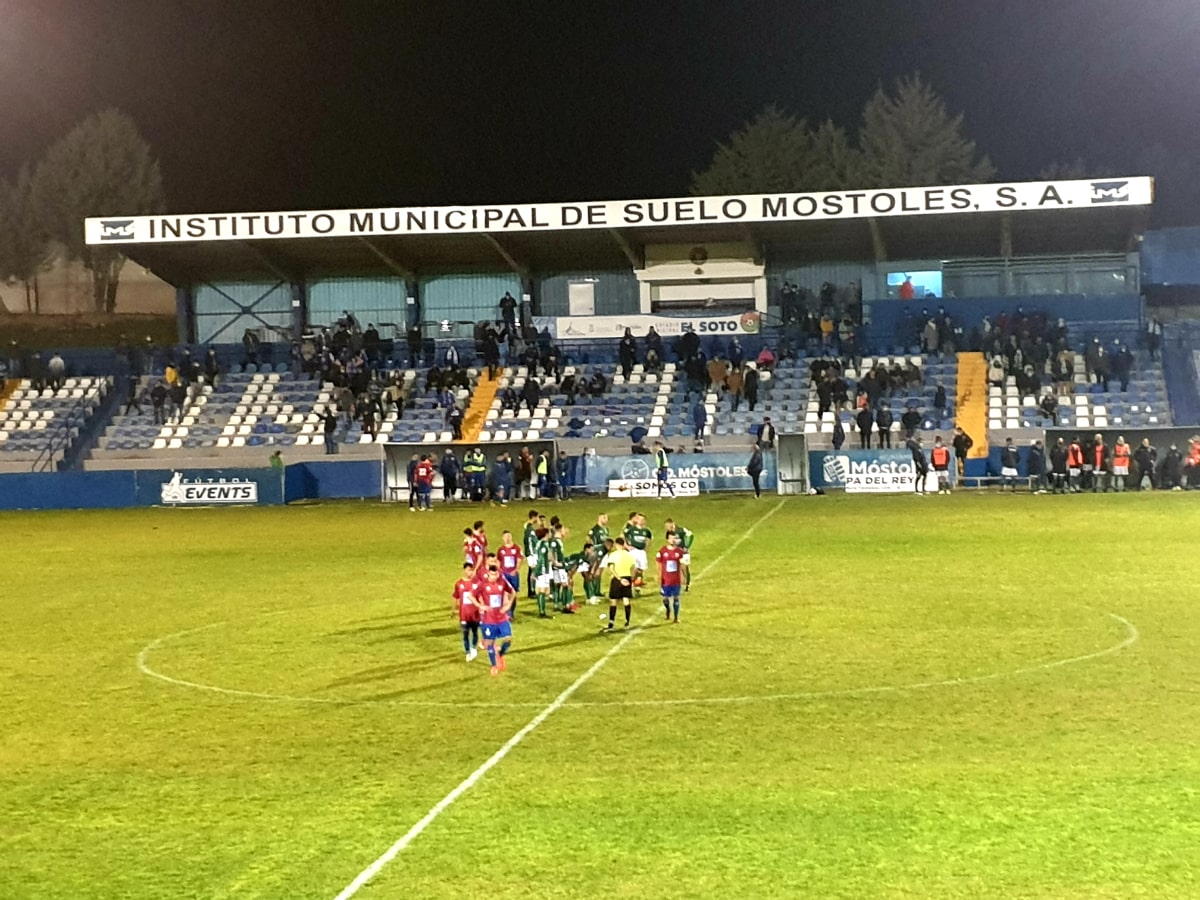 In keeping with the theme of the game, even from 12 yards, Móstoles failed to score with Helmer's opening penalty well saved by Jony in the Marchamalo goal.
From then on though, both teams found their shooting boots.
Josemi casually rolled the ball into the left corner as the visitors scored their first penalty. Móstoles went on to level the scores on four separate occasions but their keeper Alberto, who had been introduced midway through Extra Time presumably due to his penalty saving prowess, failed to get anywhere near the Marchamalo spot-kicks.
At 4-4. Capo – Marchamalo's number two and one of five substitutes used by the visitors, had the chance to finally settle the match after almost three hours of action. He calmly stepped up and stroked the ball into the bottom right corner as the keeper dived the opposite way.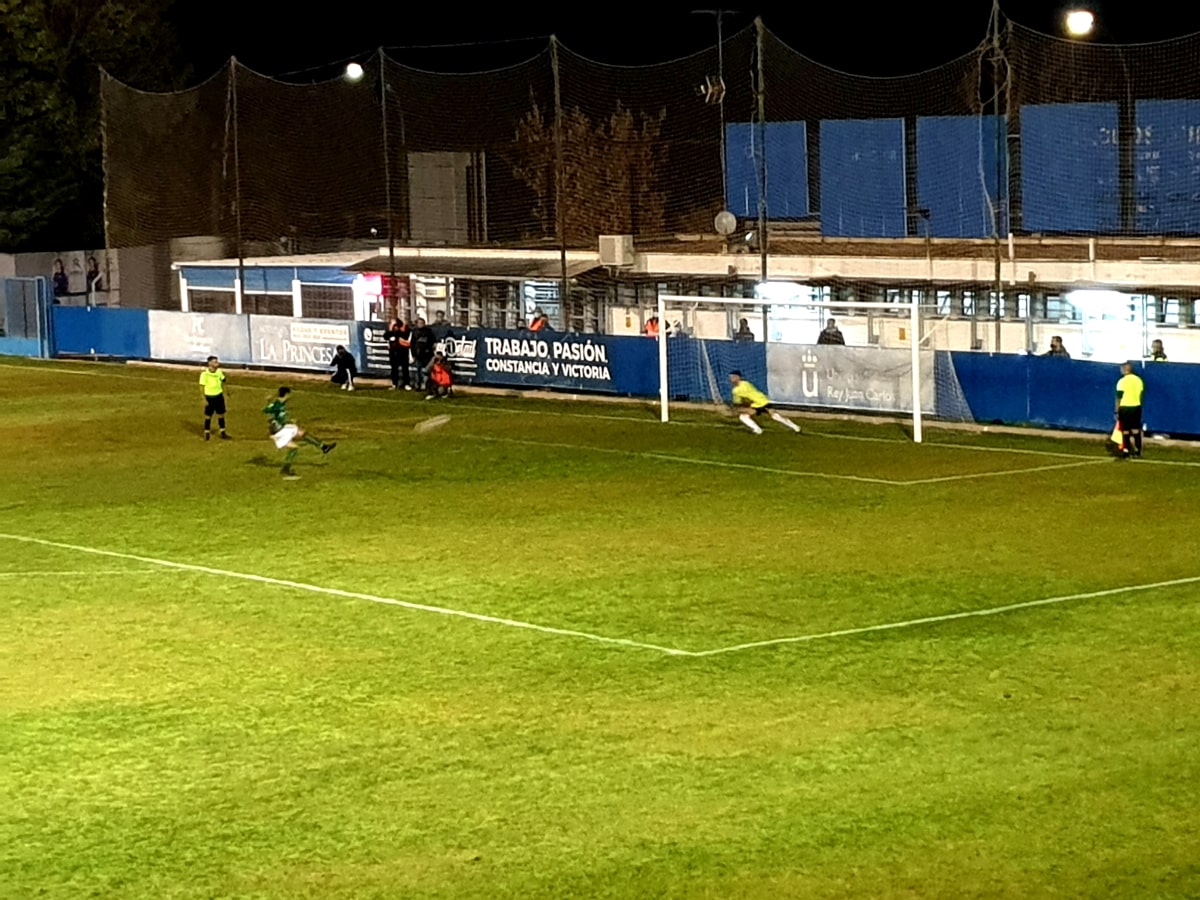 While no Marchamalo fans were able to make the journey to support their team, the screams of excitement echoed around El Soto as the visiting players and staff raced to celebrate the triumph with their penalty heroes. Jony's ability to save the opening penalty had proved decisive and the Móstoles supporters trickled out with their cup dream in tatters.
The crowd was reported at around 550, a small figure yet still easily one of the largest to have watched a football match in the Spanish capital region in more than eight months.
The hope remains that we may see considerably larger attendances at football matches in Spain and indeed around Europe as we get into the second half of the 2020/21 season. Although when fans do finally return to larger venues, it's clear that there will still be considerable restrictions in place.
It's going to take time before we get close to the pre-pandemic football experience again. However even in small numbers, the sights and sounds of supporters cheering on their team will change the dynamic of matchday very much for the better and will restore an element of home advantage which has so clearly been lost during this extended period of behind closed doors action.