Football in Catalonia is dominated by one club with FC Barcelona having grown to become the largest symbol of Catalan identity over the decades. However anyone planning a football trip to Catalonia has plenty of options besides the standard game and stadium tour at Camp Nou, something which can easily set you back in excess of €100 these days. In this Catalonia football travel guide, we'll give you the lowdown on the smaller clubs across the region with tips for getting around and buying tickets.
---
The Catalonia Football Map
The locations of all the Catalan clubs in Spain's top three divisions (as of 2019/20) are listed above, excluding B teams.
Catalonia is split into four separate provinces. By far the most famous and the one with the largest population and most football teams is Barcelona. Within the metropolitan area of the Catalan capital you will find top flight clubs FC Barcelona and Espanyol as well four other clubs who currently play in the Segunda B.
There is only one other Catalan club currently in the top two divisions and that's Girona. The province of Girona is also home to Segunda B sides UE Olot and Llagostera. The other two provinces are Tarragona and Lleida (the only non-coastal Catalan province) and both are represented by Segunda B teams in the cities of the same name.
---
Catalonia Football Travel – The Clubs
The Barcelona Clubs
FC Barcelona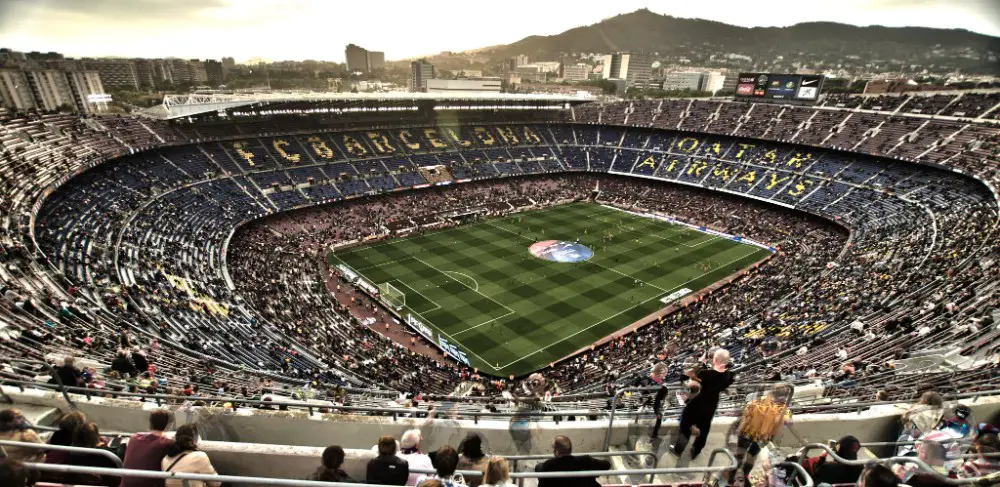 by Jose Luis Hidalgo, CC BY 2.0
Stadium – Camp Nou
Capacity – 99,354
Nearest Station – Palau Reial, Les Corts or Badal (Barcelona Metro)
With a capacity of just shy of 100,000, Camp Nou is the largest stadium in Europe. FC Barcelona's famous home is not right in the centre of the city but it is easily reachable with two metro lines running close by to the stadium. From Plaça de Catalunya in the heart of the city, at the top of La Rambla, it will take around 25 minutes to get to Camp Nou by a combination of public transport and walking.
How to buy tickets for Barcelona matches:
With such a huge capacity, Barcelona games rarely sell out and unless it's a big Champions League knockout game or a Clásico, you should have no problem buying tickets just before kick-off at the ticket offices. However, you can also buy tickets online via their website if you want to make absolutely sure.
The days of sub €20 tickets are long gone though unfortunately with the club having more than doubled the price of individual match tickets over the past decade or so. Even for the least glamorous league fixtures you can expect to pay around €50 and that's just for a seat up in the Gods where it can be difficult to make out the players. While they may have the most expensive tickets in La Liga, thousands of visitors to the city each week still decide it is a price worth paying to catch a glimpse of Leo Messi in action before he hangs up his boots.
You can also take the opportunity to do a Camp Nou stadium tour, which costs €26 for the basic version, €35 for an audio-guided tour and €45 for a fully guided tour. All three include access to several areas of the stadium as well as the club museum.
Espanyol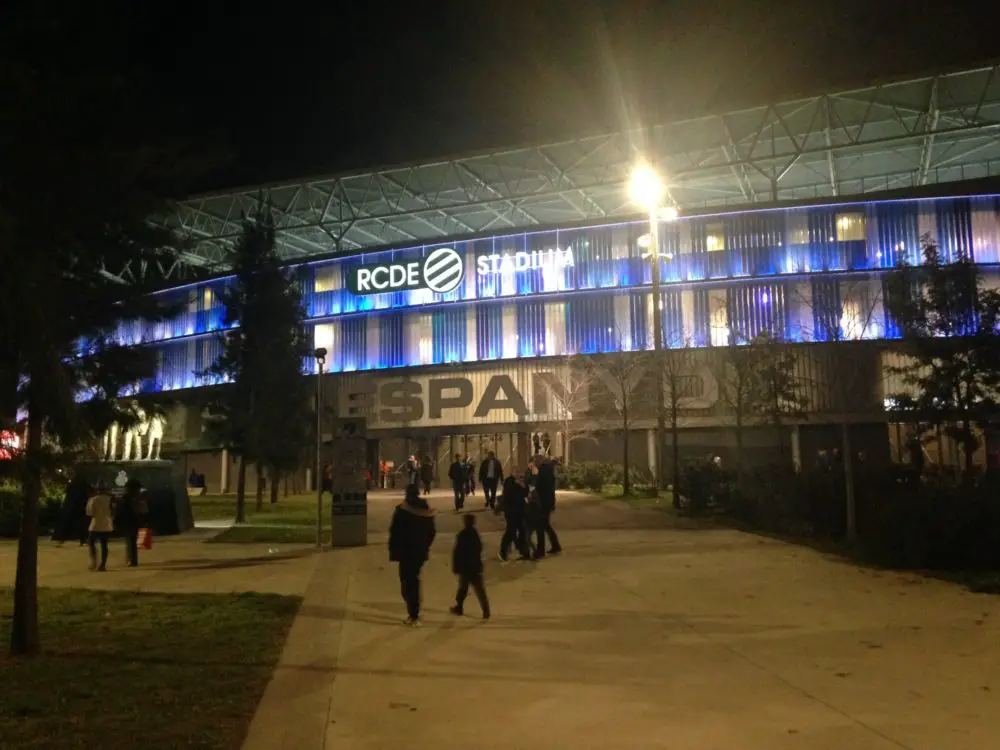 Stadium – RCDE Stadium
Capacity – 40,000
Nearest Station – Cornellà-Riera or Cornellà (Rodalies de Catalunya)
Espanyol are Barcelona's second team and in truth it is a distant second. They don't embrace the Catalan identity in the same way as their rivals and are frequently the butt of jokes amongst Barça supporters who claim Espanyol followers are just Real Madrid fans in disguise. Espanyol do have a long history of their own though, having won the Copa del Rey four times while they reached the UEFA Cup Final as recently as 2007. Only three teams (Barcelona, Real Madrid & Athletic Club) have featured in more top flight seasons than them.
While you can reach the RCDE Stadium by using the Barcelona metro, it's a long journey with Espanyol now based outside of the city's official limits in Cornellà. It's better to take the faster Rodalies de Catalunya trains and from the centre of the city you can reach the modern 40,000 arena in around half an hour if starting out from Plaça de Catalunya or Plaça d'Espanya.
How to buy tickets for Espanyol matches:
Espanyol are not a particularly well supported club. At the time of writing (March 2020), they average just shy of 23,000 for the 2019/20 league season and very rarely threaten to sell out their 40,000 capacity home. That makes getting tickets for their games a doddle and they are more affordable than those of their city rivals, although you can expect to pay a significant premium if the opposition is Barcelona or Real Madrid. Check their ticketing page for prices ahead of upcoming games.
A trip up to the centrally located Estadi Olímpic Lluís Companys, which hosted the 1992 Olympics and was Espanyol's home until 2009 is also recommended for those with a bit more time. There are great views of the city and surrounding bay to be had from the area around the stadium.
The smaller Barcelona clubs
The province of Barcelona is also home to numerous smaller clubs, with four currently plying their trade in the Segunda B as of 2019/20, along with the B teams of Barcelona and Espanyol.
The biggest and most interesting of the bunch is CE Sabadell. They were formed way back in 1903 and have spent 14 seasons in the top flight, although haven't been there since 1988. Since then they've hovered between the second and fourth tiers. They are though the furthest out, with it taking around an hour by road or rail to reach their 12,000 capacity stadium in the inland city of Sabadell from the centre of Barcelona.
The other clubs all lie only just outside of the city limits of Barcelona. UE Cornellà are a very small club that only reached the Segunda B for the first time in 2014, located right next to the Espanyol stadium. AE Prat are also located in that part of the city, close to Barcelona airport. Their tiny Estadi Sagnier has a capacity of just 500. Finally you will find Badalona, a very slightly larger club located in a beach-side city of the name that is separated from Barcelona by the small Besòs River. All three are well connected to and within Zone 1 of Barcelona's main transport network.
The Other Catalan Clubs
Girona

Stadium – Estadi Montilivi
Capacity – 13,450
Nearest Station – Girona Train Station
Girona may carry the name of their city and indeed province, but this has never historically been a big football area. The club spent much of the 2000's in the Tercera División before a dramatic rise in the 2010's which culminated in them reaching the top flight for the first time in 2017 under Pablo Machin. They claimed a shock win over Real Madrid that season and achieved a terrific top half finish but relegation followed the following year.
They have at least gained new fans and now have a much improved stadium thanks to those two years in the top flight. The poor management behind the scenes at Barcelona and increasing links to Qatar, has also led some to claim that Girona are now the Catalan club that best embodies the spirit and identity of the region. Carles Puigdemont, the leader of Catalonia's push for independence in 2017, is the former mayor of the city and was frequently seen at their games.
To visit the Estadi Montilivi yourself, you could potentially fly into Girona-Costa Brava airport to the south of the city or hop on one of the regular trains from Barcelona (the high-speed options take just 40 minutes to travel from Barcelona-Sants to Girona's railway station). Girona has a very pretty city centre but unfortunately the football stadium is on the outskirts of town with just over a 30 minute walk or a short bus or taxi ride needed to reach it.
How to buy tickets for Girona matches:
Getting tickets shouldn't be a problem, certainly while Girona are back in the Segunda. Their website has a good English section which enables you to see upcoming games and whether tickets are yet on sale.
Gimnàstic de Tarragona
Stadium – Nou Estadi
Capacity – 14,591
Nearest Station – Tarragona Train Station
Gimnàstic de Tarragona probably have to be viewed as the third biggest club in Catalonia after the two Barcelona sides, even though they have been very much outperformed by Girona in recent years. Commonly known as Nàstic, they've spent most of the 21st Century in the Segunda División. They did reach the top flight for the first time in over half a century in 2006/07 but finished bottom of La Liga and they currently ply their trade in the Segunda B following relegation from the Segunda in 2019.
Tarragona is an attractive coastal city with some gorgeous beaches and it can be reached easily by flying in to nearby Reus Airport or by taking a regional train from Barcelona (about an hour). It's a very pleasant 45 minute walk from the train station to the Nou Estadi through the old Roman parts of the city but you may prefer to take a bus or taxi.
How to buy tickets for Nastic matches:
Demand to watch Segunda B football is not great across Spain so you can easily just show up on match days and buy a ticket with the stadium's near 15,000 capacity more than fit for purpose. They also have an online ticketing platform.
The Best of the Rest
The only really notable club in the fourth and by some distance least visited Catalan province is Lleida Esportiu who play at the 13,500 capacity Camp d'Esports. Officially they are a new club, founded in 2011 out of the ashes of UE Lleida, who have twice featured in the top flight and twice been relegated (1950/51 & 1993/94). These days they are one of a host of reasonably sized clubs, faced with the difficult task of trying to get out of the Segunda B which features 80 teams, only 4 of which can be promoted each season.
Also in the 2019/20 Segunda B are two clubs in the province of Girona. UE Llagostera were in the 8th tier as recently as 2005 but enjoyed a remarkable run up the Spanish football ladder to reach the Segunda in 2014. Llagostera (population 8,000) is the smallest town ever to have had a team in one of the top two Spanish leagues. Further north, not far from the French border you will find UE Olot in a curious town of the same name which is home to four volcanoes.
Finally, we should give a mention to ambitious FC Andorra, a club owned by Barcelona's Gerard Pique who now play in the Segunda B. Andorra is not strictly in Catalonia but it is the world's only Catalan-speaking country. If you fancy a trip to see them play, there are several daily buses from Barcelona Nord Station that take a little over three hours to reach the stunning principality, nestled high up in the Pyrenees.
---
Groundhopping in Catalonia – Getting Around
Barcelona transport, CC BY 2.0
The city of Barcelona has a large metro (underground) network that will transport you to basically anywhere you need to get in the city. However in terms of football, there is only really Camp Nou that is best reached by it. That being said, you can still get to the stadiums of Espanyol, Cornellà, Badalona and Prat by using the metro and all those clubs fall within Zone 1 of the network with single tickets costing €2.40 while you can get a 10-journey pass for €11.35. This is also eligible for use on buses, trams and suburban trains within Zone 1.
Catalonia also has an extensive rail network known as the Rodalies de Catalunya with 18 separate lines. This connects Barcelona with a range of towns and cities across the region. It's not as regular as the metro but the main lines in and out of Barcelona still run every ten minutes or so. It's a quicker way to reach the clubs on the outskirts of the city (you can use the same 10-journey ticket providing you stay in zone 1) and it is also the most affordable way to get around the wider region. If you're planning a big trip taking in a range of games across Catalonia, it's a good idea to familiarise yourself with the Rodalies network map, which offers affordable travel from Barcelona to cities such as Girona, Tarragona, Sabadell and Lleida.
If you are more worried about time than money, then you can use the national trains (buy tickets on Renfe.com) to get between the main cities. From Barcelona-Sants Station, it's only 57 minutes to Lleida and 38 minutes to Girona via the high-speed AVE trains. There are no high-speed trains to Tarragona but you can still reach it in a little over an hour via the very scenic regional express line which hugs the coast.
With such a large and affordable rail network, there's not much need to travel by bus but there are bus lines covering most routes too. The only Catalan clubs mentioned above not accessible by rail are Llagostera and Olot but both can be reached via local buses from Girona.
---
Away from the Football
Catalonia really does have a little bit of everything so there's a huge amount to see and do away from the football. The city of Barcelona is the beating heart of the region and one of Europe's finest cities. It is packed with the architecture of Antoni Gaudí with the world famous Sagrada Familia the main attraction. Book your tickets online if you plan to visit to save money and not waste time queuing. The beautiful Park Güell is another major highlight with great views across the city while there are a host of lively districts to explore and while parts of the city are completely overrun by tourism, it's not impossible to get a taste for the real Barcelona.
The city does have beaches, but the best Catalan ones lie well away from Barcelona. The Costa Brava which runs through the province of Girona to the French border is full of picturesque beach towns and fishing villages while you can also find some gorgeous and much quieter beaches in the area around Tarragona. There are also a few livelier tourist resorts such as Lloret de Mar and Salou if you're looking to fit some football around a package holiday.
The actual cities of Girona and Tarragona are well worth exploring for a day too. Both have pretty old towns with Girona's riverside setting and colourful buildings making it one of the most attractive in Spain. Tarragona is another historic city, full of little plazas while its well-preserved Roman colosseum is its main attraction.
There are also loads of great hiking routes in Catalonia which is considerably more hilly and spectacular than most of Spain. Close to Barcelona, the unusual rock formation and mountain-top monastery at Montserrat, makes it a popular day-trip destination. There are plenty of other great options though where you can explore the scenic countryside at your own pace and if you really want to escape the crowds, head to the much less visited province of Lleida, the gateway to the Pyrenees.
---
This post on Catalonia football travel was published in March 2020.
If you have any questions about visiting Catalonia for football reasons, feel free to get in touch.
---