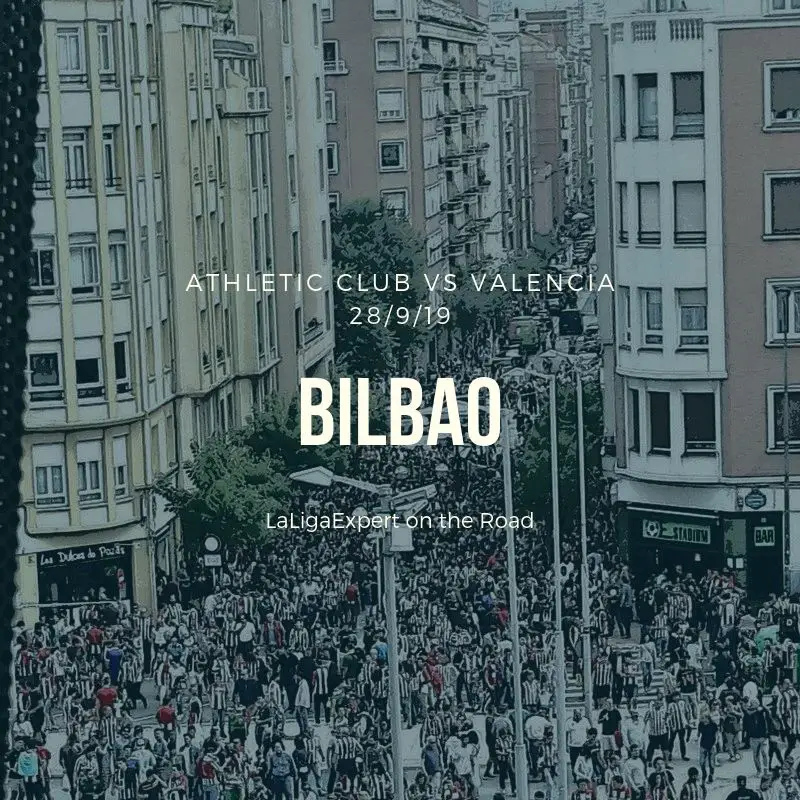 There is a theory, increasingly prevalent in the ever changing world of modern football, that standing still ultimately equates to going backwards. In Bilbao, they are doing their level best to disprove that.
As we head towards the 2020's, Athletic Club continue to resolutely stand by a transfer policy that hasn't seriously wavered since the 1920's, a decade which ended with the formation of La Liga. By the onset of the Spanish Civil War in 1936, Athletic had already been crowned Spanish champions four times.
Nearly a century on, they continue to abide by the same basic principles that brought so much early success. They develop their own and only buy Basque, a policy that won't be changing any time soon. While the issue resurfaces in the Spanish media whenever Athletic find themselves struggling near the bottom of a league they have remarkably never been relegated from, there is no real hunger for change in Bilbao, even in an era where rival clubs are increasingly scouring the world for the next big thing.
While the rest of La Liga frequently looks to South America for fresh talent, Athletic can't even buy players raised in Santander, just 100km to the west along the Bay of Biscay. The stands of Camp Nou famously proclaim FC Barcelona as 'més que un club'. However it's a description that in reality is far more befitting of Athletic, a club that truly practices what it preaches and has an unwavering faith when it comes to abiding by its traditions, even at a time when all reasonable logic suggests they'd enjoy far more success by broadening their horizons.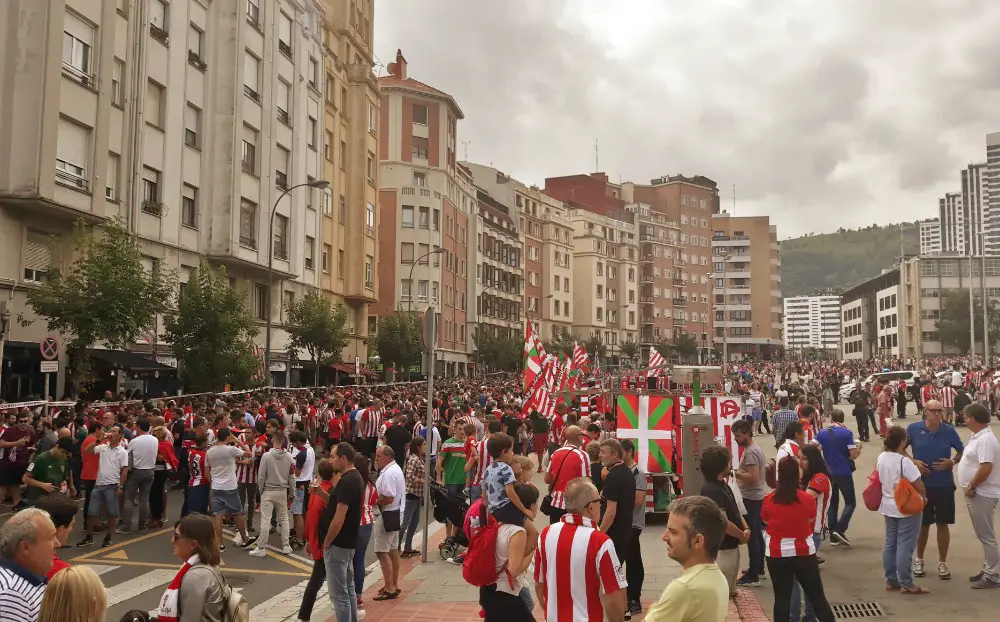 Bilbao has a population of around 350,000 people, making it only the tenth largest in Spain and in truth it feels even smaller than that. With steep green hills surrounding it, the city is squeezed into a small valley along the banks of the River Nervión.
Despite an excellent transport network for a town of its size, Bilbao is the kind of place where you can get from A to B on foot and on match days, a large number of Athletic fans do just that to get to the centrally located San Mamés.
You can get the best feel for that mass movement of people along Calle del Licenciado Poza. The street starts close to Bilbao's main railway station and dissects the heart of the city making a straight dart for San Mamés which is initially just a small dot on the horizon but grows in size as you walk along Pozas towards Athletic's famous home.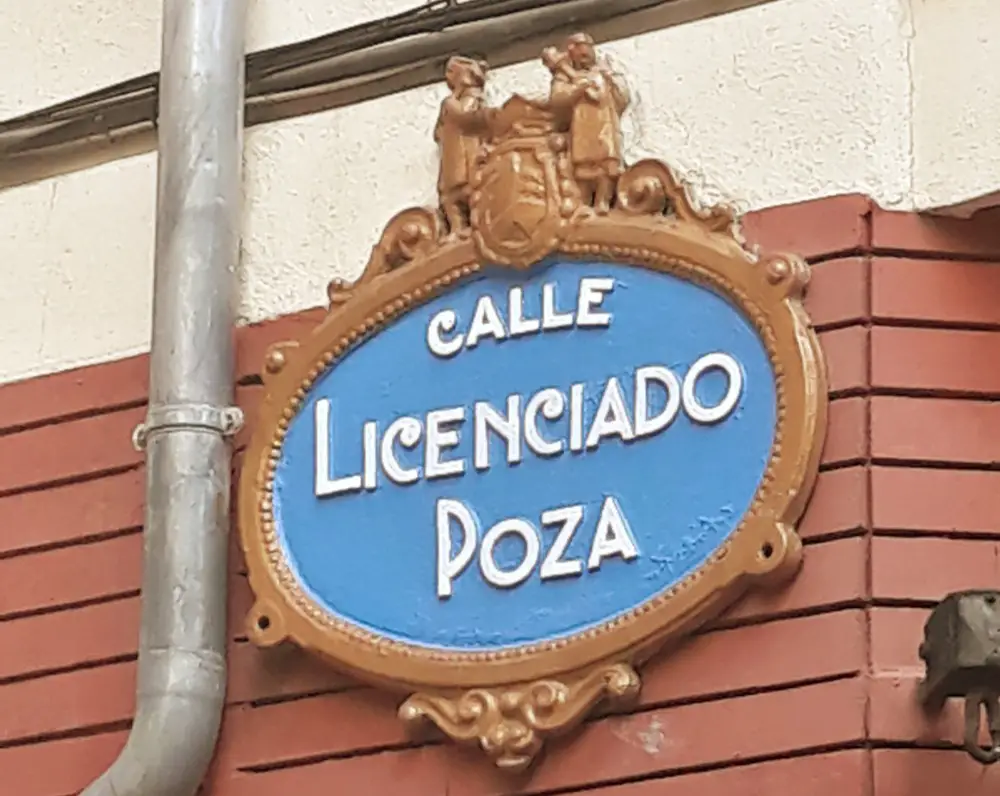 The street is one of the best in Bilbao for pintxos and many of the bars along it are almost shrines to Athletic with old photos of yesteryear and the club's crest waving outside, often alongside the Ikurriña, the flag of the Basque Country. Those same flags fly outside shops and off apartment balconies along the street and indeed right across Bilbao, giving the vibe of a city that is truly united behind one team and one team only.
Ordinarily fans might stop off at their favourite bar for a pre-match beer but with today's game an early 1:00 p.m. kick off, it's just as likely to be a coffee and perhaps a late breakfast or early lunch.
The Basque Country is renowned for its cloudy skies and wet weather but the sun was out and the mercury was rising for the visit of Valencia. The high temperatures left people opting for replica shirts and shorts instead of coats and jumpers, more the norm at a time when autumn is normally setting in along Spain's north coast. It added to the impressive sight of a sea of red and white flowing along Pozas towards San Mamés.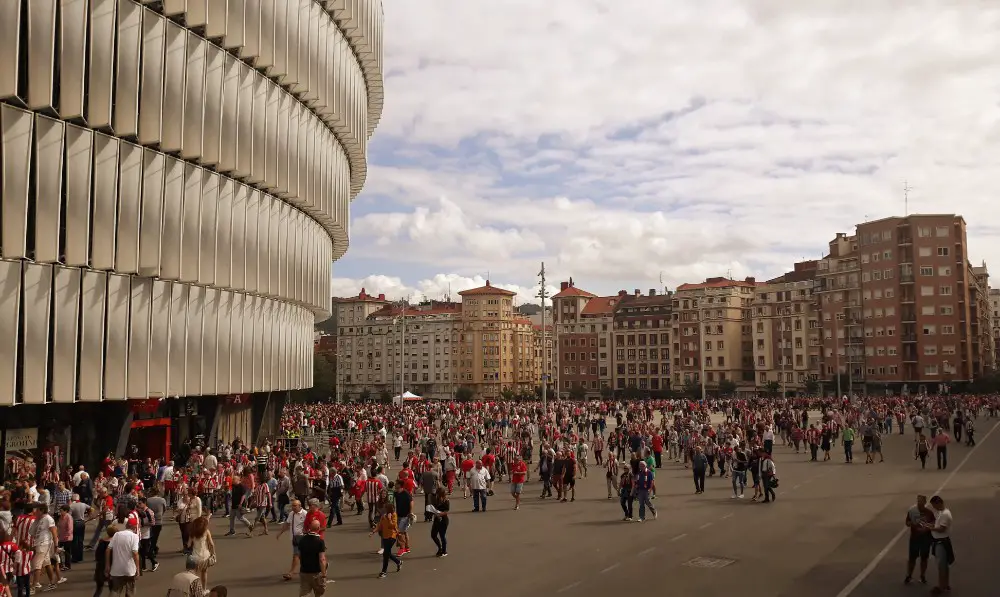 More from LLE on the Road – A new Sociedad & A better Anoeta
The modern, metallic exterior to the stadium contains a cleverly placed giant screen which is positioned exactly so that it is visible to anyone walking down Pozas towards San Mamés. Today it was showing footage of old Athletic matches from the archives and with the club into its 121st year, there's no shortage of choice when it comes to finding great moments from decades gone by.
The futuristic facade of the stadium, which lies on the same site as the old San Mamés which hosted its final game in 2013, is a fitting addition to the city's increasingly modern feel. The Guggenheim Museum, Bilbao's most iconic landmark is not visible but as you walk around the spacious concourse that surrounds the ground, you can see just about everything else in Bilbao.
The Bay of Biscay is just about visible in the distance beyond the cranes and rusty old ships in the dockyard which is just a stone's throw away from the stadium. As you loop back around, the central streets of Bilbao come into view as does the Torre Iberdrola, the city's only real skyscraper. Small green peaks provide the backdrop on all sides, a reminder that you are a long way away from the dry, barren landscapes of central and southern parts of Spain.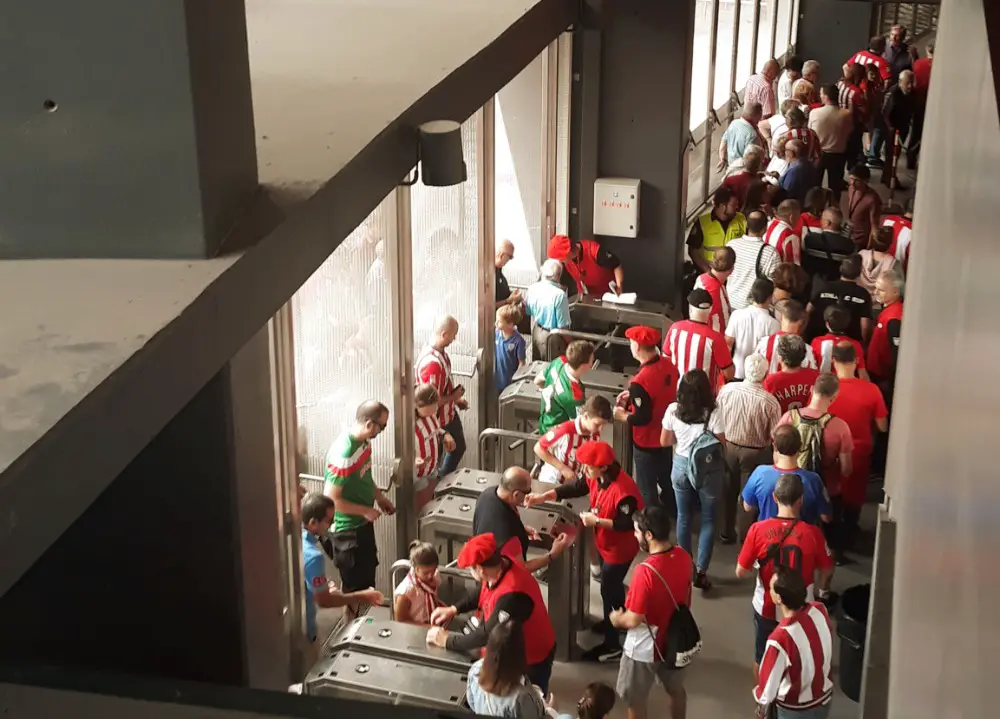 That strong sense of local identity is embraced from the moment you walk through the turnstiles at San Mamés. They are run by club officials wearing traditional Basque style berets and even though the stadium is ultra-modern, the club's history and tradition is evident from the first impression, something that can be difficult to recreate when clubs leave treasured old homes for 21st Century arenas.
Despite another summer transfer window where Athletic opted against signing a single player, things were going pretty well on the pitch too heading into their seventh fixture of the 2019/20 season. Three home wins and three away draws left Athletic flying high in the top four and they approached their clash with Valencia in the knowledge that victory would not only extend their unbeaten home record in La Liga past twelve months but would send them to the top of the early standings, for a few hours at least.
Following the club's anthem and a ceremonial kick-off from the recently retired Bilbao Basket player Javi Salgado, which was warmly applauded by the Athletic Club players and fans, the game commenced with Valencia hoping to be the visiting team to finally breach fortress San Mamés.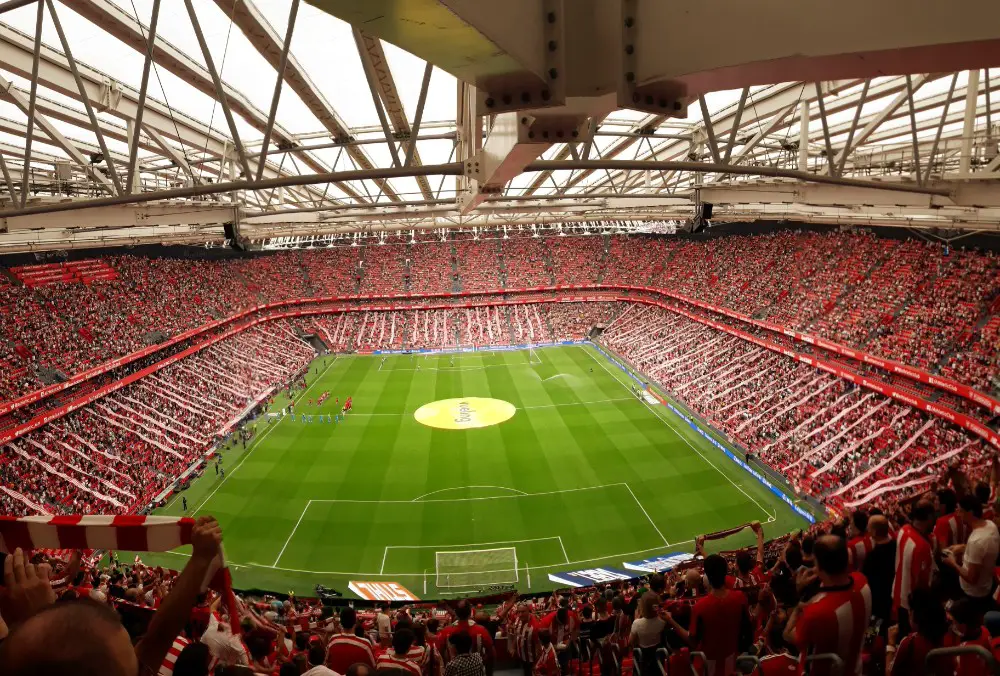 More from LLE on the Road – A Relegation Scrap in Valladolid
The early signs were positive for the visitors, who were fresh from plenty of recent turmoil with Albert Celades now in charge of Los Che following the controversial sacking of Marcelino. Summer signing Maxi Gómez fired wide from close range early on while centre-back Ezequiel Garay's made sweet contact with a long-range volley to force Athletic keeper Unai Simón into a smart save.
Perhaps caught off guard by Valencia's bright start, there wasn't a huge amount of noise inside San Mamés during the opening stages despite a crowd of just over 42,000. It was though immediately very striking that supporters were watching and analysing events on the pitch very closely rather than dashing off for refreshments or fiddling around with mobiles which is quite a common sight at many Spanish grounds. It felt like a knowledgeable, intelligent football crowd, even if they hadn't quite found their singing voices just yet.
There wasn't much to lift their spirits on the pitch. There was a real energy to Valencia, who were showing plenty of ambition and already displaying signs of breaking away from the Marcelino playbook, a bold move as Albert Celades looked to stamp his authority on a team which had been fiercely loyal to his predecessor.
On 27 minutes though, Valencia produced a counter-attacking move which their former boss would have been proud of, even if it was finished off by players who struggled for game time under his leadership. A rapid break, featuring a touch and go offside call which would spark fierce debate after the game, resulted in highly rated youngster Ferran Torres getting free down the Valencia right. His cutback found the advancing Denis Cheryshev who was left with the simplest of finishes for the game's opening goal.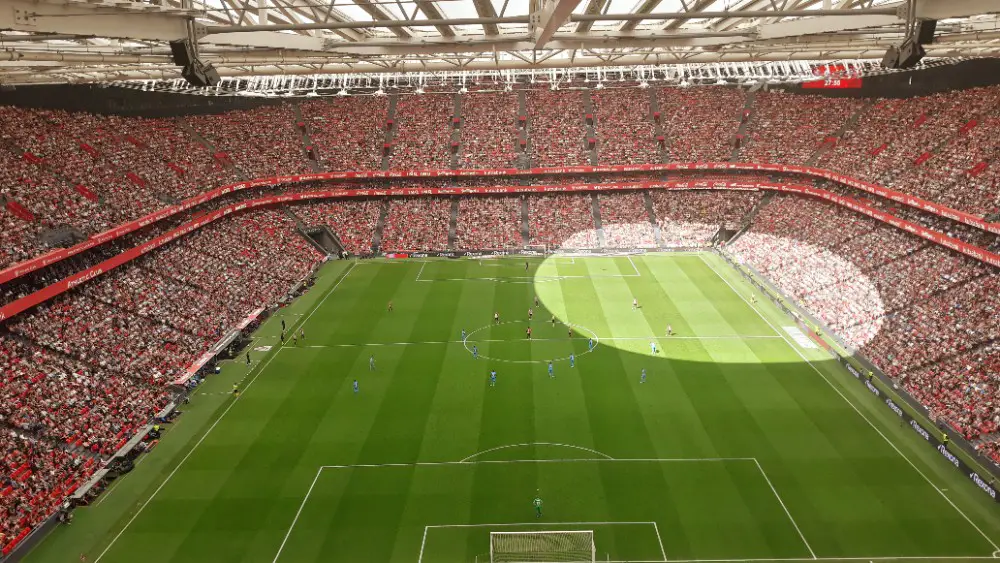 To some extent, the goal had been coming but the Russian's strike did finally spark Athletic into a bit of life and they found a bit more rhythm soon afterwards with a direct run and shot from Iñaki Williams forcing Jasper Cillessen in the Valencia goal into action for the first time.
However that was about as good as it got for Athletic in the First Half. It was a curiously lacklustre performance from a side that had reverted back to more of an old-fashioned, physical and some might say typically Basque approach under the guidance of Gaizka Garitano.
The Bilbao-born boss is about as Basque as they come with a playing career that took in stints at not just Athletic but also Real Sociedad, Alaves and Eibar. His style of football typifies the fiercely hard-working and slightly more direct approach that Basque footballers are known for although it may be a stretch too far to say that is permanently ingrained in the club's DNA with Athletic's most recent period of success coming under Marcelo Bielsa.
The Argentine brought both style and substance to what was then still the old San Mamés during the 2011-12 season. That campaign, which saw Athletic reach both the Europa League and Copa del Rey finals, is remembered fondly to this day and there is still a banner at one end of the stadium bearing Bielsa's name. It's certainly a club that remembers its legends and the match programme featured a magnificent image from another era altogether with action from the first official European game at the old San Mamés in 1956 which saw forward Jose Luis Artetxe score a hat-trick in a 3-2 win over Porto.
A few of the current crop may go on to ultimately be held in such high esteem but in the much shorter term, there was work to be done if Athletic were going to get anything out of their home clash with Valencia and extend their long unbeaten record in front of their own fans.
There was immediately a greater buzz in the stadium as the Second Half commenced. The decibel levels seemed to rise with every decision that went against them. By this point many Athletic fans were aware that TV pictures appeared to show there was an offside in the build-up to the Valencia goal, in apparent contradiction of the VAR verdict of what should have been a 'black and white' call.
Chants of 'Athletic, Athletic, Zu Zara Nagusia!' (Athletic, Athletic, you are the best!) went up in an attempt to lift the team but it was Valencia who had the first big chance of the Second Half with Maxi Gómez denied by Simón.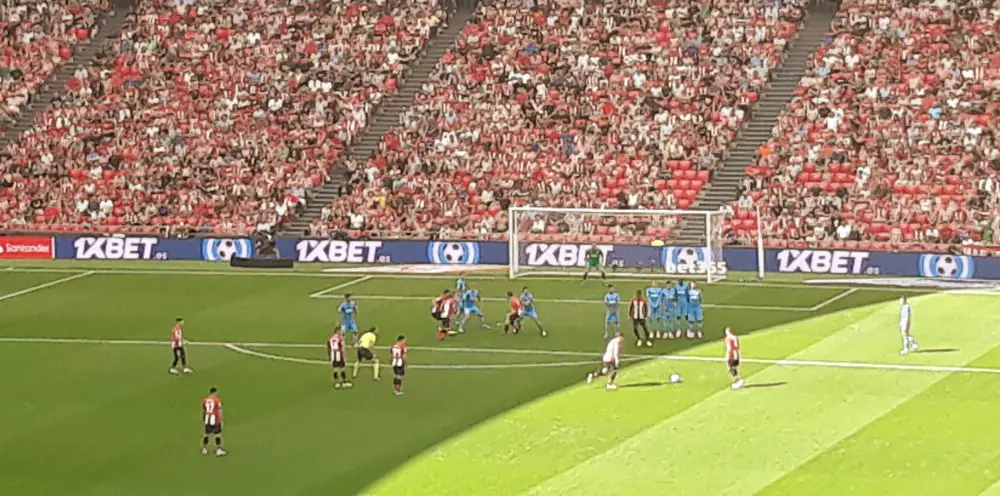 There was more purpose to Athletic though and they'd soon go very close to an equaliser. Again it was Williams whose low strike was kept out by the legs of Cillessen. He could just about react in time to connect with the rebound but the 25 year old could only divert it onto the post to the frustration of the natives who might have been beginning to sense that it wasn't going to be their day.
Garitano, who was by this point bellowing instructions from the edge of his technical area, threw on veteran forward Aritz Aduriz, whose stunning bicycle kick had defeated Barcelona on the opening weekend. He added a bit more of a presence up top and Athletic continued to ask questions with Iker Muniain and Williams again drawing saves out of Cillessen.
Valencia gave the impression that they weren't quite sure how best to defend their lead, perhaps understandable given they'd let a 3-1 advantage slip to only draw at home to Getafe a few days earlier. They were still committing bodies forward and had a couple of breaks where they outnumbered the Athletic rear guard and really should have added a second. The best of the chances fell to Ferran Torres whose goal bound effort was blocked by the bravery of Yeray Álvarez with Simón in no position to make the save.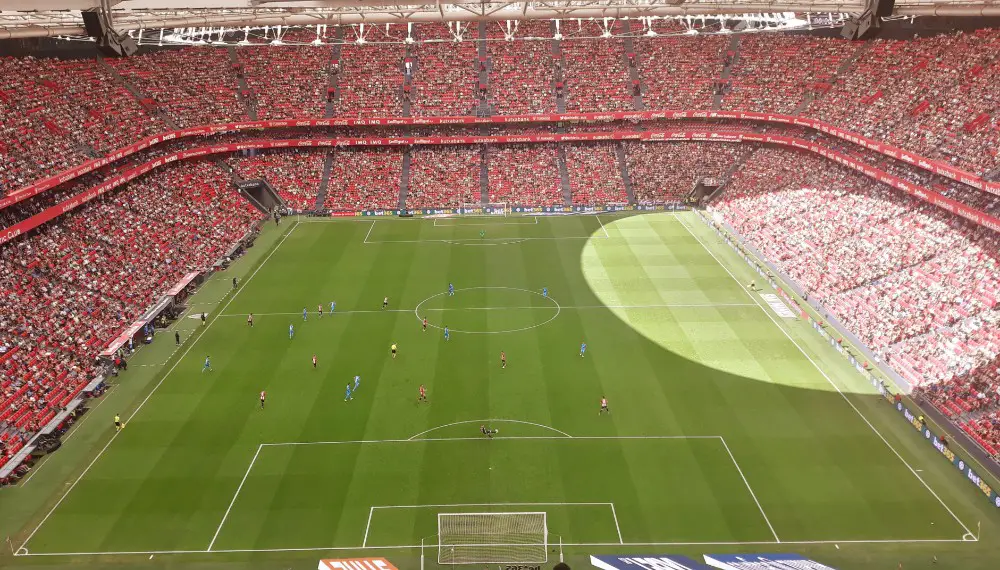 More from LLE on the Road – Friday night with the Cucumber Growers
Athletic's hopes of a late leveller were further hampered by a serious looking injury to full-back Yuri Berchiche. He left the field on a stretcher following an awkward fall and with Garitano having already used all three subs, the hosts were forced to play out the final few minutes with ten men.
The small group of approximately a hundred Valencia fans high in one corner of San Mamés were beginning to sense that they'd be taking all three points back to the Mestalla. They let out a huge roar as their side won a throw-in just in front of them to kill a few more valuable seconds and before long the referee, who hadn't done much to endear himself to the people of Bilbao, blew up to single Full-Time.
There was a muted reaction from the Athletic fans with any anger vented towards the officials rather than their team. It was a first home league defeat in almost twelve months and the first since the appointment of Gaizka Garitano.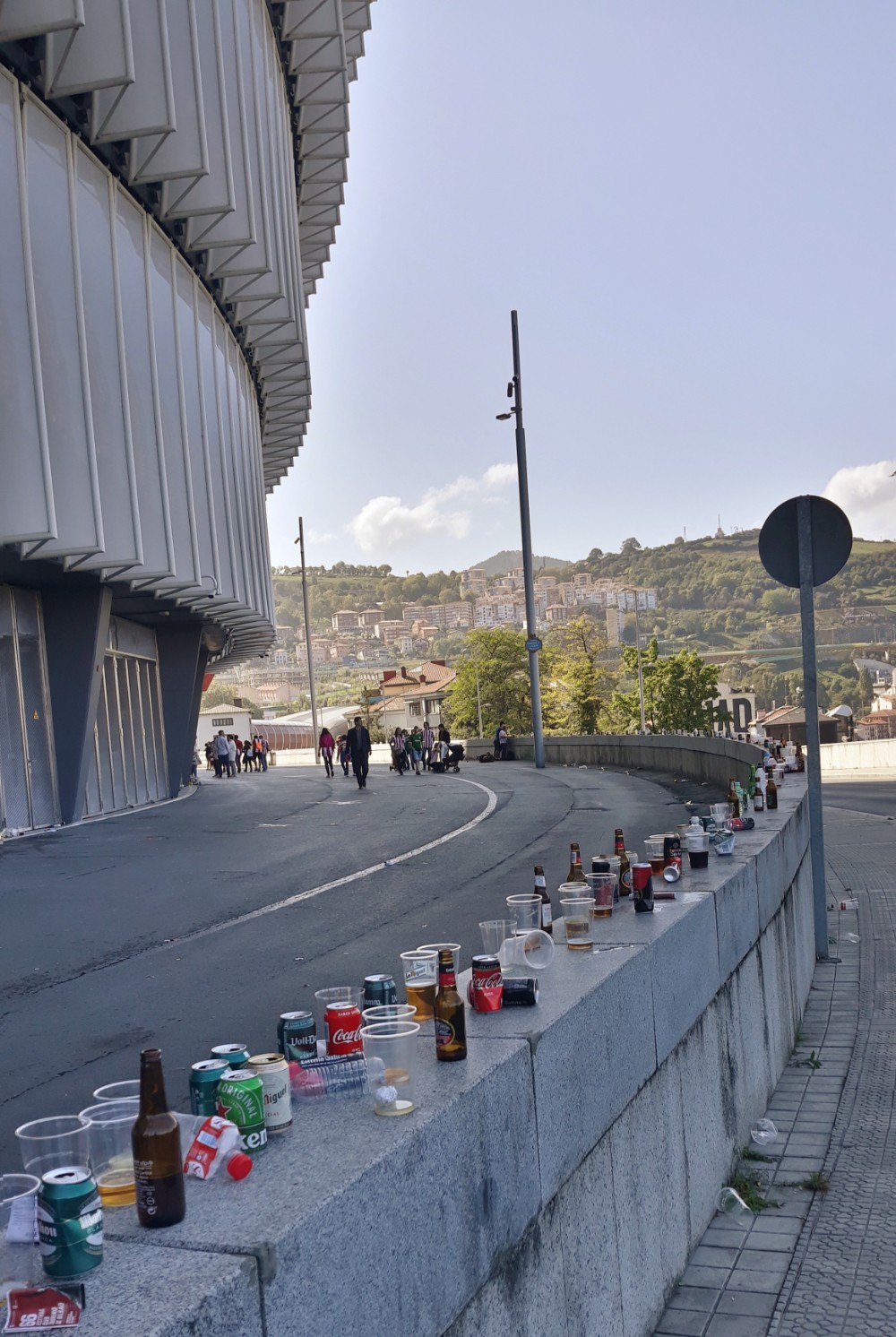 Their unbeaten start to the season was also over and it left fans with plenty to reflect on as they filtered back out onto the streets of Bilbao for a few post-game pintxos, beers or perhaps a kalimotxo – which is basically red wine mixed with coke, a popular drink in the Basque country.
While there's no European football at San Mamés this season, the early signs are that Athletic are on the right track again under Gaizka Garitano, who still boasts an impressive 50% win ratio, ten months into the job. A push for Europa League qualification is the most realistic objective this season but either way, Bilbao will be thrust into the European spotlight when it hosts four European Championship matches next summer. The tournament is set to see the Spanish national team make their somewhat controversial return to the city for the first time in over half a century.
Any Euro 2020 visitors will discover a proper football town and one of the best stadiums on the Iberian peninsular. In a modern, arty city that has reinvented itself over the past two decades and truly left its industrial roots behind, Athletic Club remains the one reassuring constant that links old and new Bilbao together.