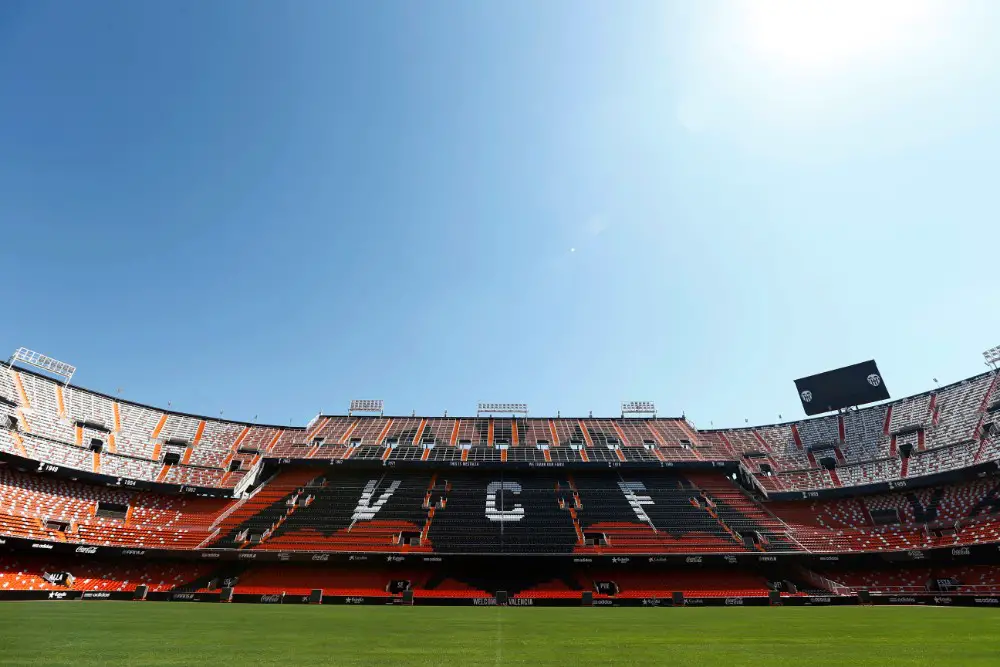 Few clubs in Spain are as prone to a storm as Valencia. Even when things appear to be going well on the pitch, there's invariably something brewing behind the scenes. The club's most recent period of genuine success which saw them win the title twice under Rafa Benitez in the early 2000's took place despite the rockiest of relationships between the coach, director of football Jesús García Pitarch and the club's hierarchy at that time.
Valencia fans have had precious little to truly shout about since those heady days. However last season's Copa del Rey victory, their first silverware in more than a decade, and back-to-back 4th place finishes under the impressive Marcelino had at least given followers of Los Che reason to dream that they might again have a team capable of consistently competing with the very best that Spanish and European football has to offer.
That was until the most tumultuous of weeks as once again Valencia appeared to completely shoot themselves in the foot with their own decision-making.
Tuesday 10th September – A Meeting in Singapore
In truth this was a storm that had been brewing for some time. There had been rumblings that all was not well between the coach and the board all summer. Marcelino's press conferences frequently featured thinly veiled digs at the Valencia hierarchy.
Therefore, to some extent, it was not a huge surprise when he was ultimately relieved of his duties. However the timing was still somewhat curious. The decision was made when Valencia owner Peter Lim and president Anil Murthy met in Singapore last Tuesday, towards the end of an international break which had commenced following Valencia's first win of the new season, a 2-0 victory over Mallorca.
Wednesday 11th September – Marcelino Sacked, Celades Appointed
OFFICIAL: Valencia have confirmed that Marcelino has been removed from his position as the club's head coach. pic.twitter.com/NU3AOiCYYa

— Squawka News (@SquawkaNews) September 11, 2019
Valencia's decision to sack Marcelino was made public on Wednesday. Even before many had had time to digest that bombshell, former Spain U21 coach Albert Celades was immediately named as his successor. Things moved at such a pace that Celades was taking charge of Valencia training by the end of the day as Marcelino packed his bags after two successful years at the Mestalla.
Friday 13th September – Marcelino blames Copa del Rey Win
Valencia CF: Marcelino: "The trigger for my dismissal has been to win the Copa del Rey" https://t.co/blVY1TfJVj pic.twitter.com/KPDHuBFbeh

— CherryBet News (@CherrybetN) September 13, 2019
One novel part of Spanish football is that departing coaches usually give a press conference in the aftermath of their resignation or more often than not sacking. This tends to shed more light on what has gone on than in other countries where managers are frequently effectively paid off to stay silent with confidentiality clauses frequently written into their final settlements.
Marcelino spoke to the media on Friday stating 'I don't have any doubts, that the cause of this situation was the Copa' in reference to the trophy his Valencia side won in May. 'During the season we received messages, direct and indirect, telling us to ignore the competition' he claimed.
His comments, mirrored those made recently by Gary Neville who claimed he received similar instructions from Peter Lim during his nightmare stint at the Mestalla. Marcelino fielded strong teams in the latter stages of the competition and still managed to finish 4th in La Liga to qualify for the Champions League but there appears to have been a terminal breakdown in trust between the pair over the matter.
Saturday 14th September – A nightmare Start for the new Man
Barcelona trounce Valencia 5-2 and it's another impressive performance from Fati ? pic.twitter.com/m7PW8DrPRl

— Goal (@goal) September 14, 2019
The following day the Valencia players, many of whom had come out and publicly questioned the club's decision to sack Marcelino, were back on the pitch as Los Che travelled to Barcelona. It was, it's fair to say, a nightmare start for Albert Celades as Valencia conceded five goals something that didn't occur at any point during Marcelino's time at the club.
The stresses of the job and the difficult position he had been put in already made Celades sound a bit like a broken man after the game when not one Valencia player or club official spoke to the press.
More on LLE – Ansu Fati becomes Barça's 2nd Youngest Player – What became of the other teenage Prodigies?
Saturday 14th September – A PR Disaster
We suffer. As a club, the only way is for everyone to come together. Time to block out all distractions and stop the sideshows. For those who love the club, we close ranks and fight together. ?? pic.twitter.com/TXfXTETk4j

— Valencia CF English ?? (@valenciacf_en) September 14, 2019
There was already a huge amount of distrust between fans and the Valencia hierarchy even before this week's events but that relationship sank to new depths on Saturday night thanks to an awfully misjudged statement the club put out. Calling for 'everyone to come together' and for an end to the 'distractions' and 'sideshows', all of which had been created by the club's actions, was probably not the best way to respond to a heavy defeat. Not least at a time when supporters were already frustrated and perplexed by events at their club.
Tuesday 17th September – A Victory in London
#UCL Group H FT:
Chelsea 0-1 Valencia
⚽️ Rodrigo 74'
❌ Barkley missed penalty 88' pic.twitter.com/MfAzXdG3At

— TNC Football ⚽️ (@TNC_Football) September 17, 2019
As if Celades' baptism of fire wasn't tough enough, he then was faced with the tricky task of trying to lift the spirits of a squad, many of whom clearly remained loyal to his predecessor, for a tough Champions League game at Stamford Bridge.
To his and his players' immense credit, Valencia put in a performance to be proud of in London as Rodrigo's goal sealed an excellent 1-0 win that puts Los Che in pole position to qualify for the knockout stages with most likely their toughest group fixture out the way.
Whether that's enough to ease the unrest on the terraces of the Mestalla, we will have to wait and see with Valencia back at home for the first time since the sacking of Marcelino this Sunday against Leganes.
More on LLE – Matchday 4 Review
---