The 2018/19 Spanish Primera División season has been one of the most competitive in recent memory. However in terms of budgets, it remains far from a level playing field. Each of the 20 teams in La Liga has an enforced salary cap, which covers the salaries of both first-team players and coaching staff as well as extra fees such as any commission paid to agents.
On the surface, these limits may appear grossly unfair with the big two clubs having around 20 times as much leeway as the promoted teams. However they are principally designed to ensure clubs don't overspend and end up going the way of a host of other top flight sides in recent years, who have spent beyond their means and ended up in severe financial difficulty.
La Liga Salary Limits by Team – 2018/19
Barcelona €632,971,000
Real Madrid €566,530,000
Atlético €293,000,000
Valencia €164,684,000
Sevilla €162,783,000
Villarreal €109,126,000
Betis €97,112,000
Athletic €87,869,000
Real Sociedad €80,808,000
Espanyol €56,774,000
Leganés €52,864,000
Levante €52,369,000
Celta €50,970,000
Eibar €41,258,000
Getafe €39,245,000
Alavés €39,193,000
Girona €36,755,000
Rayo Vallecano €33,077,000
Huesca €29,328,000
Valladolid €23,882,000
Barcelona have the greatest potential to spend this season with between 26 and 27 times the spending power of newly promoted Real Valladolid. To put that in some perspective, the reported wages of Leo Messi exceed that of the entire Valladolid playing and coaching staff.
The Over-Achievers
All things being equal, greater salary budgets should invariably lead to higher finishes but there are some significant differences between the list above and the actual league table (heading into tonight's game between Leganés and Levante).
Alavés – 16th largest budget, 5th in La Liga (+11 places)
Getafe – 15th largest budget, 4th in La Liga (+11 places)
You probably didn't need to read this article to figure out that Alavés and Getafe are the two great over-achievers of this season in Spain. Both should be in the bottom six according to their budgets but currently find themselves in an unlikely scrap for Champions League football. The jobs being done by Abelardo and José Bordalás are pretty extraordinary.
Girona, Valladolid and Eibar are all also currently four places higher up than you would expect relative to their respective salary budgets.
The Under-Achievers
Villarreal – 6th largest budget, 18th in La Liga (-12 places)
Celta Vigo – 13th largest budget, 17th in La Liga (-4 places)
Villarreal are by far and away the great underachievers this term. They may only be a small town club but they do have significant financial backing. They are one of only six teams in La Liga with over €100 million to spend on salaries yet they find themselves below a host of teams who don't even have 50% of that. As a result, relegation for the Yellow Submarine would almost certainly lead to a mass exodus this summer to help balance the books.
Celta Vigo are the next worst performing side but it may surprise a few people to learn their budget is actually inferior to that of Leganés and Levante for example. Therefore the Galician side's struggles are perhaps less of a surprise than they are sometimes portrayed as. Along with Lega and Levante, Athletic and Valencia are also currently three places worse off than their salary budgets suggest they should be.
Salary Cap – By Percentage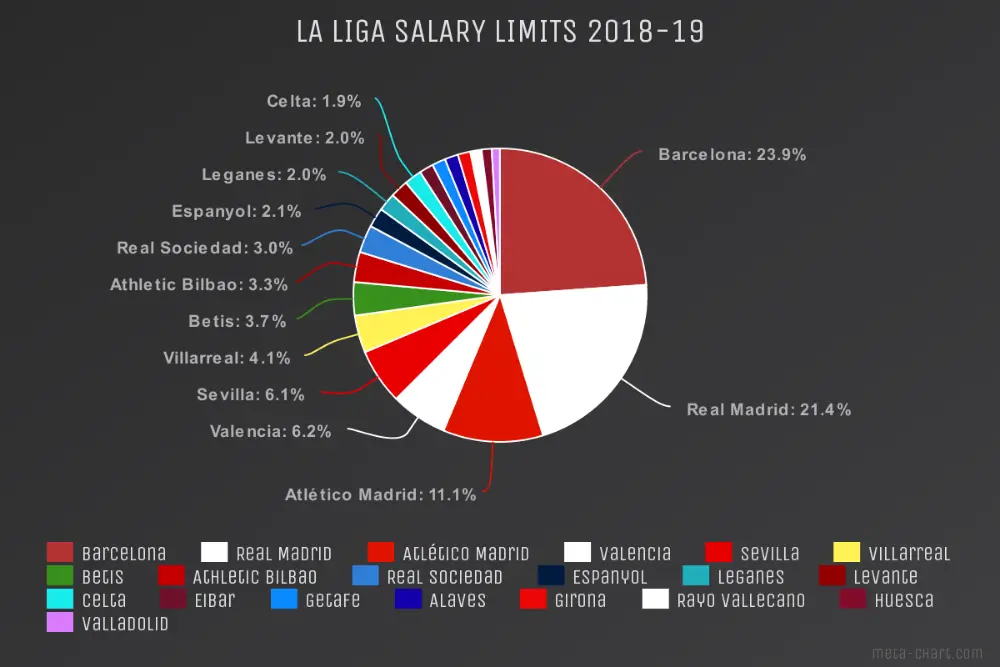 The chart above really highlights the gulf in resources between the big and small clubs in La Liga. The budgets of Barcelona, Real Madrid and Atletico Madrid account for more than that of the other seventeen teams combined. Even a big club like Athletic Bilbao has just a 3.3% share of the total budget for the whole league making it almost impossible for them to consistently compete Real Madrid and Barcelona, who each have over 20% of the total budget.
Is the Salary Gap closing?
The commonly held assumption is that La Liga is getting more competitive and this season seems to bear that out with even bottom club Huesca looking competitive at this level. The days of Barcelona and Real Madrid dishing out footballing lessons to opposing teams as a matter of routine, seem to be over.
By going back to look at La Liga salary data from the 2014-15 season, we can compare just how much change is taking place.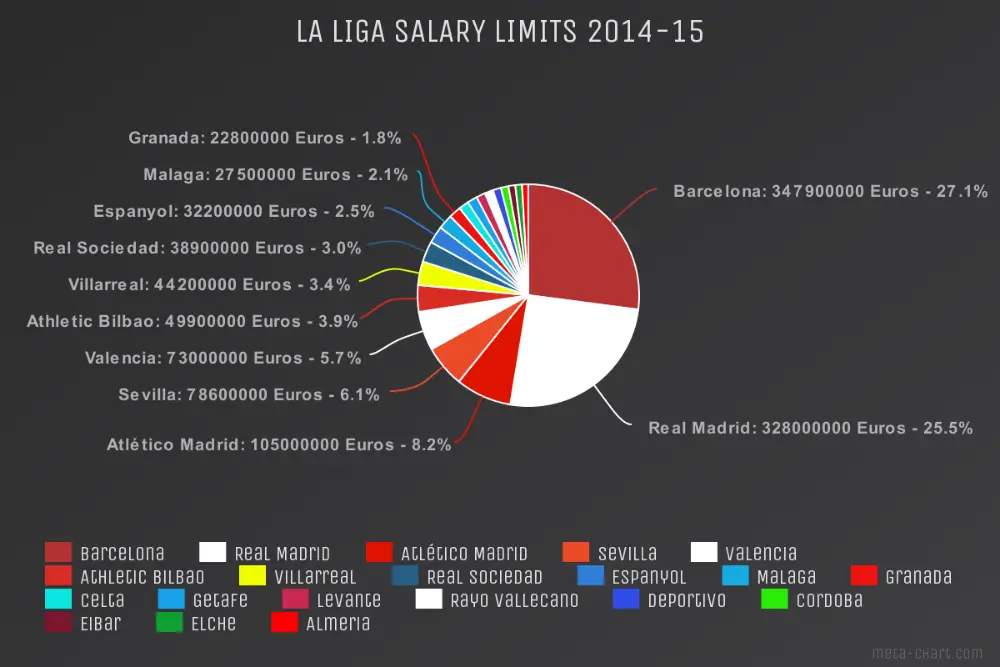 This is only four seasons ago but already there is evidence that the gulf is closing with TV money starting to be distributed more evenly helping the smaller clubs out. In the 2014-15 season, Barcelona and Real Madrid took up 52.6% of the total salary budget for the Primera División. That figure is down to 45.3% this term. That is a pretty sharp drop although the continued growth of Atlético Madrid has been a factor in that as much as the small clubs getting richer. Atléti's salary cap has soared from €105,000,000 to €293,000,000 over this four year period.
As much as anything, the figures show that the league as a whole has much more disposable income now than it did four years ago with many clubs seeing their overall salary budgets more than double over that period. That is certainly a positive sign for the overall health of the league. While great inequality still exists between the have's and have not's, the playing field is at least becoming fractionally more even and results on the pitch seem to indicate that too.
by @marksoc1