Since its inaugural season in 1929, the winners of La Liga have been crowned the champions of Spain. Nine different clubs have got their hands on the trophy and a host more have come close to being LaLiga winners. On this page, we'll look back through the history books at all the clubs that have been LaLiga champions.
Who has won LaLiga the most?
The following teams have won LaLiga:
| | | |
| --- | --- | --- |
|   | Spanish Titles | Most Recent League Win |
| Real Madrid | 35 | 2021-22 |
| Barcelona | 27 | 2022-23 |
| Atletico Madrid | 11 | 2020-21 |
| Athletic Club | 8 | 1983-84 |
| Valencia | 6 | 2003-04 |
| Real Sociedad | 2 | 1981-82 |
| Deportivo La Coruna | 1 | 1999-00 |
| Sevilla | 1 | 1945-46 |
| Real Betis | 1 | 1934-35 |
Real Madrid are the most successful team in the history of LaLiga with 35 titles compared to Barcelona's 27. However the Catalans have been catching up. Since Pep Guardiola's appointment as Head Coach at Camp Nou in 2008, Barcelona have won 9 titles to Real Madrid's 4.
Atletico Madrid lead the best of the rest with 11 triumphs while Athletic Club and Valencia are the next most successful teams. Real Sociedad have won LaLiga twice while Depor, Sevilla and Betis have all won the title on one occasion. 
LaLiga Champions – The longest winning Streaks (3+ in a row)
Real Madrid – 5 titles in a row (1960-61 to 1964-65)
While Athletic Club, Real Madrid, Atletico Madrid (known as Atletico Aviacion for their first two title wins) and Barcelona had all successfully defended league titles, no side had won three Spanish league titles in a row until the dominant Madrid side of the 1960's. Fresh from having won the first five editions of the European Cup, Los Blancos reeled off five straight league wins with Ferenc Puskás playing a starring role, winning the Pichichi in three of the five seasons.
Real Madrid – 3 titles in a row (1966-67 to 1968-69)
Atletico Madrid denied Los Blancos in 1965-66 but Real Madrid bounced back to win the next three titles and make it eight league wins in the space of nine seasons under the management of Miguel Muñoz. No other side has dominated Spanish football for such a sustained period to the extent that Real Madrid managed during the 1960's.
Real Madrid – 3 titles in a row (1977-78 to 1979-80)
The 1970's was also Real Madrid's decade and it concluded with Los Blancos winning three in a row again. The first season in the streak ended with the death of the club's legendary president Santiago Bernabeu but a team which featured the likes of Santillana, Vicente del Bosque and José Antonio Camacho served up a fitting tribute by winning the title again in the following two years.
Real Madrid – 5 titles in a row (1985-86 to 1989-90)
The 1980's was a decade of two halves with the Basque clubs dominating the first half of it before Real Madrid's famous Quinta del Buitre generation claimed five straight league titles, matching the feat of the great 1960's team. With youth team graduates Emilio Butragueño, Manuel Sanchís, Martín Vázquez, Míchel and Miguel Pardeza forming the spine of the side, Los Blancos were the class act in Spanish football throughout the second half of the 1980's.
Barcelona – 4 titles in a row (1990-91 to 1994-95)
While the Spanish league is frequently a two-horse race these days, Barcelona in fact were not all that regular challengers to Real Madrid until a certain Johan Cruyff was appointed coach in 1988. The Catalans had only won two league titles in 30 years heading into the 1990-91 season but masterminded by the legendary Dutchman, the modern Barça identity was formed in a period which saw them win four straight league titles and also win the European Cup for the first time.
Barcelona – 3 titles in a row (2008-09 to 2010-11)
The late 1990's and most of the 2000's was a more even period where no one team dominated and the likes of Valencia and Depor got their hands on the trophy. However the competition was to be blown away by Pep Guardiola's all conquering Barcelona side which won three straight league titles from 2008 to 2011. Featuring the likes of Xavi, Andres Iniesta and Leo Messi, Pep's Barça were arguably the greatest ever club side although they were denied the title in Guardiola's final year by a resurgent Real Madrid managed by Jose Mourinho.
Spanish Double Winners – LaLiga & Copa del Rey
Barcelona –  8 Times (1951-52, 1952-53, 1958-59, 1997-98, 2008-09, 2014-15, 2015-16, 2017-18)
Athletic Club – 5 Times (1929-30, 1930-31, 1942-43, 1955-56, 1983-84)
Real Madrid – 4 Times (1961-62, 1974-75, 1979-80, 1988-89)
Atletico Madrid – Once (1995-96)
Barcelona hold the record for the most Spanish league and cup doubles, having achieved the feat eight times, with four of those triumphs coming in the 21st Century post the appointment of Guardiola. 
Curiously despite winning the league 35 times, Real Madrid have only converted that into a domestic double on four occasions. They are also notorious for their ability to be crowned European champions in seasons where they fail to win the Spanish crown and have never completed the treble.
Athletic Club by comparison have an incredible conversion rate of having also won the Copa del Rey in five of the eight seasons that they've won the league, including their most recent league triumph in 1983-84. 
Atletico Madrid meanwhile have only won the double once, with their 1995-96 'doblete' campaign still standing alone as their finest ever season in terms of silverware, although the 2013-14 season ran it very close!
Spanish Treble Winners – LaLiga, Copa del Rey & Champions League (formerly European Cup)
Barcelona – Twice (2008-09 & 2014-15)
Barcelona are the only Spanish team to have completed the treble. They first did it in Pep Guardiola's first season and then repeated the feat in 2014-15 – their first under Luis Enrique and their first with the famous 'MSN' trident up front.
The Surprise LaLiga Winners
When was the last time neither Barcelona nor Real Madrid won LaLiga?
2020-21 – Atletico Madrid
Atletico Madrid may be the third most successful team in Spanish football history but in some respects their 2013-14 league triumph was even more remarkable than some of the surprise winners we had during periods such as the early 1980's and early 2000's. It came at a time when both Barcelona and Real Madrid had very strong sides. Atleti at the time were operating on a fraction of the budget of the 'big two' yet put together a truly extraordinary season under Diego Simone to win the title with a draw at Camp Nou on the final weekend. They even went agonisingly close to winning the Champions League with city rivals Real denying them in the Final. They won the league again during the pandemic-impacted 2020-21 season which was played out behind closed doors.
When was the last time LaLiga wasn't won by a Madrid or Barcelona club?
2003-04 – Valencia
Atleti's two recent triumphs are the only times since 2004 that the league title wasn't won by either Real Madrid or Barcelona. However from 1999-00 to 2003-04, the title headed to A Coruña once and Valencia twice. Coached by Rafa Benitez, Los Che claimed their second title in the space of three years in 2004. Curiously it was a team that had largely been rebuilt from two years earlier that won LaLiga again, giving the Mestalla club their sixth league title overall.
Who were the last Basque team to win LaLiga?
1983-84 – Athletic Club
The early years of football in Spain when the Copa del Rey was the biggest prize on offer were dominated by Basque clubs, particularly Athletic Club. However the tide was already starting to turn towards Madrid and Barcelona by the resumption of football following the Spanish Civil War which ended in 1939. The days of Basque dominance looked long gone by the late 1970's but almost out of nowhere, the Basque clubs rose to glory once more, winning four straight league titles between 1979-80 and 1983-84.
Real Sociedad's back-to-back league wins were followed by back-to-back triumphs for Javier Clemente's Athletic Club. Their 1983-84 title win remains the last time the Spanish title was won by a Basque team although Real Sociedad did come very close to winning LaLiga in 2002-03, ultimately finishing in 2nd, just two points behind Real Madrid.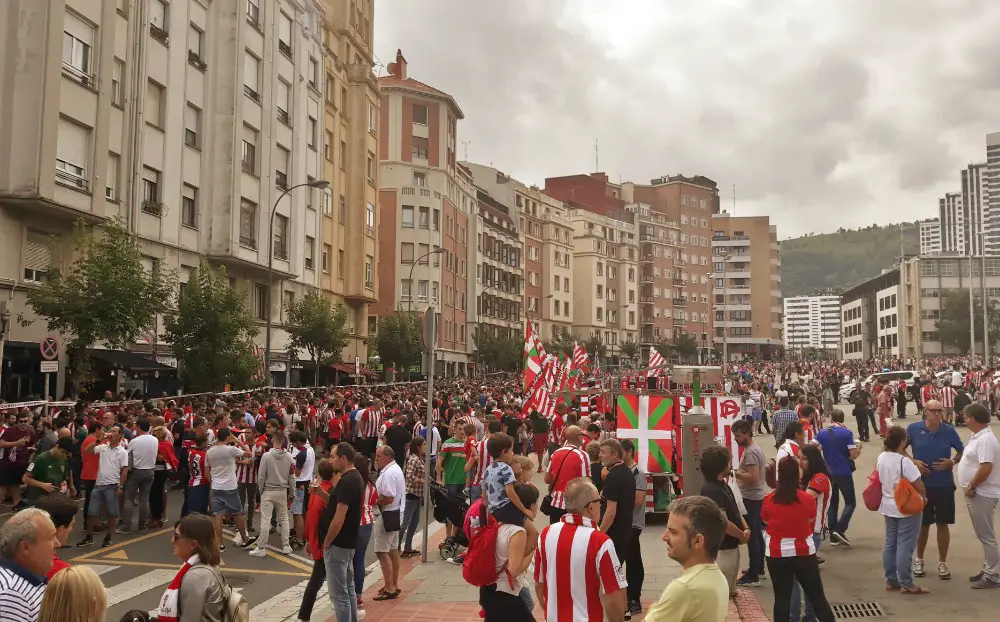 The nearly Men – Spanish Football's unlikely Runners-Up
With just nine different clubs having ever won LaLiga, reaching the summit of Spanish football is no easy task for the smaller teams away from the powerhouse cities of Madrid and Barcelona. Depor showed it can be done, by taking the title to Galicia for the first time at the turn of the century and a further five smaller clubs have come close to being crowned LaLiga winners but ultimately had to settle 2nd.
Teams that have finished 2nd in LaLiga but never won it:
Racing Santander – 1930-31
Las Palmas – 1968-69
Real Zaragoza – 1974-75
Sporting Gijon – 1978-79
Villarreal – 2007-08
These are the nearly men of Spanish football and some of them had agonising brushes with glory and triumphs that would have transformed the respective clubs forever. The 1930-31 season for instance ended with the top three teams all level on points but Athletic Club ultimately pipped Racing Santander and Real Sociedad to the title courtesy of a superior H2H goal difference in a season dominated by teams in the north of Spain.
The title has never left the Spanish mainland but Canary Islanders Las Palmas did claim a fantastic 2nd place in the late 1960's, although they never seriously threatened to knock Real Madrid off top spot. It was a similar story for Real Zaragoza in 1974-75 as they finished above Barcelona but a distant 12 points behind champions Real Madrid.
Spearheaded by free-scoring striker Quini, Sporting Gijon came close to a stunning title win four years later but again were denied by Los Blancos who won the title by four points. Most recently Villarreal, one of the emerging forces in Spanish football during the early years of the 21st Century finished runners-up in LaLiga for the first time in 2007-08, with 8 points separating them from champions Real Madrid.