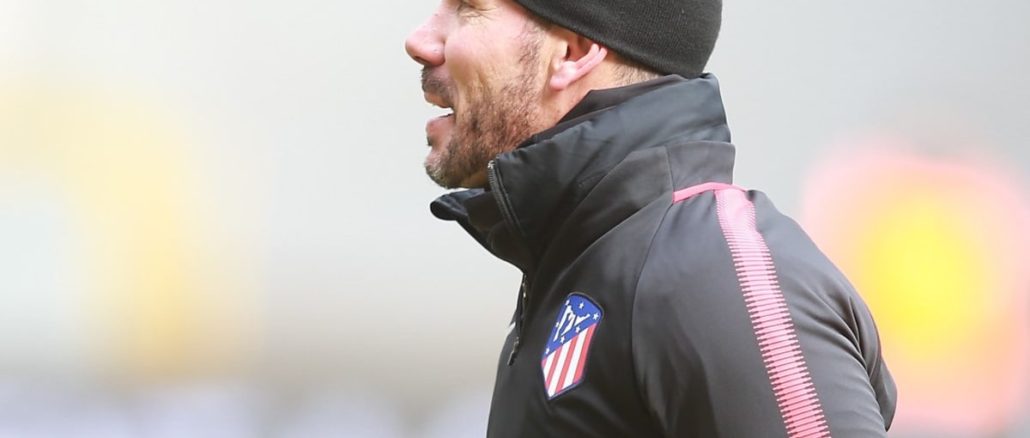 One of the most dramatic and unpredictable Spanish title races concluded on Saturday with Atletico Madrid coming from behind to beat Real Valladolid and clinch the 2020/21 crown. It was an 11th LaLiga triumph for Atleti and their second under Diego Simeone, seven years on from the first.
It probably won't go down in Atleti folklore in quite the same way as the unexpected 2013/14 title, won at a time when there was just a "big two" – a time when Barcelona and Real Madrid were much stronger than they are now and when Leo Messi and Cristiano Ronaldo were at their peaks. Nor will it be remembered quite as fondly as the famous doblete in 1996, when Atleti won their previous league title.
The absence of supporters for the duration of the 2020/21 season is one reason for that. This is after all the so-called "people's club" in the Spanish capital, a city which reverberated to the noise of honking horns on Saturday night as after all the challenges of the past year, a fanbase finally got the chance to come together and celebrate, albeit on the streets rather than in a football stadium.
Big fans of Jan Oblak not even getting changed out of his kit before celebrating with the Atleti fans ?⚪️pic.twitter.com/vdIYSLPN60

— COPA90 (@Copa90) May 22, 2021
Unquestionably the struggles of Barcelona and Los Blancos have played a role in the title heading to the red and white half of the Spanish capital this year. However it isn't simply a case that the other two have been weak. Atleti's final points tally of 86 is just one shy of the 87-point hauls of the champions in 2019/20 and 2018/19. It's only the fourth time the club has recorded more than 80 points in a league season (including their two years in the Segunda).
Diego Simeone was at the helm in three of those four seasons and while he has not been flawless this term, he made some key alterations which have combined to help Atleti rise to the very top of the Spanish football tree once more.
The Reinvention of Marcos Llorente
The seeds for this title win were arguably sewn midway through the previous season. January 2020 was particularly bleak for an uninspired Atleti who suffered defeats to nil at Ipurua and the Bernabeu, either side of a goalless home draw against Leganes. Atleti had scored just 22 goals in 22 games at that point in LaLiga 2019/20 and they looked anything but a team capable of challenging for a league title or indeed any kind of silverware.
A solution to their woes came in the unlikeliest form as holding midfielder Marcos Llorente, little more than a fringe player until that point, was thrust into an unfamiliar attacking midfield role, sometimes even used as a second striker. The former Real Madrid man hadn't even scored a single goal in his LaLiga career at that point, so this was a decision that defied most reasonable logic, but would quickly prove one of Diego Simeone's great masterstrokes.
Llorente broke his league goal duck in February at Mestalla and his heroics at Anfield soon after will live long in the memory of Atleti fans. One of the most dedicated and hard-working professional footballers you will ever come across, Marcos Llorente has gone from strength to strength since. One of the first names on Diego Simeone's teamsheet this season, he recorded 12 goals and 11 assists in LaLiga 2020/21. Iago Aspas was the only other player to reach double figures in both categories this term in the Spanish top flight.
….Marcos Llorente for Atletico Madrid this season:

⚽️ 12 goals
?️ 11 assists

What. A. Season. ? pic.twitter.com/14VnIm2U7l

— Squawka Football (@Squawka) May 22, 2021
Flexible Formations
When people think of Diego Simeone's Atletico Madrid, they tend to think 4-4-2, with two fairly rigid lines of four making things tough for opposing teams trying to open them up. That was largely the recipe for success during those glory years when Atletico won LaLiga in 2014, multiple cups and reached two Champions League Finals.
In recent seasons, he has been willing to try new things and tweak the formation but little has worked and Simeone has usually been quick to revert to his tried and trusted approach.  
This season has been different. Simeone has done a very good job of finding solutions to get the best out of the players at his disposal. He has also been fortunate in that a number of his players are more than competent in more than one role which has allowed for much greater flexibility in terms of how he sets his teams up, which in turn makes them slightly more unpredictable opposition.
They have been able to move from 3-5-2 or 3-4-3 to 4-4-2 with relative ease. On the right, Kieran Trippier has enjoyed an excellent season and is just as adept at right wing-back as right-back. It's no coincidence that Atleti's worst period in the campaign coincided with his absence due to a lengthy betting ban. Mario Hermoso has also been invaluable, excelling as a ball-playing centre-back but also capable of quickly slotting in at left-back when needed.
The resurgence of Yannick Carrasco has also been another key factor in Atleti's title triumph. He has averaged a goal contribution every 138 minutes in LaLiga – some going for a player who has often been used as a wing-back and even starred as what was basically left-back in the key win over Barcelona.
Getting the best out of Luis Suarez
LUIS SUAREZ. CLUTCH.

For the second straight game Suarez completes the comeback for Atletico ? pic.twitter.com/gWAawcnOLS

— B/R Football (@brfootball) May 22, 2021
For all their progress in other areas of the pitch, it's pretty safe to say Atletico Madrid would not have ended up winning LaLiga this season had they not bought Luis Suarez in September. They may even have had a battle on their hands to maintain their top three status above a strong Sevilla side.
No longer required at Camp Nou, Barcelona's loss has very much proved to be Atleti's gain. That's not necessarily to say Barça were wrong to let the Uruguayan leave but crucially Diego Simeone has been willing and able to find a role to suit the strengths of a 34-year old Suarez – something that would have been harder for the coach of Barcelona to do whilst also accommodating an ageing Leo Messi.
While Suarez may not have the legs to press high up the pitch, Simeone's tactical tweaks and the fitness of a number of younger players around him, have played a huge role in ensuring that Atleti have continued to be competitive with and without the ball.
Suarez ended the season with 21 goals in LaLiga, 31% of his team's total, and 5 more than he managed in his final campaign at Camp Nou.
El Cholo answers some of his critics… but not them all!
The two seasons before Diego Simeone joined Atletico, they finished 9th and 7th.

In his nine full seasons in charge, Atletico have never finished outside the top three, winning La Liga twice ??? pic.twitter.com/JHjAFlmnNy

— ESPN FC (@ESPNFC) May 22, 2021
There will always be those that dislike Diego Simeone and his team's style of play. That won't change no matter how many titles he wins and it would be an exaggeration to say that all his critics have been answered by this latest triumph. 
João Félix, the fourth most expensive footballer of all time, had another relatively disappointing season, adding fuel to the fire when it comes to the suggestion Simeone fails to get the best out of flair players. In this case, Félix's failings may be as much his own as that of his coach, but the suspicion he is at the wrong club to fully develop and maximise his potential lives on.
There has also been much criticism when it comes to Simeone's use of substitutions but he has clearly instilled a steeliness in this team that is more reminiscent of those successful Atletico Madrid teams in the mid 2010's. Their ability to hold their nerve and come from behind to win when they needed it most on both matchdays 37 and 38, stands them in really good stead for the battles to come and big games in future seasons.
Overall, this feels like a team that is now well set to continue to compete for league titles and one that really could take advantage should Barcelona and Real Madrid's present troubles deepen. Over the past twelve to eighteen months, Diego Simeone has shown he is a more flexible coach than many give him credit for and he has made some excellent calls which have allowed Atleti to kick on and become champions of Spain once more.
---