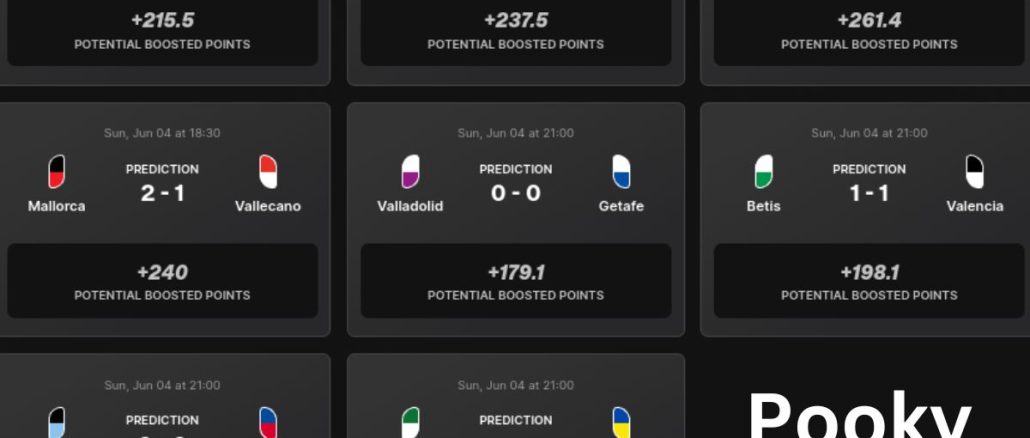 This Pooky guide will take you through the steps needed to get started on the football predictions game. We'll look at the signing up process, the free version, how to buy Pookyballs and how to enter leagues and win rewards.
Pooky is the first Web3 football predictions game that makes use of digital collectibles. Users can use their Pookyballs (NFT's) to enter leagues and predict the outcome of football matches across the world each week. Good predictions enable users to climb the leaderboard and win rewards.
---
Getting Started on Pooky – A Beginner's Guide
---
Signing Up to Pooky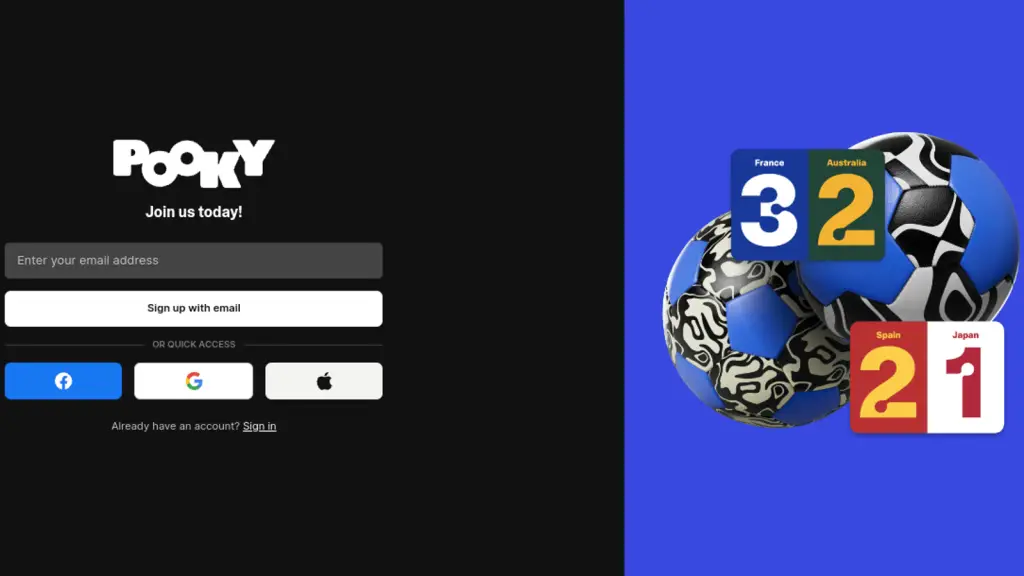 The Pooky sign up process is really simple. You can register using your email or in a matter of seconds by logging in via your Facebook, Google or Apple account.
Sign up here to join Pooky today and get two free Rooky Pookyballs which will enable you to start your journey. 
You'll be able to see your first Pookyballs by clicking on the "Pookyballs" tab in the menu at the top. From the "Play" tab, you should be able to locate the Basic League where you can make your first predictions.
Entering the Basic League (Free Version)
Using your Rooky Pookyballs, you can enter the Basic League each matchday (which typically lasts 2-3 days). This is essentially the free version of the game. You don't need to add funds and simply need to predict the outcome of four matches each matchday to stand a chance of winning prizes.
These matches will depend on what football is going on. They could be games from a range of different leagues around the world or they may be international matches. You just need to enter your predicted score for each of the four matches to take part.
You will score points for your prediction based on a number of factors. Successfully predicting the correct score is obviously the best case scenario but it's worth bearing in mind that you will score more points for more unlikely predictions. For example a 4-4 draw will reward more points than a 1-1 draw.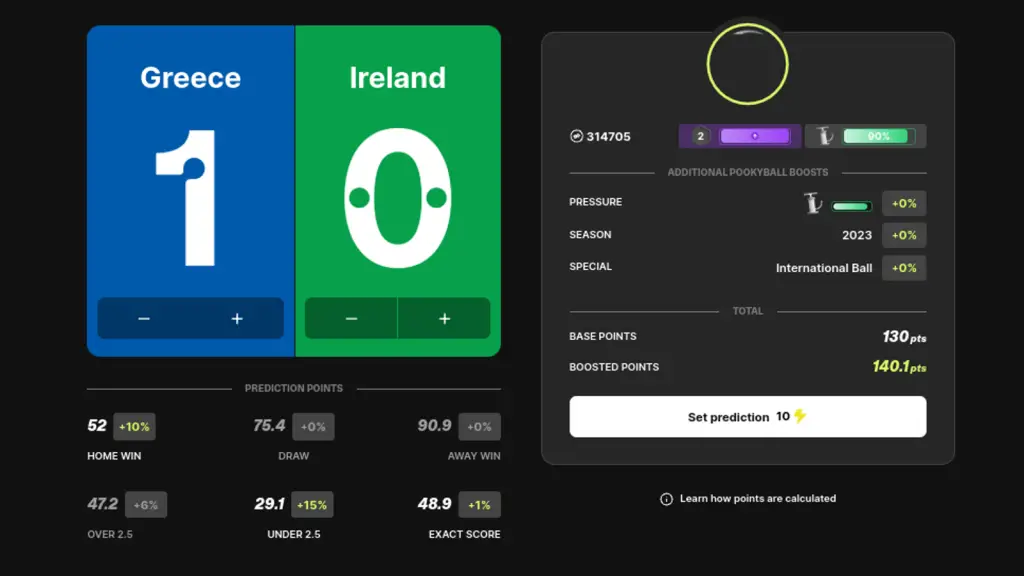 Even if you don't correctly guess the score, your prediction is not dead. You'll gain points if you correctly guess the outcome of the game (Home Win, Draw, Away Win) as well by correctly guessing the number of goals (Over or Under 2.5). Again the number of points will depend on the pregame chance of those events.
Betting odds are used to determine how many points are awarded for each correct prediction. For example, in LaLiga, you won't get that many points for a Real Madrid home win against a bottom half team but if you can correctly call an upset, even if you don't get the correct score, you will be well rewarded.
Once you've predicted the outcome of the four games, you just need to wait and let the matches take place to see where you rank on the leaderboard. The highest positions currently offer the opportunity to win in-game POK tokens and Common Pookyballs which will enable you to enter the Pro Leagues (detailed below). However, given this is the free version, your chances of winning rewards are not high and the fastest way to progress to the Pro Leagues is to buy a Pookyball.
Buying your First Pookyball
New Pookyballs are minted each week at specific times. Follow Pooky's Twitter account for information on when the next mint will be as they do tend to sell out quickly and there may not be any immediately available when you sign up to Pooky.
Aside from the free Rooky ones (you can't buy these), Pookyballs come in four different scarcities:
| | | |
| --- | --- | --- |
| Scarcity | % of Total Supply | Approximate Cost* |
| Common | 76.8 | $20 |
| Rare | 18 | $80 |
| Epic | 4.2 | $310 |
| Legend | 1 | $1250 |
*Exact prices will vary depending on the fluctuating value of MATIC. These are the approximate prices as of 14th June 2023.
Pookyballs are bought using the Polygon (MATIC) cryptocurrency. You can buy them by connecting your Polygon wallet to Pooky to make purchases or set one up and purchase some MATIC from a crypto exchange if you don't have one.
If you have some experience with buying and sending crypto, this should be a relatively simple process. If you're using Sorare, the process should be pretty familiar in that you can use a wallet like MetaMask, however this time you'll be transferring MATIC rather than ETH. The funds will also stay in your wallet rather than sit within Pooky and you'll need to sign in to your wallet whenever you want to buy Pookyballs or claim rewards.
There is an alternative option to buy Pookyballs using your credit/debit card which will be simpler if you haven't bought and used crypto before. However you will still need a wallet to store your Pookyballs, POK tokens and MATIC rewards.
Regardless of which scarcity you buy, your Pookyball will:
Give you life-time access to the Pro Leagues
Enable you to win prizes
Let you boost your predictions points and Energy
The rarer the Pookyball, the more attribute points it is allocated at the beginning. These are important as they boost prediction scores and in turn boost your chances of winning better rewards.
As it stands, users with Common, Rare, Epic and Legend Pookyballs compete in the same leagues and the quality of your predictions is still the main determining factor in terms of your place on the leaderboard and rewards.
However those with rarer scarcity Pookyballs do have a significant advantage as long as they predict well. Owning rarer Pookyballs will also give you more Energy each week which enables you to enter more leagues and increases your chances of earning MATIC when you make good predictions. There is also a more extensive levelling up process with the rarer ones which in time will allow you to build bigger boosts than is possible with a Common.
Entering the Pro Leagues
Unlike the Basic League, where you may be asked to predict matches from several different leagues and countries, the Pro Leagues enable you to hone in on football in countries where you are most knowledgeable.
At the time of writing, it's the summer so the Spanish, English, German, French and Italian leagues are not open. However you can enter the USA, Brazilian, Argentinian and Japanese leagues while there are also special competitions for Euro 2024 qualifiers.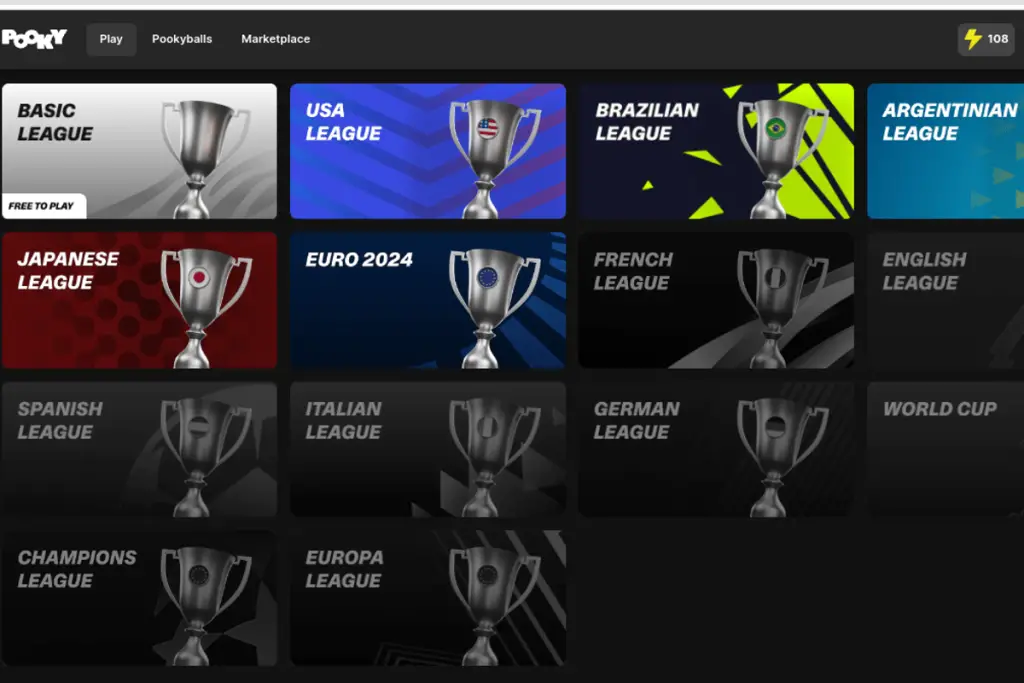 All leagues aside from the Basic League will be locked until you buy or win your first Pookyball of Common or above. After that you can simply pick and choose the leagues you enter, provided there are sufficient matches taking place.
However the number of predictions you can make each week will be limited by your Energy levels (see the number next to the lightning symbol in the top right corner of the screen). Each prediction costs 10 Energy and you'll start out with 100 Energy meaning you'll only be able to predict the outcome of 10 games each week to begin with. However as your Pookyball collection grows, your weekly Energy allowance will also gradually grow enabling you to predict more games and enter more leagues.
Energy levels reset to their maximum amount every Monday at 23:59 CEST. Once your Energy dips below 10, you'll need to wait for the next refill before you can make more predictions.
Winning Rewards on Pooky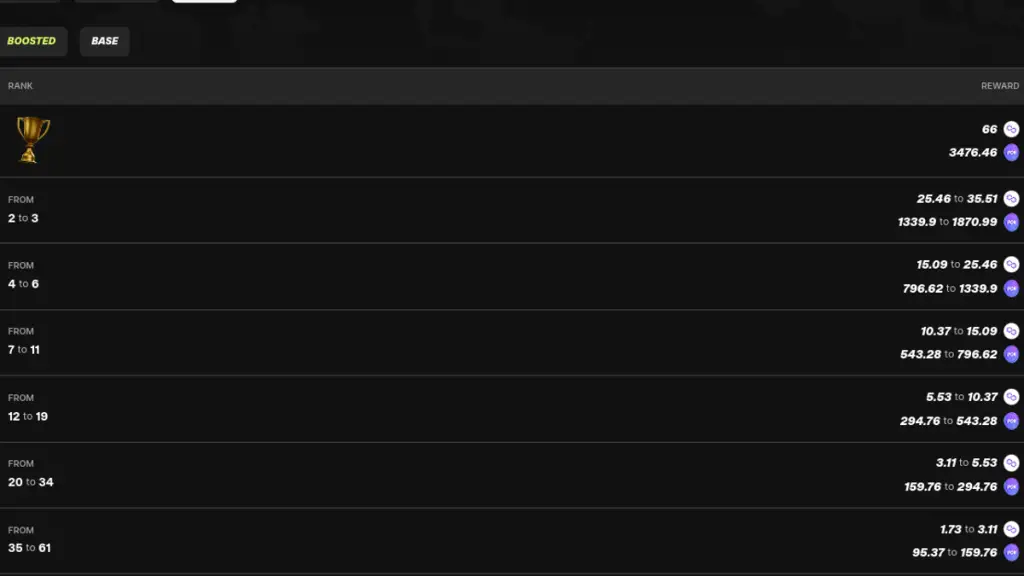 Rewards in the Pro Leagues are considerably juicier than in the Basic League. You can win both POK tokens and MATIC. All entrants will win POK rewards with higher places rewarded with MATIC as well as POK and naturally the amounts increase the higher up you finish.
The total reward pool grows as more Pookyballs are minted. At the time of writing, it currently stands at 686 MATIC per Pro League per matchday (the equivalent of around $450). This is split between two leaderboards (you'll automatically be entered into both).
The "Base" leaderboard features the base points for the exact score, outcome and number of goals while the "Boosted" leaderboard where most of the rewards are found is also impacted by the boosts offered by levelling up and having rarer Pookyballs.
Levelling up and Boosting your Pookyballs
As time goes by, you'll be able to keep levelling up your Pookyballs and will be notified when it's possible to do this. The levelling up process enables you to use the POK or MATIC you win as rewards to add more attribute points which in turn boosts the number of points you win when you make a correct prediction, which will help you finish higher in the Boosted leaderboard. 
There is some skill and decision-making to this process as you decide which attributes to prioritise and really target – for example Home Win, Under 2.5 goals, Score etc.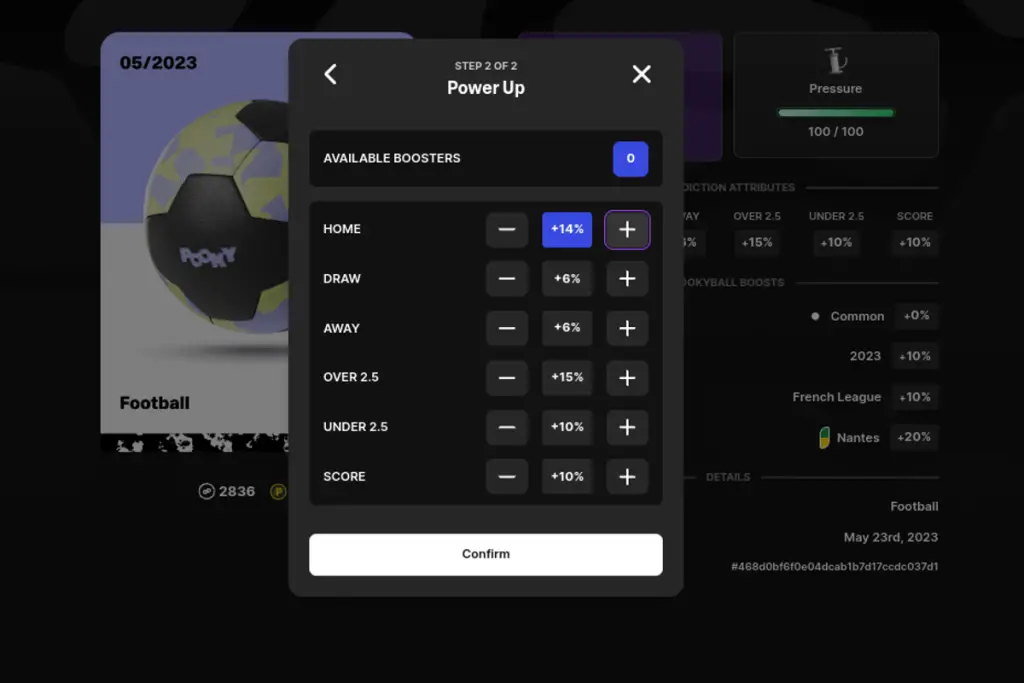 Pookyballs also have other boosts according to their Scarcity, Season, League and Club which can't be changed and are assigned during the initial mint. These are called "fixed attributes" although the season bonus will decrease after the first year.
The scarcity boosts are 0% for Common, 10% for Rare, 21% for Epic and 33.1% for Legend. The league and club (or national team) that your Pookyball is assigned will give you a small boost when predicting matches in that league or for that club. However it's worth noting that it doesn't restrict you to only predicting those matches. For example if your Pookyball has a French League bonus, you can still enter any of the other leagues too.
The other factor affecting the scores you get will be the Pressure of your Pookyball. This works differently as the Pressure value gradually decreases with time and that will have a negative impact on your scores. You can refill the Pressure to its maximum value at any time using POK or MATIC.
Pooky Moving Forwards
It's worth noting that Pooky, whose full play to earn game only went live in March 2023, is still in its very early days so we can expect a number of new features and elements to the game to be added soon which may not be covered in this Pooky beginner's guide. For example, it's not currently possible to trade Pookyballs with other users but that's something that is listed as "coming soon". 
Ensuring you continue to play the game each week will help you level up your Pookyballs which, as well as giving you a better chance of winning rewards, will also give them extra value when the ability to sell is unlocked.
If you like the sound of the Pooky football predictions game and want to be one of the very early users, sign up here to start your journey with two free Rooky Pookyballs.