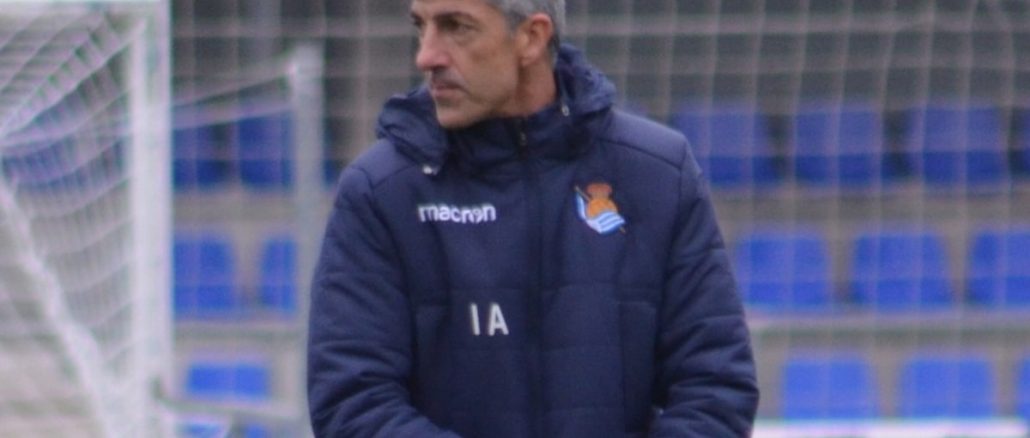 Real Sociedad have been one of the success stories of Spanish football in recent years. Their progress is widely attributed to their outstanding academy and ability to produce their own talent, coupled with some smart business in the transfer market. Rarely though does coach Imanol Alguacil, now four years and nearly 200 games into the job, attract the kind of plaudits he surely now deserves.
Including a brief stint as interim boss at the end of the 2017/18 season, Imanol claimed his 100th win in charge of the club that has defined his life in football this week with a 1-0 Copa del Rey success against Mallorca. It was an 8th straight victory for the Basque side who are 3rd in LaLiga and competing in the latter stages of two cup competitions.
Imanol has already brought silverware to Donostia with the delayed 2020 Copa Final triumph over local rivals Athletic, the first trophy La Real had won in 34 years. While that will always be hard to top (and we're not just talking about Imanol's post-match press conference), that success will always be remembered for the brilliance of Alexander Isak in the Quarter-Final at the Santiago Bernabeu, not to mention the influential role played by another of European football's brightest talents in the shape of loanee Martin Ødegaard.
With those two players now plying their trade in England and a host of other circumstances conspiring against him this year, the outstanding 2022/23 season so far that Real Sociedad have managed to have, may just go down as the finest work Imanol has done yet.
Getting the best out of an injury-ravaged squad
If Real Sociedad had underperformed this season, there'd have been no shortage of excuses. 
Their season started in somewhat chaotic circumstances with Newcastle coming in with a reported €70m bid for Isak in the final week of August. It was too good an offer to turn down but it left Real Sociedad in need of a quick replacement, which they found in the shape of Almeria's Umar Sadiq, a €20m deadline day addition.
Sadiq netted a debut goal against Atletico Madrid only two days later but his dream start turned sour with a serious knee ligament injury suffered in his next league outing against Getafe. It was a cruel blow for the Nigerian international and it left Real Sociedad with a potentially big problem given star forward Mikel Oyarzabal was already a long-term absentee set to miss the rest of 2022.
Pre-season, it would have been almost impossible to envisage a scenario where La Real would have to count upon Alexander Sørloth and Take Kubo as their main forwards, yet still be 3rd after 16 games, closer to the top than 4th placed Atletico Madrid, currently 7 points beneath the Basque side.
Sørloth was another late addition, returning for a second loan spell at the Reale Arena having only managed to net 4 times in 33 LaLiga appearances last season. Take Kubo meanwhile arrived following two underwhelming seasons featuring unsuccessful loan spells at Villarreal, Getafe and Mallorca.
Imanol has somehow managed to make it work. Both netted to put La Real in control of the derby against Athletic last weekend with Sørloth now on 11 for the season in all competitions and Kubo's bright young career seemingly back on track after two difficult years.
Real Sociedad's main strength though lies in midfield. Again their coach deserves plenty of credit for finding solutions to their injury woes and quickly identifying a system that works. It admittedly helps when you've got players of the quality of Martin Zubimendi, Mikel Merino, David Silva and Brais Méndez who have formed a formidable quartet in the middle of the park this season.
The summer addition of Méndez has proven a particularly inspired signing and been a major factor in La Real's ability to rectify their problems in front of goal. The former Celta man has scored or created a goal on 10 occasions so far in LaLiga 2022/23, already bettering his season tally in Galicia last term.
Competing on 3 fronts
If one thing has worked in Real Sociedad's favour this season, it was perhaps the staging of a winter World Cup. It came just at the point where La Real have tended to struggle a bit under Imanol with winter dips a recurring theme. They've found December particularly tough with a record of just one win and six defeats in LaLiga in the final month of the year in the previous two seasons.
The break to the 2022/23 season has enabled the likes of Oyarzabal time to get fit and play a bigger role than he might have in a conventional campaign where we'd already be into the second half of the league by this point. It has also offered some much needed rest to most of Real Sociedad's senior players who had spent much of the campaign playing two games per week given their Europa League commitments.
Having topped a group which featured Premier League giants Manchester United, Real Sociedad's European campaign won't restart until mid March. That gives them a bit more leeway to really target the Copa del Rey with a Quarter Final to come next week while the Semi-Finals will have been completed by the time of the 1st Leg of their Europa League Last 16 tie.
With more players available now, Real Sociedad are in theory well placed to attack all fronts and Imanol's tendency to take every competition seriously, suggests that's exactly what they'll do. His approach is admirable but not without risks and despite the winter break, burnout is perhaps still the biggest threat to the prospect of the Champions League anthem ringing out around the Reale Arena next term.
The most underrated Spanish coach?
The lack of recognition that comes Imanol Alguacil's way is sometimes hard to make sense of. Outside of Spain, he remains something of an unknown name and even in this country, it feels like he is perpetually overlooked when the conversation turns to the best Spanish coaches.
This is something of a golden age of Spanish and particularly Gipuzkoan coaching talent. If rumours are to be believed, Rafa Benitez could soon become the 5th Spaniard currently managing in the Premier League. There are already three Basque Premier League managers, all of whom, like Imanol, were born in Gipuzkoa, Spain's smallest province.
While English clubs have been quick to turn to the likes of Julen Lopetegui and Unai Emery, both of whom have taken Premier League jobs this season, Imanol is never even linked despite a domestic record in Spain that is certainly more impressive than Emery's over the past few years.
That's partly because he's already in his dream job. From player to youth coach to B team boss to assistant, Imanol has done it all at Real Sociedad. There is a very real sense that this is his club and Gipuzkoa is and perhaps always will be his home. When he does finally vacate the hotseat at the Reale Arena, it feels as likely that he'll stay at the club in some other capacity than move elsewhere.
His unwillingness to blow his own trumpet is perhaps another reason why Imanol doesn't receive the kind of attention he might. He typically deflected the praise onto his players following his 100th win, stating "this is the best team I've ever coached" whilst adding his feat "would not have been possible without the coaching staff, without these players and also without the fans".
Perhaps the recognition will finally come this season. Champions League qualification would make his work in Donostia much harder to ignore and at the very least La Real should make the top six for the fourth season running. That alone would equal the club's best ever run of successive top six finishes, set during the club's glory days between 1978 and 1982.
He has some way to go to match the achievements of the legendary Alberto Ormaetxea who delivered two league titles during that period, but with one trophy already under his belt, Imanol is already the club's most successful coach since the turn of the century and there is potentially much more to come.
---
Featured Image of Imanol by Giovanni Batista Rodriguez, CC BY-SA 2.0