2022 has been a rollercoaster year for the women's game in Spain. From record crowds and the professionalisation of the Primera División to seismic fallouts, Fútbol femenino has made headlines and, for better or worse, attracted the kind of attention it has long craved.
For perhaps the first time, there is a sense that the wider sports media in Spain has accepted that women's football matters and is something worth talking about. That has by no means always been the case and represents a big step forwards. However this is still a work in progress and there is still a sense that on some fronts at least, Spain has catching up to do with other European countries. 
For a long time, the glaring elephant in the room was the absence of a Real Madrid female team. In a country where the football landscape and conversation is so definitively shaped by the Madrid-Barça divide, that was a huge limiting factor in terms of the potential growth of women's football and particularly the coverage it would receive.
Indeed as recently as early 2020, when the world descended into lockdown at the start of the covid-19 pandemic, there was still no official Real Madrid women's team. That changed that summer when Club Deportivo Tacón formally merged to become the female wing of what is arguably the world's largest sports club, a significant moment for the women's game in Spain and beyond.
A big step in the right direction, but again just another step in a long journey. While having the fixture at all was a new and exciting novelty, few were under the illusion that the freshly created women's Clásico was immediately going to make a big impact.
There was some catching up to do first. Real Madrid inherited a side that were only down in 10th place in the 16-team 2019/20 Primera División which was abruptly ended by the pandemic after only 21 games. CD Tacón had won only 6 of those fixtures, losing 10. 
Meanwhile Barcelona Femení, founded a whole generation earlier in the late 1980's, were on an upward trajectory and had taken the league by storm, dropping just 4 points whilst averaging more than 4 goals per game. Forward duo Jennifer Hermoso and Asisat Oshoala alone had netted 43 times between them, 10 more than the entire Tacón squad.
The aggregate score of the two league meetings between the sides that season: 15-1 in Barcelona's favour.
Barcelona were awarded the league title despite the season not reaching its conclusion, although the fact that it was only their 5th in more than 30 years is indicative of the reality that for long periods the female team was not a major priority at Camp Nou either.
The Catalan giants were at least quicker than most other big European clubs to catch on to the growing interest in the female game during the 2010's. Despite the absence of a professional league structure in Spain at the time, they set about acquiring some of the top global talents whilst also developing their own, all whilst staying true to the distinctive "Barça" way of playing football.
It has reaped incredible rewards with Barcelona setting the bar both in Spain and Europe in recent years. They've won both the Primera División and Copa de la Reina, in convincing fashion in each of the last three seasons and were crowned European champions in 2021, hammering Chelsea 4-0 in the Final.
Real Madrid meanwhile have set about the almost impossible task of getting closer to their eternal rivals. On some levels, they've come a long way. Las Blancas finished second in their inaugural Primera División campaign, ensuring they would play in the UEFA Champions League in just their second season.
Having progressed from the group, Real Madrid were paired with Barcelona in the Quarter-Final for the most significant women's Clásico clashes to date. While just 3,318 people attended the 1st Leg, a 3-1 Barcelona victory at the Estadio Alfredo Di Stéfano, the return attracted a record-breaking 91,553 to Camp Nou, believed to have been the largest crowd for a women's football anywhere in more than 50 years with some claiming it be a world record.
Barcelona again came from behind to win the game 5-2 and would attract an even bigger crowd for the home leg of their Semi-Final against VfL Wolfsburg. New ground had been broken with the figures also the highest for any football match (male or female) in Spain during the 2021/22 season.
The hope was that a very talented Spanish national team, largely made up of Barcelona and Real Madrid players, would continue the positive momentum for the women's game in Spain by winning this summer's Euros, but an Extra Time Quarter-Final defeat to eventual winners England put pay to that particular dream.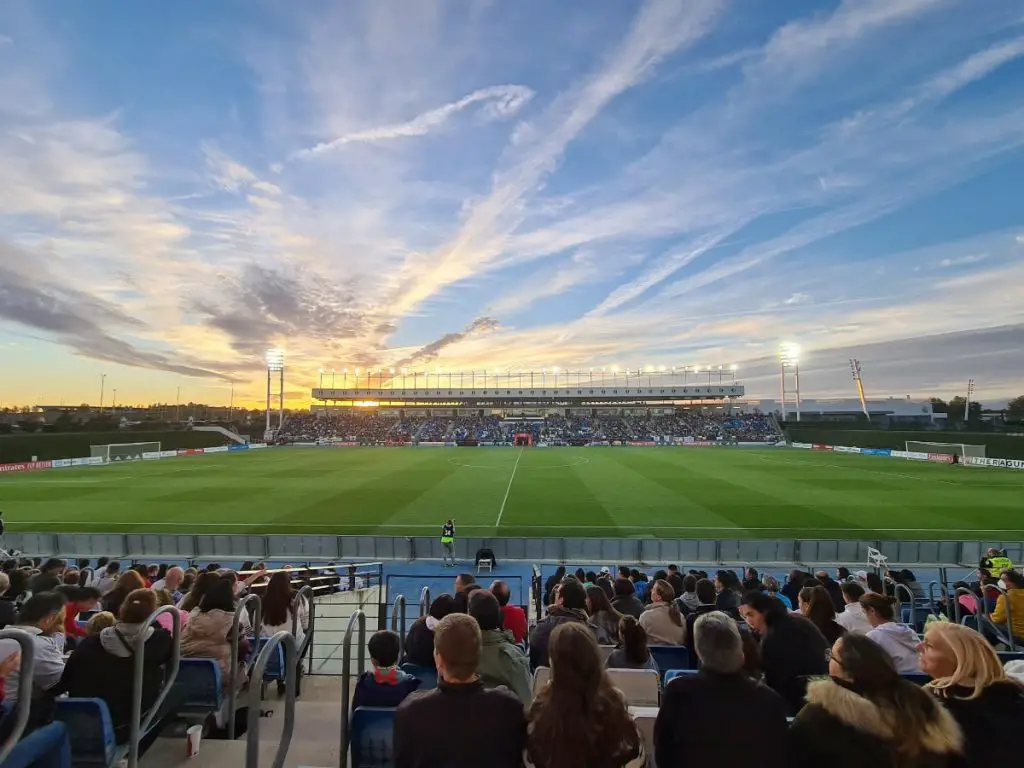 Fast-forward to November and we arrive at the first Clásico of the 2022/23 season, widely expected to be the most competitive yet. Bolstered by some notable summer additions, Real Madrid had started the newly branded Liga F well with 20 goals scored in their 6 games and only 3 conceded. 
The Estadio Alfredo Di Stéfano was sold out for the fixture, another positive sign that more Madridistas were starting to engage with the women's team. However there was still little doubt about who the favourites for the match were. Having won every single game during the 2021/22 Primera División season, Barcelona headed into the match having won all of their last 42 league fixtures in a run stretching back nearly 18 months.
A narrow 2-1 win the previous weekend in a relatively even game against Levante, did point to at least some degree of vulnerability in Barça. The visitors were also still operating without the injured Alexia Putellas, Ballon d'Or winner in both 2021 and 2022, who cruelly suffered an ACL tear on the eve of the Euros in England.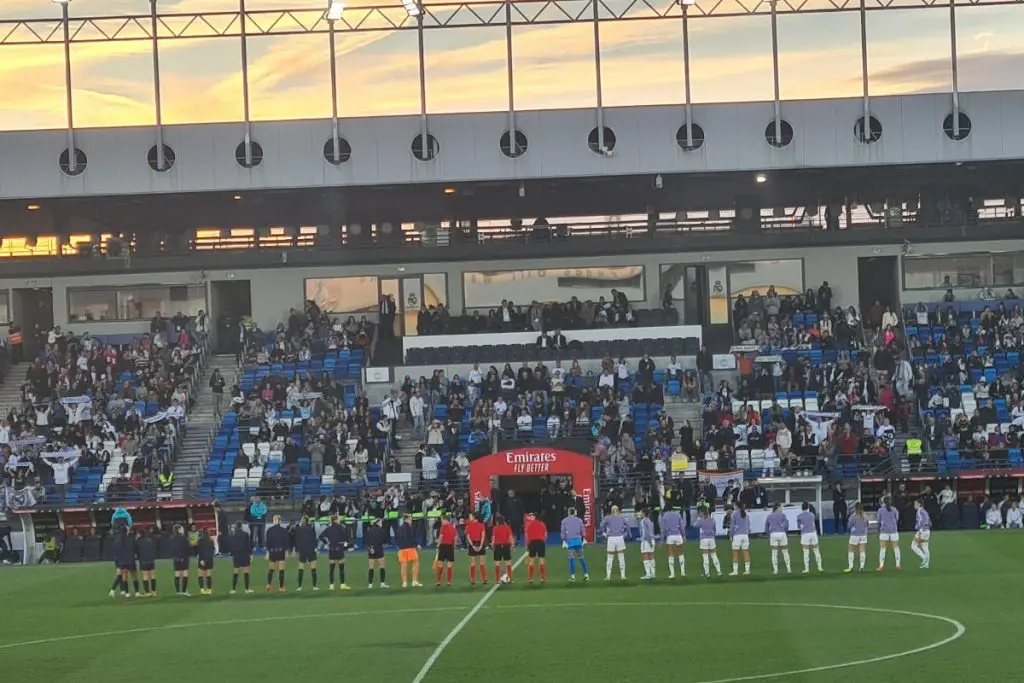 However it wouldn't take long for Barcelona to find their stride and set about asserting their superiority over Real Madrid once more. They started the game very much on the front foot, although it was their aerial threat rather than free-flowing football that Las Blancas struggled most with.
Inside two minutes, Barça midfielder Patri headed against the crossbar from the game's first corner. 
Moments later, good work from Brazilian forward Geyse chasing down a ball that appeared a lost cause, enabled Barcelona to retain possession and a fine cross from Patri led to the opening goal as Swiss international Ana-Maria Crnogorcevic glanced a header home before racing away to celebrate.
It was a nightmare start for Real Madrid and just what you don't need when trying to compete with a side that has been as dominant as Barcelona have been. The goal also helped highlight just how many Barça fans were in the crowd, although a noisy home contingent all kitted out in white shirts in one corner continued to get behind their team, led by the beat of a drummer.
There was still the sense that Real Madrid supporters had come more in hope than expectation of a result. However there was genuine optimism that they could at least be more competitive this time, but there was little evidence of that in the early stages.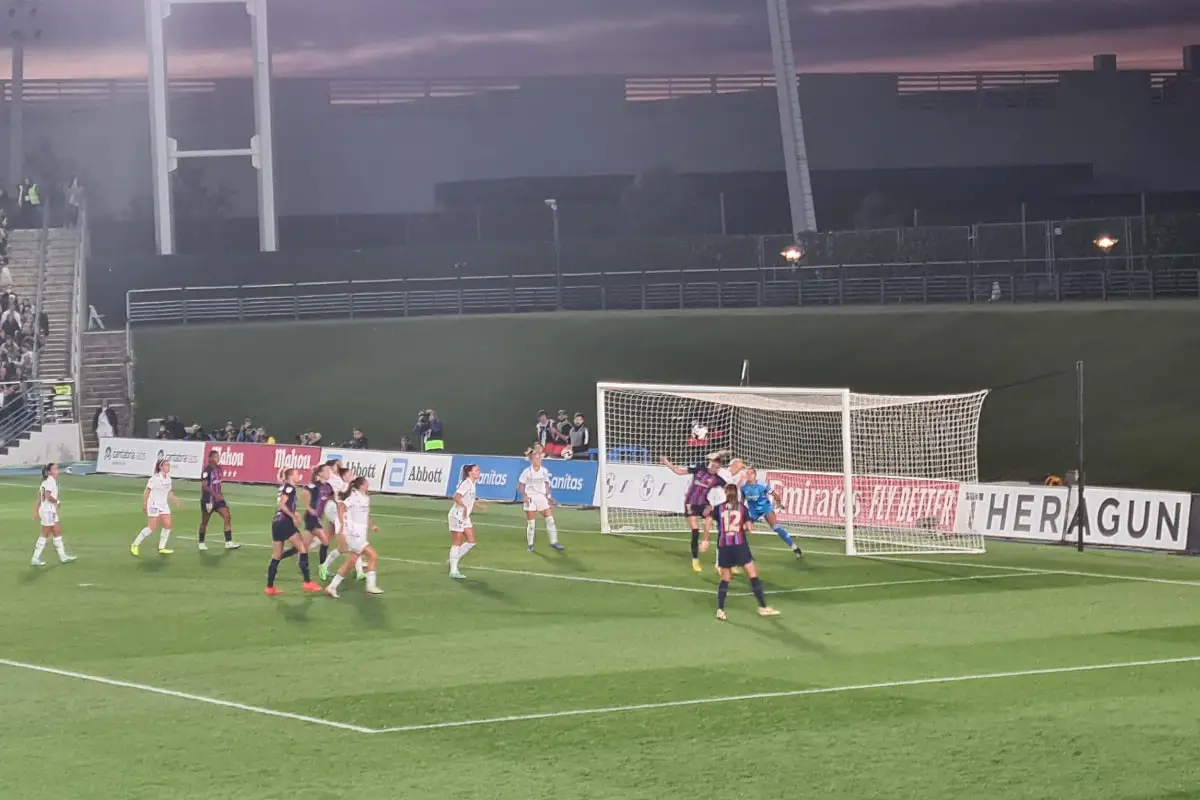 Buoyed by that early goal, Barcelona continued to boss the game and stroke the ball around confidently. Their hosts did at least manage to ride out the early storm without conceding again, although they were struggling to get out of their own half at times with French midfielder Sandie Toletti, a summer signing from Levante, one of the few to provide any sort of control in the centre of the pitch.
Barça were comfortable, without necessarily threatening to extend their lead until we reached the final few minutes of the opening half.
Again it was a corner that created uncertainty in the Madrid defence as Mapi León's looped ball in evaded the jumps of two home defenders before falling to Patri who managed to bring it under control before prodding home past Misa in the Real Madrid goal.
It was a hammer blow for Las Blancas on the stroke of Half-Time as the sides walked off with Barcelona 2-0 up and in control of another Clásico.
The build up to this game and indeed the Liga F season as a whole, has to some extent been overshadowed by an ongoing fallout surrounding the Spanish national team. A messy saga, largely played out in the public domain, has resulted in a large number of Spain's squad voicing their opposition to coach Jorge Vilda with 15 players effectively refusing to play under his continued stewardship.
The Spanish Football Federation has refused to back down and remove a coach who is widely seen to have underachieved during his seven years in charge. With those protesting against Vilda largely coming from the Barcelona rather than Real Madrid contingent, the perception of a split along those traditional lines was another very significant subplot that had the potential to add some extra spice to this particular Clásico.
To put things in perspective, six members of Real Madrid's starting XI had been involved in the Spain squad that, despite all the absentees, managed to claim a historic victory over the United States in an international clash in October. Meanwhile Sandra Paños, Mapi León, Irene Paredes, Aitana Bonmatí, Patri and Clàudia Pina, all Clásico starters for Barcelona with hundreds of international caps between them, were among those excluded.
That was perhaps an extra source of motivation for the Barcelona players who would have had mixed feelings watching on as a Spain squad that included nine Real Madrid players defeated the U.S. for the first time. However in truth, despite the clear division, there had been no real hint of nastiness or ill feeling in the First Half of this game with Las Blancas if anything guilty of showing too much respect for their opponents.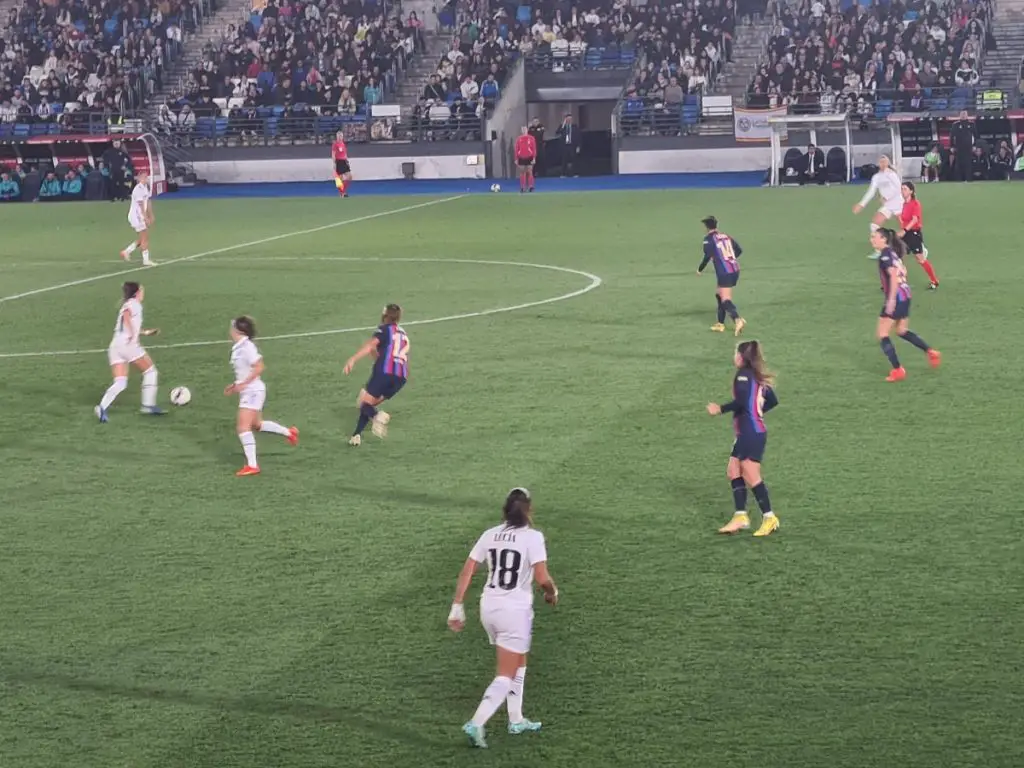 There was a bit more needle in the second period but the feistiest clashes were between Barcelona's Swedish left-back Fridolina Rolfo and young Madrid winger Athenea. The only hint of bad blood between Spanish international teammates came later with a cold exchange between Aitana and Real Madrid keeper Misa. However it wasn't in keeping with the overall nature of a game which produced just two yellow cards and those hoping for juicier headlines in fitting with the obvious narrative might have left disappointed.
With the sun now fully set, the Second Half was played out under the glare of the floodlights but it followed a similar pattern to the First Half with Barcelona grabbing an early goal to effectively kill the game off.
Again, Real Madrid struggled to clear a cross into the box and the ball eventually bobbled its way to Aitana whose shot found the back of the net with the aid of a big deflection from centre-back Rocío Gálvez.
There were a few more moments after the interval where the home team started to get a foothold in the game with midfielder Claudia Zornoza starting to get a bit of space and finally asking a few questions of the Barcelona defence. She even struck the post with a long-range effort as Las Blancas came close to reducing the deficit.
However, it was never long before the visitors regained their composure and supremacy in the game and they were good value for the fourth goal in truth when it came late on with Rolfo bundling the ball home from close range at the second attempt.
While some of their goals were relatively scrappy, there was also plenty of good football from Barcelona and some excellent team moves. The visitors celebrated in front of their supporters at Full-Time with a remarkable 43rd straight league win to ensure they are already firmly in control of this season's title race.
Their brilliance is both a blessing and a curse for the growth of the women's game in Spain. They have raised the bar so quickly and set new standards for female teams, not just domestically but across the continent. They will be strong contenders for Champions League glory again in the new year which would be another boost for women's football in this country. However in terms of Liga F, it will struggle to attract wider interest in Spain while just one team is so utterly dominant.
That gulf in quality is perhaps one reason why Real Madrid have so far resisted the urge to follow their rivals' lead by taking the women's Clásico to the Santiago Bernabéu. Whether it's male or female football, the optics of Real Madrid being outclassed by Barcelona in their own stadium are never good from a Madridista perspective. 
Florentino Pérez, who was in attendance at this match, would have left aware that there is plenty of work still to be done before Real Madrid can truly rival Barcelona's standing in the women's game. 
Given their financial resources and the size of the club, Las Blancas are obviously best placed to take the fight to the Catalans and make the top of Liga F a much more interesting and exciting league in the years to come. However, on this evidence, they still have a long way to go.