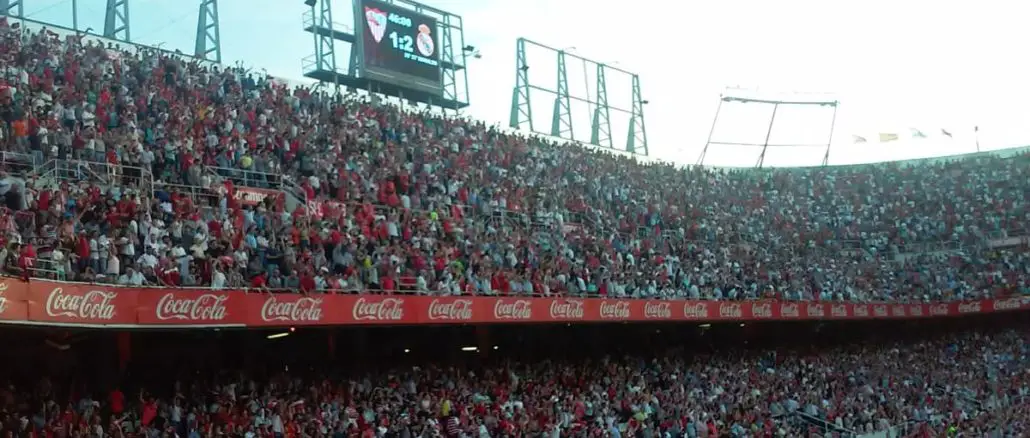 At the beginning of the season, it was clear that Sevilla were going to be in with a real shot of finally breaking into the top three. They'd managed to hold onto their best players and problems at both Camp Nou and the Wanda Metropolitano suggested they were going to be the team to finally end the "big three" stranglehold on the top three league positions which has existed for nearly a decade.
As we move into February, they are not just firmly on course to meet that objective, but the league title itself is potentially within reach. They trail Real Madrid by four points but have what may be described as a "comfortable" advantage on Atletico Madrid and Barcelona. 
Entering their third season under the management of Julen Lopetegui, the team has shown each and every year signs of closing up the gap on the big clubs. They won the Europa League in the first season with Lopetegui, shattered the club record top flight points tally in the next one and now in year three, a possible title push feels almost like the natural progression.
Their brand of football mixes the use of fast, deep wingers with a possession heavy approach in midfield, but with an aggressiveness to recover the ball that few teams in Europe can outdo. Their record in LaLiga over the past 18 months speaks for itself and with the ever impressive Monchi overseeing their recruitment, it's clear that Sevilla are at the very least serious players in this season's title race.
Sevilla come through tough winter period, still just 4 points off Los Blancos
The question should really be: if not now, then when? The club has had to deal with a good amount of roadblocks in the form of injuries, Covid cases and AFCON absentees so far; but it has also fully adapted and committed to Lopetegui's football identity and has got the right players in to execute it, ensuring they've continued to pick up points even when selection options have been limited. Those 46 points from 22 games do not lie.
The Sanchez Pizjuan is an absolute fortress with the team scoring in every game while remaining undefeated at home. Sevilla has not dropped too many points against teams near the bottom of the table but crucially they've been a consistent match for the strongest sides too with Real Madrid their only top half conquerors in LaLiga this term.
They do have the fifth oldest squad in LaLiga and the third oldest starting eleven, with most of their key players either already in or very close to their thirties, meaning they should be at the prime of their footballing maturity with the experience to handle any challenges that come their way.
That helps to explain how they've managed to get through this tough winter period, which has also seen them suffer a bitter blow in terms of their early Champions League exit, whilst still staying in touch with a strong Real Madrid side.
The Martial factor
The arrival of Anthony Martial has the potential to be a decisive factor in Sevilla's push for the title. He not only comes to fill the blank space left by the injuries to Suso and Erik Lamela and to be an alternative to Youssef En-Nesyri, Rafa Mir and Munir; but he is also a more complete player than they are, widening the range of possibilities for Lopetegui, who could use Martial as a winger or as a more mobile and vertical centre-forward to change his typical prototype. 
While Lucas Ocampos is untouchable, if he settles quickly, Martial could prove an upgrade on the other options Sevilla have in the final third. Neither Suso or Lamela have the pace and finishing of the Frenchman while En-Nesyri and Mir lack his control and skill on the ball.
He also fits well with Sevilla's usual game plan of a 4-3-3 with a very positional and physical centre-forward to pin up opposing centre-backs to be able to open up the gaps on the wings. Playing as a right footed left winger, with a good ability to cut in to break open defences, he'll fit perfectly with Marcos Acuña, Sevilla's leading assister and a key offensive player, allowing him to reach good crossing positions and stretch the opponents' defensive line.
But where Martial will probably thrive is in the offensive transition, especially with his pace and coming from the Premier League. Often during Sevilla's transitions, Ocampos pushes to the front and has nobody accompanying him, especially when the second ball is won by Mir or En-Nesyri, as a result, Sevilla has only scored three goals from counterattacks. Yes, they usually dominate the ball and opposing teams often drop deep into their own half, but against the top of the table teams, this is definitely something they can look to take advantage of. 
Martial does share one negative trait along with their other attacking players except for Ocampos and maybe now Papu. He has been inconsistent during his years at United. While latterly he has been used mostly as a substitute which hasn't helped, his performances have been up and down and he has not reached the potential set for him as a youngster. 
He has the class to make a difference and knows that this is his chance to get back on the national team radar and solidify a good move in the summer, either returning to Manchester United or to another team, or maybe even staying at Sevilla.
Another thing he will have to get accustomed to is the defensive commitment and the intensity of the team; whether it be fighting to win an offensive long ball, pressing high up on the pitch, in the defensive transition or even a tactical foul to avoid a counterattack. The order is clear: fight and intensity is non-negotiable for Lopetegui and the French winger will need to adapt to that.
Key phase of the season
As Carlo Ancelotti recently pointed out, the first few months of the new year are often the key phase in the season. It's the moment where gaps are created or lost and momentum is built. Sevilla have expanded their depth with the signings of Martial and Jesús Manuel Corona, and crucially avoided losing Diego Carlos to Newcastle.
Cover exists with at least two players in each position now the three Moroccan players have returned from AFCON duty. Julen Lopetegui will have a handful of options to change his plan according to the opponent, and more importantly to manage the players' fitness levels.
Sevilla's upcoming fixtures in February look like a marathon in which the path their season will take may be defined. First a game in Navarra against the always battling Osasuna, then one against an improving Elche side that is fresh from two very good matches against Real Madrid and has already held the Nervionenses this season. A frenetic fortnight follows with both legs of their Europa League tie against Dinamo Zagreb, a league trip to Espanyol and finally the big derby against Betis.
How PSG can have an impact on the Spanish title race
Unfortunately for all the fans at Nervion, their team does depend on at least two losses from Los Blancos (they still have to go to the Sanchez Pizjuan) and an almost perfect second round of the season. The European commitments of both teams are also sure to play a part in determining exactly how things pan out.
Real Madrid have a massive tie coming up against PSG in the Champions League and a loss in the round of 16 would leave the Merengues with the sole focus of LaLiga by the beginning of March.
At the same time Los Blanquirojos will be pushing for their favourite competition and if, as expected, they see off Dinamo Zagreb, the tantalising prospect of a Europa League Final in their own stadium will increasingly provide a distraction to their efforts in LaLiga.
Should Sevilla choose a trophy to chase?
The squad depth is really good, no doubt about that, but has it enough quality to take a shot at both competitions? That's the doubt and even if they were to prioritise one over the other, the question of which one should take precedence is also open for debate.
Right now, the message from the fans seems to be clear: LaLiga. Seventy plus years since the team's first and only conquest of the Spanish League, some Sevilla supporters have even suggested they would exchange a pair of Europa Leagues for one league title.
Whatever the approach may be, there is a chance for Sevilla to achieve something truly special this season and it may be a long time before it comes around again. This is their shot at LaLiga and they will want to give it absolutely everything they have.