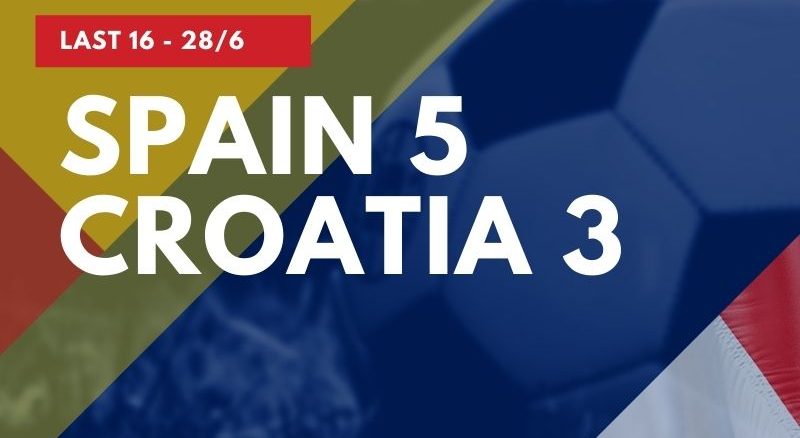 For the first time since they won the competition nine years ago, we can finally say that Spain have won an international knockout game after eight goals on a wild afternoon in the Danish capital.
Spain also became the first team in the history of the European Championships to net five goals in back-to-back games, but this game was far from as comfortable as the match beforehand. Spanish supporters across the globe had their hearts in their mouths for 120 minutes as the rollercoaster that was their encounter with Croatia at the third consecutive European Championships just wouldn't stop turning.
---
Euro 2020 Match Report: Spain 5-3 Croatia (AET)
---
It wouldn't be a Spain game if there wasn't controversy upon the announcement of the team selection. Alvaro Morata kept his place, while Ferran Torres saw Gerard Moreno omitted. The midfield remained unchanged, yet Jose Gayà replaced Jordi Alba and Eric Garcia kept Pau Torres out of the starting line-up for the second consecutive game. 
? OFICIAL | ¡¡YA TENEMOS NUESTRO ONCE INICIAL!!

? Con estos futbolistas afronta @LUISENRIQUE21 los octavos de final de la #EURO2020 ante Croacia.

?? ¡¡ESTAMOS CON VOSOTROS!! ¡¡A POR TODAS!!

? #CRO– #ESP #SomosEspaña pic.twitter.com/2YgnuGibXU

— Selección Española de Fútbol (@SeFutbol) June 28, 2021
Spain started the game with an immense tempo; they had a couple of chances within the opening five minutes including one clear-cut opportunity for Koke to score his first international goal, but the ball was played just inches too far behind him.
Alongside Koke was Pedri, who became the youngest player ever to start a European knockout game, Spain's set-up with three in midfield and high full backs caused problems in the centre for Croatia, pinning them back and forcing many fouls. Multiple set piece opportunities were given to Spain in the opening minutes but Koke was unable to deliver at an acceptable quality to create any clear opportunities.
With history in this tie at the two European championships prior to this encounter, the game saw a fiery start with many fouls and a fast Spanish tempo.  Croatia not knowing how to deal with the inside-wide players forced Luka Modric back.
In the 16th minute, Pedri threaded a gorgeous ball through the Croatian backline, gifting Koke another clear opportunity on goal but he could only guide the ball softly in the direction of keeper Dominik Livakovic. Three minutes later, Ferran Torres whipped a perfect ball onto the head of Morata, who could only head it into Vida from 6 yards out.
Immediately after Spain's onslaught, Croatia went ahead, but not through any representatives of their personnel.  Pedri found himself stuck in a situation that required him to send the ball back to his keeper, but the pass was bouncing and bobbling over the Danish surface. The ball flew towards Simón, who was too focused on looking for the next pass and ended up allowing the ball to bounce over his foot and into his goal, directly in front of the Croatian supporters.
GOAL!

??Croatia 1-0 Spain??

A bizarre own goal gives #CRO a lead! Unai Simon fails to control it with no pressure on him. Nightmare for the keeper.#EURO2020 pic.twitter.com/5vz3CiaIj2

— OverTheBar (???.???????????.???) (@OverTheBarFB) June 28, 2021
Garcia, Azpi and Busquets ran over to console him, but still there was an unimaginable concoction of events that were still to transpire.
The goal galvanised the Croats; many chances and even a penalty shout came within 5 minutes of the goal as everything became flipped. Now, Spain were giving away the fouls, running offside and losing patience, but it all changed when Sarabia and Ferran swapped wings.
Spain equalised in the 38th minute as relentless pressure and intent on keeping the ball alive (despite a few pinball moments) led to the ball dropping to Sarabia on the penalty spot, who was able to guide the ball home.
Now everything had turned around again, as Spain's intensity returned and they were able to go into Half Time on level terms with Croatia. Again, Spain would have reflected on statistical domination having created the better chances in the game without fully making their opponents pay.
No changes were made at Half Time from Enrique, yet Croatia changed their striker (Kramaric on for Petrovic). Simón received a back-pass within the first minute of the second period and was jeered by the fans around the stadium, but this time he was able to control and successfully release the ball, to the relief of the Spanish supporters.
The half began slowly, but in the 57th minute, Cesar Azpilicueta scored his first international goal as Ferran Torres whipped another gorgeous cross into the danger area for the captain that beat him to the Champions League title. 2-1, but still more was to come.
For the time being, Croatia's tempo and confidence was shot completely, with Kramaric isolated up front, but Simón did have to make a spectacular reflex save at the near post, symbolising the start of a spectacular redemption arc that was like something out of a Disney movie.
The 71st minute saw 2 changes, Pau Torres and Dani Olmo replacing Eric Garcia and the energetic Sarabia, before a minute later, Morata had the ball in the net despite it being flagged offside almost immediately after the ball rippled the net.   
?? Ferran Torres' record for Spain ?#EURO2020 pic.twitter.com/Po9oFjsfwO

— UEFA EURO 2020 (@EURO2020) June 28, 2021
This didn't hinder the confidence of La Furia Roja however, as they powered forward through a signature Pau Torres pinpoint long-ball and a tidy Ferran Torres finish to make it 3-1, but once again, things were far from over. 
Koke and Gayà were replaced by Fabián and Alba, but Orsic scrambled the ball over the line in the 85th minute in another pinball moment that was decided by goal-line technology. Ferran Torres was then replaced by Real Sociedad's Oyarzabal and now, tensions had risen to the max.
In the 92nd minute, the equaliser came; Croatia had realised that Pau Torres and Laporte were vulnerable when the ball was in the air so they started abusing long-balls and crosses. Orsic worked the ball well on the left-hand side and found the space to swing a looping ball into Pasalic, who momentarily broke Spanish hearts and sent the Croatian supporters into raptures.
CROATIA FANS REACT TO THAT THIRD GOAL ??? pic.twitter.com/N2ybfrcfUX

— ESPN FC (@ESPNFC) June 28, 2021
Spain allowed Croatia to take it to Extra Time but the break before the restart allowed Spain to regroup. In the first couple of minutes Croatia were all guns blazing, forcing a spectacular save out of Simón that really should have seen Spain go behind, cementing his redemption in a rollercoaster game and galvanising the team.
This basically marked the end of Croatia's hopes as 10 minutes into added time, it had to be the man whose name is on everybody's lips to win the game for La Roja. Álvaro Morata, who had even received death threats over the previous couple of weeks became the saviour for Spain, as he brought the ball down from an Olmo cross and fired the ball beyond the near post and the Croatian goalkeeper. 
4 minutes later, Oyarzabal joined in on the act, to double his country's advantage and finish off the tie for good. Croatia from this moment onwards looked dead in their tracks and Spain could've added to their advantage on multiple occasions during the closing stages. The full-time whistle finally blew after 120 minutes of nerve-wracking and gruelling work, liberating the Spaniards of the nervous chokehold that the game had upon them. 5-3 and a huge sigh of relief.
Barely hours later, the world champions looked likely to be gearing up a box-office, 24-karat quarter-final against La Roja after Paul Pogba and Karim Benzema put France 3-1 up, but Switzerland managed to come back from the dead, but with more conviction than Croatia and take the international supergiants to penalties at 3-3, beating them and taking them to European quarter-finals for the first time in their history, in spectacular fashion.
Regardless of the unexpected result, Spain are in for a gripping tie with Switzerland preparing another upset, so there is a lot of food for thought for Luis Enrique as preparations begin for Friday's game in Saint Petersburg, just hours after a brief consternation in Copenhagen.