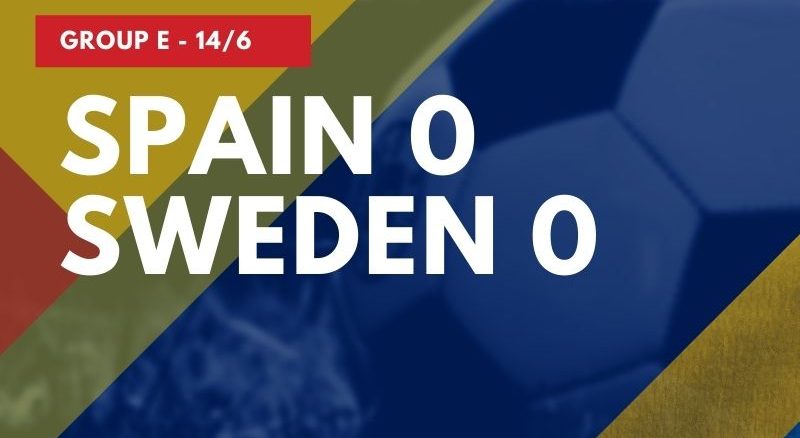 It wouldn't be an international tournament without drama within the Spanish camp beforehand. Following 2 weeks of struggle as COVID halted Spain's preparation for the tournament, Spain were finally able to kick-start their adventure in the delayed European Championships, but not in the way they wanted to.
---
Euro 2020 Match Report: Spain 0-0 Sweden
---
Luis Enrique chose to begin the Euros with a 4-3-3 consisting of Simón, Laporte, P.Torres, Llorente, Alba, Rodri, Pedri, Koke, F.Torres, Morata and Olmo. As any Spanish starting XI does nowadays, it sparked controversy. Questions of the 51-year old's team selection was once again, the focal point of the game's build-up and consequently, the questions were right to have been asked. 
? ¡¡YA TENEMOS EL PRIMER ONCE DE ESPAÑA EN LA #EURO2020!!

? Esta es la alineación inicial de @LUISENRIQUE21 para el debut de la @SeFutbol en el Campeonato de Europa ante Suecia.

?? ¡¡Vamos a por todas, #VamosEspaña!! #SomosEspaña #EURO2020 pic.twitter.com/kPDXh1IUfW

— Selección Española de Fútbol (@SeFutbol) June 14, 2021
It was a warm summer's night in the capital of Andalusia, surpassing 30 degrees at 9pm local time, so it was clear that players that were not accustomed to these conditions would struggle. La Roja took this into account I suppose as Spain, from the whistle, were out to tire the legs of the Swedish. 88% ball possession was recorded after 25 minutes and a distinct game plan came with it as Enrique's formation was put in place in order to stretch the Swedish 4-4-2, which would make space in the middle for the forwards to latch onto the abundance of crosses that would follow.
An example would be in the 16th minute, when Koke picked the ball up on the right hand side; Olmo came inside and joined his centre-forward in order to get on the end of the fabulous ball that Koke would play, which forced a spectacular save out of Olsen, who managed to get his 6"5 frame down in time to parry it away. 
Additionally, Spain's forwards would persistently and relentlessly press the Swedish back-line, which forced discomfort among the Scandinavian defence and they would always look to win the ball back high, which is a feat that Enrique enjoys and has instilled within his teams. It's easy to see that his teams are based off himself as a player, with more aggression than we've seen from recent Spanish teams.
Swedish strikers Alexander Isak and Marcus Berg would both drop into the midfield while their team were off the ball in order to help the central midfielders that were repeatedly chasing the Spanish as they passed the ball around them. The result was that Sweden were left struggling to move forward on the rare occasions when they won the ball back.
Spain knew they had to adhere to their signature on-the-ball patience when breaking down Sweden's shape that was set-up in order to soak up the immense Spanish pressure. Llorente and Koke worked well together in the first half on the right-hand side, as Llorente would occasionally drift inside from his role at right-back, with Koke dropping in deep to cover his Atleti teammate, showing Spain's knowledge of each other and their roles as a unit. On the contrary, this didn't stop Koke from finding his way into the 18-yard box, in which he wouldn't exhibit any form of fear in front of goal. The only negative in this being, he didn't end up finding the back of the net.
Álvaro Morata has scored just one goal in 384 minutes (almost 6.5 hours) of football for Spain in 2021.

S-Pain. pic.twitter.com/uJKt5unhft

— Squawka Football (@Squawka) June 14, 2021
There was also more pain for Alvaro Morata. Having been jeered by Spain fans in the warm-up game with Portugal and with many calling for Gerard Moreno to start, he needed a goal more than anyone to boost his fragile confidence levels. However, in the 38th minute, he missed an easy finish from just inside of the box following a mistake from the Swedes while playing out, as he tried to place it into Olsen's far corner, but failed to even hit the target.
Minutes later, Isak, completely against the run of play, also should have scored as in the 41st minute, his shot was deflected onto the post by Llorente from the goal line. Simón collected after a real panic. Upon the half-time whistle, it was 0-0 with almost every stat in favour of the Spanish (they'd completed 419 passes to Sweden's 58) excluding the most important one, goals. It was one sided, yet both Isak and Morata should have converted chances.
No subs were made at the break, and surprisingly Sweden decided to continue to pursue the same system. Isak began to see more of the ball in the second half's opening 5 minutes, showing how dazzling his feet were that accompanied his striking prowess which allowed him to net 17 goals for Real Sociedad this season.
Morata got another chance in the 50th minute, but again pulled it wide. The star of the second half, Pedri, started the move with the intricate passes and changes of the game's pace that Barcelona fans know well after this season.
?? Pedri = youngest player ever to play for Spain at EURO finals (18 years, 201 days) ?#EURO2020 pic.twitter.com/JMamCbJ8Xg

— UEFA EURO 2020 (@EURO2020) June 14, 2021
Another major let-off for Spain occurred a few minutes later when Berg missed a sitter after Isak turned provider as he danced into the box and pulled the ball back to his strike partner who was waiting in the 6 yard box, yet could only completely miskick it wide.
There were defensive positives for Luis Enrique. Aymeric Laporte, in just his second cap since switching nationality, continued to show his experience and natural defensive capabilities as he muscled the lively Isak off the ball with ease. It would ultimately be a second clean sheet out of two for the new-look central defensive pairing of Laporte and Pau Torres. However Marcos Llorente, who is definitely not a natural right-back, struggled to produce crosses of a quality that would really worry the Swedish defence, as Spain began to panic a little bit in an attempt to force things.
Thiago replaced Rodri and Pablo Sarabia replaced Morata in the 66th minute, with Luis Enrique putting Ferran through the middle for a brief period. Sweden's danger man, Isak, was also surprisingly replaced by Viktor Claeson, which sparked the end of Sweden's realistic hopes of scoring.
Opposingly, Gerard Moreno and Mikel Oyarzabal replaced Olmo and Torres in the 74th minute as Spain's frustration began to show. It wasn't until the final few minutes that they really began to look threatening again. Gerard Moreno spurned the best of the late openings, denied by the legs of Olsen as he connected with an inch-perfect cross from Sarabia, who would also not convert from a cross just moments later. 
A frustrating night in the south of Spain culminated goalless. Spain saw 85% of the ball, took 17 shots at Olsen's goal and produced 816 passes (most of the tournament) to Sweden's 89. To give credit where it is due, Sweden defended well on the night for the most part, but Spain really should've found a way to ripple the back of the net.
Standout performers included Pedri, now the youngest Spaniard to play in a major tournament, who shone throughout the second half. The 18 year old really showed his quality, yet his side couldn't do his performance justice with the result, so there's a lot to reflect on for Enrique as his side begin preparations for Saturday's welcoming of Poland, who lost on the same day to Slovakia in Group E.
In a post-match interview with national television in Spain, Aymeric Laporte uttered the words "We know we have great strikers, but it wasn't to be today." A lot of Spanish fans can agree with me when I say, you can say that again Aymeric.