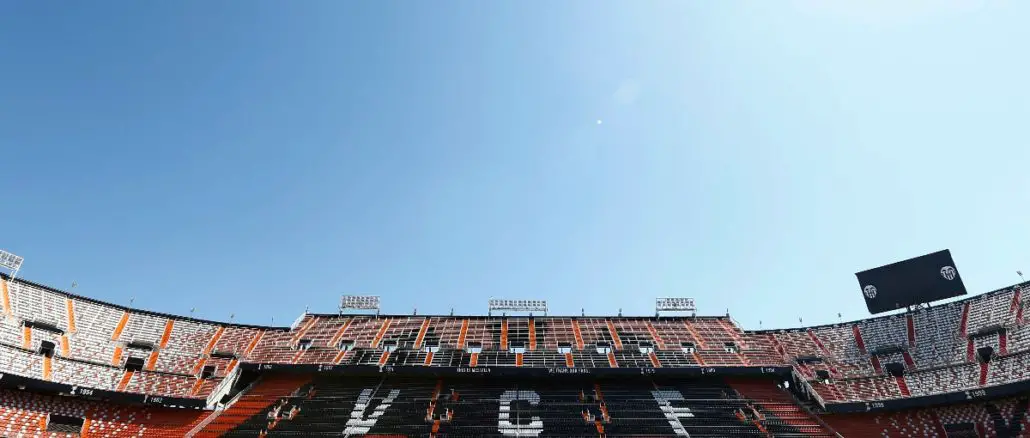 Monday brought news of the seventh LaLiga coach to lose his job this season. The only real surprise was that it had taken so long for Javi Gracia and Valencia to go their separate ways.
Appointed late last July, rumours of a falling out between another Valencia coach and this unpopular board didn't take long to surface. By the time the transfer window shut in October with Valencia having let a host of key players go without replacement, Gracia was left unhappy at broken promises as he aimed to compete in the Spanish top flight with a vastly depleted squad.
Valencia have failed to make a single permanent signing since the start of the pandemic and the end of the 2019/20 season. They have let the likes of Dani Parejo, Rodrigo Moreno, Ferran Torres, Francis Coquelin and Geoffrey Kondogbia leave – ripping out the core of a team that had won the Copa del Rey and qualified for the Champions League in back-to-back seasons under Marcelino.
Gracia went public with his frustrations less than three months into his reign, a move widely interpreted as an invitation to the board to sack him. If that was his intention, Anil Murthy and Peter Lim didn't bite, at least not until now. They have instead let what has been a predictably sorry season play out with Valencia competing in the bottom half of LaLiga and on course for their worst finish since the 1980's, a decade which saw Los Che suffer the only relegation in their history.
Voro becomes interim boss (again)
VORO dirigirá al Valencia CF hasta final de temporada pic.twitter.com/bDuzghH2j3

— Dani Meroño Bori (@Dani_Merono) May 3, 2021
Valencia's 3-2 home defeat against Barcelona on Sunday would prove Gracia's last match in charge. Los Che were actually unbeaten at home in 2021 prior to that defeat but their overall form was poor with just three points from six games meaning they are yet to secure safety with only four games to play.
The man they have turned to, is the man they always turn to at a time of need. Voro has been appointed coach on an interim or short-term basis for the seventh time. His loyalty to the club is unwavering despite all the problems off the pitch over the past couple of years.
Voro's first temporary spell in charge at Mestalla was back at the end of the 2007/08 season when he guided Valencia to 4 wins from 5 matches following the sacking of Ronald Koeman. He has won at least one match during all of his previous stints as caretaker or interim boss with a healthy overall win percentage of 48%.
The cynical view may be that Voro's appointment will allow the board more freedom to further cash in on the club's assets early this summer before appointing a new boss for the 2021/22 season. However his ability to always get some kind of reaction from the Valencia players, suggests there may be some logic to the decision too with Valencia in need of a positive result soon to avoid going into the final couple of match days still in danger of relegation.
Four games to secure safety
Valencia's predicament is not perilous yet. They have a six point cushion on the relegation zone with only four matches to play but they do still have to face three of the bottom four sides and would quickly slide into real trouble if this current poor run of form was to continue.
First up, it's a crunch home game against Real Valladolid (17th) this coming Saturday. Given Valencia had gone 8 home league games without defeat prior to the visit of Barcelona, they should still fancy their chances of at least getting a result in that match but there is little margin for error with a tough away game at title chasing Sevilla following that.
Therefore, should Valencia suffer defeat against Sergio's side this coming weekend, the doomsday scenario of Valencia dropping out of LaLiga for the first time since the mid 1980's would become all the more real a possibility.
Voro may be well accustomed to fighting fires at Mestalla, but this is very much his most important assignment to date.
Another summer exodus?
With a defender charging him, Goncalo Guedes hit a missile ?pic.twitter.com/kgS7zsnWVQ

— Goal (@goal) March 22, 2021
Assuming Valencia do ultimately secure survival, and they clearly should still do from this position, followers of Los Che will again have every right to feel anxious about what may take place at their club this summer.
After a full season behind closed doors and European qualification again missed out on, this deeply unpopular board may again look to cash in on star names. They may argue that the steps they have taken have been necessary to help ensure a club that was previously budgeting for Champions League football, can survive in a time of extreme economic hardship. Others will simply view it as asset stripping, but either way, it seems highly likely that Valencia would be tempted to sell should they receive any sizable offers this summer.
Their most valuable players in terms of the fees they would command are captain Jose Gaya as well as Maxi Gomez, Carlos Soler and Goncalo Guedes. While Valencia fans may be willing to stomach the loss of Gomez or Guedes, they will be desperate to hold onto academy graduates Gaya and Soler.
Were they to depart, Valencia may have full-scale anarchy on their hands when fans are finally able to return to Mestalla. If this is truly a regeneration project and an attempt to usher in a new generation of young players, Soler and Gaya will surely need to be at the forefront of that.
Can the youth steer Valencia to a brighter future?
Valencia legend Curro Torres backs Ghanaian midfielder Yunus Musah to reach the top https://t.co/kRjamnvXls pic.twitter.com/eMoLlfV0gh

— footballghana (@Footballghana3) April 28, 2021
Valencia's plight this season was sadly predictable. Few teams in world football could seriously expect to lose so many key players and continue to operate around the same level. However amidst the turmoil, there have been some glimmers of light for Valencia fans to hang onto.
Carlos Soler has really stepped up from the shadows to fill the void left by Dani Parejo. No Valencia player has scored or created more goals than him in LaLiga this season. 23 year old Uros Racic and 22 year old Thierry Correia have also emerged as first team regulars, and with three years to run on their respective contracts, should continue to improve in the coming years.
The likes of Hugo Guillamon, Lee Kang-In and Yunus Musah are all also 21 or under. While they perhaps weren't ready to fully take on the mantle and become key players for Valencia this season, all three have plenty of time to develop with 18 year old Musah in particular looking like a player with the potential to become a star.
Therefore the future isn't necessarily a bleak one for Valencia but nor are their problems likely to be resolved overnight, no matter who the new coach is. If Anil Murthy and the Valencia board are serious about this club in the long-term, they need to get the big decisions right this summer.
They will need to fight hard to keep hold of their young talents if anyone in Valencia is seriously going to believe in this project, or even in the existence of it. They will also need to appoint a coach with a track record of developing and improving young players, otherwise this season could merely be the start of a deeper decline for one of Spanish football's great clubs.
---