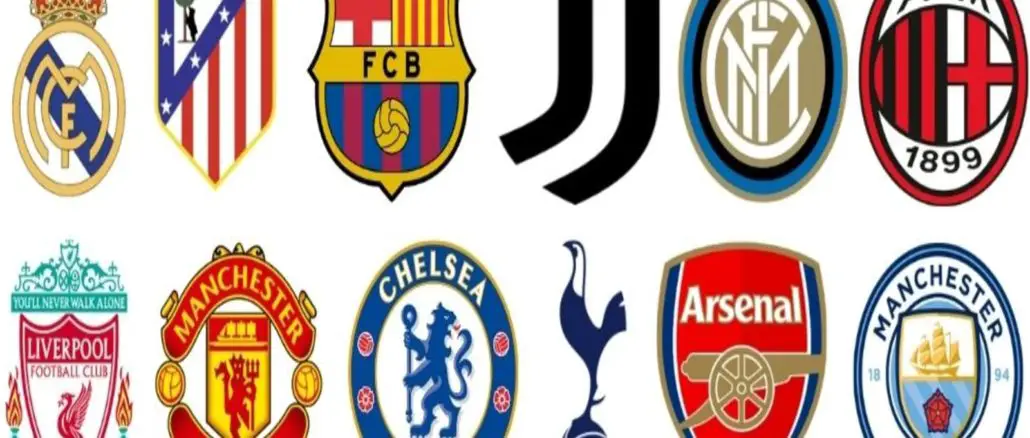 Late on Sunday evening, after months of speculation albeit silence from those actually involved, we finally got confirmation that twelve of Europe's biggest clubs are intending to form a new Super League. Barcelona, Real Madrid and Atlético Madrid, along with England's so-called "big six" and three clubs from Italy will take part in a breakaway competition, ultimately involving twenty teams, intended to run alongside the current domestic leagues.
This is, at its heart, a shameless power grab by a group of elite clubs that are already operating in a world that is incredibly advantageous to them. While frustrations at the way football has been run by governing bodies such as UEFA and FIFA have unquestionably played a part in us reaching this point, it should not be dressed up in any other way. This is a plan to make the rich clubs even richer, whilst killing off any genuine notion of sporting merit, which has underpinned football across Europe for more than a century.
Real, match-going football fans and even those who support their teams from afar, have been completely bypassed in this process. They do not have a voice. The claim made by Real Madrid chief Florentino Perez, who will be the first president of the breakaway league, that "our duty is to satisfy the fans' demands" will leave a particularly sour taste in the mouths of supporters.
Nobody has been demanding this and it has been rushed through at a time when fans aren't even able to attend games and collectively voice their opposition. The contempt that these owners have for their own local supporters, was underlined by the timing of the announcement – past midnight in most of Europe, leaving many fans to wake up to news of what will be a seismic change to the sport they know and love.
What would the new calendar look like with a European Super League?
Although many details about the European Super League, including its intended start date, are still unknown, the proposed format was included in the statements released by the clubs last night.
Official Announcement: Leading European football clubs unveil new Super League.#RealMadrid

— Real Madrid C.F. ???? (@realmadriden) April 18, 2021
It will feature a group phase consisting of two 10-team groups with home & away fixtures. The teams in 4th and 5th would then face a two-legged play-off to join the top three in each group in the Quarter-Final stage. From that point onwards, it would more resemble the current UEFA Champions League with two-legged rounds in the Quarter-Finals and Semi-Finals, before a single-match Final at a neutral venue.
Were all the current domestic competitions to continue in their current format alongside the European Super League, as well as the normal international breaks featuring countries playing two matches (as was the case prior to the pandemic), we'd have an incredibly congested calendar. The Spanish football season might look something like this:
| | | | | |
| --- | --- | --- | --- | --- |
| | European Super League | LaLiga | Other Competitions | Internationals |
| August  | MD 1-3 | MD 1-5 | | |
| September | MD 4-6 | MD 6-8 | | 2 Matches |
| October | MD 7-8 | MD 9-12 | | 2 Matches |
| November | MD 9-10 | MD 13-15 | | 2 Matches |
| December | MD 11-13 | MD 16-18 | Copa del Rey R1 | |
| January | | MD 19-22 | Supercopa & Copa del Rey R2, R3, R4 | |
| February | MD 14-15 | MD 23-26 | Copa del Rey QF, SF1 | |
| March | MD 16-17 | MD 27-29 | Copa del Rey SF2 | 2 Matches |
| April | MD 18, PO1, PO2, QF1 | MD 30-34 | | |
| May | QF2, SF1, SF2, FINAL | MD 35-38 | Copa del Rey FINAL | |
In Spain at least, in theory it would be just about possible to squeeze in all the current competitions, alongside the new Super League between August and May. However it would involve any clubs who progress all the way to the Final of the Super League and do well in the domestic cups, potentially playing two matches per week for the entire season, with the exception of the international breaks.
This would leave no free dates in which to play any rearranged fixtures unless the start or end dates are shifted. The Madrid clubs or Barcelona could potentially end up playing as many as 25 matches in the Super League in addition to the usual 38 in LaLiga plus 6 in the Copa del Rey and 2 in the Supercopa – a total of 71 matches.
A more likely outcome if the ESL clubs get their way, and don't ultimately get kicked out of their domestic leagues (which is an unlikely scenario for a number of reasons) is that we get a reduced schedule in the other competitions. The Spanish, English and Italian top flights may be cut to 18 teams while competitions such as the Spanish Supercopa and English League Cup are likely to be scrapped altogether.
Space in the calendar could also be created by having one less international break, but potentially with two 3-game windows for national teams – something which may be a popular move with or without a Super League.
If there is any substance to threats to prevent ESL players from representing their countries, then of course in theory Super League games could also be played during the international windows. However that seems highly unlikely to come to fruition and assuming it doesn't happen, a more realistic future calendar for the Spanish and European football season may look something like this:
| | | | | |
| --- | --- | --- | --- | --- |
| | European Super League | LaLiga | Other Competitions | Internationals |
| August  | MD 1-3 | MD 1-3 | | |
| September | MD 4-6 | MD 4-6 | | 3 Matches |
| October | MD 7-10 | MD 7-10 | | |
| November | MD 11-12 | MD 11-13 | | 2 Matches |
| December | MD 13-14 | MD 14-16 | Copa del Rey R1 | |
| January | | MD 17-19 | Copa del Rey R2, R3, R4 | |
| February | MD 15-16 | MD 20-23 | Copa del Rey QF, SF | |
| March | MD 17-18, PO1 | MD 24-26 | | 3 Matches |
| April | PO2, QF1, QF2 | MD 27-31 | | |
| May | SF1, SF2, FINAL | MD 32-34 | Copa del Rey FINAL | |
Scrapping the Supercopa and making Semi-Finals of the Copa del Rey single-legged would create a little more space in the calendar and with an 18-team domestic league, the very maximum number of fixtures would be reduced to 64 for Spain's Super League clubs (62 if they finished in the top three in their ESL groups and avoided the play-off round).
That wouldn't be a vast increase on where we're at today. Barcelona for example played 60 matches in their treble winning 2014/15 season and they weren't involved in the Supercopa that year.
LaLiga in the Super League era
This is still very much a developing story and as more details emerge, the picture for the future of the national leagues will become clearer. Without Barcelona and Real Madrid, LaLiga's global appeal would shrink enormously and any TV deals would be a tiny fraction of what they are today. For that reason alone, it's highly unlikely that the people who run Spanish football are going to follow through on threats to expel them from LaLiga or other domestic competitions.
If the European Super League does go ahead, the first major shift would most likely be LaLiga becoming an 18-team competition. This would in the short-term create complications given there are existing TV deals in place for LaLiga as well as the Premier League and Serie A on the basis that they are 20-team, 380 game affairs. Those current deals run until 2022 in the case of Spain and England but significantly the Champions League has agreements in place until 2024. That may serve to push back the ESL start date unless the relevant parties ultimately sit down and negotiate some kind of settlement.
Real Betis appear to have deleted the breakaway Spanish clubs from the league table on their club website ?

Even though it meant rivals Sevilla would be sat in 1st place ? pic.twitter.com/Xqz9zWPf78

— ESPN FC (@ESPNFC) April 19, 2021
While Sevilla are pushing hard to make it a four-team title race this season and shock results are by no means uncommon, the reality is that LaLiga is already dominated by the "big three" clubs who have signed up to join the Super League. You have to go back to 2011/12 for the last time somebody other than Barcelona, Real Madrid or Atleti finished in the top three.
The gulf in resources is only going to grow with the creation of an ESL and it's hard to see how the other 15 or 17 teams could seriously compete with the big three whose current financial woes would be eased considerably by this deal, freeing them up to further bolster their squads and strengthen their hold over Spanish football.
The only argument to suggest that LaLiga would be more competitive in a Super League era is that the demands of playing so many extra matches against stronger opponents, will make Barcelona and the Madrid clubs more vulnerable each weekend. However with extra guaranteed annual income, they would surely be able to construct squads to cope and avoid situations like we saw at the weekend where Real Madrid were left battling for a point at lowly Getafe with a host of fringe and B team players involved.
The long-term health of LaLiga will ultimately depend on the success or failure of the Super League, should it go ahead. To put that in terms the people who have constructed this plan will understand, if the Super League struggles to catch public imagination and viewing figures are lower than they expect, the national leagues will maintain their relevance and might even emerge strengthened as a result, if the widespread backlash against this idea continues once Super League football actually starts.
A more pessimistic and perhaps more realistic outlook would be that as the Super League takes hold and as opposition to it softens – LaLiga, the Premier League and Serie A will increasingly become second-class competitions that are dominated even more by a select few clubs.
What about Spain's other big clubs & the existing European competitions?
On the surface, some of the biggest losers from all of this are the next level of big clubs, deemed not quite important enough for an ESL invite.
No matter how well run they continue to be, a club like Sevilla, who have won more European trophies than every English club besides Liverpool, will effectively have the door slammed right in their face just as they are getting closer to being able to compete with the very best Europe has to offer.
The Super League proposals, oh so graciously allow five teams to qualify via their achievements in the previous season. Quite what format that might take will need to be ironed out but in theory at least, there is still a small window there which will offer the likes of Sevilla, Valencia, Real Betis, Villarreal, Athletic Club and Real Sociedad, a way of qualifying for the Super League.
In reality though, they would surely find it very difficult to compete in a league format against 15 ultra rich clubs who will now be able to dominate the transfer market by offering the best players guaranteed top level football each season. Even within the 12 permanent clubs announced so far, there are different revenue tiers meaning a Super League will offer anything but the kind of level playing field of the US franchise leagues, that this concept is loosely being modelled on.
☑️ The #UEFAExCo has approved a new format for club competitions as of the 2024/25 season.

⚽ The reforms come after an extensive consultation across the football family. The changes made are designed to secure the positive future of European football at every level.#UCL #UEL

— UEFA (@UEFA) April 19, 2021
UEFA have somewhat confusingly gone ahead and confirmed their plans for a new and expanded format to the UEFA club competitions from 2024 onwards, which included some significant concessions to the continent's main powers and will also create scheduling problems.
If this Super League does go ahead with Barcelona, Real Madrid and Atleti, this is likely to create more opportunities for other Spanish sides to play in UEFA competitions, although it's hard to see how the current Champions League could continue without so many of the clubs that have become the biggest symbols of it.
UEFA's premier competition would most likely become something akin to the current Europa League, perhaps with the prospect of some kind of "promotion" to the Super League if the two sides are ultimately willing to sit down and come to some agreement. That would depend on non Super League clubs also caving in to at least reluctantly accept this new world which is so clearly constructed to favour the few not the many.
Impact lower down the pyramid – Will this really "help football at all levels"?
Florentino Perez's claim that a European Super League will benefit not just the elite clubs but those at all levels of the game will clearly be greeted with the cynicism the statement deserves. Inevitably there will be winners and losers to any fundamental changes to the football pyramid and in financial terms, it's pretty clear who the main winners will be.
In the short-term, it's possible that this deal will provide a much needed cash injection into football as a whole, and if the owners are good to their word (we have plenty of reason to doubt that!), some of that money should trickle down to support struggling clubs further down the pyramid and the grassroots game.
However any short-term gains will surely be outweighed by the long-term damage this does to domestic football and the very core principles of sporting fairness that have existed since the game was first played in England during the middle of the 19th Century.
This is an attack on a game loved by billions, by a small group of greedy men who do not understand football and clearly have no respect for it.