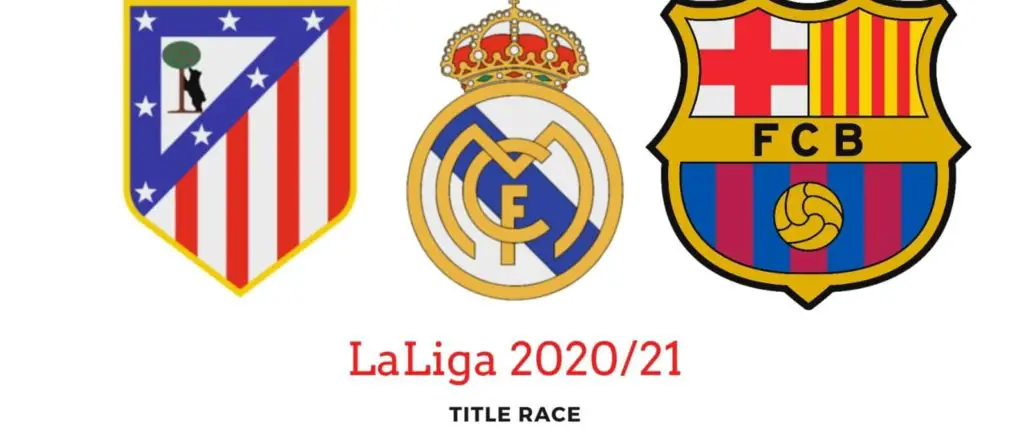 Already finely poised, the race to win LaLiga 2020/21 is now almost impossible to call after the weekend's results. Defending champions Real Madrid, clear outsiders a matter of weeks ago, went top on Saturday night as they completed a Clásico double over Barcelona. Atletico Madrid replaced them again on Sunday but what was once a double digit advantage, is now down to just a single point on Real Madrid and two on Barcelona.
The suspicion now may be that Atleti have run out of steam and will soon be passed by at least one of the two sides beneath them, if not both. However it seems that there will be plenty of more twists and turns to come over the coming weeks before the identity of the 2020/21 champions is known and it's still possible to make a case for all three teams.
---
A Three-Horse Title Race – Who holds the advantage?
---
ATLETICO MADRID
Position: 1st
Played: 30
Points: 67
H2H: Inferior to Real Madrid, Superior to Barcelona (with the reverse fixture to come)
Remaining Fixtures:
31 – Eibar (H)
32 – Huesca (H)
33 – Athletic Club (A)
34 – Elche (A)
35 – Barcelona (A)
36 – Real Sociedad (H)
37 – Osasuna (H)
38 – Real Valladolid (A)
Games in other Competitions: 0
Good morning! Here is the AS front page this Monday after Atlético Madrid drew 1-1 with Real Betis on Sunday night. Atléti are just one point ahead of Real Madrid with eight games left in the season… pic.twitter.com/ndTw2hNbFH

— AS English (@English_AS) April 12, 2021
As they have been for virtually the entire season, Atletico Madrid are in pole position but they are no longer the favourites. They are starting to run out of lives and can no longer afford to drop points and expect to stay top. They've recorded just 4 wins from 11 in LaLiga since beating Cadiz at the end of January to go 10 points clear. Their decline in form simply must stop now and Atleti are going to need to put a sequence of wins together if they want to stay in serious contention.
The positives from an Atleti perspective are that they are the only one of the top three with no other distractions and their upcoming fixtures are relatively kind. Home games against Eibar and Huesca ought to give them a chance to start building some momentum again and all of their matches prior to the crucial trip to Camp Nou on matchday 35 are against bottom half sides. The trip to San Mames is on paper also tricky but with Athletic starting to show signs of fatigue and with little to play for, Diego Simeone's side ought to be confident of their chances.
If Atleti can take 10 or preferably 12 points from those next four games, which shouldn't be beyond them, they will still hold the advantage on Barcelona heading into that key game which may not decide who wins the title, but could land a terminal blow on the loser.
A more pessimistic outlook on Atletico Madrid's chances would be that they are clearly the most unconvincing of the top three right now and some of their recent performances suggest even those upcoming games against struggling teams are far from guaranteed victories. Their injury problems are also mounting with Luis Suarez, Joao Felix and Kieran Trippier all currently sidelined.
Atleti's *possible* path to the title: Scrappy wins over Elche, Eibar and Huesca restore some belief and they head to Camp Nou with key players fit again. A controversial, late goal from Luis Suarez rescues a point in Barcelona and a resurgent Atleti record back-to-back home wins before beating an already safe Real Valladolid on the final day to clinch the title.
---
REAL MADRID
Position: 2nd
Played: 30
Points: 66
H2H: Superior to Atletico Madrid & Barcelona
Remaining Fixtures:
31 – Getafe (A)
32 – Cadiz (A)
33 – Betis (H)
34 – Osasuna (H)
35 – Sevilla (H)
36 – Granada (A)
37 – Athletic (A)
38 – Villarreal (H)
Games in other Competitions: 1-4 (depending on Champions League progress)
Real Madrid win both Clasicos in a single La Liga season for the first time since 2007/08 pic.twitter.com/HU6c9oompe

— B/R Football (@brfootball) April 10, 2021
Real Madrid's title hopes looked to be on the brink of ending when they trailed 1-0 in the Madrid derby at the Wanda Metropolitano heading into the final few minutes at the beginning of March. Karim Benzema's 88th minute goal granted their faltering title defence a lifeline and while they were dependent on more late Benzema brilliance to beat Elche in their next game, Los Blancos haven't really looked back, reeling off six straight wins in all competitions since the derby.
Having done the business in the big games all season, Real Madrid are not only right back in the thick of this title race, but have already secured the head-to-head advantage on both of their rivals – who still have to play one another. However given the path their season has taken, you sense Madridistas will be every bit as nervous about upcoming trips to Getafe and Cadiz as they would have been were they playing teams at the top end of the league.
Real Madrid's season has made little sense at times but having put together a stunning late run of 10 straight league wins after the restart last season, the belief will be that they are capable of doing likewise again with this clearly a side that thrives under pressure and with a clear objective in sight.
The difference this year may be that an increasingly promising Champions League campaign could get in the way. With the likes of Sergio Ramos, Raphael Varane, Dani Carvajal and Eden Hazard currently sidelined, Zinedine Zidane is very short on options in terms of rotation in some areas of the pitch and will have a really difficult balancing act to play if Real Madrid convert a 3-1 advantage into a place in the Champions League Semi-Finals when they travel to Liverpool on Wednesday.
Real Madrid's *possible* path to the title: Essentially 2019/20 repeats itself. Real Madrid continue to churn out victories, at times riding their luck with the odd helpful refereeing decision boosting their cause. Ultimately though, the experience and quality of their midfield helps steer them over the line with Vinicius Junior and Marco Asensio enjoying strong ends to the campaign, to help ease the pressure on Karim Benzema in attack. The symmetry with last season is complete when they win their final home game against Villarreal to record back-to-back league title wins for the first time since 2008.
---
BARCELONA
Position: 3rd
Played: 30
Points: 65
H2H: Inferior to Real Madrid, Inferior to Atletico Madrid (with the reverse fixture to come)
Remaining Fixtures:
31 – Getafe (H)
32 – Villarreal (A)
33 – Granada (H)
34 – Valencia (A)
35 – Atletico Madrid (H)
36 – Levante (A)
37 – Celta Vigo (H)
38 – Eibar (A)
Games in other Competitions: 1 (Next weekend's Copa del Rey Final)
? We shall rise again.
?❤️ Proud of you guys. pic.twitter.com/G6MHqIO0WC

— FC Barcelona (@FCBarcelona) April 10, 2021
While they hadn't passed Atletico Madrid, all the momentum heading into last weekend was with Barcelona and the general consensus was, that for all their early season flaws, the title was most likely going to end up in Catalonia. Therefore, from a neutral perspective at least, Real Madrid's clasico victory was great for the overall excitement of this title race.
While they are the team in 3rd place, Barcelona still hold some of the aces. Firstly they are the team with the least to worry about in terms of injury problems and their only significant absentees Philippe Coutinho and Ansu Fati have been out for so long, that they've already adapted to their absence. This weekend's Copa del Rey Final is their only major distraction but is unlikely to have any real impact on the title race, in the way Real Madrid's UCL campaign might.
Barça are also the team with the most firepower, having scored 16 more goals than Real Madrid in LaLiga this season and 17 more than Atleti. While they've had the odd setback, they are the team most capable of recording easy wins while you sense the Madrid clubs are going to have to fight and scrap for virtually every point, further limiting their options in terms of rotation during a busy end to what has been a congested season.
The case against Barcelona might be the sense that this team is still fragile at times and hasn't delivered in big games and high pressure situations, anywhere near as frequently as Real Madrid have over the past couple of years. Their comeback win in the Semi-Finals of the Copa del Rey perhaps signalled a shift in terms of that but the acid tests will come when Atletico visit Camp Nou on Saturday 8th May and in the final three games as the Catalans aim to turn a favourable looking fixture list into the points needed to win the title.
Barcelona's *possible* path to the title: The Clasico defeat only serves to fire up Barcelona who bounce back by winning the Copa del Rey and then turning on the style with a series of impressive victories in LaLiga. A fit again Luis Suarez sees red on his return to Camp Nou, as Barça win the key MD35 showdown against Atleti to go top and they clinch the title with a convincing victory at Eibar on the final day thanks to a hat-trick from Leo Messi who commits his future and undying love to the club in an emotional pitchside interview.