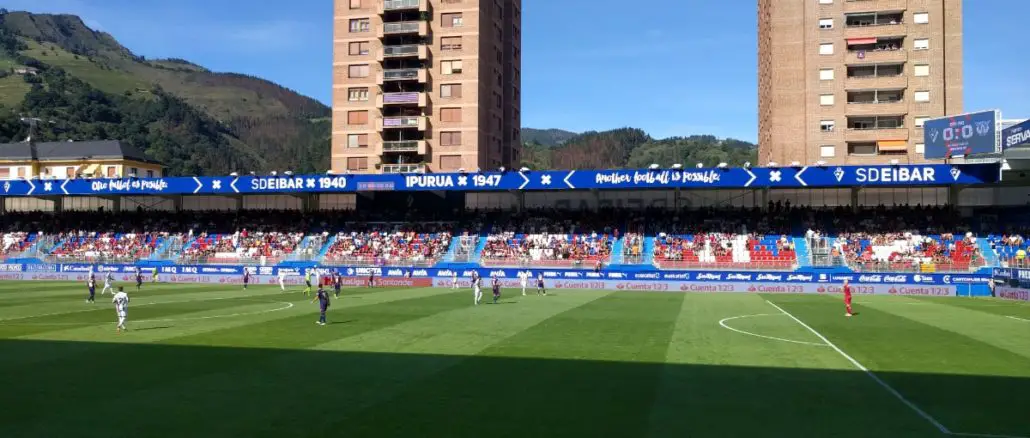 On 23rd May 2015, SD Eibar, the smallest club ever to play in LaLiga, were relegated in their first-ever top flight campaign, finishing in 18th place. The club with the lowest budget in the league didn't do too poorly throughout the season, spending only two weeks in the relegation zone. In the end, it probably wasn't to be, and they were going down to "where they belong". 
Or so it seemed for about two weeks, until LaLiga administratively relegated 13th placed Elche due to unpaid debts. It gave Eibar a new lease of life because they were reinstated in the division, taking Elche's spot. Eibar got another chance in the Primera, and they have never really looked back since then, until now.
Los Armeros finished 14th in their second season in LaLiga, followed by 10th, 9th, 12th and 14th in the subsequent seasons, not only surviving in the league, but doing so comfortably, thus against the odds, making their name as a respectable mid-table side.
But things have been far from comfortable this season. They've spent five matchdays in the relegation zone, as many as they did during the last five seasons combined. They've not won any of their last 11 matches, José Luis Mendilibar's worst run as club coach. Eibar's return of 23 points from 28 matches is their lowest-ever tally at this stage of the competition. Although they sit only two points from safety heading into matchday 29, it's fair to say that the threat of relegation has not been greater at Ipurua since their debut top flight campaign six years ago.
Life at Eibar
Sociedad Deportiva Eibar begin every season with only one objective – staying in LaLiga. In the words of President Amaia Gorostiza, "I just have one mission: to steer this ship through every stage of the voyage, safely into port." The voyage – 38 gruelling matchdays in one of the toughest leagues in the world. 
The port – the famous 40-point-mark.
A ship is probably an overstatement. Among other LaLiga teams with glittering histories, big budgets and fancy stadiums, Eibar's ship appears as a sailboat at best. Alex Aranzábal, the club president back in 2014 claimed that Eibar's realistic place would be the third tier. Honestly, in these six years, they've played like anything but a non-LaLiga side. In this short period, Eibar are already ranked 37th out of 62 teams who have competed in LaLiga since its inception in 1929.
2019-20 was perhaps coach Mendilibar's toughest challenge in his five seasons at Ipurua with the team never really feeling comfortable throughout the season, always being an outside contender for relegation. A crucial phase was during the back end of the season when the league resumed in June, with Eibar placed only two points above danger in 16th place. They collected 15 points from the last 11 games to eventually end the season in 14th place and six points above relegation. Matchday 36 and 37 wins over Espanyol and Real Valladolid proved decisive.
It brought big relief and meant another year in wonderland. Because at the end of the day, this club lives, breathes and fights for just one cause – "Muchos años más en LaLiga" (many more years in LaLiga).
What's gone wrong?
It wouldn't be wrong to say that the seeds of an underwhelming campaign were sown before the start of the season. Over the past two years, big players have left the town of 27,000 inhabitants and haven't been replaced with similar quality. Joan Jordán, Rubén Peña and Marc Cucurella were significant exits in the summer of 2019.
Last summer saw the departures of the Armagiñak's two top goal-getters of the season – Charles and Fabián Orellana. The latter, who left for Valladolid, was involved in 15 goals, by far the most of any player in the team. Like the Chilean, the Brazilian Charles also didn't renew and signed with Segunda B side Pontevedra. Two experienced campaigners left and took the goals with them, making Eibar the joint-worst team alongside Getafe in number of goals this season with only 22.
Other than that, the exits of two Argentines, midfielder Gonzalo Escalante and winger Pablo de Blasis didn't help matters either. There wasn't much significant transfer activity last summer as Eibar majorly resorted to loan signings, some of whom haven't had much of an impact. Defender Kévin Rodrigues and midfielder Recio have started only 16 games between them in the league. 
The goals have more or less only arrived through Kike García, who has 8 this term, but Mendilibar, a coach fond of having two targetmen up front, hasn't had another reliable forward to partner him. Japanese international striker and Newcastle loanee Yoshinori Muto has netted only once in 22 appearances. And while Sergi Enrich has two goals, Quique is yet to open his account for the season. There is no shortage of strikers in the team, but they aren't exactly firing.
OFFICIAL: Eibar have signed winger Damian Kadzior from Dinamo Zagreb for €2m on a three-year deal. pic.twitter.com/lDF6RV7VVp

— Transfer News Central (@TransferNewsCen) August 29, 2020
Polish winger Damian Kądzior was the only permanent signing of the season at 2 million euros, but it's been a transfer to forget for both parties so far. The 28-year-old failed to break through into the XI and left on loan for Alanyaspor in Turkey in the winter after making only six appearances in half a season.
It wasn't a totally miserable transfer window for the Basques. Their best signing arrived on deadline day in October all the way from Andalusia in southern Spain. Sevilla youth product Bryan Gil recently made his debut for the Spanish senior national side because of his cracking performances on loan at Eibar this season. The 20-year-old became Los Armeros' first-ever player to be called up to represent La Roja.
Gil, one of the finest prodigies in Spanish football, has three goals and two assists and has formed a solid offensive partnership with veteran Kike. The young-old duo have 15 goal contributions together, more than two-thirds of Eibar's total in LaLiga. It is sort of bitter-sweet for the team that they're overwhelmingly reliant on these two in the final third. Bryan Gil will surely not return to Eibar after the summer, but he's the only silver lining in the club's dull season so far.
Deplorable home form
At just over 8,000 capacity, the experience at the Ipurua Futbol Zelaia isn't exactly daunting for the visiting sides. It's the second smallest stadium across the top five European leagues, ahead of only Huesca's El Alcoraz. Yet, even big teams haven't found it plain sailing over the years at this English-style LaLiga stadium.
Ask their neighbours Real Sociedad who needed six attempts to finally taste victory here, even that win coming behind closed doors. Ask Betis and Sevilla who had to bear the brunt of a merciless Eibar three years ago, conceding five goals each. And save the last question for the biggest one, the then European three-peat winners Real Madrid who were left hapless in a 3-0 beating back in November 2018.
Eibar have made history with their first ever La Liga win over Real Madrid.

A very cool 3-0 victory! ?

Reaction ?https://t.co/J4UiIvU4dj #EibarRealMadrid #LaLiga pic.twitter.com/zcnIOouXsL

— BBC Sport (@BBCSport) November 24, 2018
It's a one-of-a-kind venue to visit. The fans, not a lot, are much closer to the pitch. The pitch dimensions themselves are a bit smaller than normal. The air is different, and so is the Eibar team, fuelled with almost a different kind of vigour when kicking the ball at home.
However, the loss of fans has totally changed the picture at Eibar. Triumphing at the Ipurua has never been easier for travelling sides. The majority of Eibar's points have come on the road. They are the worst home team in the league with only 9 points in 14 games. They even went five home matches without scoring a goal from October till December and their first home win didn't arrive until January.
Last season, Eibar did beat three big names in Atlético, Sevilla and Villarreal at home before the pandemic, with the fans in attendance. It's after that the troubles began. In LaLiga's home table since last season restarted without fans, Eibar rank the second-worst team, with only 3 wins, 17 points and 15 goals in 19 matches.
Of course every club is longing for the return of spectators to their stands, but arguably none of them as much as Eibar. Fans and the club have a really special and a close relationship, which is something that's becoming increasingly uncommon in the era of modern football.
End of the Mendilibar era?
Let's discuss the man revered the most by the Eibar fans – José Luis Mendilibar Etxebarria.
Currently, Diego Simeone is the only coach who has been in-charge of the same LaLiga team for a longer time than José Luis Mendilibar. The man from Zaldibar, only 10 kilometres west of Eibar, joined the club in June 2015 when it wasn't known where his team would play, in the Segunda or the Primera. Eventually Eibar got a get-out-of-jail-free card from LaLiga which scrapped their relegation. The aim was to stay up, but on their own merit.
He may not be well-known outside of Spain, but what Mendilibar has done year after year is extraordinary. The style of football which Eibar put on display is miles far from how a 'small team' should play. Mendilibar is daring. The little Basque town has housed a monster for six years.
Recent struggles of the club means that the future of the 60-year-old is in doubt. And Eibar, for one, are not the one casting those doubts. In fact, the club lent its full support to Mendilibar in an official statement last month. "This council believes that the work and commitment of Mendilibar, his coaching staff, and the players will bear fruit and the next one will be our eighth season in the first division." Eibar declared that this isn't the most difficult moment in their history and with the unconditional support of the fans, the dream which began in 2014 will continue into the next season.
These are brave words, from "the bravest club in LaLiga". However, it is rather apparent that Eibar need Mendilibar more than Mendilibar needs Eibar. 
President Amaia Gorostiza has always placed her complete trust in Mendilibar or Mendi, as she fondly calls him.
Mendi's contract runs out in less than three months. He has never been the one to sign long-term extensions. His yearly renewals are only put into place after his team secures safety from relegation. After the difficult last season, he only signed the extension at the end of July. It could be that the pandemic didn't leave him with any choice but to continue to guide his Eibar to another miraculous season.
Now, people just talk about numbers, we talk little about football. We talk about how much they have run, how many shots, the speed of the shots… Let's talk about football!

It's easier to talk about statistics than about the game.."

– José Luis Mendilibar pic.twitter.com/5ETvCmlFEF

— Caño Football (@CanoFootball) December 21, 2020
It should be stressed that Mendilibar isn't one to blame for Eibar's recent disappointments. Let's be honest, there's hardly any coach who is more demanding or extracts more out of the players than José Luis Mendilibar. Eibar have, perhaps, the poorest squad depth in the league and a team seemingly not of Primera quality. Mendilibar has tried his level best to maximise this squad's potential. As noted before, the dearth of a quality striker alongside Kike has forced him to juggle with the 4-2-3-1 and the 4-4-2. The team's system lacks consistency. It's hard to find more than six or seven players who can boast of being undisputed starters in the playing eleven.
That being said, they're still only within two points of safety and didn't really drop into the red zone until March. They've won away at both the Sevilla clubs and earned their first-ever point at the Camp Nou this season. But ultimately, you're only really competing against the other sides vying to avoid the drop.
So is it the climax of the Mendilibar era? In truth, only he will know. Eibar might not just be fighting for survival, but also to keep hold of their greatest ever talisman.
To conclude
Amaia Gorostiza recalled her thoughts when Eibar were pushing for promotion to LaLiga in 2014, "Let's see if we can go to the Primera, for one year, to see what it's like, and then we'll return back to where we belong." Never in her wildest dreams would she have imagined what lay in store for the coming years.
Their first LaLiga season seems like an eternity ago now, which is actually ridiculous because they were never supposed to be in the top flight for the long haul. It is beyond phenomenal for a club of this size to sustain themselves for so long. "We need to fight a lot because we are the smallest." says Amaia.
Eibar is now a very different club to what it was seven years ago, but their feet have never left the ground. They have a renovated stadium, their own training facilities at Atxabalpe, shareholders from across the globe, and some unforgettable memories in LaLiga, which they wish to keep up with next season too.
Honestly, whatever happens with Eibar this season, we will not be surprised. Either they will be relegated, and we'll say, "Oh, they had to go down some day." Or they'll stay up, defying all odds once again, which would be the most Eibar thing ever.
---
Quotes from Amaia Gorostiza come from the Six Dreams Documentary on Amazon Prime